Join me as we begin our farmhouse spring home tour filled with beautiful florals, greenery, pops of yellows, pinks, blues, and natural elements. Let's take the tour!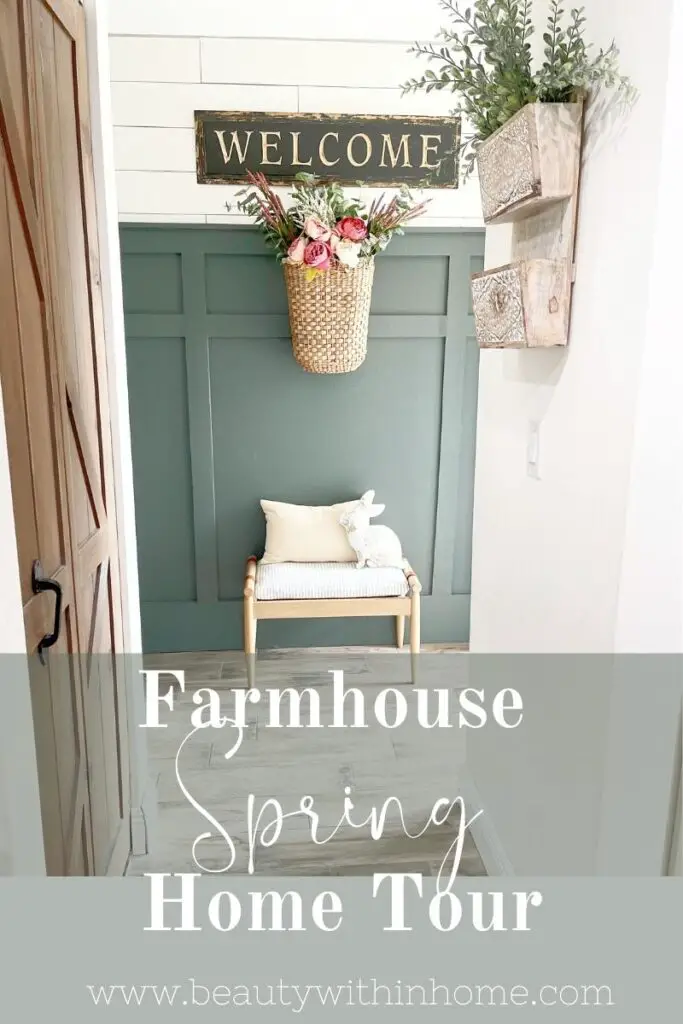 This post contains affiliate links, as a participant in the Amazon Services LLC Associates Program, an affiliate advertising program designed to provide a means for us to earn fees by linking to amazon.com and affiliated sites at no cost to you. See my full disclosure here.
Spring is a fun time to play with color in your home, even if you are a more neutral girl like myself. I love the beautiful flowers and spring air that makes us all inhale deeper, and pause a little more to smell the flowers.
The Kitchen
Let's start our farmhouse spring home tour in the kitchen. I brought some spring to my decorative counter shelf by adding some beautiful yellow and orange tones in my spring plates, some greenery, a wood egg cutting board, and of course my antique wood potato masher. I love to mix wood elements in with almost all of my décor and I may have a slight obsession with wood cutting and serving boards. When I saw one shaped like an egg, this girl was sold!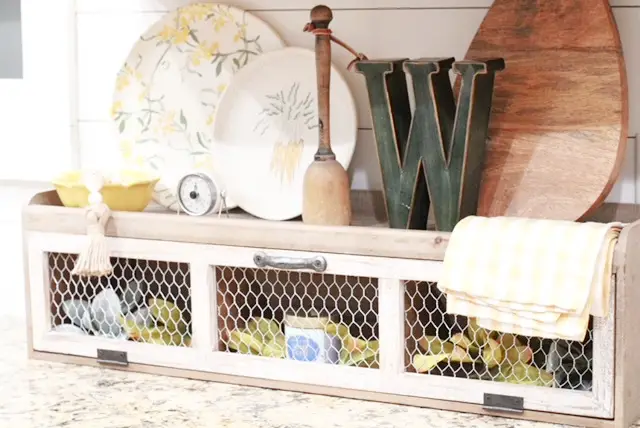 Also, I added some florals to my coffee bar area. I found these faux white florals at hobby lobby that reminded me of baby's breath. I used to love hanging my real baby's breath upside down to dry them out and preserve them. So, I decided to hang them upside down to recreate that memory for me. I tied some burlap ribbon I had to dress them up a little bit. Did you ever hang your florals to dry them out?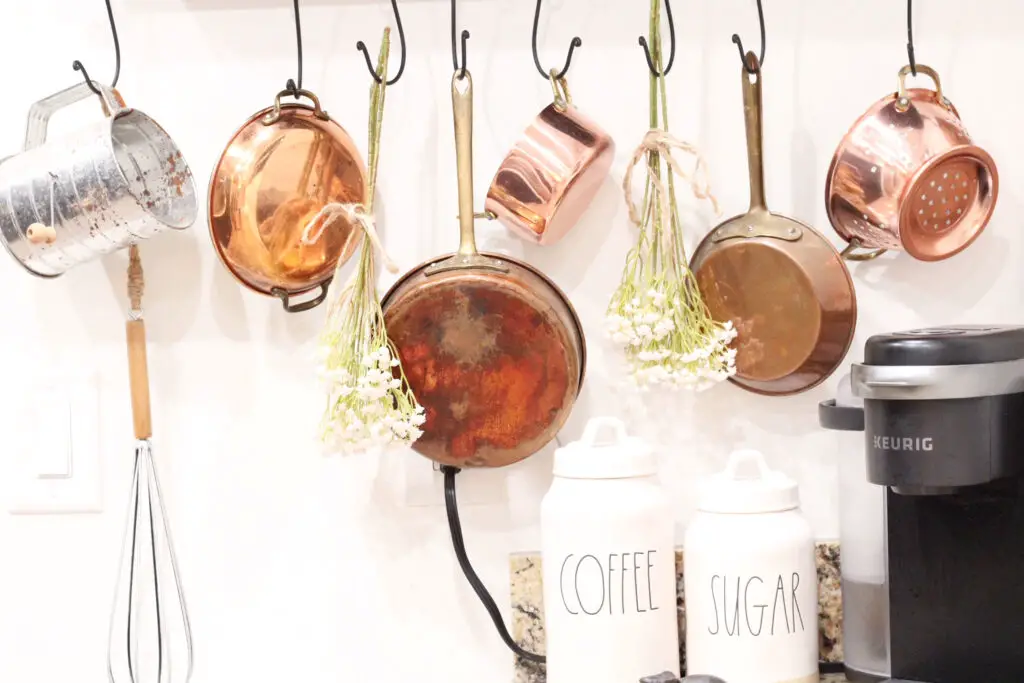 A money saving tip, if you have a garden or access to beautiful florals, use them to decorate your home for spring. Add them to a vase for a beautiful, affordable spring centerpiece. Hang them upside down on a hook in your kitchen. There are so many options and ways to be creative and decorate on a budget.
Entryway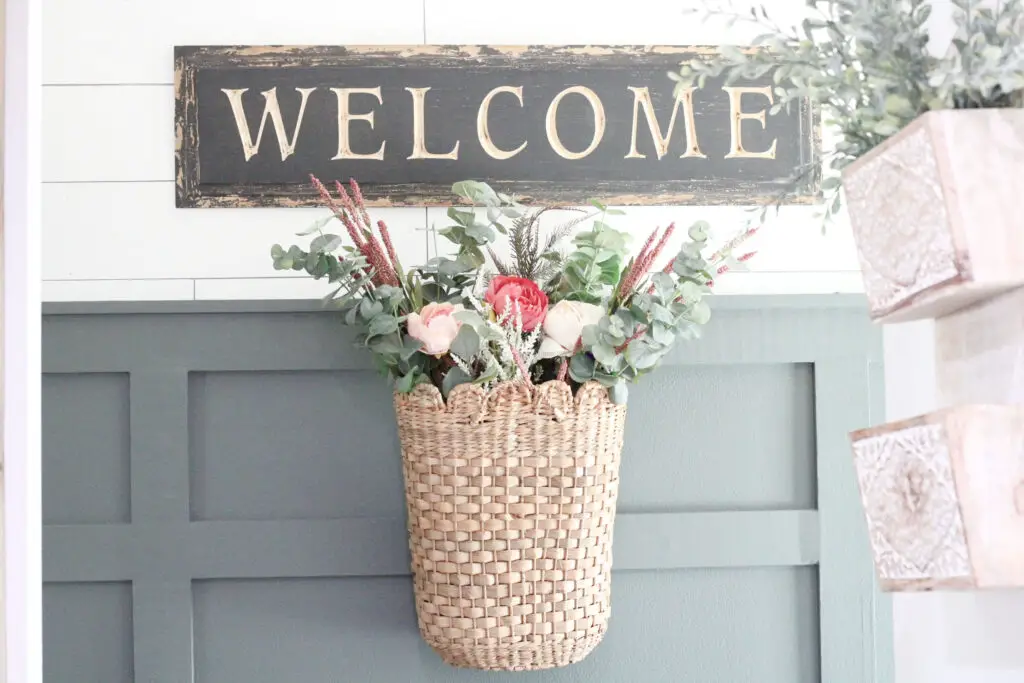 For the entryway, I found an adorable scalloped edge basket from Target. When you see a scallop edge basket, you buy it! I filled it with some beautiful pink faux florals and greenery from hobby lobby. I love how the pinks pop against my beautiful deep, rich green board and batten wall. If you want the tutorial on how we did this wall or the color information you can find it here.
The Dining Room
On my dining room table, I wanted to do a centerpiece that was interesting to the eye from all angles. So, I just started layering different things together, to create interest and texture. I love how it turned out! As you walk around my table, you see a different angle and it is beautiful no matter where you stand.
I first put down a wood charger, always getting that wood element in. Next, I put a beautiful white vase on top. I filled the vase with beautiful faux yellow and red florals. After that, I added a mason jar with copper lid and a candle in front of the vase.
I found a spring kitchen towel that had a pretty quote, "And there in the meadows, the wildflowers grew." You don't always have to put kitchen towels just in your kitchen. They are great for adding texture to your centerpiece. I rolled it up and displayed the quote.
Next, I added a basket caddy that holds utensils next to the wood charger. This just really helped add some texture and it really pops off my ivory table. I use this basket caddy all year round. It is great to put silverware in for family dinners and gatherings. In-front of the basket, I had a small antique vase I already owned that I added.
A lot of times when I am decorating for a centerpiece or hutch for example, I play. I add things, take them away, try something else, and just play until it works for me. I love being creative and trying to use items I already have along with the new pieces I get.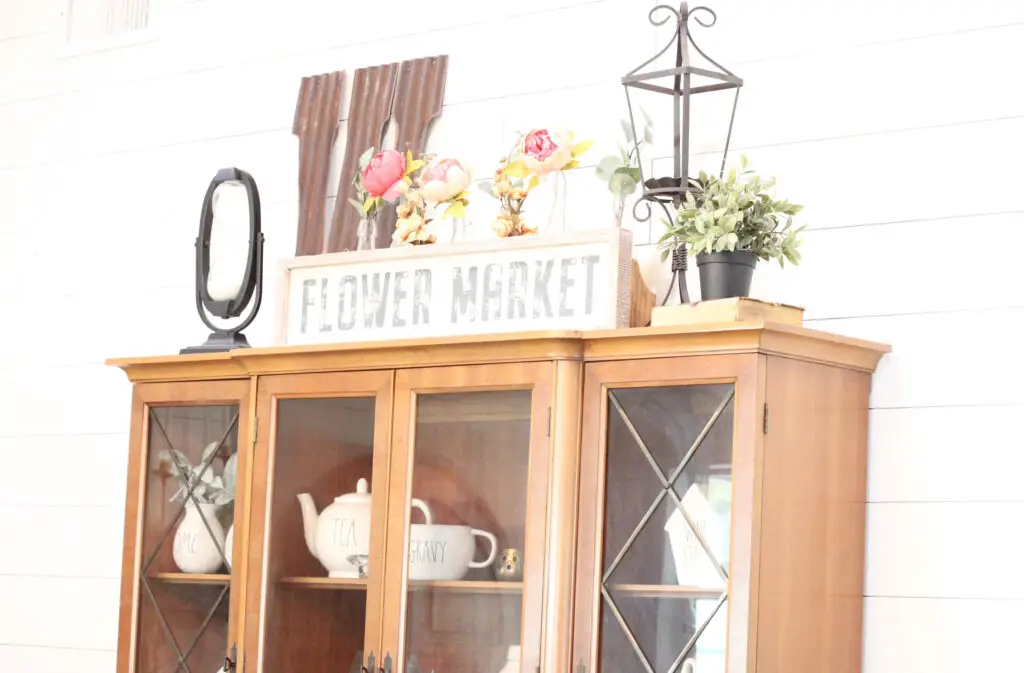 On top of my hutch, I added a Flower Market sign and some pink peonies which are one of my favorite flowers.
Fireplace Mantel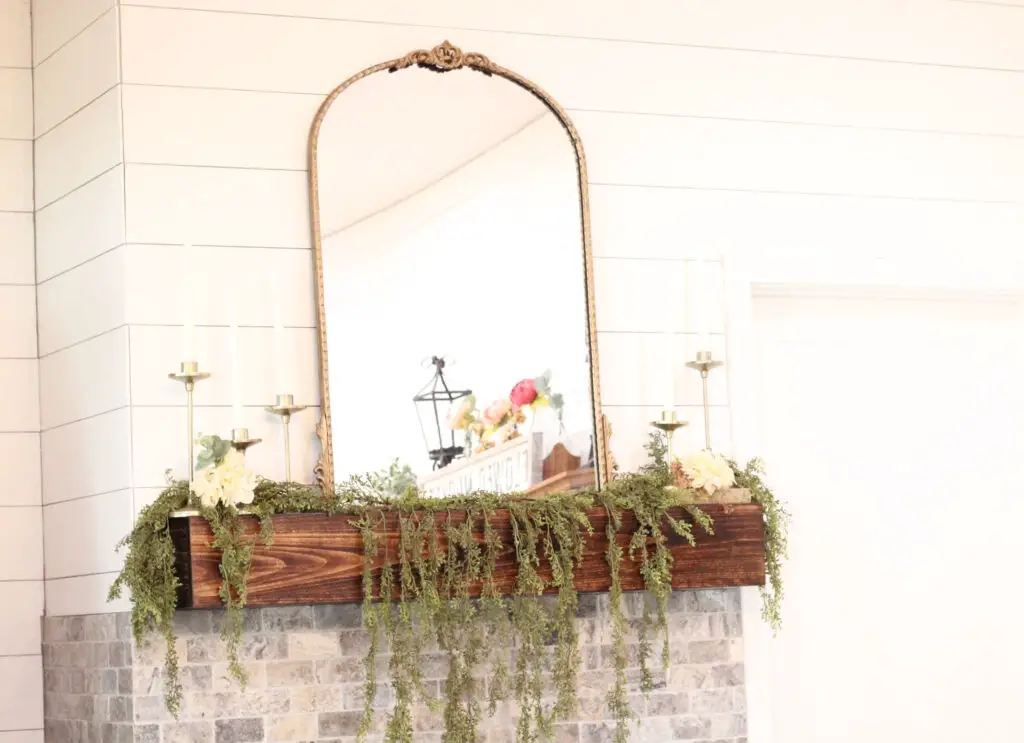 On my mantle, I kept it simple and just added some faux florals into the greenery right in front of my Anthropology dupe mirror. If you want information on the mirror project you can find it here.
The Family Room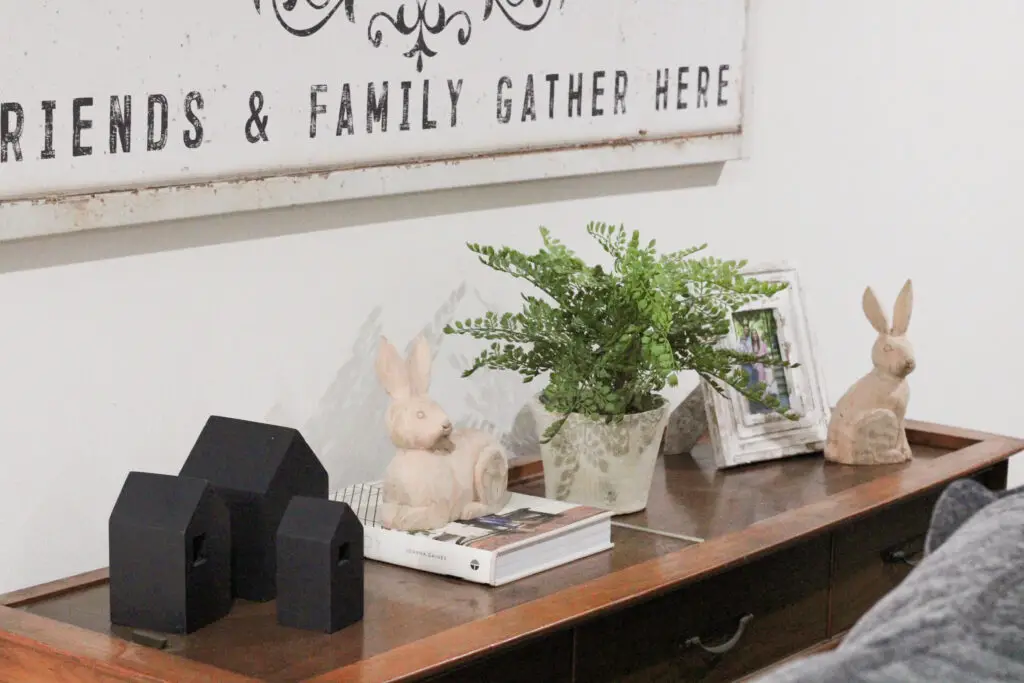 In the family room, I added some wooden bunny statues. They are neutral and I really love them! They add the spring bunny element without being overly cheesy.
Pillow Covers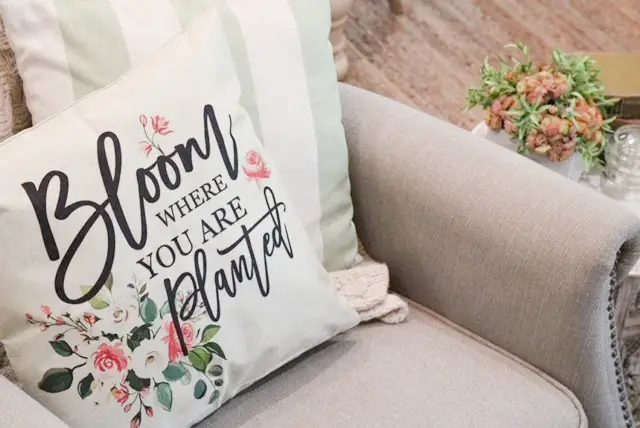 One of my money saving decorating tricks is that I am a big fan of pillow covers. You can get a set of four pillow covers for $16.99. When one spring pillow can be $35 or more! Also, it makes it nice for storage. When you like to change out your décor for the different seasons and holidays it can be a lot to store. With the pillow covers, you can take them off and store just the covers. Four pillow covers obviously take up less room them four actual pillows, so it is win-win. I use them all the time!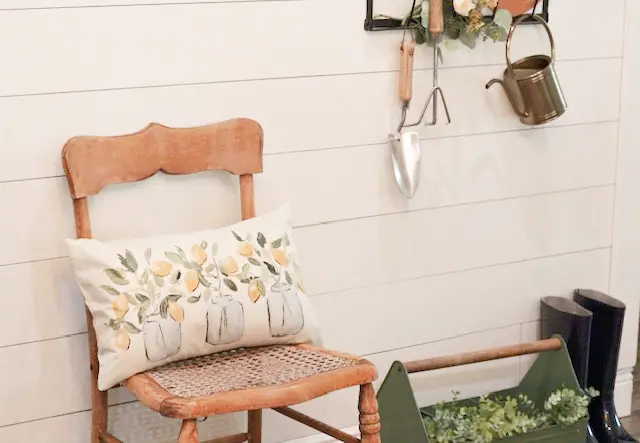 Thank you for taking this year's farmhouse spring home tour. I hope you enjoyed it and you now have some ideas for your own space. Go create, play, and find the "beauty within" your own home.
Shop The Look
Green Metal Garden Caddy can be found here.
Brass Watering Can can be found here.
Vintage Eucalyptus Kitchen Towels can be found here.
Lemon Spring Kitchen Towels can be found here.
Seagrass Round Utensil Caddy can be found here.
Pink Peony Silk Flowers can be found here.
Eucalyptus Artificial Stems can be found here.
Similar Wall Hanging Basket to the Large Scallop Basket I have can be found here.
Wall Hanging Basket for florals can be found here.
Similar Vintage Flower Market sign can be found here.
Spring Floral Pillow Covers can be found here.
Spring Floral and Black Buffalo Check Pillow Covers can be found here.
Similar Lemon Lumbar Pillow Cover can be found here.
Cast Iron Bunny Statue can be found here.
Floral Bunny Pillow can be found here.
Wood Bunny can be found here.
Wood Bunny Shaped Cutting Board can be found here.
Wood Bird Shaped Cutting Board can be found here.
For More Home Décor on a Budget Tips and Tricks –
or to Tour More of My Faux Florida Farmhouse -Read More Below:
Decorate For The Seasons Without Adding Clutter
Affordable and Thrifty Decorating Tips