Welcome to my Faux Florida Farmhouse Master Bedroom Tour. This space has been given a complete renovation and some amazing coastal farmhouse charm. I am going to show you how I added to this space and pulled it all together!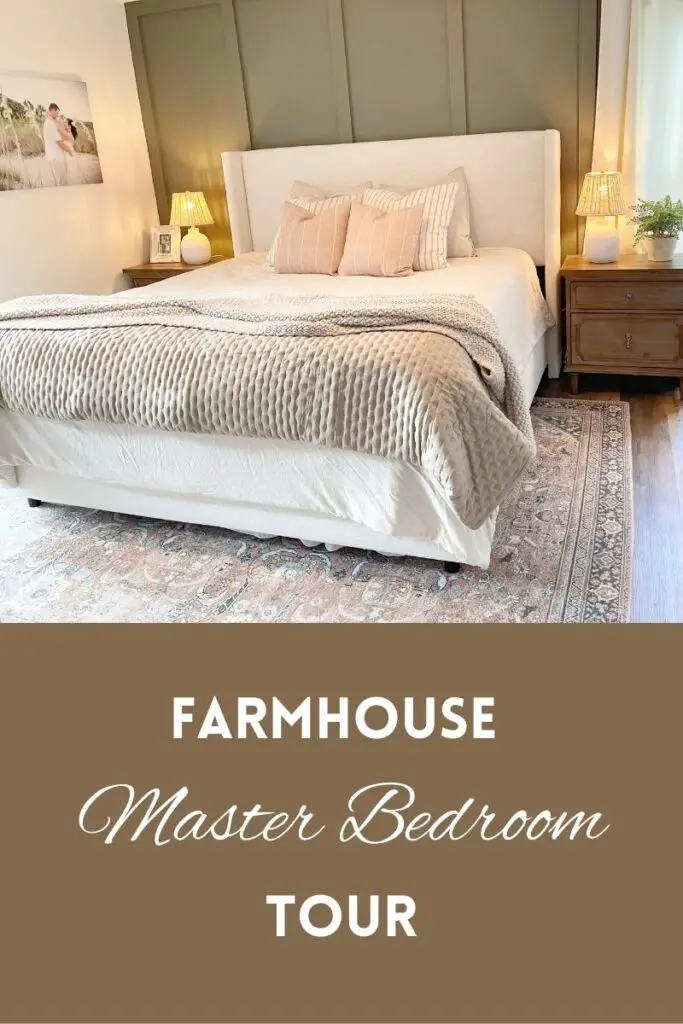 Today, I wanted to share with you our faux Florida Farmhouse master bedroom. If you have been following along with our home renovation, you know that we bought a builder grade home from the 80s. I mean really, straight from the 80s!
My dream is to own some land and own my very own farmhouse, but here in Florida land is expensive. I decided to find the beauty within my home and add my own farmhouse character and charm. Who says you have to live out on a farm to decorate your home with farmhouse style? Not me!
I love my farmhouse décor and my hubby loves beach décor. We were also married on the beach. So, I thought it would be fun to blend both of our styles and include some coastal beach touches for him. Since I guess it is his room too haha.
However, beach home décor for me can be tricky. Not that I have any problem with beach condos or how they are decorated, but I feel like a lot of beach décor looks like it belongs in a beach condo. If I am going to do beach, coastal it is going to be done my way. Can you hear my hubby saying "Uh oh what does that mean?" Well, you are all about to see what that means.
This post contains affiliate links, as a participant in the Amazon Services LLC Associates Program, an affiliate advertising program designed to provide a means for us to earn fees by linking to amazon.com and affiliated sites at no cost to you. See my full disclosure here.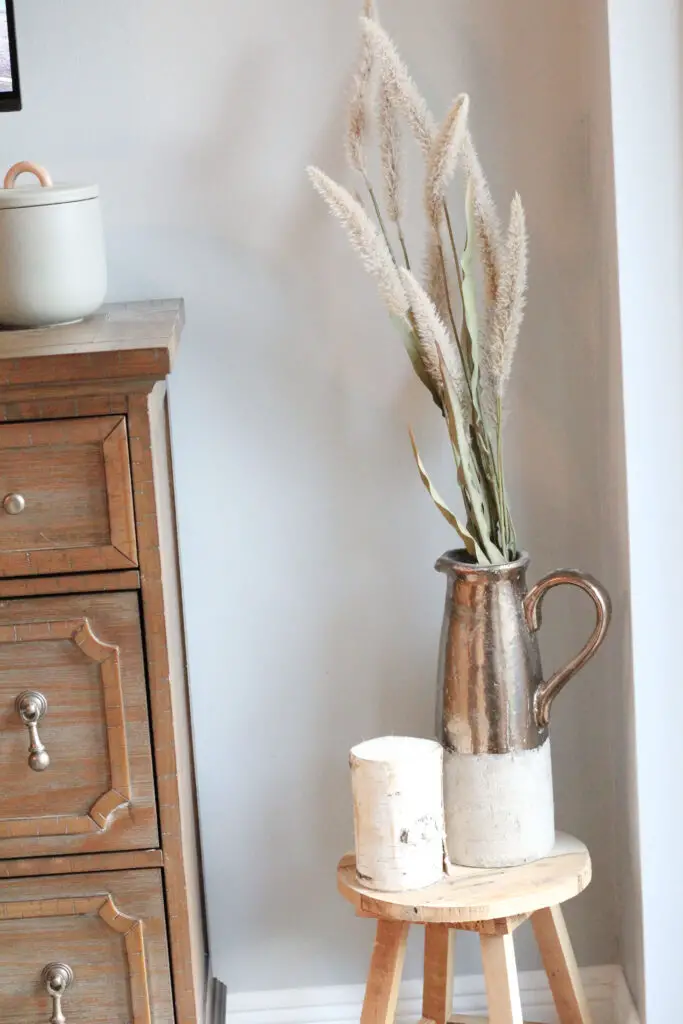 Allow me to give you vacation, relaxation vibes by taking you on a tour of our cozy farmhouse coastal master bedroom.
Farmhouse Master Bedroom Renovation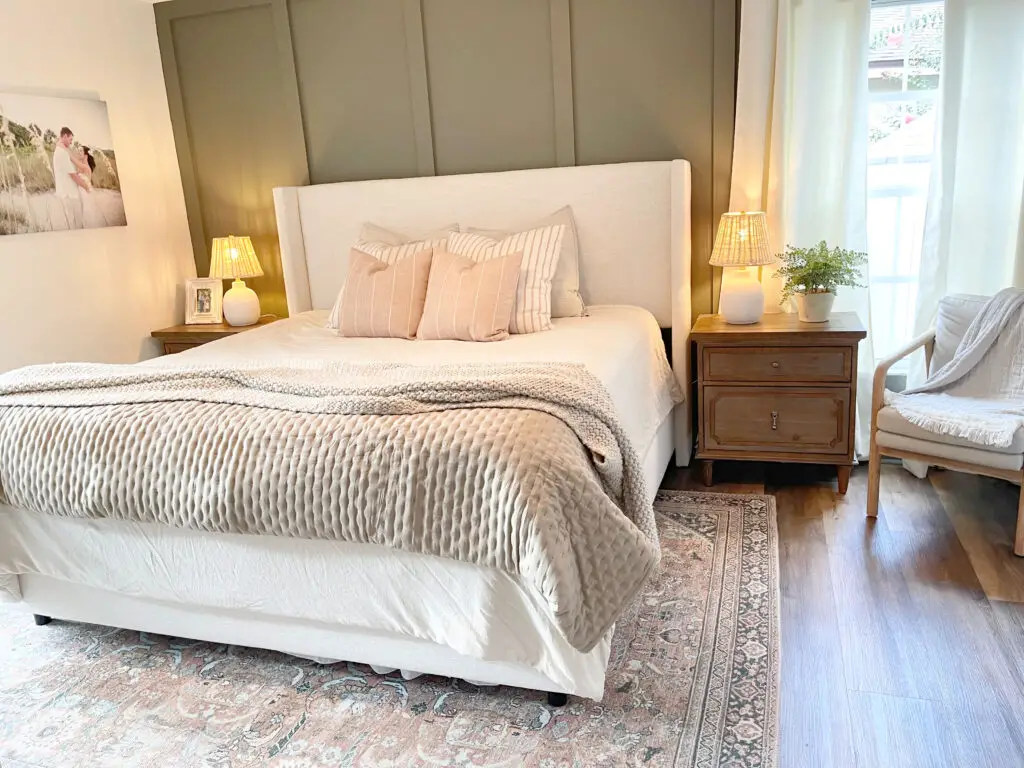 To be honest, I have always neglected fully decorating my master bedroom. Building a home takes time and a lot of money. I always felt like it could wait because no one sees my room but us. Therefore, it was never a priority on my list of 899 home projects that I always have going.
This year I decided I wanted that to change. Your master bedroom is your sanctuary, where you go to rest and unwind. It should be relaxing and cozy. I told my husband I wanted to walk in and just exhale. This room is exactly that for me and I truly love it.
Farmhouse Master Bedroom Bed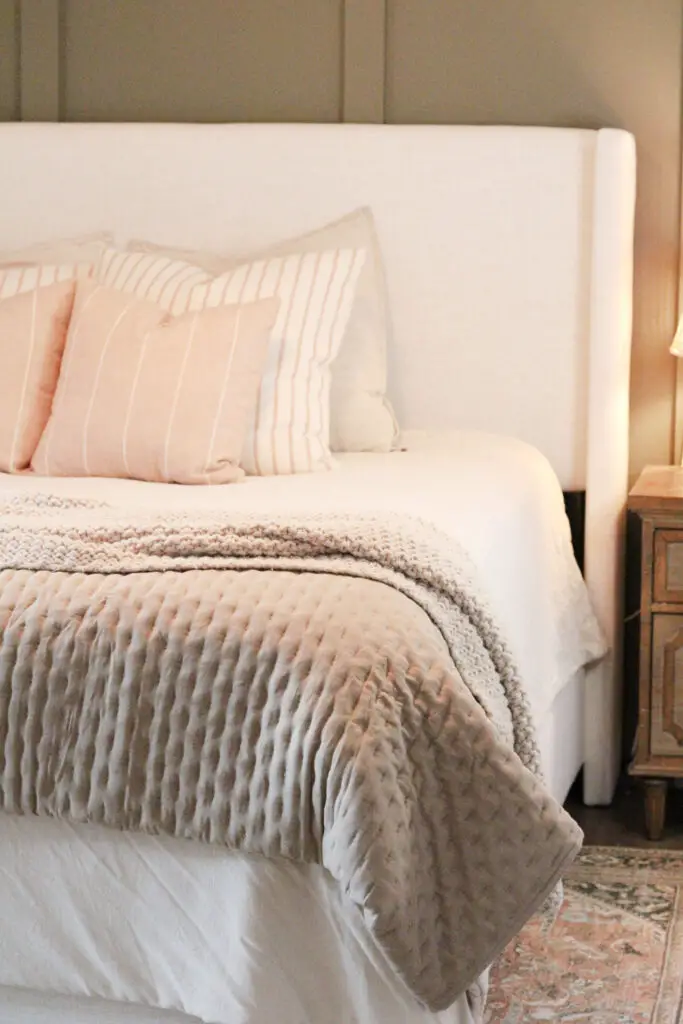 I knew when I was redoing the space that I wanted a big girl bed. That sounds so funny to say! I just knew I wanted something that made a statement and could grow with me. Of course, I picked something neutral because then I can always change bedding, throw pillows and blankets, and paint colors and it would all still go. We all know by now that I can't promise I would change out my pillows again in a few months. Sorry hubby!
When I saw this linen bed, I fell in love. It is from Wayfair and you find it linked here.
Farmhouse Dresser and Nightstands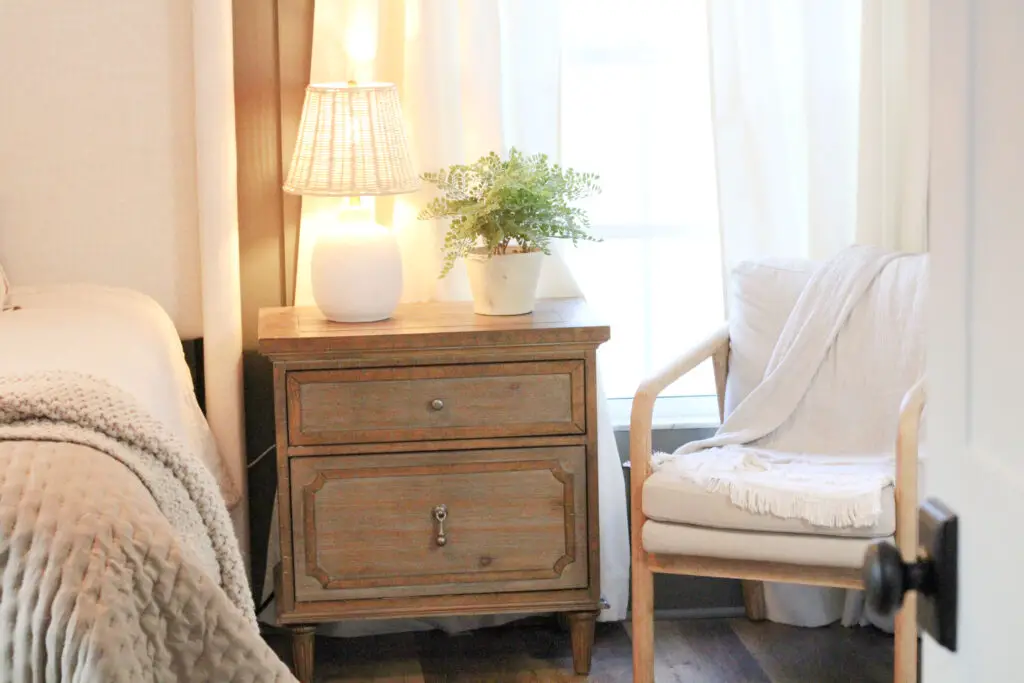 Should you get the full matching bedroom set? This can be a controversial question. For me, I do not like the whole set to match perfectly. So, my bed is not part of the same set as my dresser and nightstands.
However, my dresser and nightstands are from the same set and match. There is no right answer, it is what is right for you and what you prefer. I always say, decorate your space how you want. Don't worry about the trends because if you really love something then you will love it for years to come.
My dresser and nightstands are from Wayfair as well. The beautiful dresser you can find linked here. The matching nightstands are linked here.
Farmhouse Rug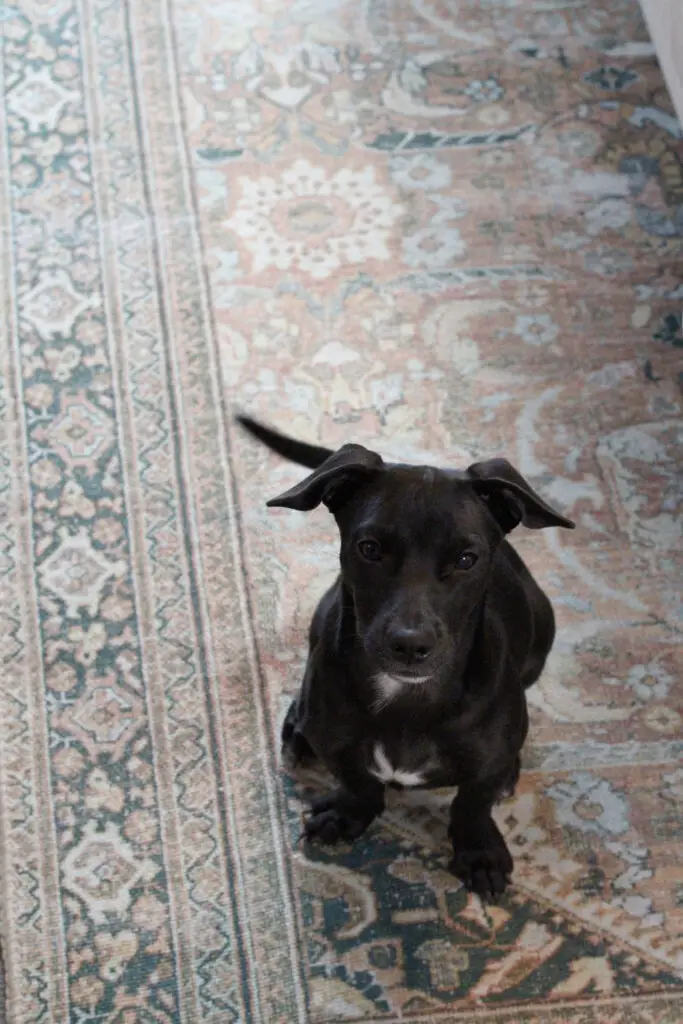 Another thing that I did a little different in my farmhouse master bedroom, is this neutral gal added some warmth and color! My rug has so many beautiful, warm colors in it. I get so many compliments on it and I just love it in the space. Patterned rugs are so nice in high traffic areas so that it doesn't show every little dog or cat hair, just being real we have pets. As you can see from the photo, the dogs are on the rug all the time and it holds up nicely.
It was purchased on Amazon and you can find it linked here.
Master Bedroom Accent Wall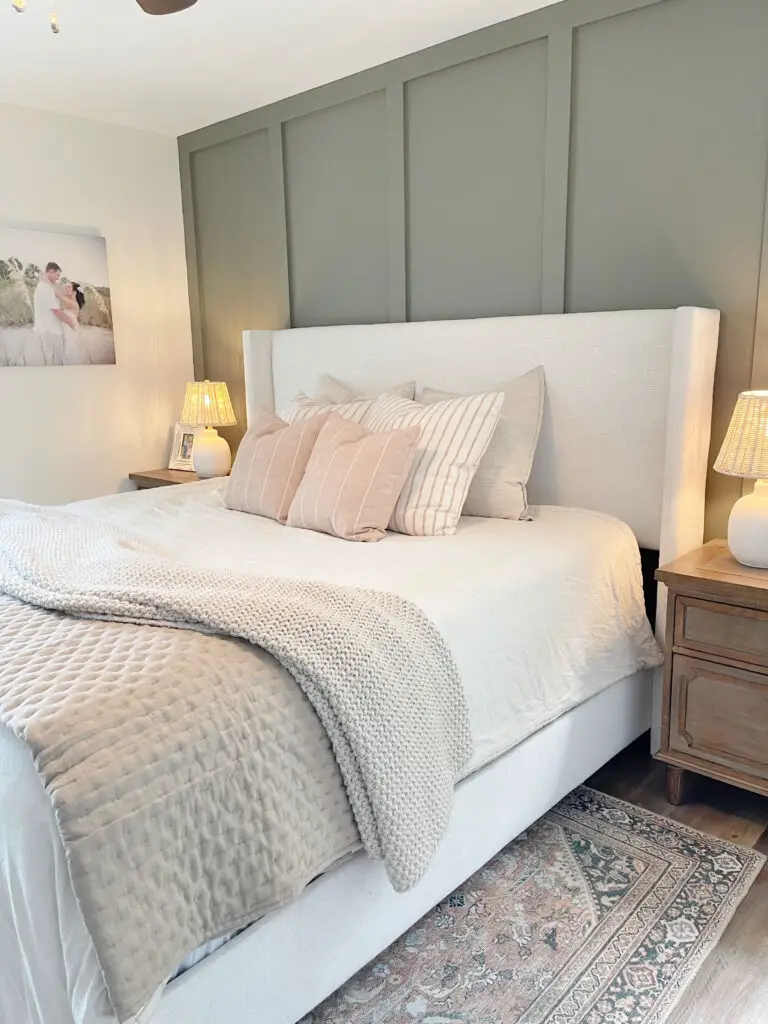 My beautiful green accent wall is a DIY project we completed. I have full board and batten wall tutorial linked here.
Board and batten walls are so versatile in a space. It adds texture and allows you to add an accent color to the room. I just love them.
The paint color I chose is a Sherwin Williams color, Cocoon. However, I have a money saving hack for you on paint. I always go to Home Depot and have them look up the color code and have them make it in Behr ultra-paint for me. Behr paint is half the price and is actually wonderful to work with. I have painted a lot over the years and it is a high-quality paint and if you can save money, why now? Whenever I am doing board and batten walls, I always choose matte finish. I just prefer the look of no sheen, but you can choose whatever finish you prefer.
Bedding and Pillows
Honestly, I am not a bedding décor expert. I knew I wanted my bed to feel cozy so I added layers in my blankets and added different textures. My "non expert" advice, is to arrange the pillows and blankets, look at it, if you don't like it try a different combo or placement. I do this with all the decorating in my home, I am a visual person and have to always try it in the space. Sometimes this means trying it 50 times before getting a combo I like, and that's ok. Decorate, play, and see what happens.
So, if you like my non-expert bedding combo here are the details on where to find it all.
Large striped pillows are from Target and are linked here.
Small striped pillows are from Target and are linked here.
The comforter on my bed is a beautiful linen comforter. It is so soft and comfy to sleep with and is our main blanket. It is Casaluna brand from Target. I love their line of bedding. You can find it linked here.
The knit blanket is a fun blanket to use on your bed or even on your couch. It is so versatile and adds texture to a space. It is also from Target and is linked here.
The soft brown quilt is such a pretty warm color, its thin and nice for summer. You can find it linked here.
My Smart TV (Want-to-be Frame TV)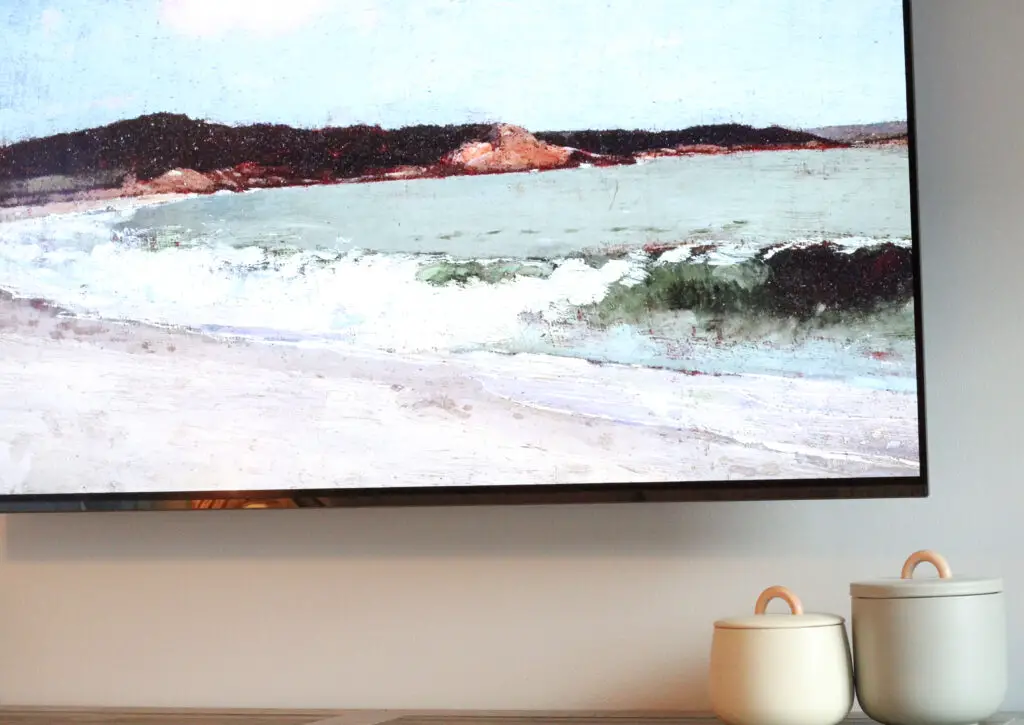 If you are like me and love the Frame TVs, but don't want to pay the price or don't need a TV right now, I have the hack for you. As long as you have a smart TV, you can go to the YouTube app and search "vintage art." They have many options, select one, and it will play for hours. It looks just like a piece of art!
For my room, I chose vintage coastal art. It looked amazing and was free! So, for your next gathering when you want to get a little fancy, try this hack out on your family and friends.
Now that doesn't mean I don't still drool over the frame TV. If you have never seen one, you can find it linked here. They are very thin and look like art hanging on the wall. You can also buy frames that go around the TV which makes it look even more like just a piece of art hanging. They really are very cool.
Accent Chair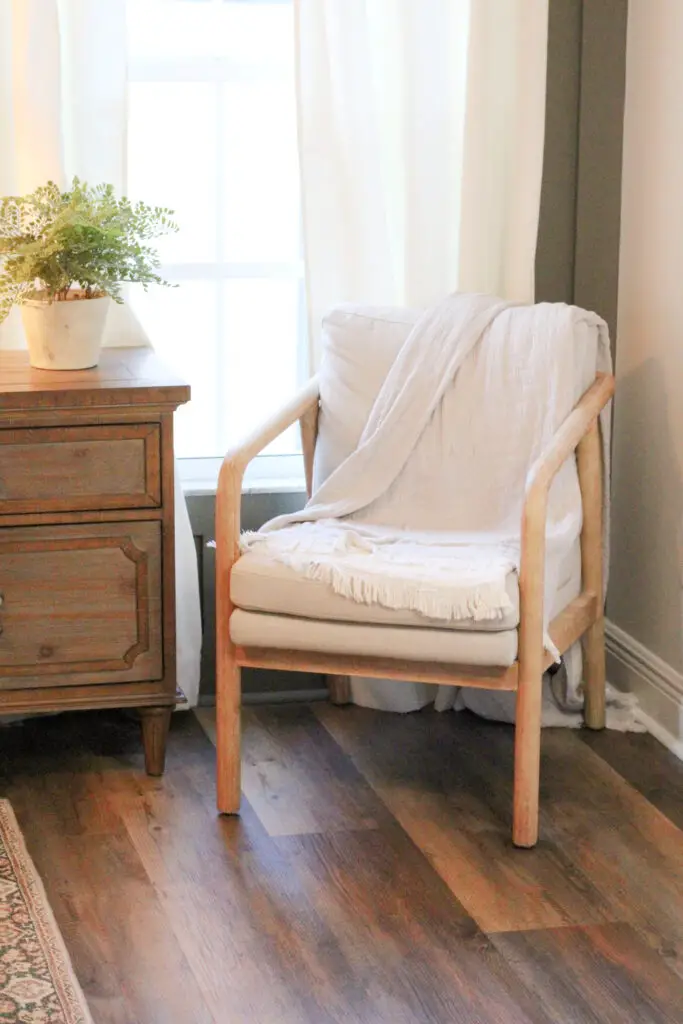 I wanted to add another touch of coastal, boho so I bought this amazing accent chair from Target. For a smaller chair it is also very comfy! When I buy chairs and couches, they have to be cute and comfortable. The chair at Target is out of stock, I linked it incase it comes back in stock. Find it linked here.
I found a comparable version that is actually cheaper on Amazon, and linked it here.  
Farmhouse Master Bedroom Tour Conclusion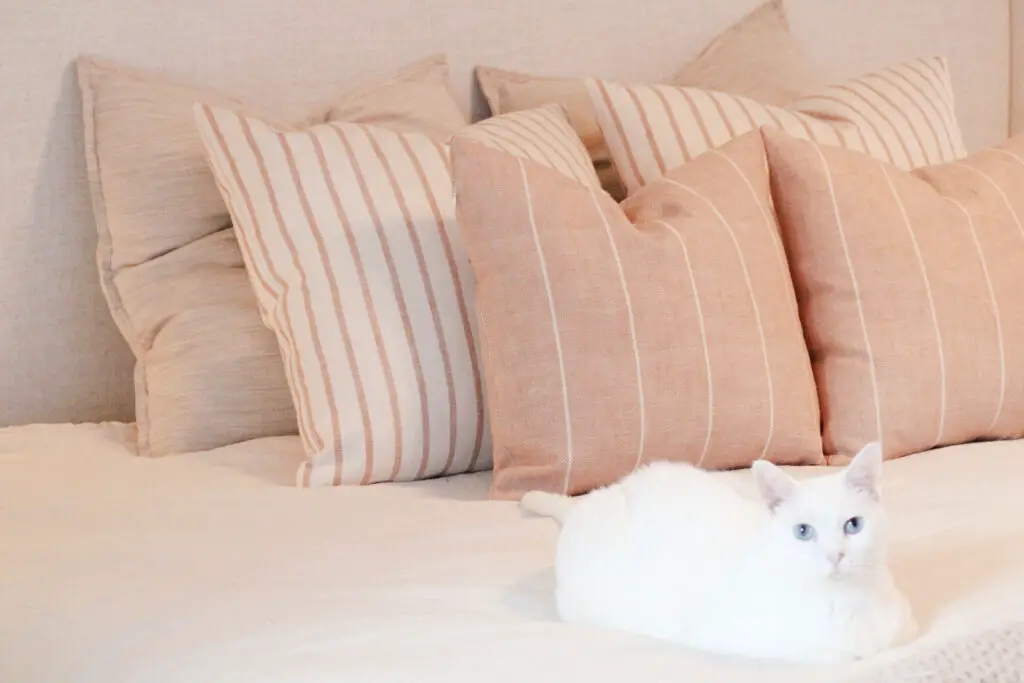 This has become one of my favorite spaces in my home where I cuddle up to my kiddos and read to them before bed, relax and unwind from the day, where my pets think it is there domain haha, it truly is our cozy sanctuary for our whole family. I hope you enjoyed my Faux Florida Farmhouse Master Bedroom Tour. Now, go be creative and do something different in your own home, just play! Oh, and buy that big girl bed!
If you enjoyed reading this blog post, please subscribe to my newsletter for more DIY projects and home décor tips and tricks on a budget. Thanks for stopping by my Faux Florida Farmhouse!