Learn how I made this DIY board and batten wall with this easy tutorial. You can build this right over your existing drywall which makes this a very easy and affordable DIY project.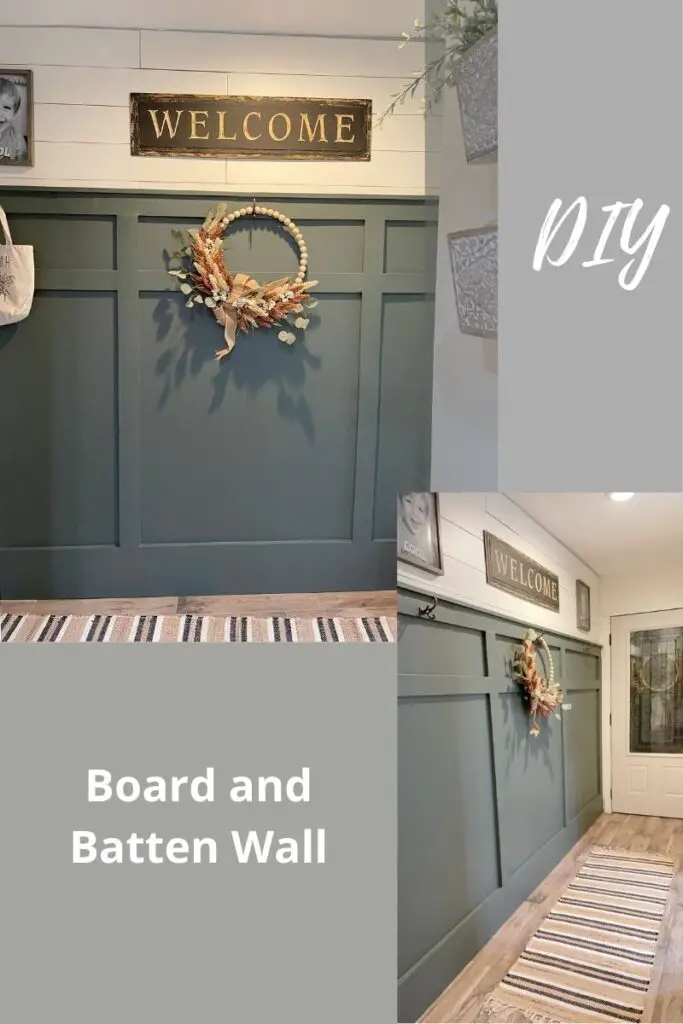 The total cost for the project came out to around $50.
My front entrance way is not exactly a grand entrance, and by that I mean it's small. So I wanted to add a little character to the space, but I didn't have a lot of space! A board and batten wall was perfect, and I added hooks to also make it functional. I am going to show you how to make this easy accent wall anywhere in your home with this easy board and batten tutorial.
Tips For Adding a Board and Batten Wall to Your Home
You can use furring strips of wood to make this a really affordable project.
However, when choosing your boards be sure to look for any blemishes or if they are bowed. Smooth and straight will work best for your DIY board and batten wall.
You will need to decide how high your board and batten wall will be. There is no right or wrong to this. It can depend on your ceiling height and just what feels right to you. So for reference, my board and batten wall is 70 inches tall and we have an 8 foot ceiling in that space.
You also need to decide if you are going to take off the existing baseboards on that wall or if you are going to leave it and put the boards right above the existing baseboards. We have done it both ways, but I do think a cleaner look is to take the baseboards off.
Where Can I Put a Board and Batten Wall In My Home?
What I love about board and batten walls are how versatile they are. They make great accent walls to any space: a family room, living room, master bedroom, dining room, guest bedroom, playroom, your child's bedroom, etc.
In addition, they make a great front entrance accent wall. You can add hooks to make it functional and pretty. Especially if you have a small front entrance like mine. They do not take up a lot of space but add visual. You can use the hooks to hang up your: backpacks, purses, jackets, etc.
What Height Should My Board and Batten Wall Be?
This is a personal preference. You can choose to do a complete accent wall which would cover the entire height of the wall and be a focal point of the room.
You can do a chair rail board and batten wainscoting which is about 32 inches high if you have 8 foot ceilings in your home.
For reference, my board and batten wall is 70 inches in height for my front entranceway.
Can I Add A Board and Batten Wall If I Have Textured Walls?
Yes you can! I have textured walls and I have multiple areas of my home with board and batten walls.
The real question is, do you mind seeing the texture on the wall? I did not mind it, so I just used the boards directly onto of my texture walls, and painted my wall and boards the same color.
If you mind seeing the textured wall, then you will need to put up a thin underlayment piece of wood first that covers your entire wall. Then, you can put the board for the board and batten wall on top of that thin underlayment wood. That will give you the smooth finish you are looking for. Either way, it is completely personal preference.
Where Can You Purchase The Supplies?
If you have a local hardware store like Home Depot or Lowes you can purchase the supplies from there. I also linked Amazon items below if you want to purchase some of the supplies online.
This post contains affiliate links, as a participant in the Amazon Services LLC Associates Program, an affiliate advertising program designed to provide a means for us to earn fees by linking to amazon.com and affiliated sites at no cost to you. See my full disclosure here.
DIY Board and Batten Supplies and Tools
Furring Strips 1x4x8
Furring Strips 1x2x8
Miter saw: for cutting pieces to different lengths.
Nail gun – We bought a battery-operated a nail gun and use it all the time. It is so nice not having to have the compressor. Obviously, a nail gun with compressor works just as well. You can also use a brad nailer whatever you have on hand will work for this project.
Nails (2 inch length brad nails)
Painting supplies: painters tape, roller, paint brush, paint
How To Install The DIY Board and Batten Wall: Step by Step Instructions
Step One: Purchase Materials and Get Materials Ready for Your Project
Step one is to purchase all your materials for your board and batten wall.
Step Two: Prepping The Wall
Take the baseboard off. Again, this is optional.
Mark the studs on your wall using a stud finder and a pencil. Not every vertical board will go into a stud. You will nail into the studs for the horizontal boards. So, find the stud and draw a pencil line all the way down the stud on the wall.
Step Three: Start Measuring, Cutting, and Nailing Up The Bottom and Top Horizontal Boards
Measure the length of the entire wall you are doing. Cut the furring strip to that length. You will cut two furring strips to this length. This will be your top horizontal board and your bottom horizontal board.
Once the two boards are cut to the proper length, go ahead and nail them into the studs you marked on the wall using a nail gun. Start at the bottom of your wall or on top of the baseboard if you kept your baseboard on the wall. Use a level to make sure your board is level before nailing it in.
When your bottom horizontal board is in place, go ahead and nail your top horizontal board in place using the same steps as above. Remember, use a level to make sure your board is level before nailing it in.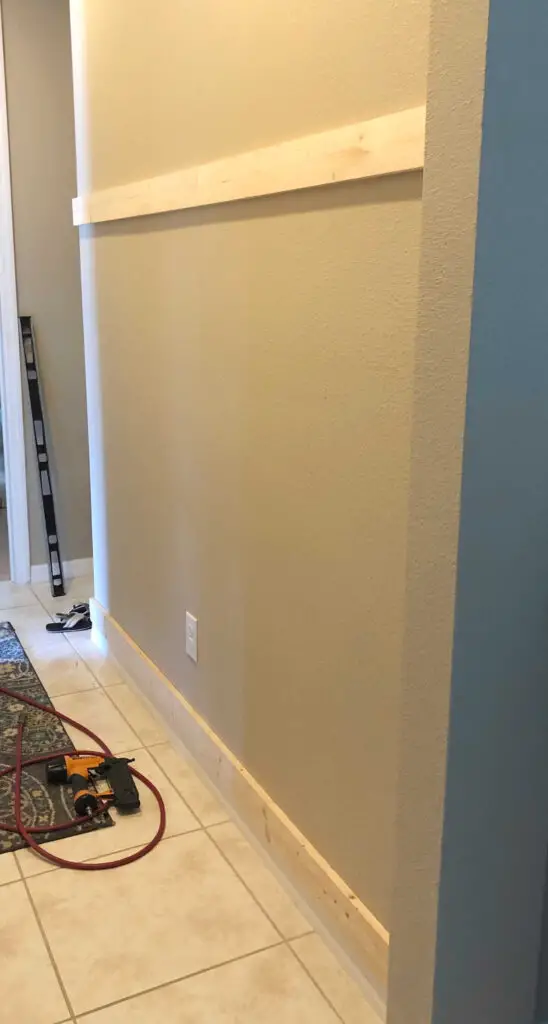 Step Four: How To Do The Math And Figure Out How Big Your Vertical Spacings Between Boards Should Be And How Many Vertical Boards Your Need
Once you have your two vertical side boards (the farthest left board and farthest right board on your wall), you will need to do some math to figure out how far apart you would like your vertical boards to be. This will determine how many openings you have and how many vertical boards you will need.
We just placed 7 boards up against the wall to visualize what that would look like. You can also draw on your wall with a pencil to visualize the number of boards you think you will want. You are painting the wall in the end anyway, so the pencil markings will be covered with paint. We felt like 7 boards looked good. So now we needed to figure out the spacing measurement. If there are 7 boards, there will be 6 openings on our wall. There is always one less opening for the amount of boards you have.
Measure the entire length of your wall. For reference, our wall was 178.5 inches long.
Next, you will take your actual width of your boards. We are using 1x4s but the actual width of the board is 3.5 inches and multiply it by the number of boards, which for us was 7. So, 3.5 x 7 = 24.5.
Then, you take your entire length of your wall and subtract out the number you got above. So, 178.5 – 24.5 = 154.
Next, you take 154 and subtract out the number of openings you will have. So, 154 / 6 = 25.6.
The space from inside vertical board to inside vertical board will be 25.6 inches.
These instructions are in the video tutorial below for more reference.
Step Five: Start Measuring, Cutting, and Nailing Up The Vertical Batten Boards
Now that the top and bottom horizontal boards are in place you will then put up your vertical boards for your wall.
Measure the opening between the top board and bottom board – see picture below for example.  
Once you have your measurement, cut all the vertical batten boards to that length.
After they are cut to the proper measurements, put the side vertical boards first (the farthest right and farthest left boards).
Once your side vertical boards are up, then you can measure from inside the board and mark the 25.6 inches (or whatever your measurement is for your opening measurement is for your wall).
Nail them up with a nail gun. Again, use a level to make sure they are leveled.
Step Six: Start Measuring, Cutting, and Nailing Up The Middle Horizontal Boards  
Measure the opening between the vertical boards – see picture below for example.
Once you have your measurement, cut all the middle horizontal boards to that length.  
After they are cut to the proper measurements, nail them up with a nail gun. Again, use a level to make sure they are leveled.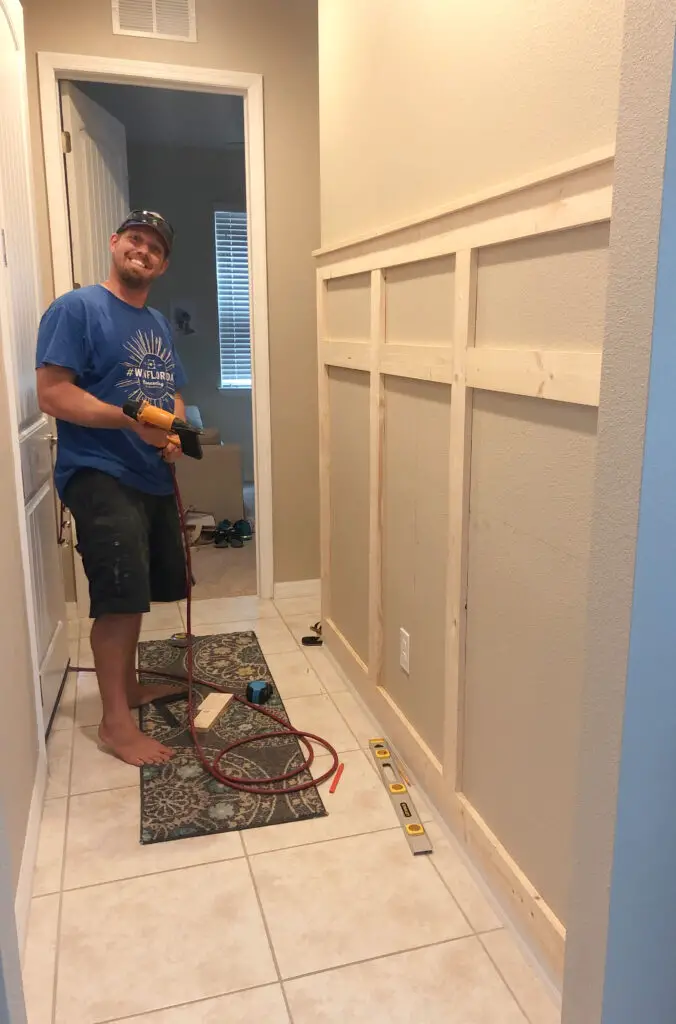 Step Seven: Creating The Top Trim Board
Cut this board to the same length as the top and bottom boards.
Place the trim board on top of the top board and nail into the top board using a nail gun.
Step Eight: Wood Filler
Put wood filler over all your nail holes and joints between boards.
Let the wood filler dry completely. Next step is to sand down any access, and give it a nice smooth finish.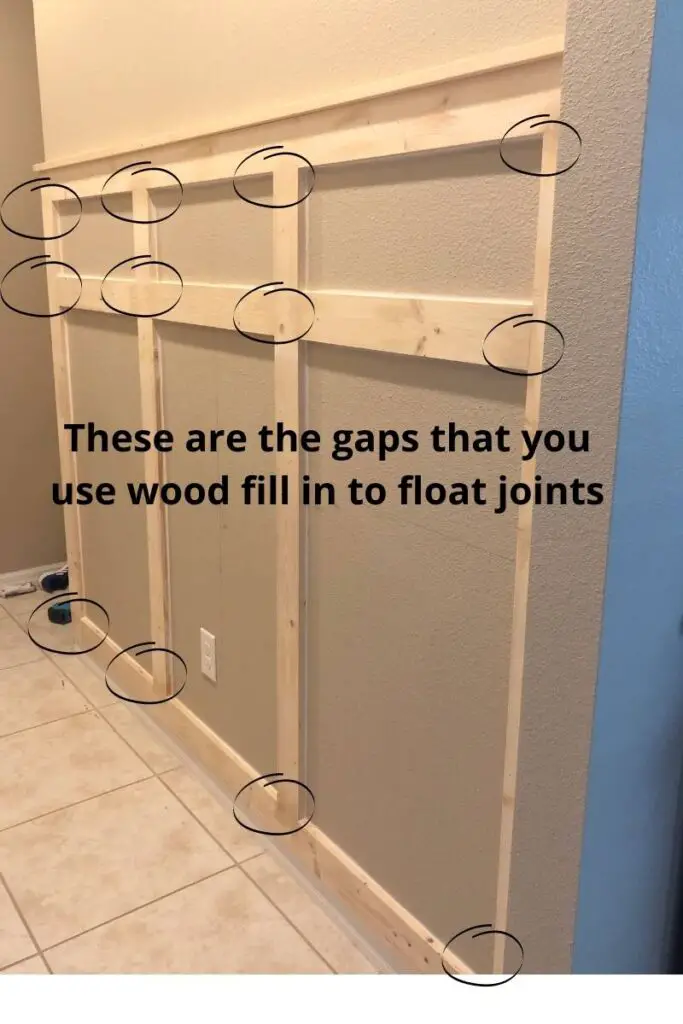 Step Nine: Paintable Caulk
Caulk all the small gaps in between the wall and the wood. See picture below for examples of where to place caulk and where to put the wood filler. Let dry completely before you paint. This just gives your accent wall a nice clean and finished look.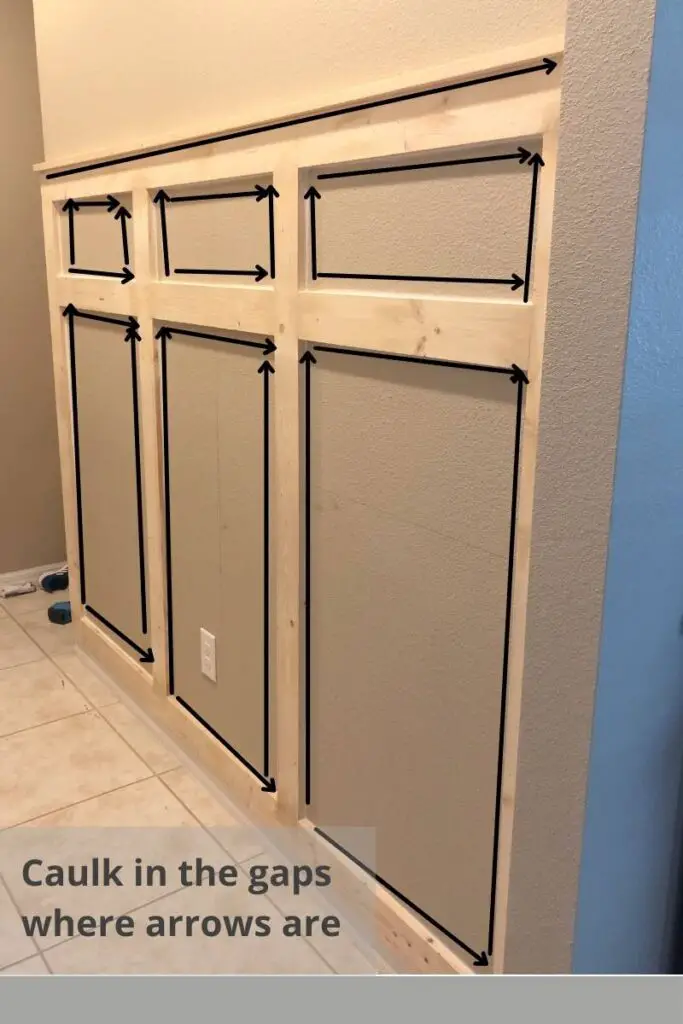 Step Ten: Paint
If you want to prime first you can. We did not, we just painted two coats of paint.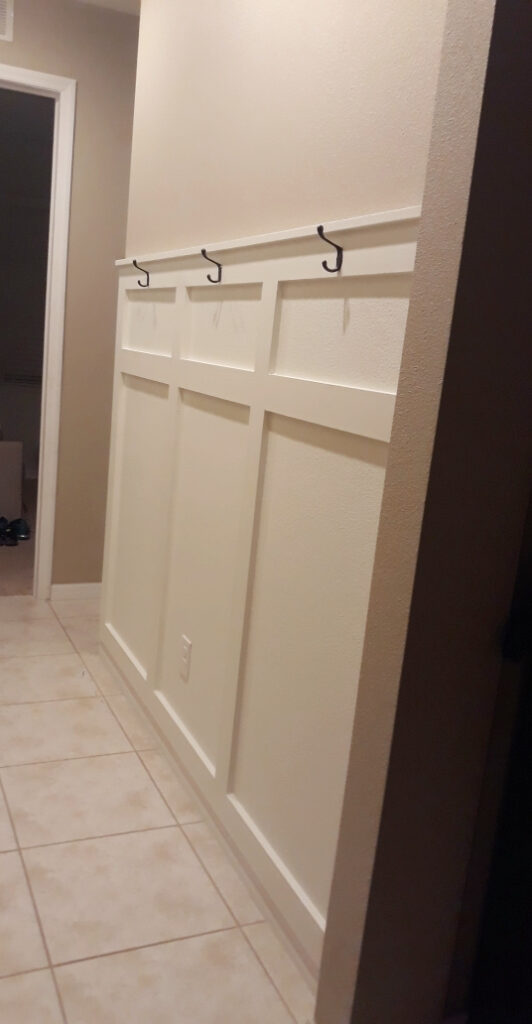 Step Eleven: Add Hooks (Optional)
Measure and center your hooks, and screw them into the board.
After just a few hours, you will have a beautiful board and batten accent wall!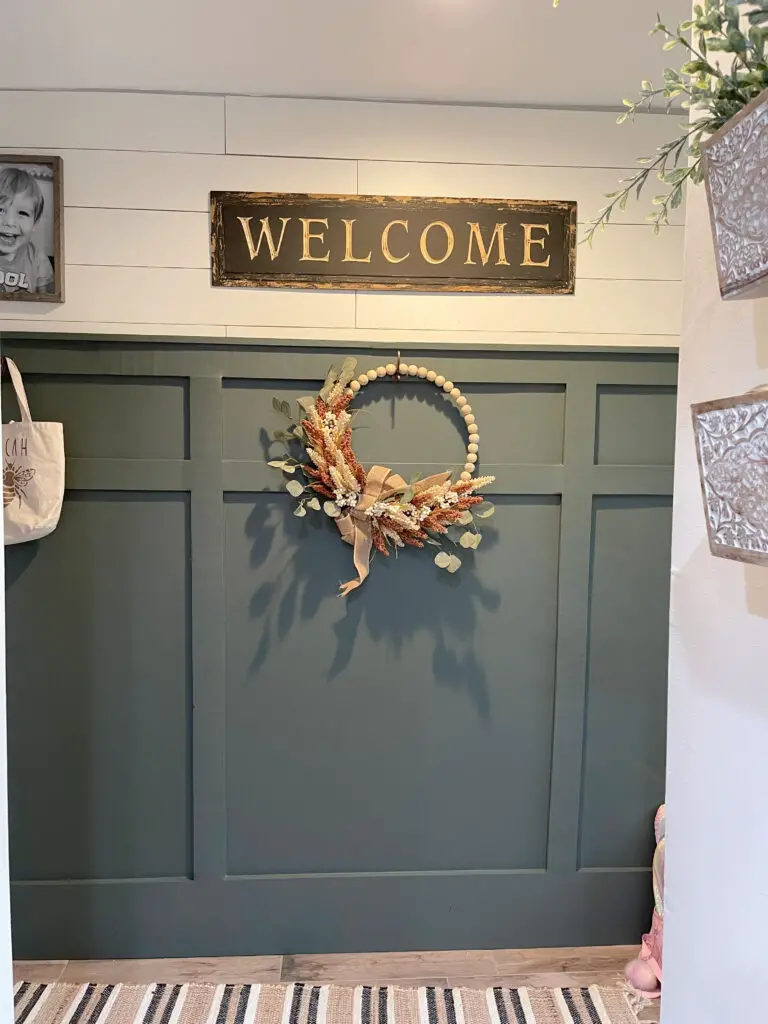 I love how it turned out! It really adds character to my entryway. What I also love is that you can always change the paint color when you are ready for something new. I started out with my board and batten wall in white and now it is a rich green! Have some fun with it and I hope you love it as much as I do!
As always, go create, have fun, and "find the beauty within your home." Thanks for stopping by our Faux Florida Farmhouse today and every day! We love having ya! Until next time friend.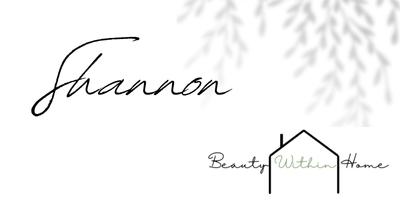 FIND THE VIDEO TUTORIAL HERE:
Find more Farmhouse inspired DIY Projects here: