I love using real pumpkins in my Halloween and fall decor. However, we live in Orlando, FL, once you cut into your pumpkin you have maybe 2 to 3 days before it melts. Yes, we have hot and humid weather even in October. So I wanted to come up with a cute way to use a real pumpkin, but have it last a little longer. This fingerprint pumpkin ghost DIY turned out adorable and was so easy to make. Even if you don't have to worry about the humidity where you live like we do, you will love this fingerprint pumpkin DIY. Let me show you how simple it was to make.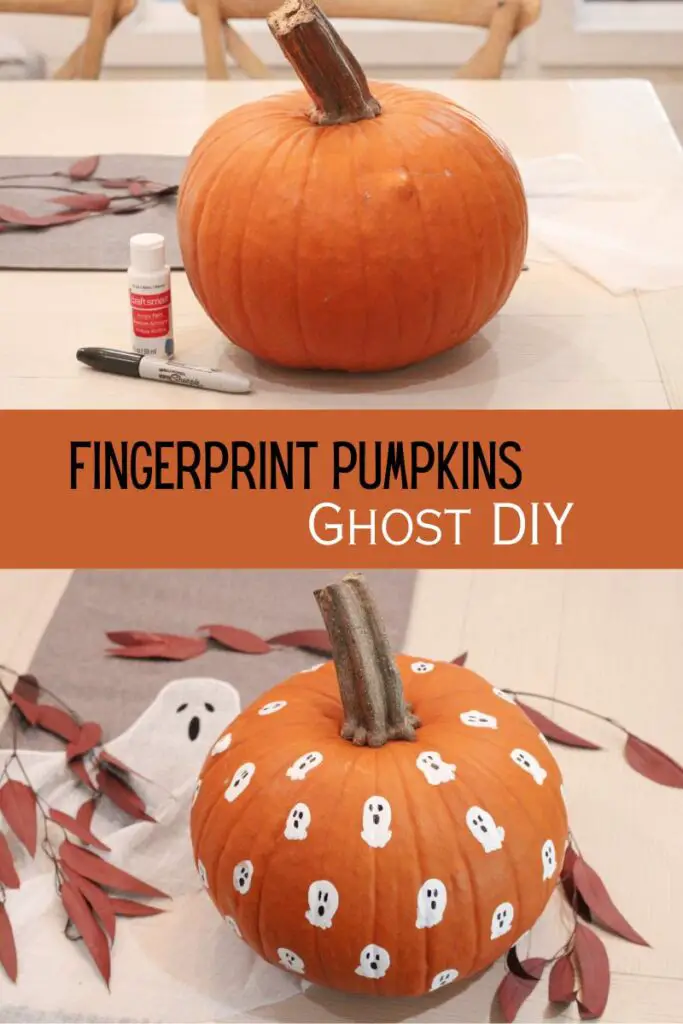 Kid Friendly DIY
One of the things I love about this fingerprint pumpkin ghost DIY is that it is kid friendly. Anytime I can have my kiddos help me with a DIY or project, I love it and so do they! My daughter helped me make this and it was so much fun to have her help me. We love doing Halloween crafts together!
Also, you can have your kiddo do the whole thing, and save it as a sweet keepsake. Instead of using a real pumpkin you can use a fake one, and save their thumbprints and have a fun timestamp of that age. Bring it out every Halloween season and say remember when we made this together? Look at how small your thumbprints were! So fun! Who doesn't love pumpkin crafts during the Halloween and fall season?!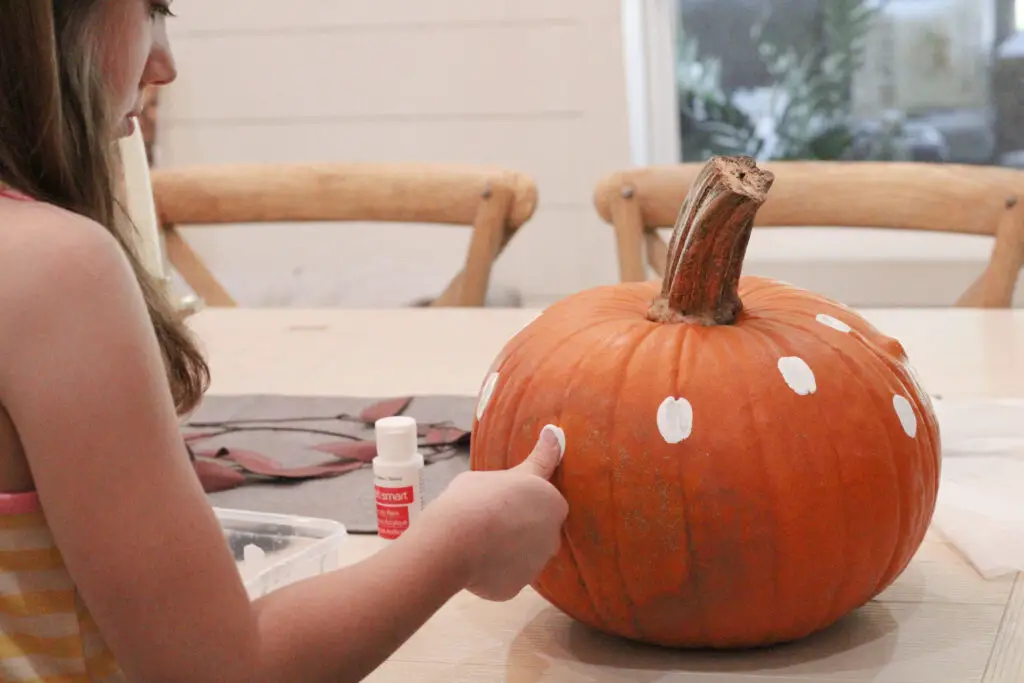 Fingerprint Pumpkins Ghost DIY Cost
I got the pumpkin at a church pumpkin patch for $10
The paint I had on hand already, I am a DIY and crafter, but you can get a bottle of white paint for around $2
The sharpie I had on hand already as well, but again you can get one for a few dollars.
So the whole thing can cost anywhere from $10 to $15 to make.
Making It Your Own – Ideas and Variations You Can Do
Real pumpkin or fake pumpkin: I used a real pumpkin, but you can also do this craft with a fake pumpkin. That way it will for sure last you, and you can use it every Halloween season.
Ghost-painted pumpkins: I did a ghost pattern on mine thumbprint pumpkins, but you could do cats, bats, spiders, Halloween pumpkins, Frankenstein faces, fingerprint pumpkin patch, etc. Get creative and make it your own. You can make so many things with fingerprint art.
*Note: If you choose to make a different pattern then the ghosts, just remember to adjust your paint colors below. For example, if you do bats you would want black paint. If you do Frankenstein faces you would want green paint.
Different colored pumpkins: I used an orange pumpkin but you could use any color you like. For the ghosts, a black pumpkin would look cool too. For the bats or cats, you could use white pumpkins.
Cute Fingerprint pumpkins: instead of doing fingerprints like I did, you could do handprint crafts.
Sharpie Black Marker: I used a black sharpie marker, because that is what I had on hand. If you have black paint on hand, or a black paint marker, use those instead.
Skill Level Needed: Beginner and Kid Friendly
This is a DIY or craft for all skill levels! It is even kid friendly and little kids can be included!
How Much Time Did This DIY Take?
If you do not account for paint dry time, it took me only 15 minutes to do the whole thing.
My paint dried in an hour. You can complete this whole project in very little time.
Materials and Supplies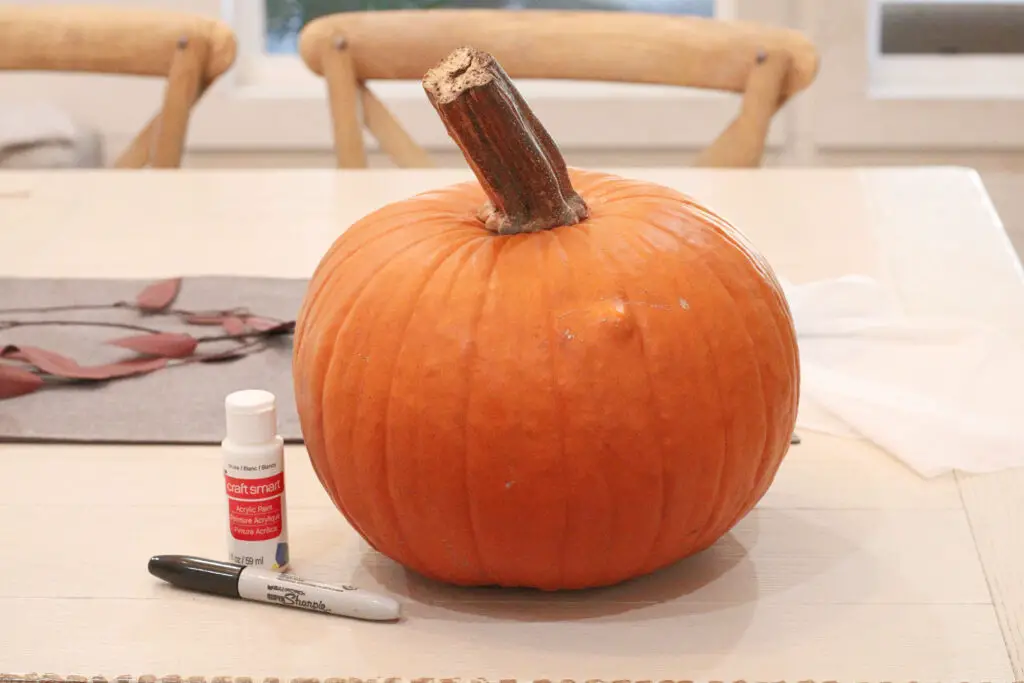 This post contains affiliate links, as a participant in the Amazon Services LLC Associates Program, an affiliate advertising program designed to provide a means for us to earn fees by linking to amazon.com and affiliated sites at no cost to you. See my full disclosure here.
A real or fake pumpkin
White acrylic paint
Sharpie black marker
Paper plate or container to put your paint on
Steps and How To Make Your Fingerprint Pumpkins Ghost DIY
Here are your step by step instructions.
Step One: Purchase Materials and Get Materials Ready for Your Project
You can purchase materials or craft supplies through Amazon, or go to you local craft store like Michael's or Hobby Lobby.
Step Two: Paint
Put your paint onto a paper plate or container.
Dip your thumbprint into the paint. Make sure it is not too much paint, it can cause it to drip on the pumpkin if you have too much on your finger.
Then, press your thumbprint onto the pumpkin.
Space out your thumbprints however you would like and what looks pleasing to you.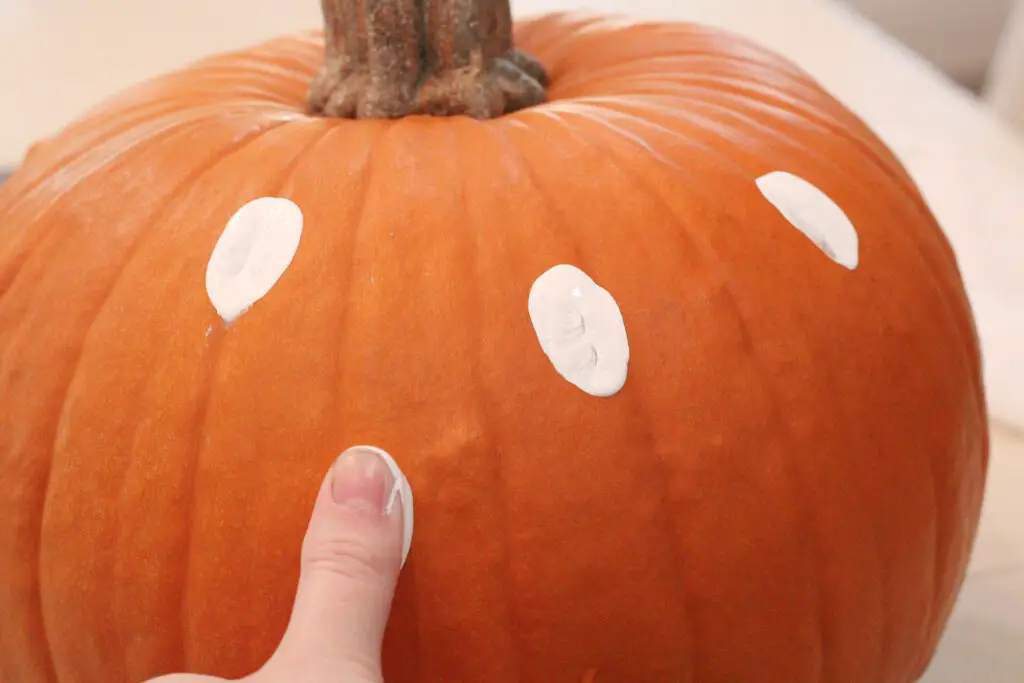 *Note: I did add some fingerprints at the bottom of the thumbprints that made the bottom of the ghosts look wavy. You do not have to do that part, you can leave them as just round thumbprints if you want.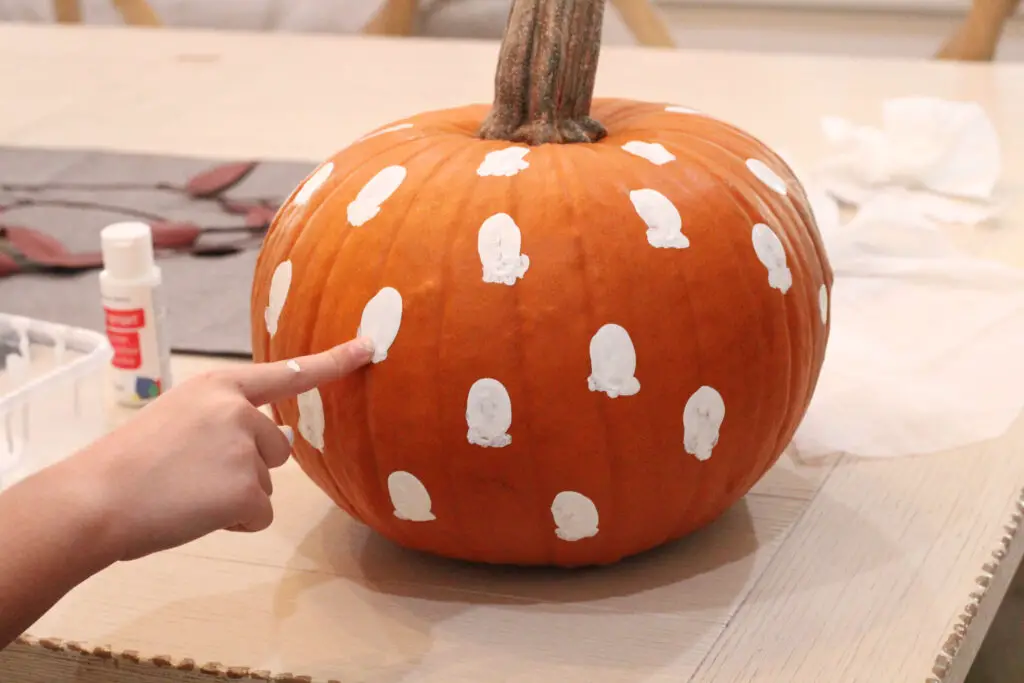 Step Three: Allow Paint to Dry
Once you have completed all your thumbprints, allow the paint to dry completely.
Step Four: Draw on Ghost Faces
Draw the ghost faces onto the white thumbprints with black sharpie.
If you do not have a black sharpie, but have black paint, dark paint, or a black paint marker, use one of those instead.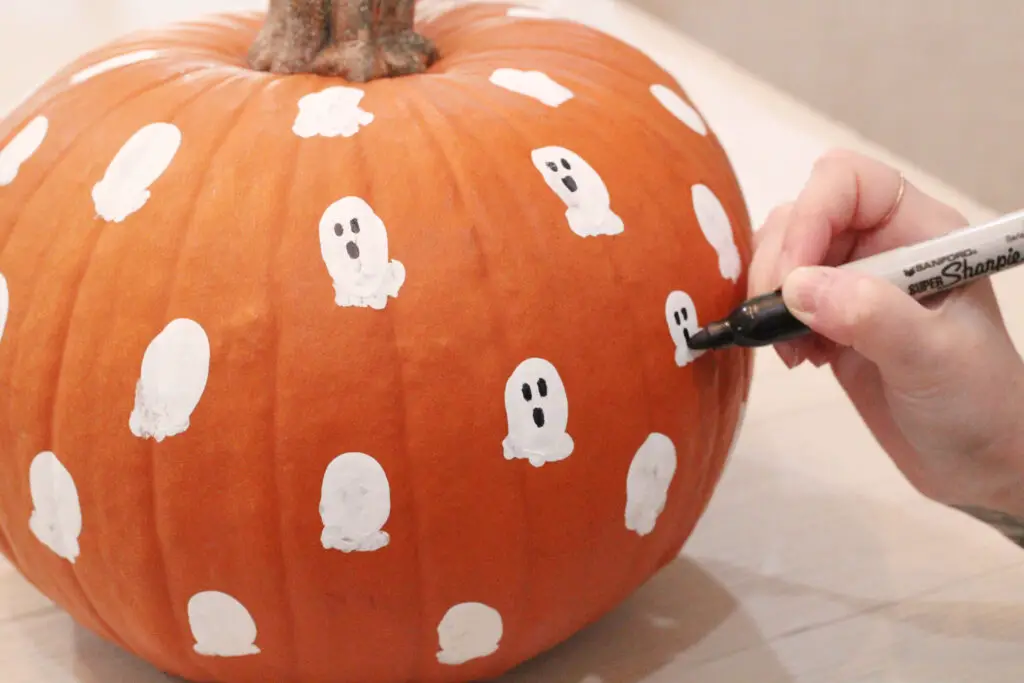 Your Fingerprint Pumpkins Ghost DIY is Done!
The end result is so cute! This was such an easy craft and DIY! I love how mine turned out and I know you will too.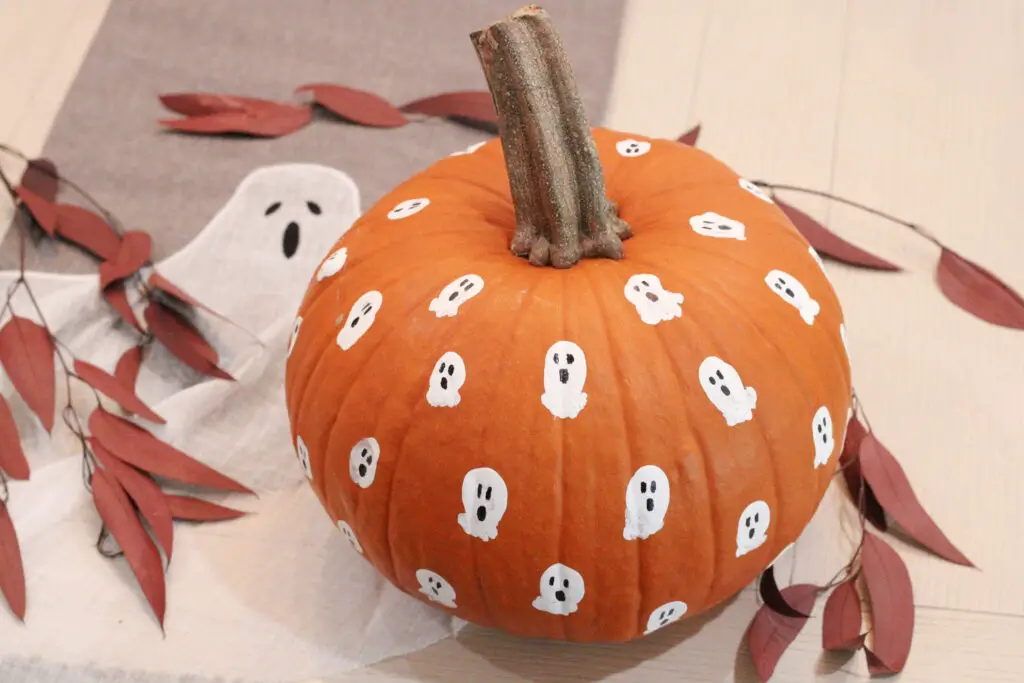 Where Can I Put This Cute Halloween Decoration In My House?
There are so many options!
On your front porch
By your front door
​You can put it outside as part of your outdoor Halloween decorations
On a console table
​Underneath your fireplace mantle
In your dining room, on your dining table, as a part of your centerpiece
If you do end up making it, let me know in the comments below where you put it and what design did you use!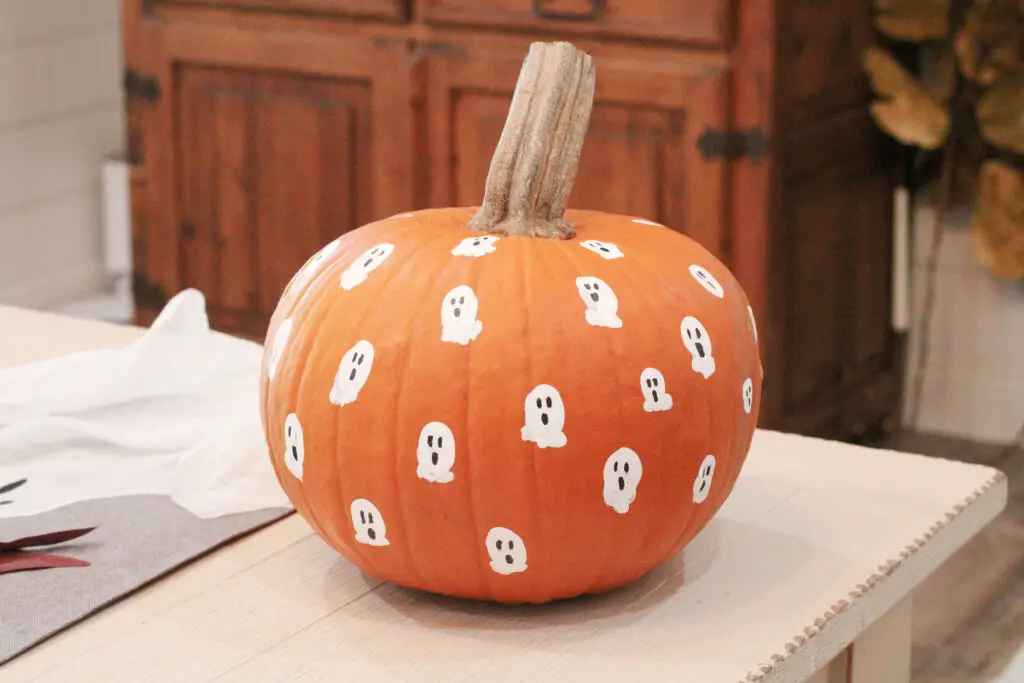 Easy Fingerprint Pumpkins Ghost DIY
I hope you loved this easy DIY Halloween house tutorial and it gave you some fun Halloween inspiration. If you end up making it, let me know in the comments below. As always, go create, have fun, and "find the beauty within your home." Thanks for stopping by our Faux Florida Farmhouse today and every day! We love having ya! Until next time friend.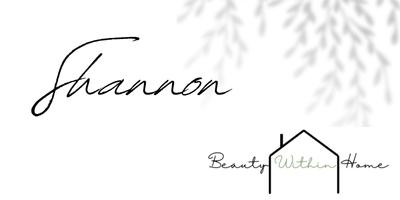 PIN IT FOR LATER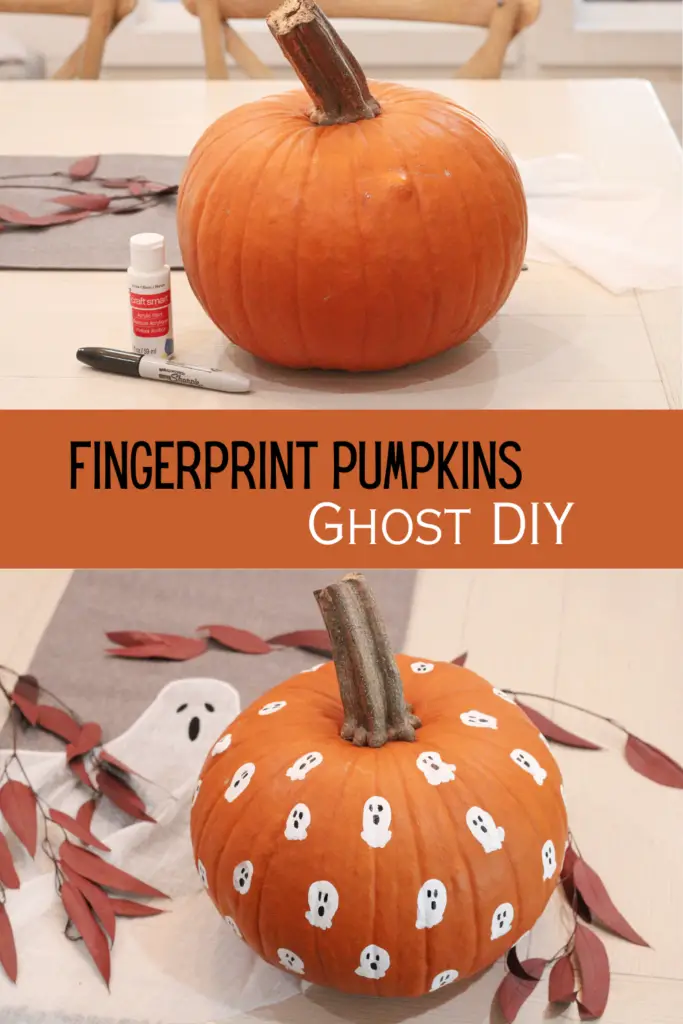 FIND MORE HALLOWEEN DIY PROJECTS HERE: 
How To Make An Easy DIY Halloween House
FIND MORE OF OUR DIY PROJECTS FOR YOUR HOME HERE:
Cheap and Easy DIY Farmhouse Door