I have a passion for decorating, DIY projects, and all things farmhouse. If I can do something for cheaper I will, and I will show you how too! This blog post is all about how to decorate on a budget. Here are some of my favorite affordable and thrifty decorating tips and tricks that I use in my own home.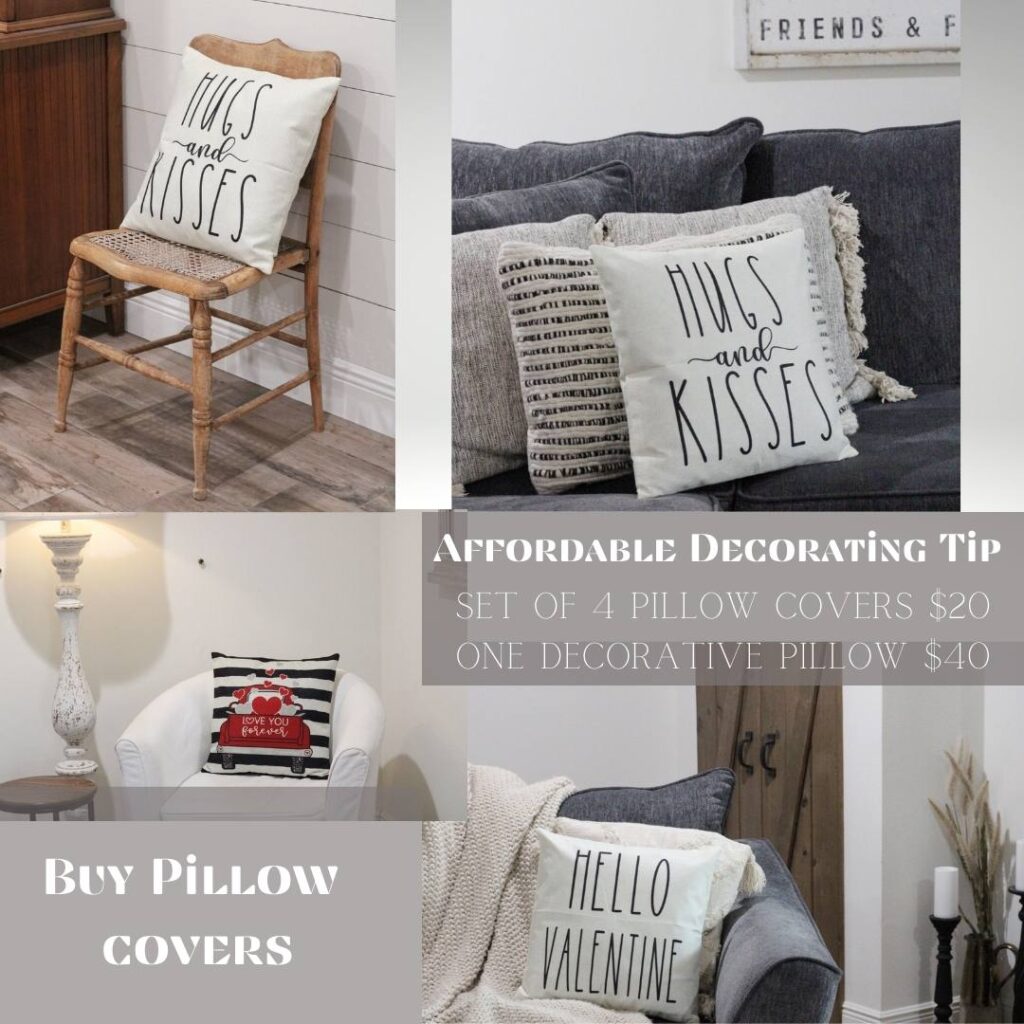 This post contains affiliate links, as a participant in the Amazon Services LLC Associates Program, an affiliate advertising program designed to provide a means for us to earn fees by linking to amazon.com and affiliated sites at no cost to you. See my full disclosure here.
Pillow Covers
If you are like me you like to change out your décor for the different seasons or even just when you get bored. So I use pillow covers! Pillow covers can be used for seasonal themed pillows or even just for your everyday pillows.
Pillow Covers Are Affordable
You can get pillow covers on Amazon for $20 for a set of four. If you went and bought a decorative pillow from the store, they can be $40 for just one! If you buy them out of season you can get them for an even better deal. Right now, the Christmas pillows I linked are on sale for $6.99 for a set of four!
Pillow Covers Are Easy To Store
Another perk is that they are so easy to store! Just fold them up and put them in your linen closet or a bin in your attic. They do not take up a lot of space and give you so much versatility.
Here Are Some Of My Favorite Pillow Covers
Christmas pillow covers here.
Fall pillow covers here.
Valentine's Day pillow covers here.
Every day neutral pillow covers here.
DIY Projects
A lot of time you can do something for cheaper if you just make it yourself. I really wanted shiplap in my home, but I did not want to pay for real shiplap! So I made my own DIY Shiplap using thin underlayment boards. My whole shiplap wall cost me $100 instead of hundreds of dollars. The best part is, no one knows it is not the real shiplap. It looks amazing and was easy and affordable. You can find my step-by-step tutorial on how we did the DIY Shiplap here.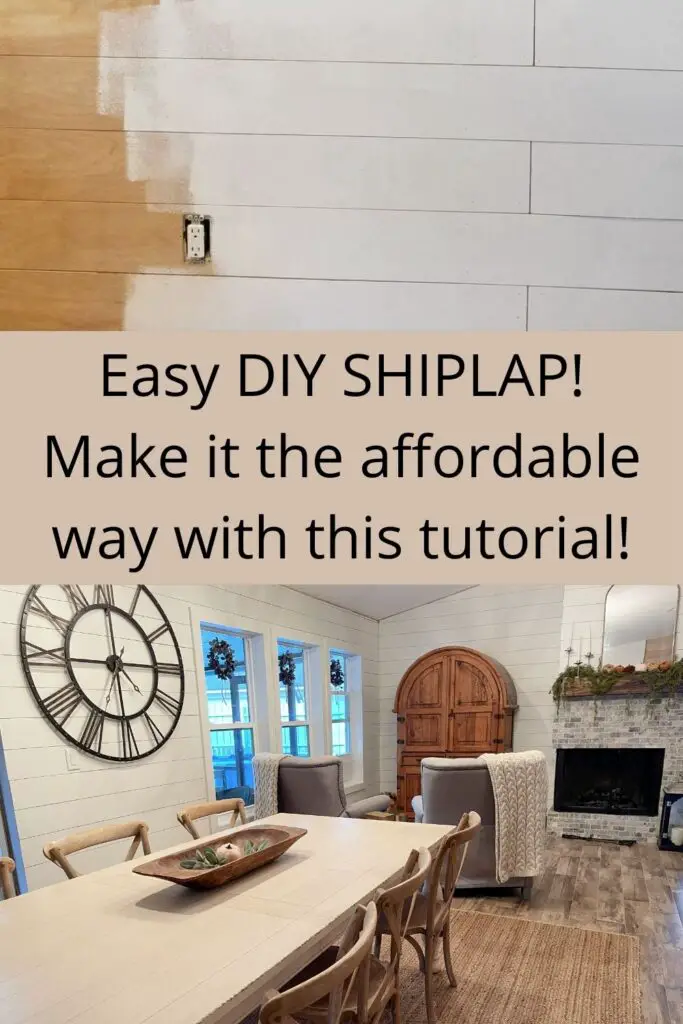 Getting Crafty
I love Anthropologie mirrors. However, I do not love how much they cost. I decided I would hunt out a mirror that looked similar but didn't cost as much. Well, I found one at Kirkland's, which by the way is one of my favorite home décor stores, along with Hobby Lobby, and Target. The mirror was the same style but was in black. The best part it only cost me $100! I still wanted the mirror to be gold like the Anthropologie mirror so I purchased some rub n buff in European gold and painted it. The mirror looks great and looks just like the real deal!
Instead of paying $600 for an Anthropology mirror I got a look alike for $110. Sometimes you just have to get a little crafty to get what you want. This is one of my favorite affordable and thrifty decorating tips and who doesn't love a good craft? You can find my step-by-step instructions on my Anthropology mirror dupe here.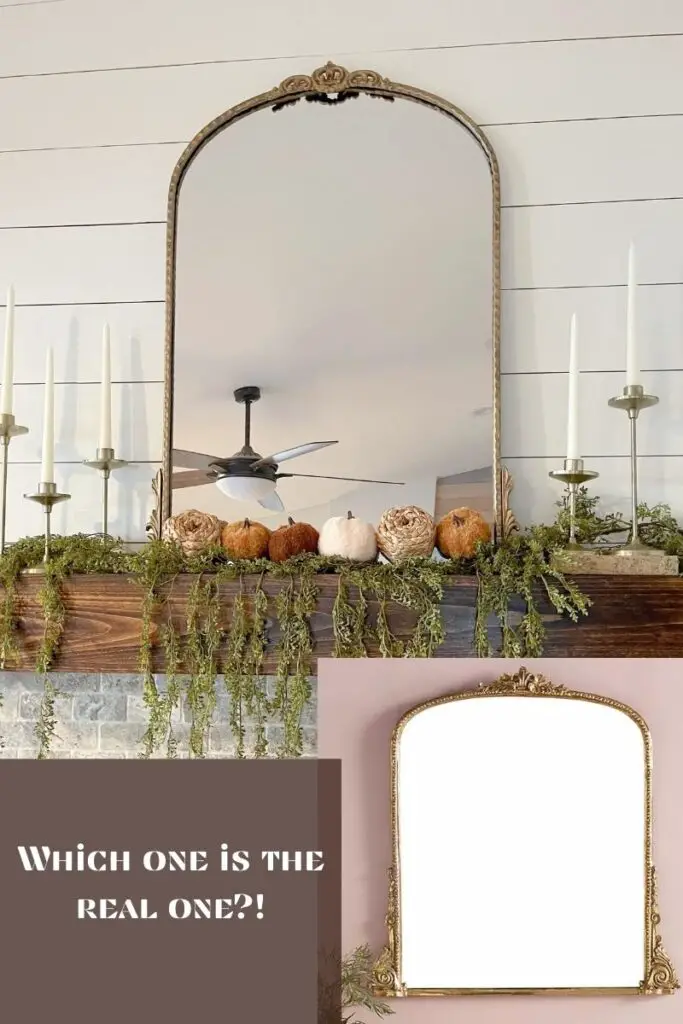 Facebook Marketplace
I love to search for deals on Facebook Marketplace! I have gotten so many deals on there and sometimes even score things for free. This beautiful clock was only $50! It is one of my favorite finds. It reminds me of the mora clocks in shape.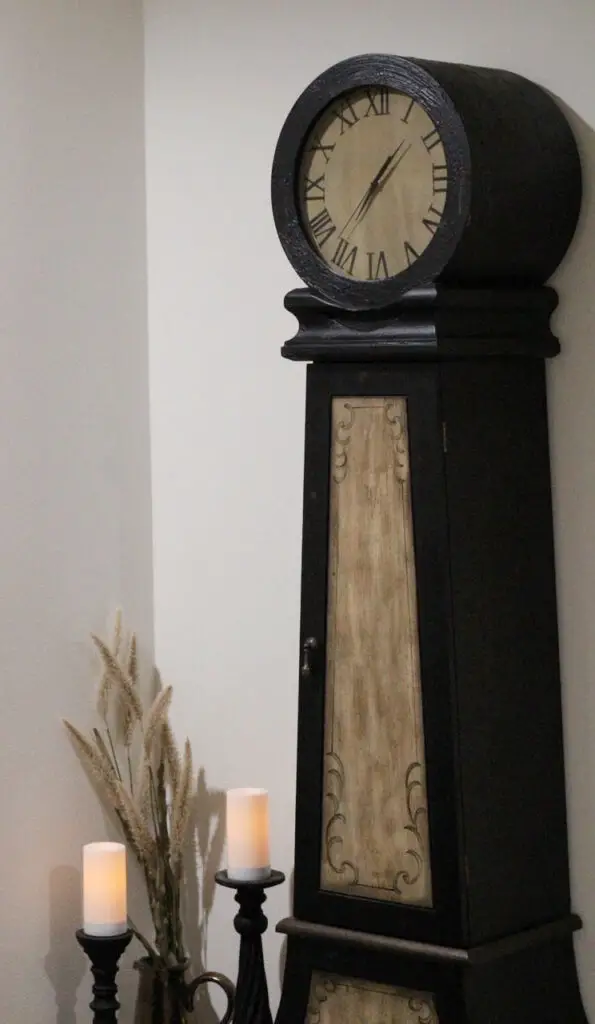 What is nice about Facebook Marketplace is that once you search for something, like a dining room table, you results will start sending you even more dining tables. You will want to keep checking back for a few days because more results will keep popping up. A little patience will have you finding some great deals, trust me!
Paint Is Your Best Friend
When purchasing used furniture, one of the things to remember is that even if something isn't exactly your style in its current state, its usually nothing a little paint can't fix! If you see a hutch you love but its dated – paint it! It is amazing how a piece can transform after a little paint.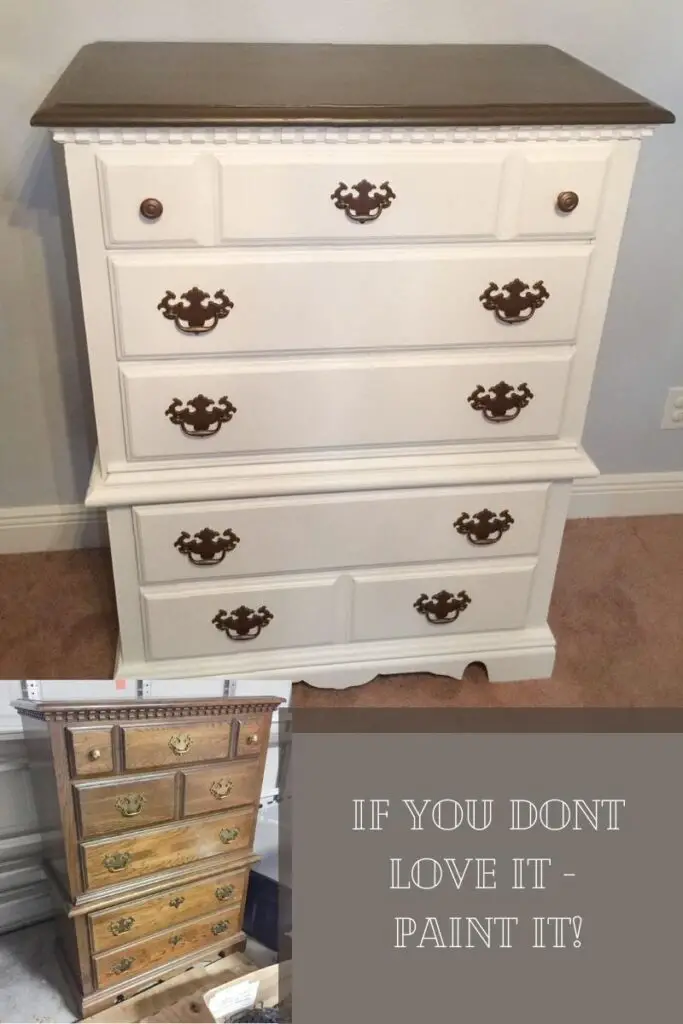 I found a beautiful dinging room set for a friend that looked like it was from Restoration Hardware. It was a table and 6 chairs for $50! It had a little bit of nail polish on the top and the lady who had it didn't know how to get it off. So she just purchased a whole new table. We purchased it for my friend and got the nail polish off in minutes. Don't be scared of a project that requires a little fixing up. It may be easier then you think!
Reusing Decorations You Already Have In Your Home
I like to reusing decorations I already own in different ways or for multiple things. For example, I have a red Rae Dunn Christmas mug that I use for Christmas and Valentine's Day décor. During Christmas, I let the words "Deck the Halls" show since it is on theme. For Valentine's Day, I just turn the mug around so you only see the red cup. No one knows and I didn't have to spend anymore money.
I also have a pink one that says "boss mom" and did the same thing and just turned it around. So I had my on theme pink and red Valentine's Day mugs for my shelf display.
Antique Stores And The Hunt For Affordable And Thrifty Decor
I also love to look at antique stores and find unique treasures and deals. Recently, when we were leaving for the antique store, my hubby said, "we have to bring the truck because even though you are just looking for copper pots, with you I never know what we will bring home"… that's fair. And just because I like him to always be right – haha. I did actually find an antique chair. It is a gorgeous wood color and was only $20!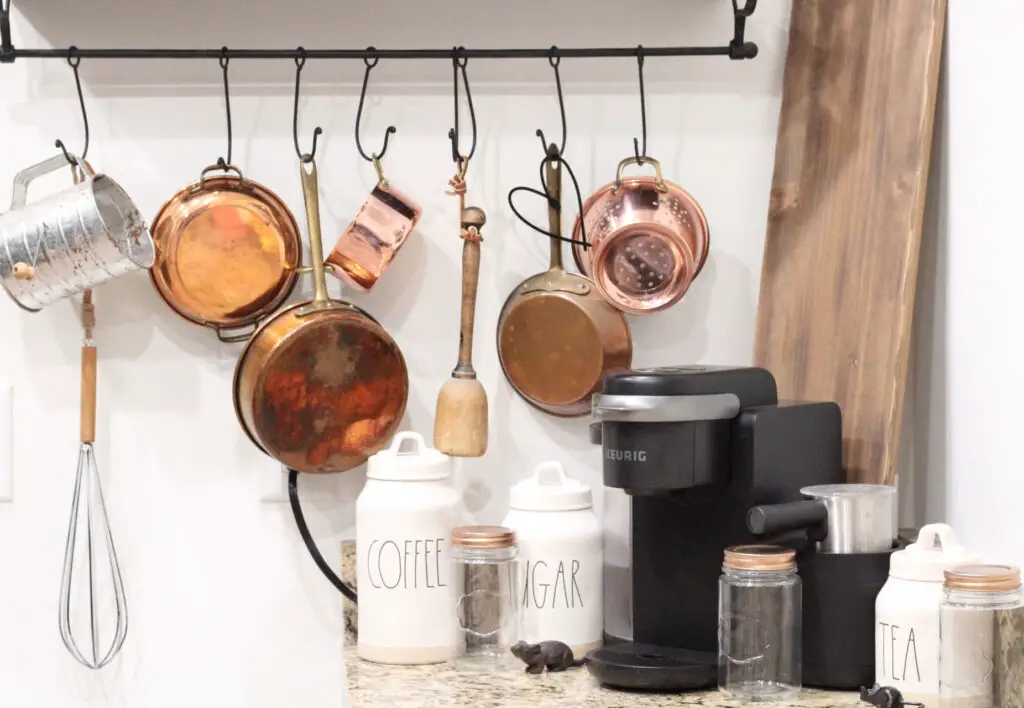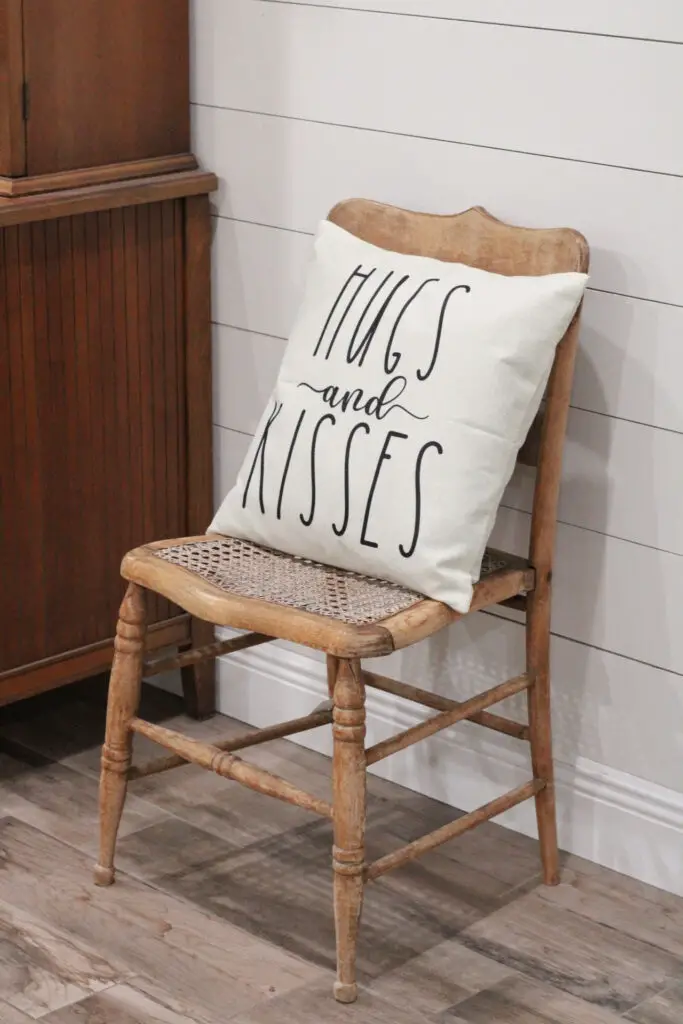 Using Nature's Bounty
Another fun way to decorate is by using things you have found in nature. I love getting my kids outside and going on nature walks together. We pick up pinecones, twigs, leaves, flowers, and any unique finds along the way. During spring we love to bring in some fresh cut flowers and place them in a vase. In winter, ok we live in Florida so maybe I should say in our "winter," we bring in pinecones and twigs and place them in my sour dough bowl on my dining table. In fall, we bring in fall leaves and hunt out the biggest ones we can find. It gets us outside, it allows us to be creative, and it is free décor!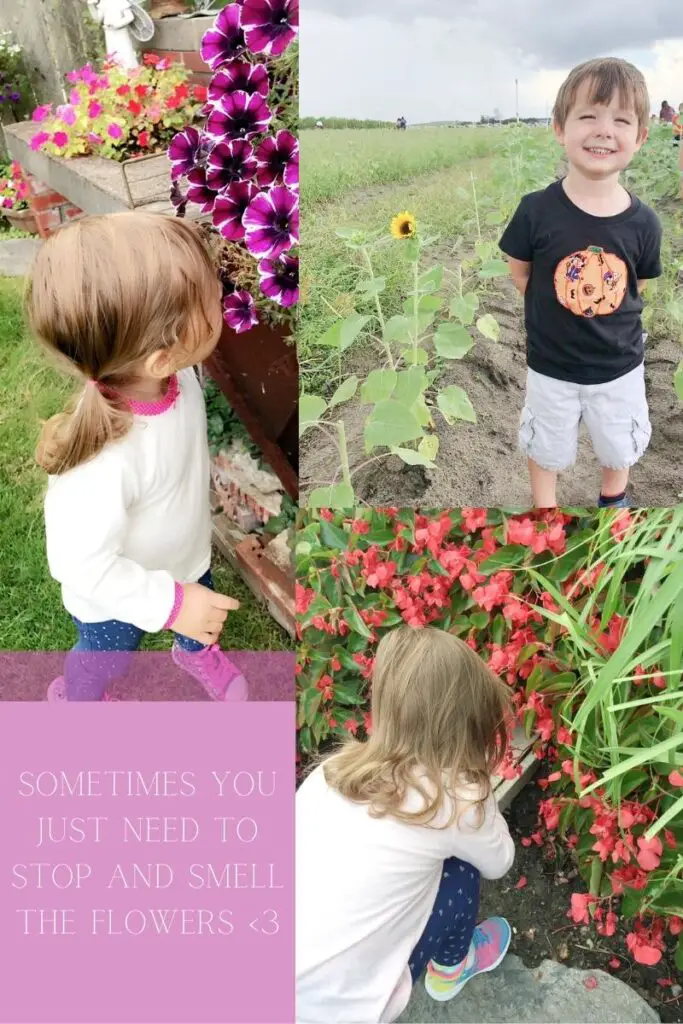 Hope You Collected Some Affordable and Thrifty Decorating Tips
I hope this post gave you some affordable and thrifty decorating tips that you can use in your own home! If you have any really great tips or tricks please comment them below. Thanks for stopping by my Faux Florida Farmhouse!