It is officially the month of October! Even here in Florida we feel a slight coolness and breeze outside. Fall is definitely in the air, which means Halloween is just around the corner! Today, I have the absolute cutest craft for you. Using mostly Dollar store supplies or items I already owned, I created some DIY ghost candles! Not only are these ghosts adorable, but this was SUPER SIMPLE to make! Let me show you how with this easy full tutorial.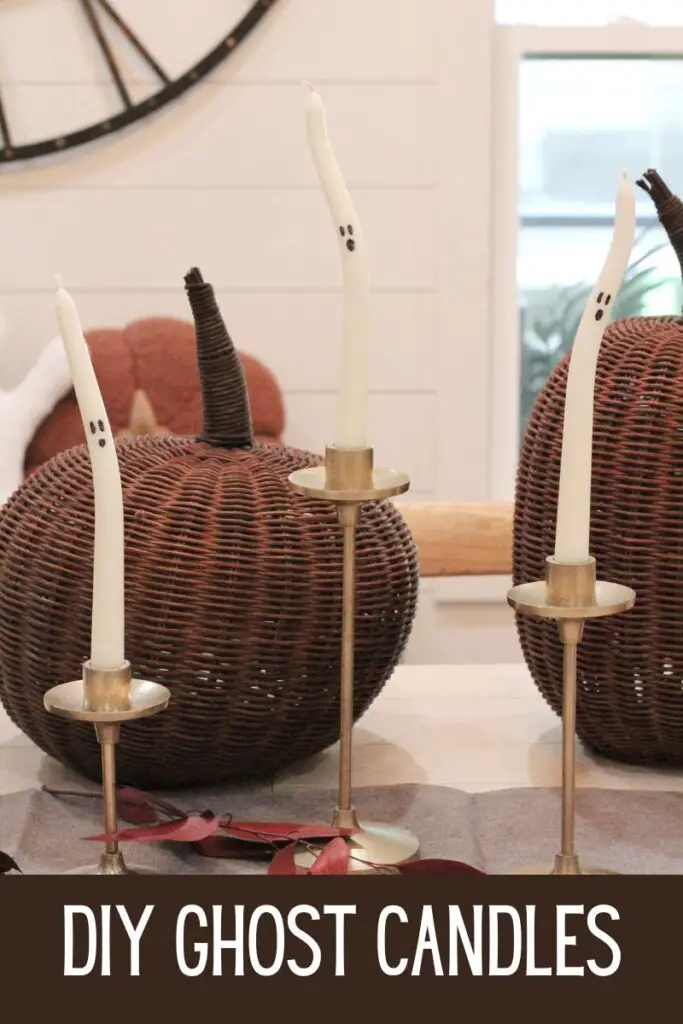 Simple DIY Ghost Candles Cost
I had some leftover tapered ivory candles that I was not using. However, if you needed to purchase some you can get them at the Dollar Tree, a set of 2 is $1.25. Amazon has a set of 24 candles for $15! You can keep some for other things or make 24 DIY ghost candles. I am always crafting and never mind keeping extra supplies on hand for another project possibility.
I had a black sharpie on hand so that was free. If you would like to purchase a black acrylic paint pen it would be around $4.
For a set of 6 DIY Halloween candles, you are looking at under $8 to make! 
Halloween DIY Ghost Candles
For me, there is just something about being able to tell people I made that! I love making DIY Halloween decorations for my home and I love to get my kiddos to help. That way year after year when we decorate our home we can say remember when we made this together. It's a great way to make your house a home, and filled with fun family memories together. 
Another great reason to DIY instead of buy new is cost. You can save money by making it yourself. 
Materials and Supplies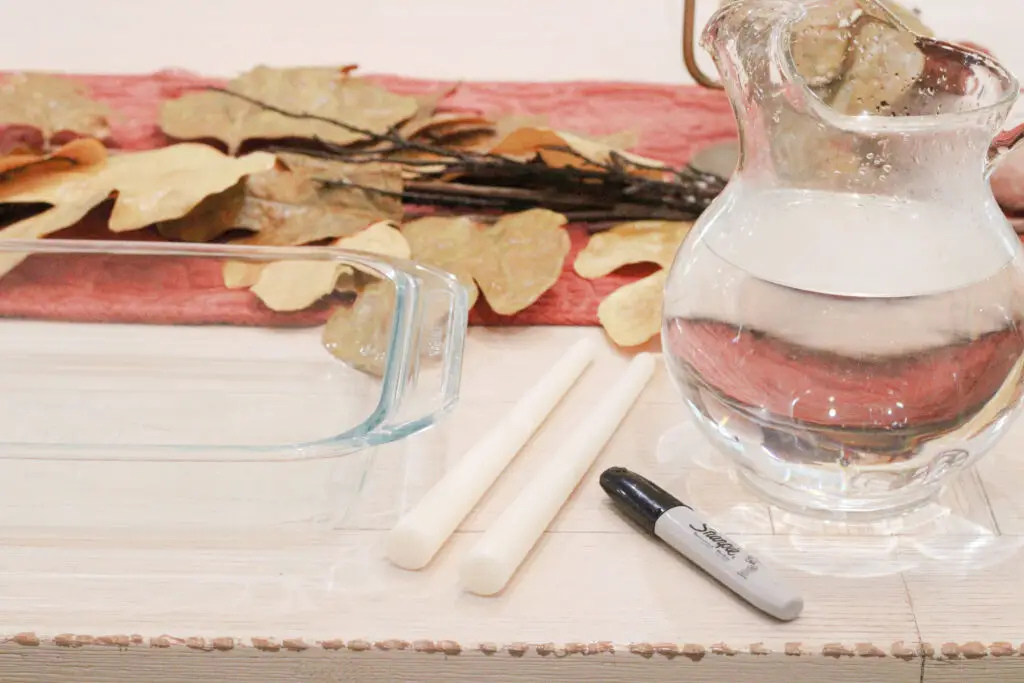 This post contains affiliate links, as a participant in the Amazon Services LLC Associates Program, an affiliate advertising program designed to provide a means for us to earn fees by linking to amazon.com and affiliated sites at no cost to you. See my full disclosure here.
​White tapered candles or even ivory works
A black Sharpie or black acrylic paint pen
A glass baking dish or dish that will fit the candles when they are submerged in water
​Hot tap water
A plate to hold the candles down in the water and keep them from floating
STEP ONE: FILL A GLASS CONTAINER WITH HOT TAP WATER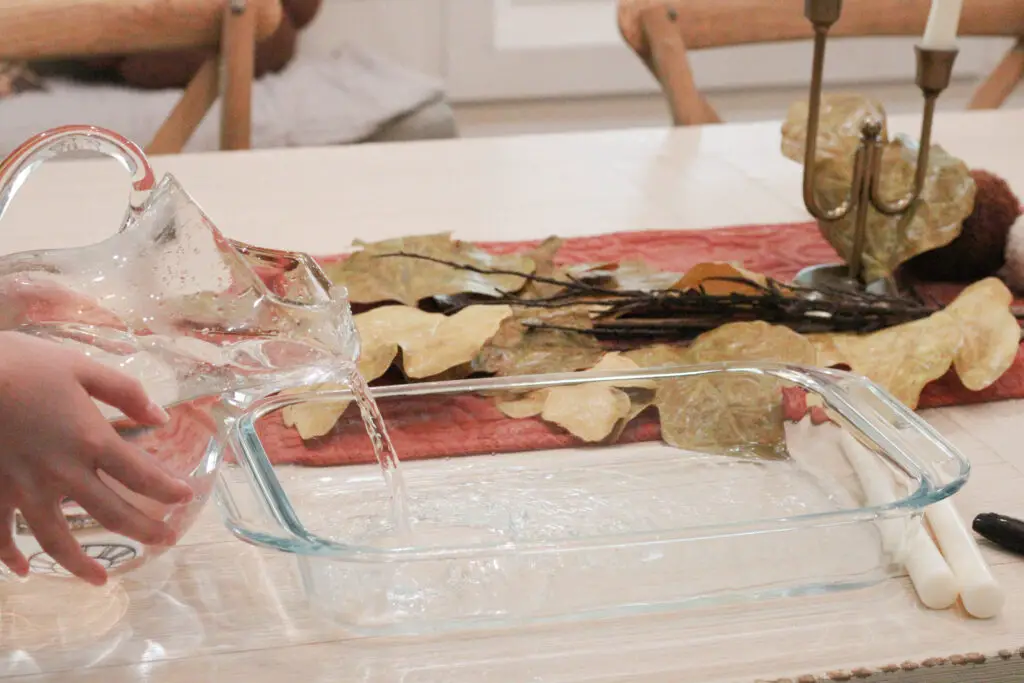 Put hot tap water into a bowl or container that will fit all of your tall white candles you are working on. 
I turned my faucet all the way hot. Warm water won't be enough, it needs to be hot. 
You want enough water that they can be submerged completely in. 
STEP TWO: PUT YOUR CANDLES INTO THE HOT WATER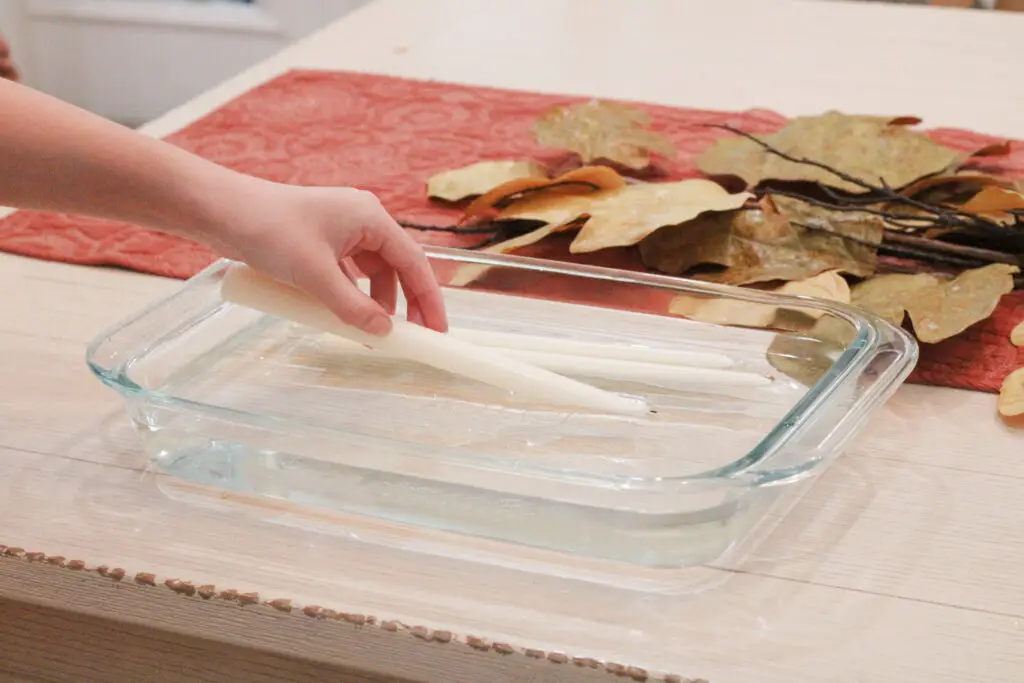 Put your candles into the hot water. I then placed a plate on top of the candles to stop them from floating. I of course kept it on theme and used a pumpkin plate, because it's me! You can use any plate you have on hand.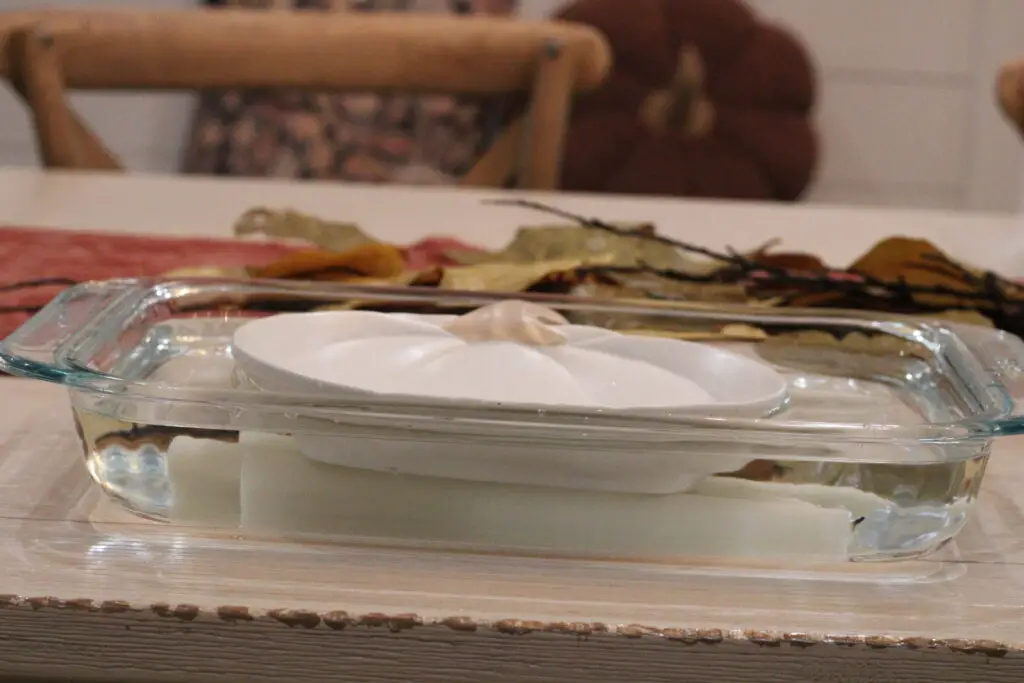 You will leave the candles in the water for 10 to 12 minutes. 
If you do them in batches, make sure to add fresh hot water each time. If the water cools off too much, it wont work.
STEP THREE: KEEP THE CANDLES IN THE WATER AND START TO BEND THEM
Take the plate out of the water but keep the candles in the water.
Then take one of the candles and slowly bend the candle. You are just trying to create a fun and simple curve in the candle. 
If you move too fast or too hard, the candle will snap. 
It doesn't have to be a big curve, just a little on to add some movement and fun to your ghosts!
Once you have the shape you want, take them out of the water and allow to dry. 
STEP FOUR: DRAW A GHOST FACE ON THE CANDLE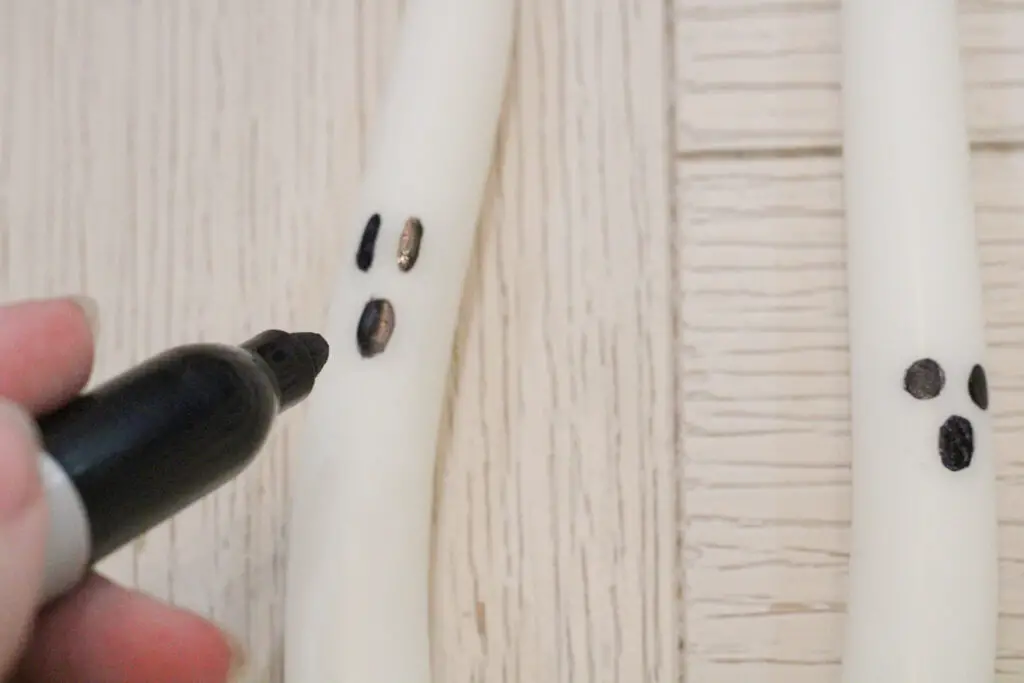 Take your black sharpie or black acrylic paint pen and add a ghost face to your candle. 
You can do cute little faces or spooky faces on them, you can get creative with yours. 
DONE!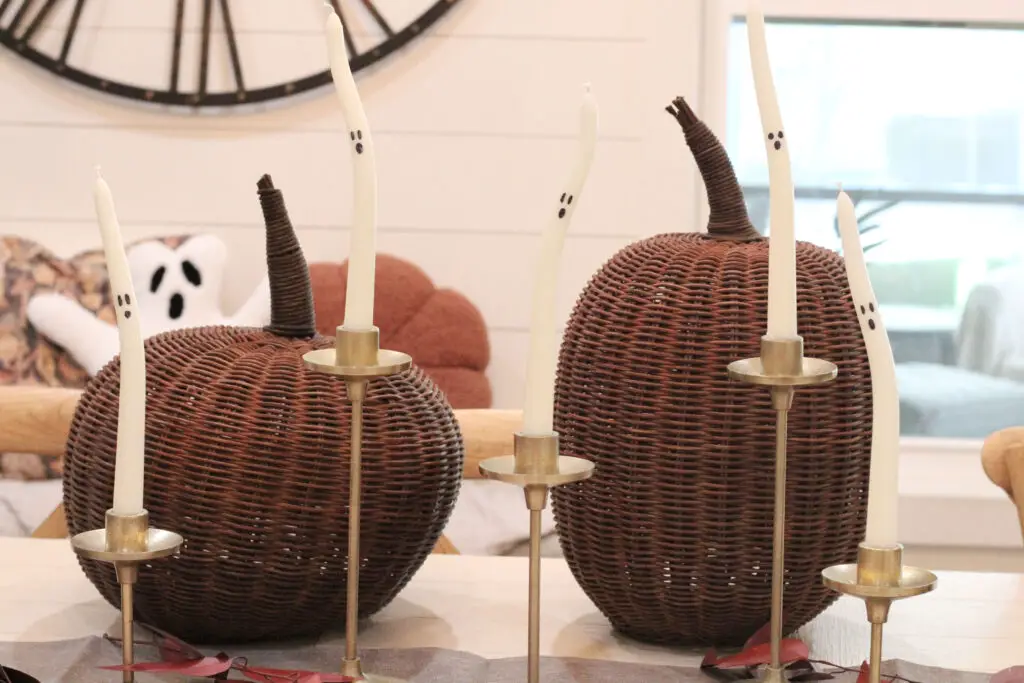 That's all! How simple was that? These DIY ghosts candles are an awesome candle display for Halloween! I hope you love these creative bendy ghosts as much as I do! 
They were the perfect addition to my Halloween table décor and my Halloween mantel for spooky season. I placed them in some gold candle holders on my table, and black candle holders on my mantel. They look amazing in either color. 
How Could I Decorate Or Use These DIY Ghost Candles?
You can put them on your dining table as part of your Halloween tablescape.
Halloween fireplace mantel décor 
They can be used as party favors for your Halloween party
Or just part of the centerpieces for your Halloween party, as part of your holiday décor 
​On your front porch or patio area
Outside as part of your outdoor Halloween decorations. 
Easy Ghost Candles DIY
I hope you loved this easy DIY ghost candles tutorial and it gave you some fun Halloween inspiration. If you end up making them, let me know in the comments below. As always, go create, have fun, and "find the beauty within your home." Thanks for stopping by our Faux Florida Farmhouse today and every day! We love having ya! Until next time friend.
FIND MORE HALLOWEEN DIY PROJECTS HERE:
FIND MORE OF MY DIY PROJECTS FOR YOUR HOME HERE:
Cheap and Easy DIY Farmhouse Door