Welcome to my Faux Florida Farmhouse Dining Room Tour. This space has been given a complete renovation and some amazing farmhouse character. I am going to show you how I added to this space and pulled it all together!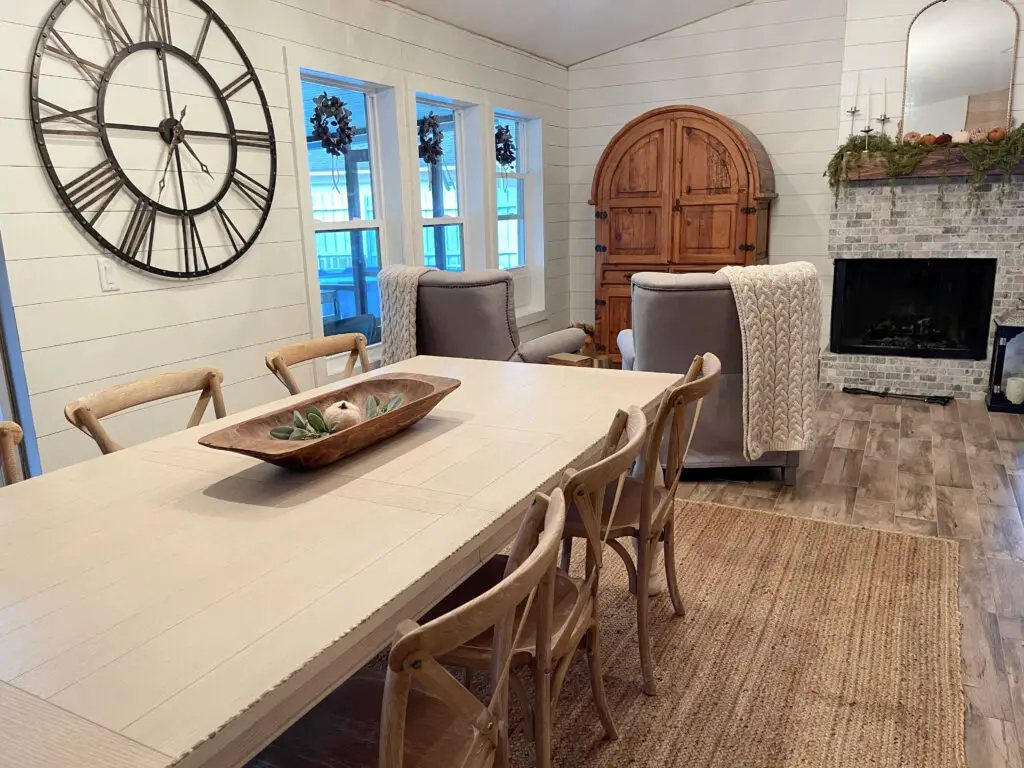 This post contains affiliate links, as a participant in the Amazon Services LLC Associates Program, an affiliate advertising program designed to provide a means for us to earn fees by linking to amazon.com and affiliated sites at no cost to you. See my full disclosure here.
Today, I want to share with you our Faux Florida Farmhouse dining room.
If you have been following along with our home renovation, you know that we bought a builder grade home from the 80s. I mean really, straight from the 80s!

My dream is to own some land and my very own farmhouse, but here in Florida land is expensive. I decided to find the beauty within my home and add my own farmhouse character and charm. Who says you have to live out on a farm to decorate your home with farmhouse style? Not me!
Allow me to whisk you away, see what I did there, whisk you away – (kitchen pun) ok I am done now. Follow me to our dining area, as I show you our builder grade home that I like to call my Faux Florida Farmhouse.
Farmhouse Dining Room Table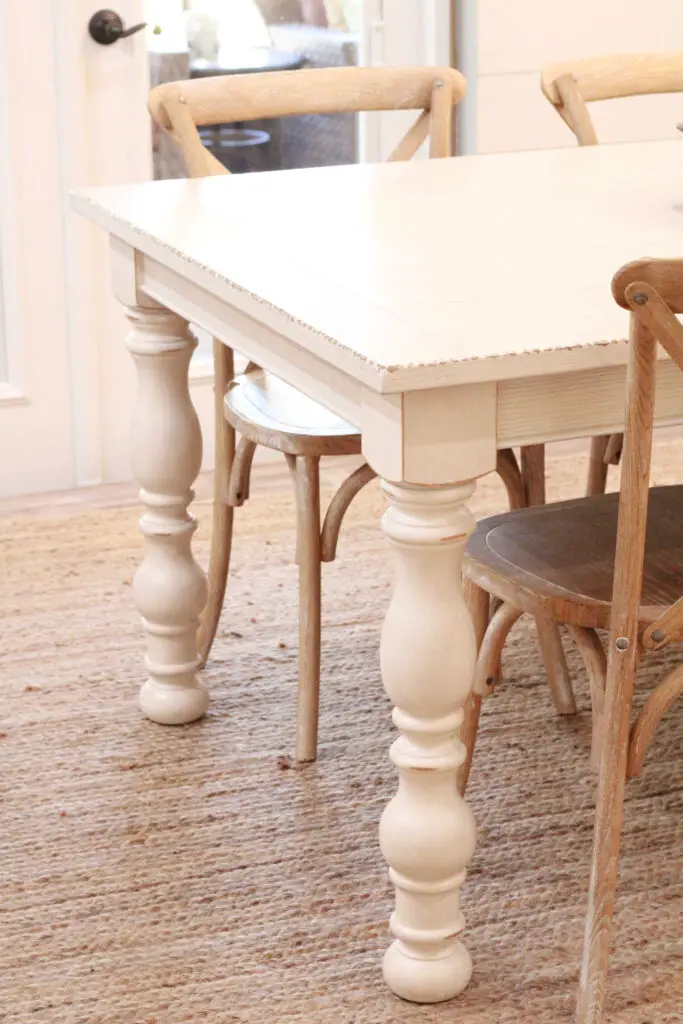 I usually try to purchase my furniture from Facebook Marketplace because you can find such amazing deals. However, with my dining table, I really wanted something specific and decided to buy new.
I wanted a nice big farmhouse table with large, chunky legs and in a neutral color. When I saw this one on Wayfair I knew it was perfect.
I do not like to match my table and chairs. It is just my personal preference. I knew I wanted chairs in a different color or wood tone. The chairs I did decide to hunt down on Facebook Marketplace. I love hunting for deals on Facebook Marketplace as I'm sure you know by now. I found these neutral, wood grain cross-back dining chairs for $150 for a set of 6. They were also brand new and still in the box!
We love to have family and friends over so this table fits all of us and is perfect.
Farmhouse Dining Room Rug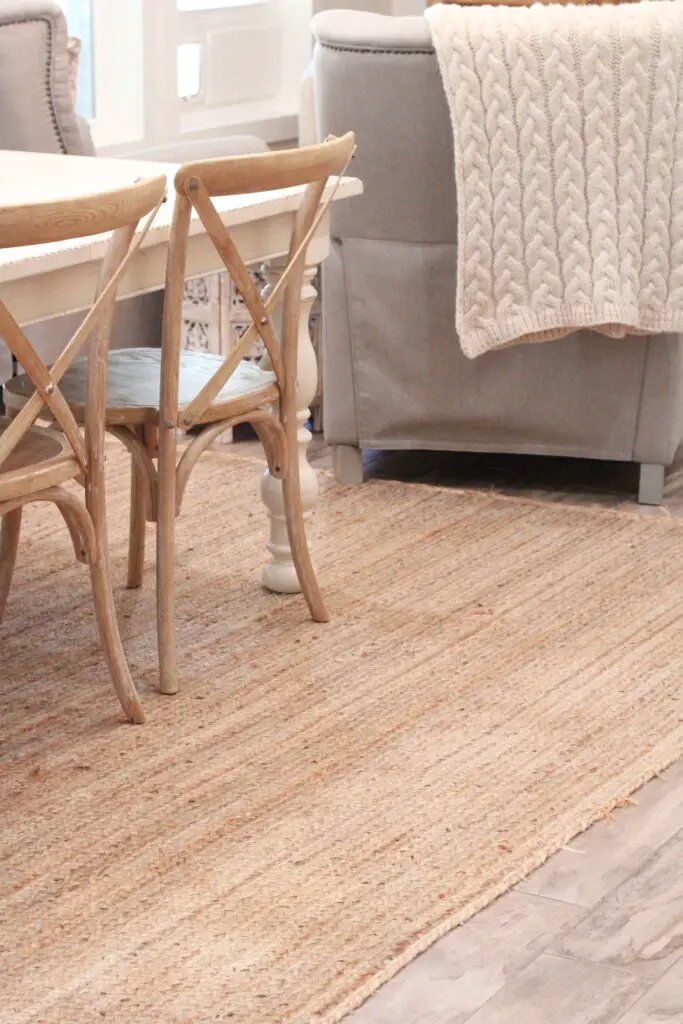 This can be a controversial question, should you put a rug under a dining room table? My hubby does not like a rug under the dining room table. I know a lot of people who feel the same. I am on team rug!
We have a large dining room with vaulted ceilings and it was echoing with all of our wood look tile floors. I knew we needed the rug not just because it is what I liked design wise, but for our ears to have a more friendly space. Especially with kiddos in the house!
I went with a hand woven jute rug. I have found that jute rugs are amazing for high traffic areas and they actually hide a lot. What am I referring too – crumbs, spills, stains, etc. I know that may sound gross, but we have kids and pets. It is real life.
We have had no issues with the rug and it truly looks beautiful in my farmhouse dining room. It was also a great deal for the size. Large area rugs can be so expensive! My rug is a 9 foot by 12 foot, it is a biggin, and I got it for $237 on amazon. You can find my jute rug here.
Dining Room Lighting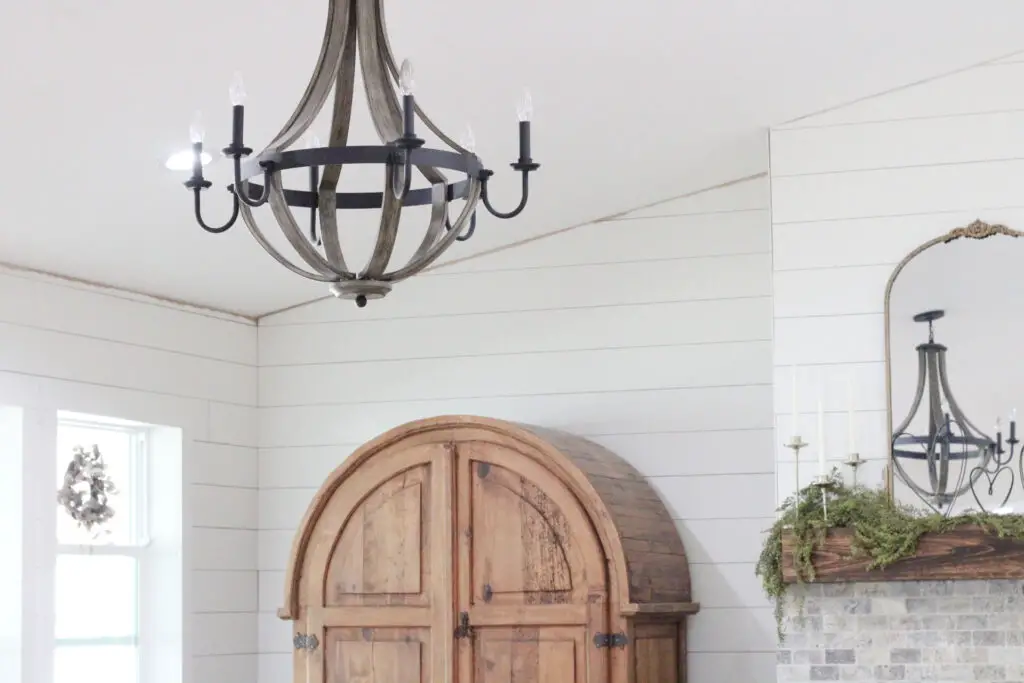 My farmhouse chandelier was found on, bet you will never guess, Facebook Marketplace! I got it for $50! There was a family who was converting their dining room into a home office and just wanted it gone. Well, I gladly took it!
I love how the farmhouse chandelier looks in here. It has my mixed materials that are seen throughout my farmhouse, the wood and the black metal. It is like the icing on top of the cake, giving the space that little something extra.
Farmhouse Style That Is Useful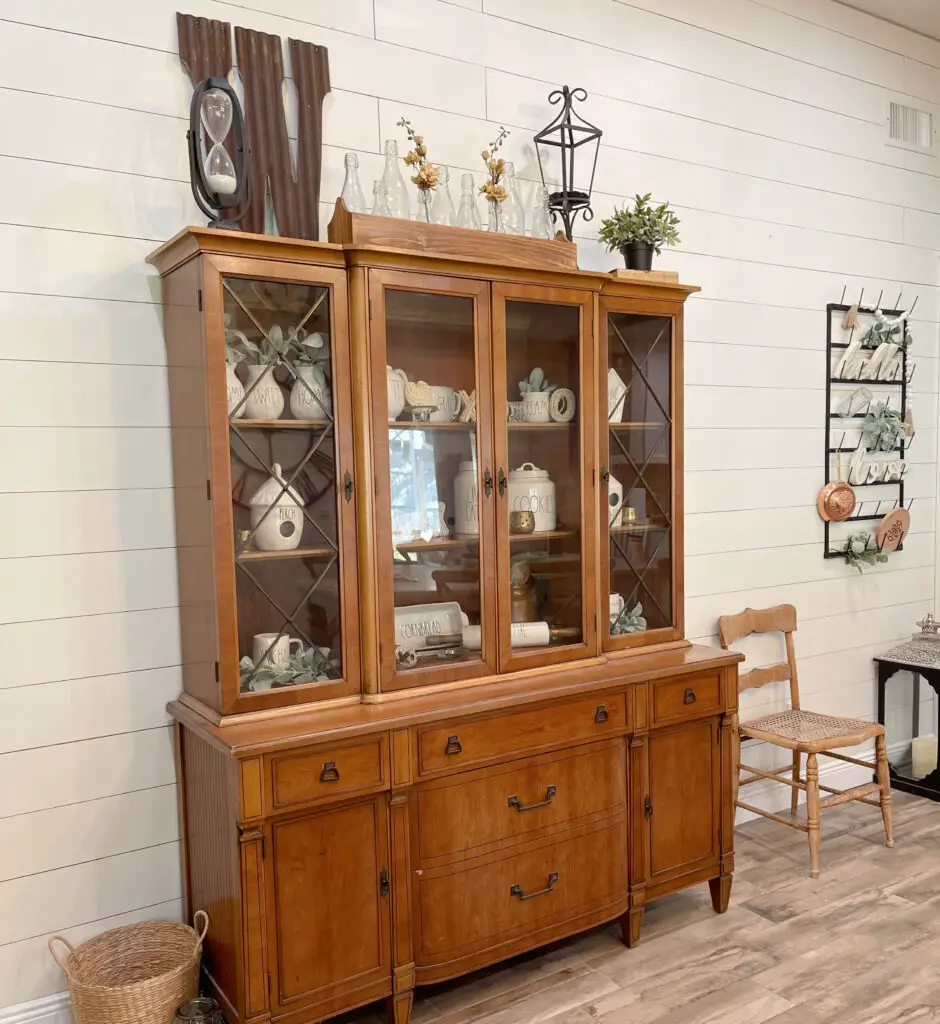 In my home, I try to be a minimalist, but not with my home décor. Obviously! I love useful and beautiful pieces, where I can display things and store things.
Also, I love pieces that mean something, that have been in the family. My hutch was giving to me by my hubby's grandmother. It will stay in the family and is a beautiful piece.
I display some of my Rae Dunn pieces in there. I love how the ivory, white stands out against the natural wood grain of my hutch, it truly makes it all pop.
In the bottom, I store my seasonal china plates, placemats, cloth napkins, extra décor, etc. It is a beautiful piece that also is useful for storage.
When styling a hutch, don't be afraid to mix things up and just have fun trying different things out. I like to mix in some greenery, some brass and copper pieces, along with my ivory Rae Dunn pieces. I love all the mixed materials and tones, and how they look together.
Farmhouse Wall Rack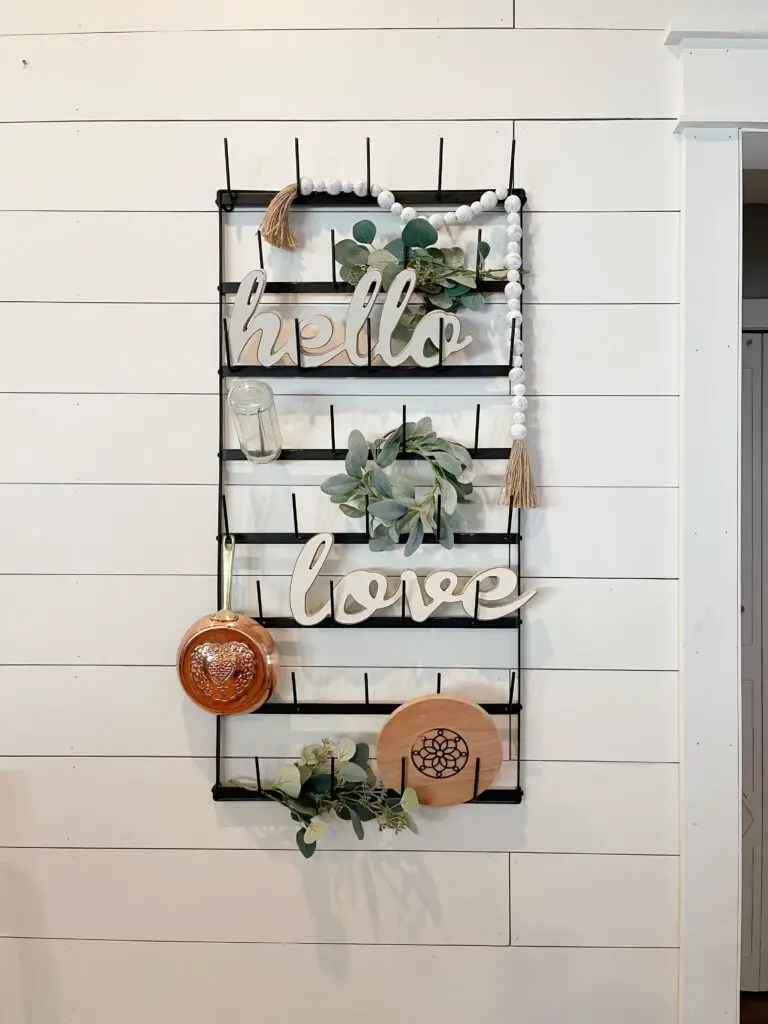 I like to get creative and I don't always use things how they are "supposed" to be used. This is the "cups for days" rack from Magnolia and as you can see, I didn't put cups or mugs on it. Either of those things would still be very cute. Instead, I decided to just put up some random pieces to display. I love how it turned out and I get so many compliments on it.
Farmhouse Dining Room DIY Projects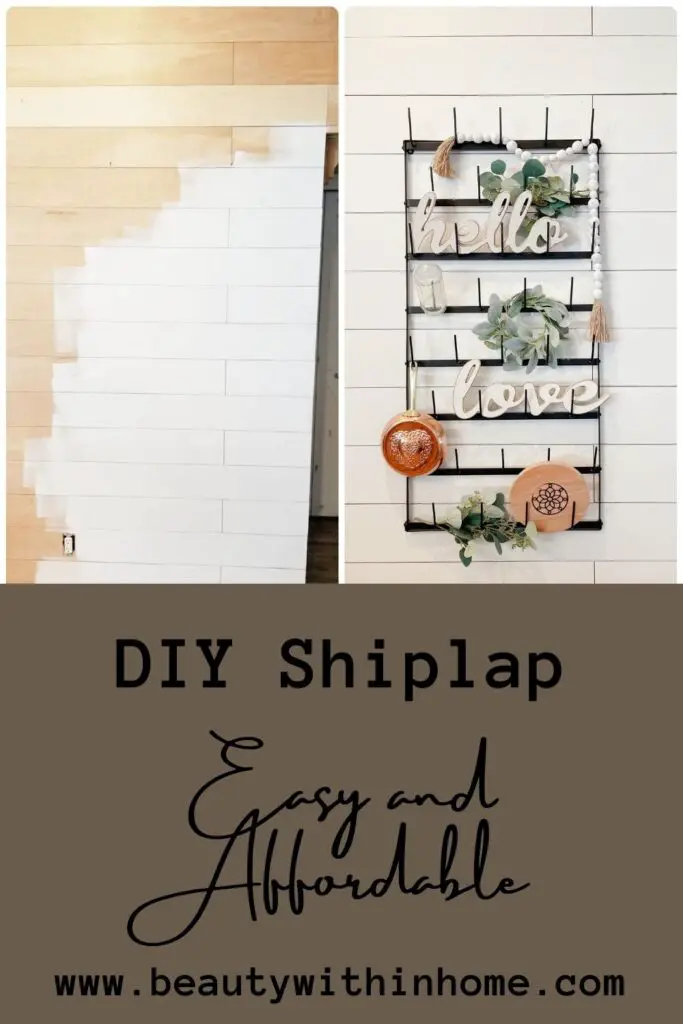 A major DIY project we completed in our dining room was our shiplap walls. It started with one accent wall, and then I decided you can never have too much shiplap! So, I did every wall in my dining room. We will be doing the ceiling soon as well. My hubby is super excited about that project – haha!
We made them using thin underlayment plywood. DIY shiplap is beautiful and affordable! If you can get the same look as real shiplap for less, why not? If you want to put DIY Shiplap in your own home, you can find my step by step tutorial here.
Farmhouse Dining Room Tour Conclusion
This has become one of my favorite spaces in my home where our family gathers and great memories are made. I hope you enjoyed my Faux Florida Farmhouse Dining Room Tour. Now, go be creative and do something different in your own home, just play!