This Anthropologie mirror dupe is beautiful and affordable! If you can get the same look for less, why not? I am going to show you how!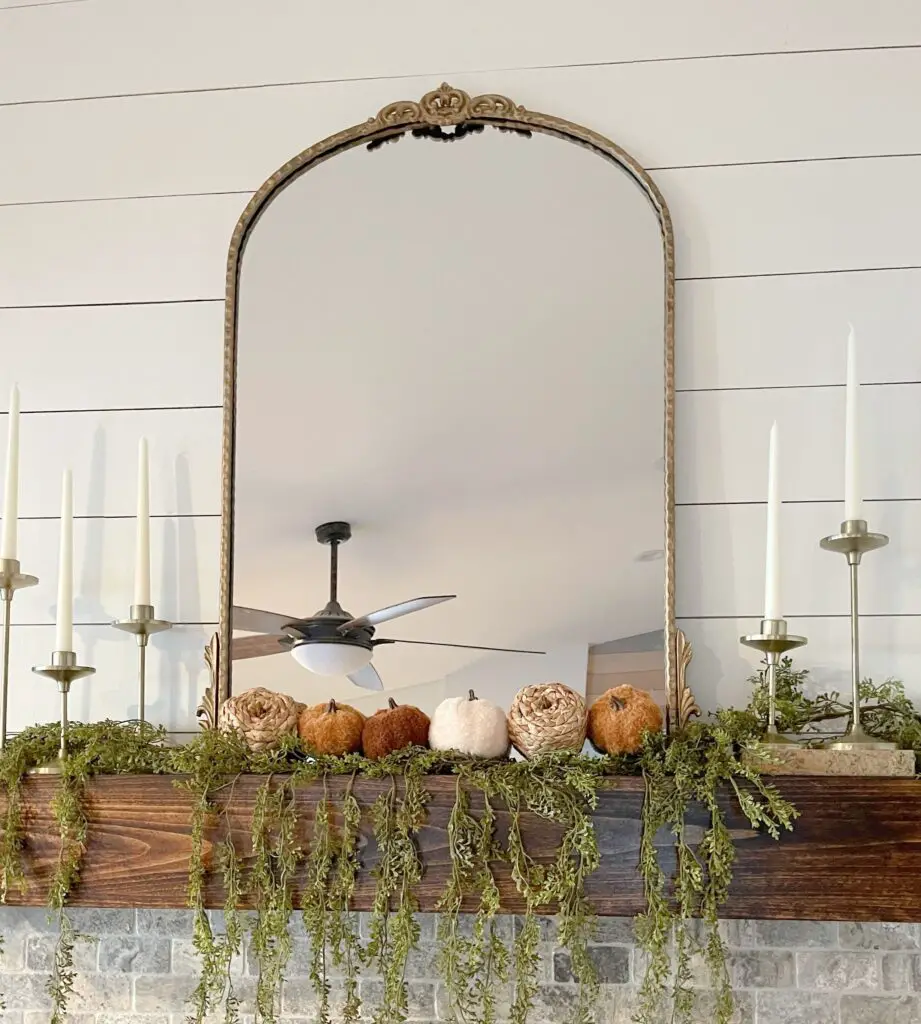 This post contains affiliate links, as a participant in the Amazon Services LLC Associates Program, an affiliate advertising program designed to provide a means for us to earn fees by linking to amazon.com and affiliated sites at no cost to you. See my full disclosure here.
The Anthropologie Mirrors are very on trend right now, and I can see why they are absolutely gorgeous! However, they cost around $500. I wanted the beautiful mirror, I did not want the price tag. So what if you could get the same look for less? Well you can! I am going to show you how.
Where to Find This Affordable Anthropologie Mirror Dupe
Kirkland's for the win! I found this affordable Anthropologie Mirror dupe at Kirkland's and you can find it here.
The best part is that this mirror is only $129! I like this price tag a lot better then $550. It is also a solid, heavy mirror. It is not made of plastic. So just because you are finding it cheaper, you are not sacrificing quality.
Also, be sure to check for coupons when you purchase. Kirkland's is usually always running a sale or has coupons which I love! So when I purchased this mirror they had a 20% off coupon which made the mirror only $104!
Kirkland's is one of my favorite stores and I love their décor. Beautiful décor at great prices, what is not to love? You will see some other Kirkland's finds throughout my faux Florida farmhouse.
Now, you will see the mirror is exactly the same style as the Anthropologie Mirror except it is in black. You may decide black goes better with your décor and keep it this way which is very beautiful.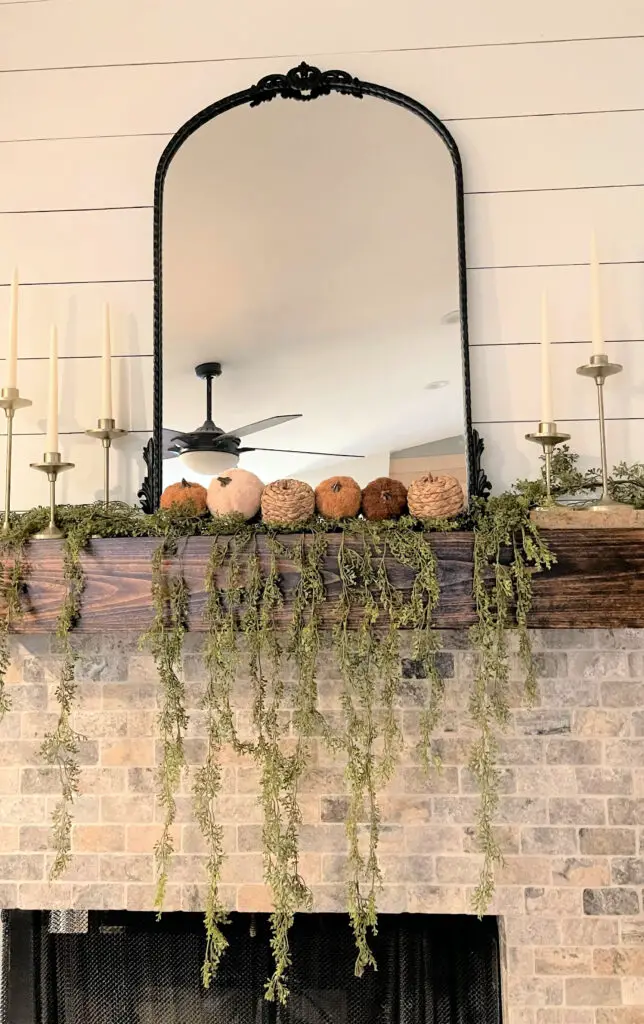 However, if you are like me and want the exact look of the gold Anthropologie Mirror I have the simple solution for you. Rub N Buff! Haven't heard of this stuff? Well let me show you why it is amazing to work with and how it can be used for so many home projects.
Larger Anthropologie Mirror Dupe
Yes, they make a large version as well!
The large version at Anthropologie is usually $1500. This one is $299! Right now they are running a 25% off sale, and an extra 20% off on top of that, making the mirror $179! So watch for the sales!
Follow the same process below with the larger mirror to make it gold. You can find the larger mirror linked here.
How to Easily Make This the Anthropologie Mirror Dupe of Your Dreams
I used Rub N Buff in the European Gold color. This stuff is amazing! It is so easy to use and so forgiving for someone who can paint, but isn't an expert. (Link affiliate amazon link for rub n buff). I love using materials that even DIY beginners can use.
You just rub it on and you can buff it off to make the piece more shiny. You can leave it on and not buff much at all. It really is up to you, and the look you like and are going for. Let me go into more details below:
Materials Needed
Painters tape – can be found here.
Rub N Buff in European Gold – can be found here.
An old rag or washcloth (I used one of my children's old baby washcloths. Just use whatever you have on hand)
A tiny paint brush (you can raid your kids art supplies) – or can be found here.
An old towel or blanket
Rubber gloves – can be found here.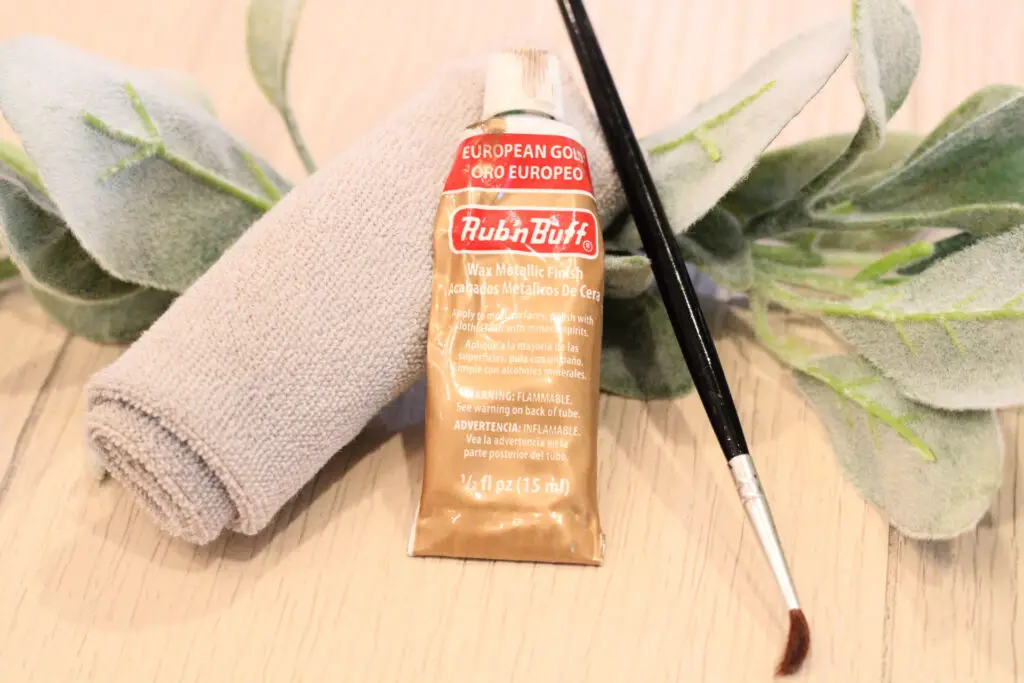 Instructions on How to Use Rub N Buff
First, use the painters tape and tape directly onto the mirror and along the edges. That way you will not get any Rub N Buff onto the mirror only on the metal edges.
Then, layout your old towel or blanket underneath the mirror to protect the surface below the mirror from getting any Rub N Buff on it.
Now you are ready to start, put on your rubber gloves and you are ready to apply the Rub N Buff. Put a little dot of the Rub N Buff onto your rag or washcloth. Note, a little goes a long way.
Start to apply onto the black, metal edge of the mirror. It covers so easily and is so forgiving. There really is not a technique per say. Play around and see what look you like.
For the tiny detailing along the top scroll and bottom right and left scrolls on the mirror, I did use a tiny paint brush to get all the nooks and crannies. Just dip into the rub and buff and brush it into the tiny detailed areas.
Note, the more you buff the shinier the gold will become. It is up to you what look you like best. There is no right or wrong and you can always apply more if needed.
Once you are happy with the overall look you can remove the painters tape. Allow it to dry for at least 2 hours before moving the mirror. It does dry fairly quickly.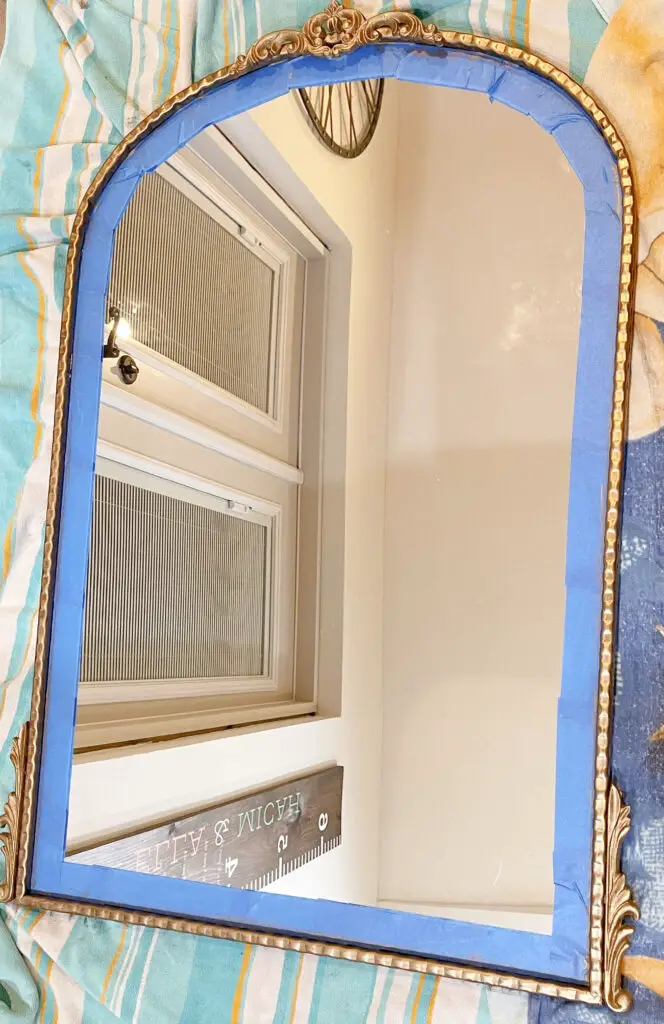 Your Affordable Anthropologie Mirror Dupe is completed! What now?
Figure out where you want to display your masterpiece and enjoy it!
Now, how to decide what is the perfect spot in your home for this mirror? So many great options: you can put it on your fireplace mantel, on a console table, or hang it in your master bedroom. It will look beautiful no matter where it is!
You know what else is beautiful? The fact that you got this Anthropologie Mirror Dupe at an affordable price.
If you purchased this mirror, comment below and let me know if you kept it black or did the gold Rub N Buff. You can also tell me where you placed it in your home.
I hope you love it as much as I do!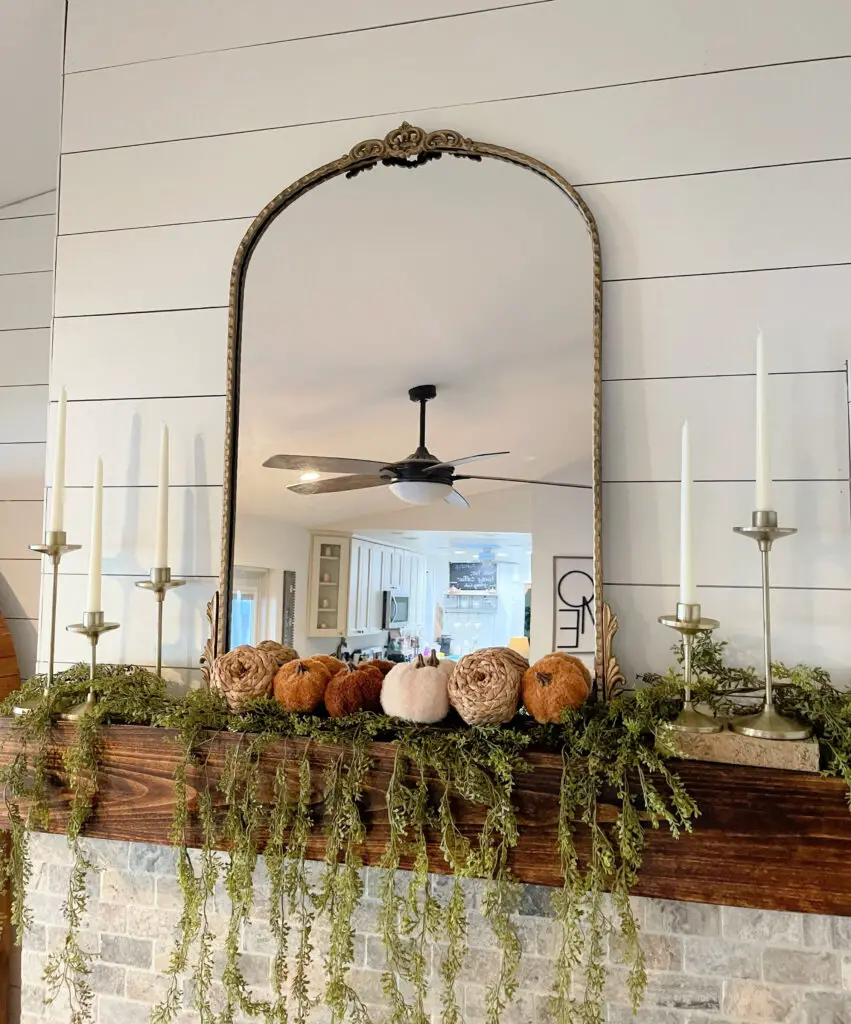 If you like the shiplap behind the Affordable Anthropology Mirror Dupe in this picture, you can have that in your home too! I also have to tell you that it is not real shiplap! It looks like real shiplap, but is cheaper then real shiplap. Find out how I made this beautiful, faux shiplap by going to my DIY Shiplap tutorial blog post I wrote here.
Follow me to find the beauty within your next project. Thanks for stopping by my Faux Florida Farmhouse!
FIND MORE EASY DIY PROJECTS HERE:
Cheap and Easy DIY Farmhouse Door