Welcome to my Faux Florida Farmhouse Family Room Tour. This space used to be my garage and has been given a complete renovation. We added some amazing farmhouse character and charm and made it a space my whole family uses daily. Let's take the tour!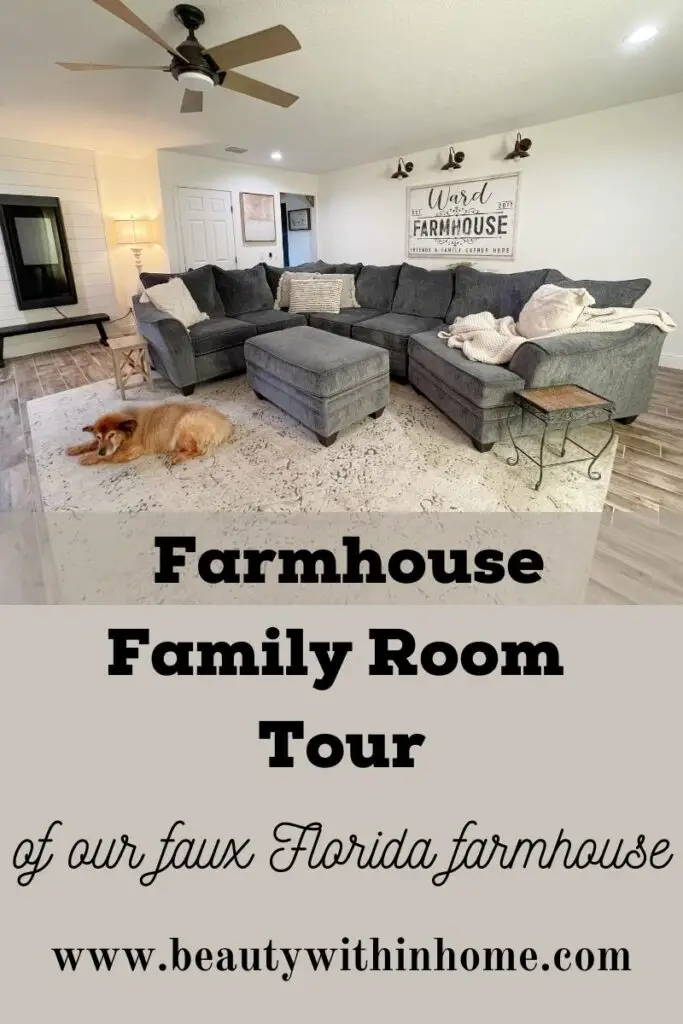 This post contains affiliate links, as a participant in the Amazon Services LLC Associates Program, an affiliate advertising program designed to provide a means for us to earn fees by linking to amazon.com and affiliated sites at no cost to you. See my full disclosure here.
The Family Room – Garage Conversion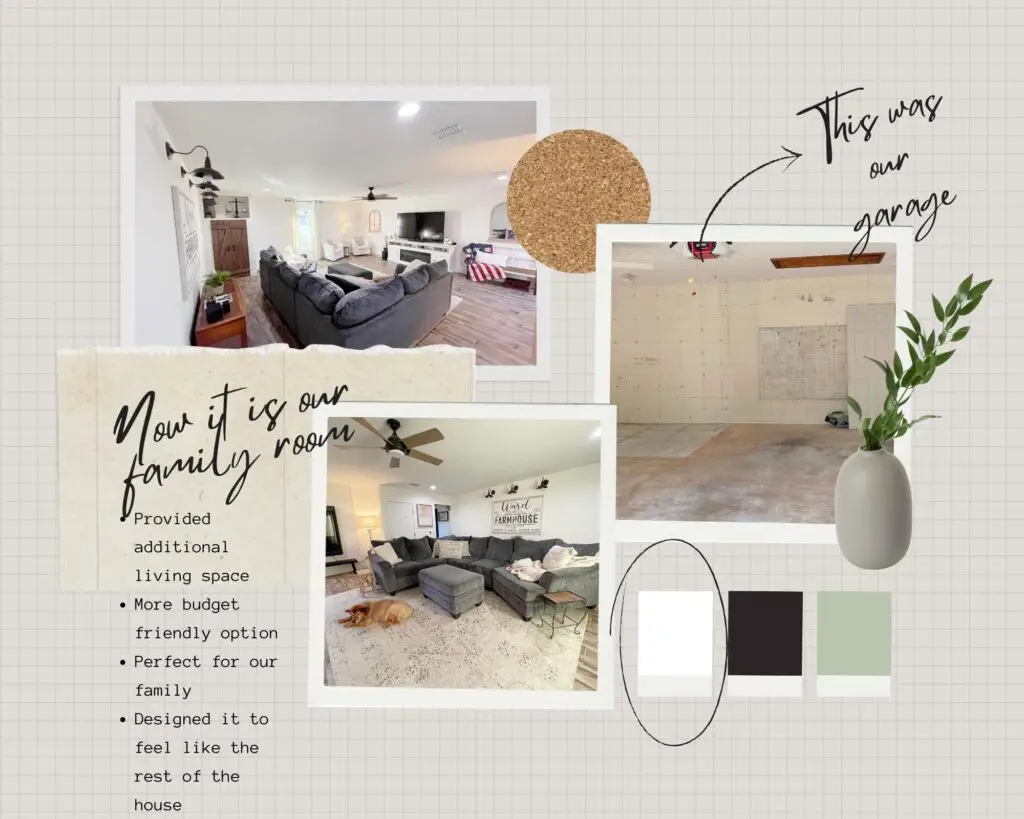 The garage is now our family room. It is where we spend most of our time. We have our TV out there and comfy sectional. This is our main living space and we love it! If you would like more details on how we converted the garage into our family room you can find the details here.
Faux Florida Farmhouse – Family Room Sectional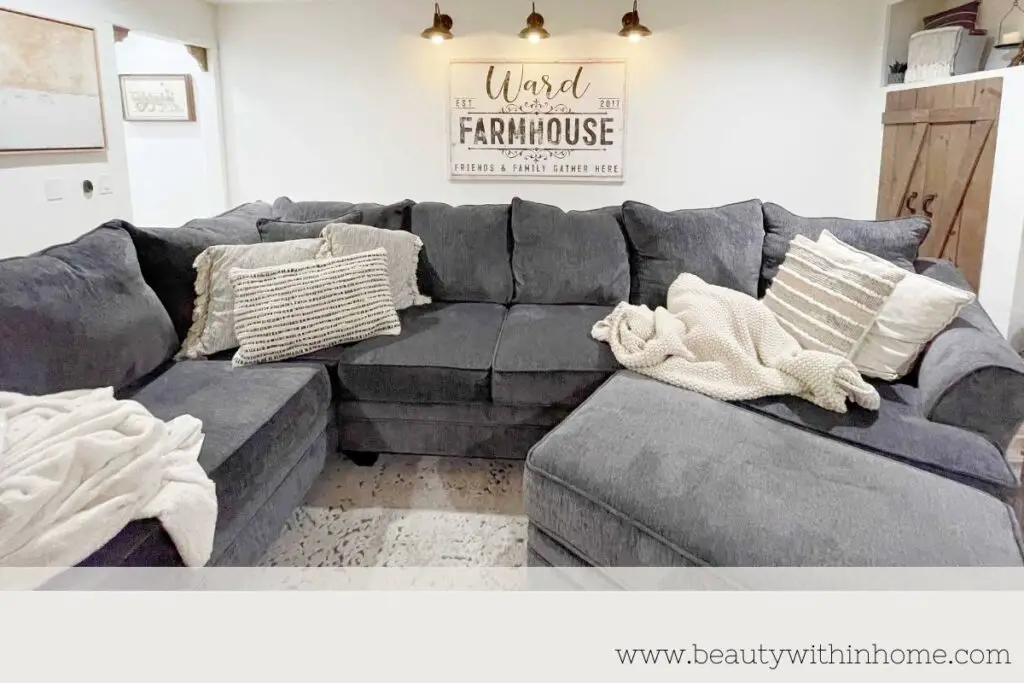 First, you can't talk about a large family room space and not talk about the big comfy couch! I knew I wanted a sectional for the space I had. When I am looking for a sectional, there are two things that are important to me, price and it has to be super comfy.
American Freight is where I found my sectional. I went there thinking I wouldn't find anything I liked honestly. My sectional was $1500, which was by far the cheapest I had found, and it was so comfy! They also have a warranty that covers it fully: any accidental spills, accidental damages and rips you get a new couch or your money back for 4 years for $400. I have kids and pets, I said, YES PLEASE!
The dark gray color is perfect, again kids and pets. We have had it for over a year now and it still looks like it is brand new. I would highly recommend it if you are looking for a new sectional. You can find my sectional here.
Faux Florida Farmhouse – Family Room Rug
Family room rugs are tricky when you have kids and pets. By tricky I mean, they are constantly getting spilled on, walked on, and beat up basically. So, if you don't get one of those washable rugs and you want a cute rug that will not show wear and tear, it can be tricky. I found my rug on Wayfair and I absolutely love it! It is a great neutral and the pattern helps to not show every little thing. You can find it here.
Faux Florida Farmhouse – Family Room Farmhouse Sign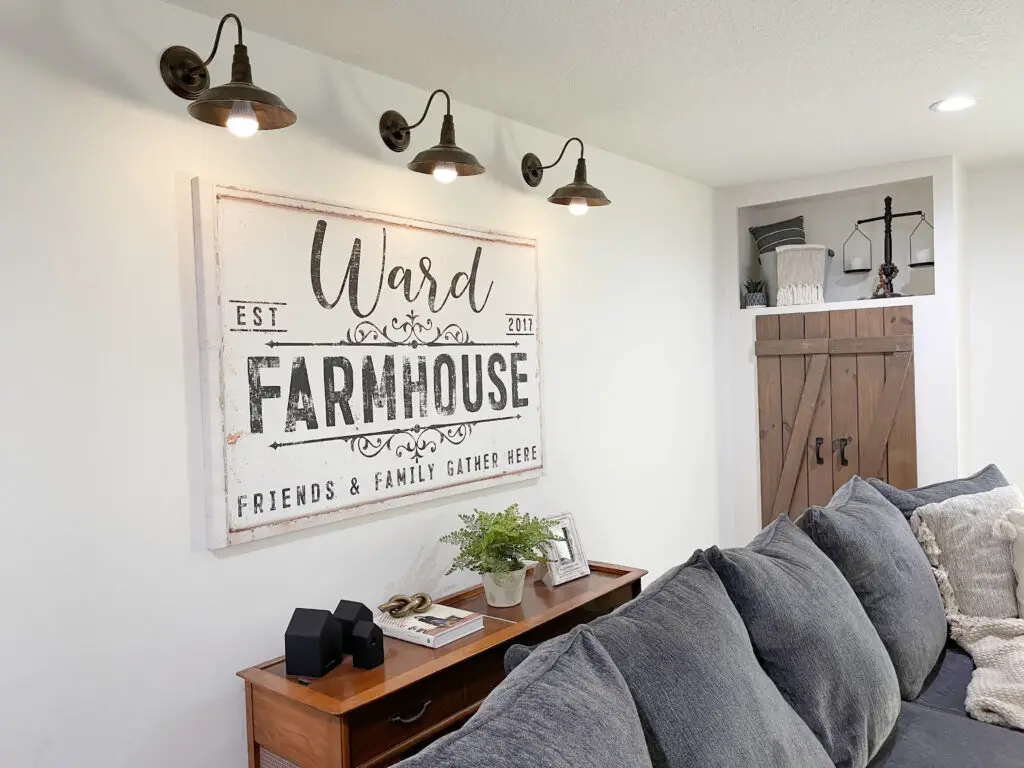 The wall behind my couch is big. I knew I need a statement piece and something extra, we will call them "earrings" for that statement piece. Something to dress it up a little bit. I found this beautiful customizable Farmhouse sign that is actually on a canvas. I found it on Etsy. It was the perfect statement piece for my room. You can find their store on Etsy here.
Now, for my "earrings" for the wall, I chose barn lights. I had to get creative because I could not hard wire them and I didn't want wires showing. I found some that are remote control and chargeable! We love them!!!
They are perfect when you want to add these lights to your home, but don't want to see cords and hardwiring them isn't an option. Maybe you are like me, and could have hardwired them when you were renovating and your wall was completely open. But you didn't have the amazing barn light idea until after you wall was completed closed (sorry hubby!) So, these barn lights are an amazing solution. You can find the barn lights here.
My Floor Clock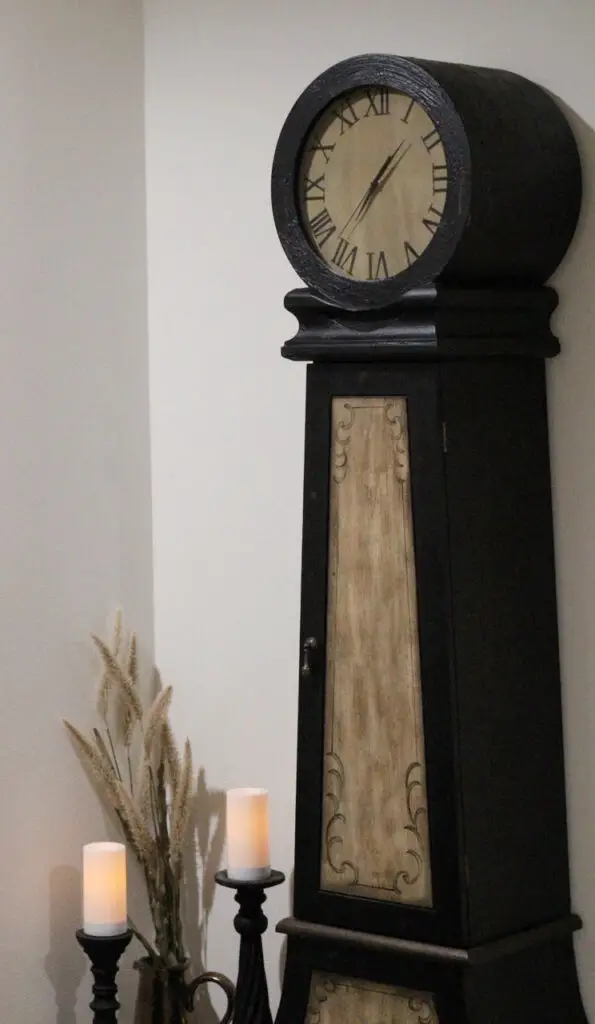 I love the look of the antique mora clocks. I do not love how much they cost. However, I do love hunting for deals on Facebook Marketplace as I'm sure you know by now. This beautiful floor clock was on Facebook Marketplace for $50! I play around with painting it one day but for now it will stay how it is and I love it. I had that little corner with nothing in it and the clock fit perfectly in that space.
My Faux Fireplace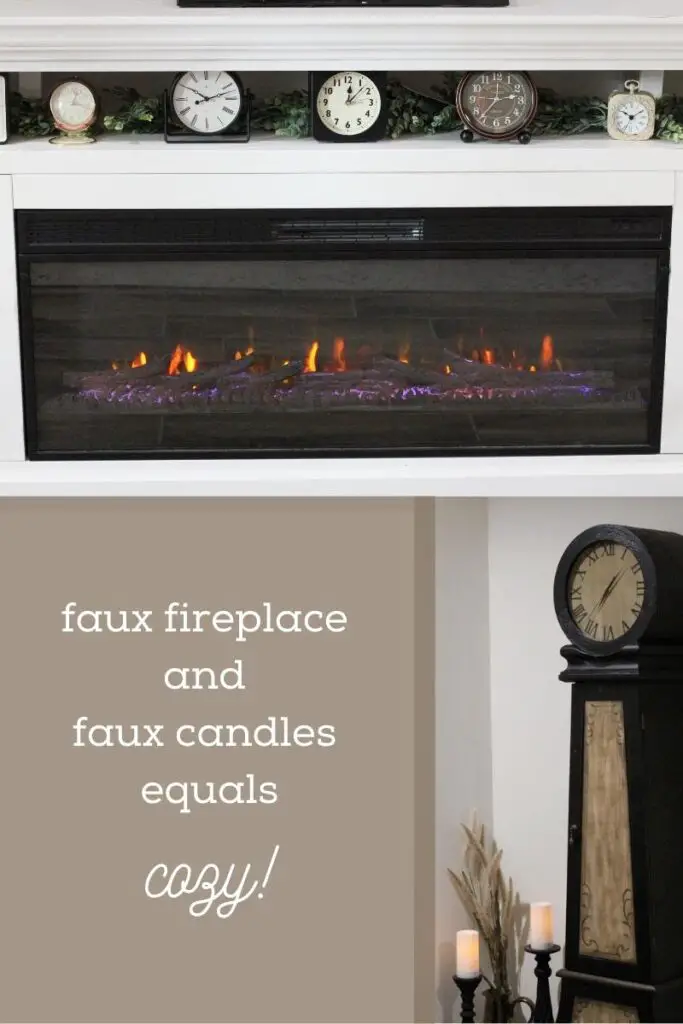 I am a sucker for fake fireplaces and fake candles, I love the cozy feeling it puts off into my space. Also, I live in Florida, I have a real fireplace that I can only use for about a month out of the year. Some winters it's like 5 days for the whole year. So fake fireplaces are kind of my only option here. As I am writing this, it is February and it was 84 today, enough said.
My Additional Seating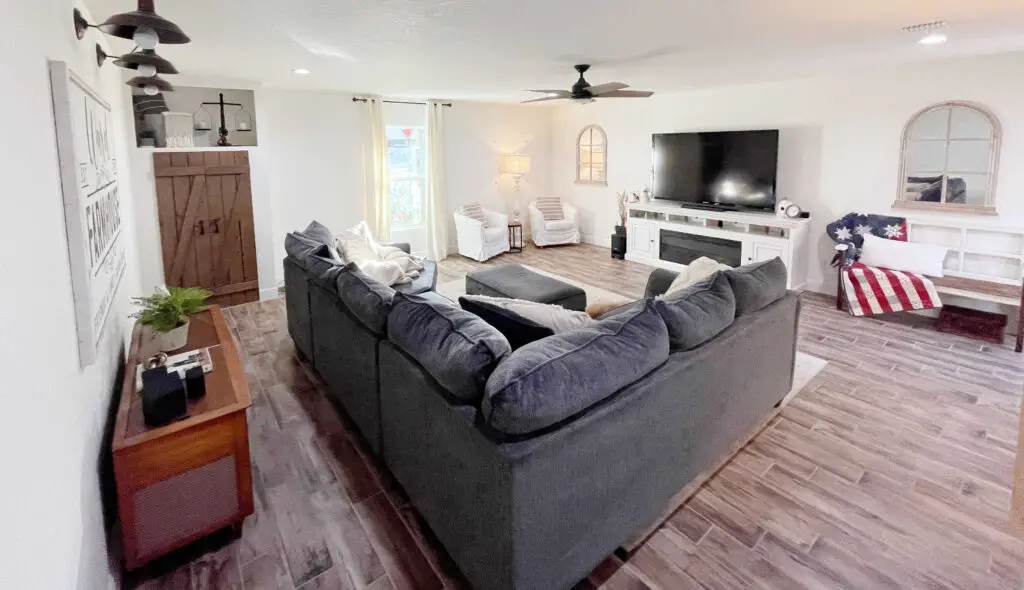 I have so much space in my family room I knew I would like some additional seating. We love to have family and friends over and love to host events. I found my two white slipcovered chairs on, you will never guess, Facebook Marketplace! I love white couches and chairs and I love my messy kids – I don't love those things together so much. Now, white chairs that have slipcovers and can be washed, that I can do. I bought the pair for $80!
I also added a bench that I had been eyeing at Kirkland's. It give us some additional seating and allows me to decorate some more – ha! You can find the bench here.
I found this beautiful American flag quilt at a local art festival. When I saw it I knew I had to have it. It is absolutely stunning and handmade. If I can support local, small business I like to do that.
Our Tonal and Shiplap Wall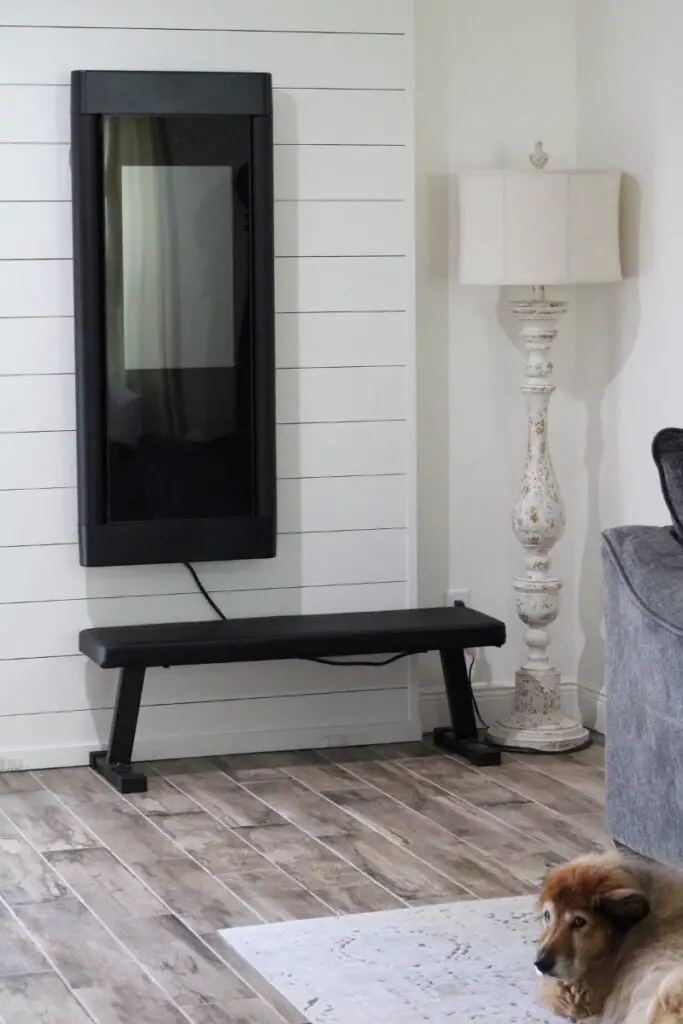 We do have a Tonal workout system in our family room. We love it! It just hangs right on the wall and doesn't require a lot of space. When we converted the garage, we did have a gym out there. This solution allowed us to still have a workout space, but one that didn't take up a lot of space. We truly love it and recommend it! You get an amazing workout.
However, I wouldn't be me if I just put the Tonal up on a plain, old wall! So I of course had to shiplap behind it and give it some farmhouse character. Whenever we put shiplap in our home it is DIY shiplap. If you would like to see how we do DIY Shiplap in our home you can find that tutorial here.
Faux Florida Farmhouse – Family Room Tour Conclusion
This has become one of my favorite spaces in my home where our family gathers and great memories are made. I hope you enjoyed my Faux Florida Farmhouse Family Room Tour. Now, go be creative and do something different in your own home, find the "beauty within" you own space.