Do you love seasonal decor, but do not love the clutter? I am going to show you how simple it can be to decorate for the seasons without adding clutter to your home.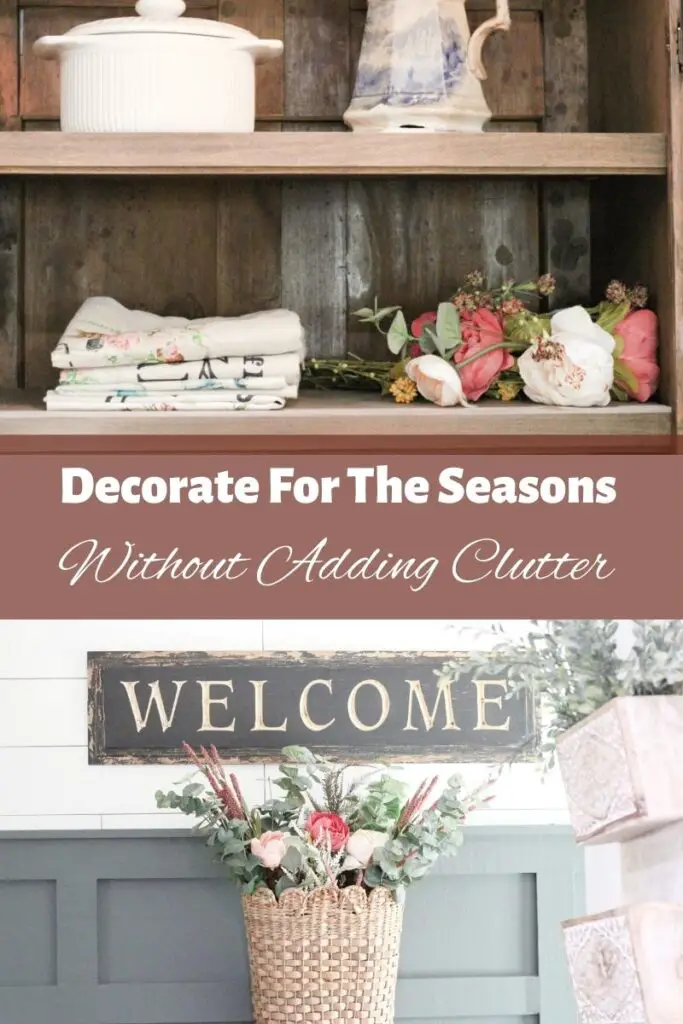 This post contains affiliate links, as a participant in the Amazon Services LLC Associates Program, an affiliate advertising program designed to provide a means for us to earn fees by linking to amazon.com and affiliated sites at no cost to you. See my full disclosure here.
Decorating for the seasons is amazing, but can also be overwhelming. Not everyone is a home decor blogger who wants to store a bunch of seasonal decor in their homes or has the space to store it. If you ask my hubby, he will tell you that even though I am a home decor blogger, we don't have the space to store it either. That is when you have to create "hiding spots" – look at me! Already have my next blog post: how to hide home decor from your hubby and act surprised when it is all out. I am just kidding! He actually loves decorating for the seasons and is great about it.
In addition to the storage space, it can be very expensive to purchase a bunch of decor. I am going to show you how to decorate for the seasons without adding clutter that will also save you some money. Who doesn't love that? Let me show you how simple it can be.
Get A Staple Piece
One way to decorate for the seasons is to get a staple piece you love and then change out it's accessories each season. Find a really beautiful vase, pitcher, or basket and then change out the florals for the seasons.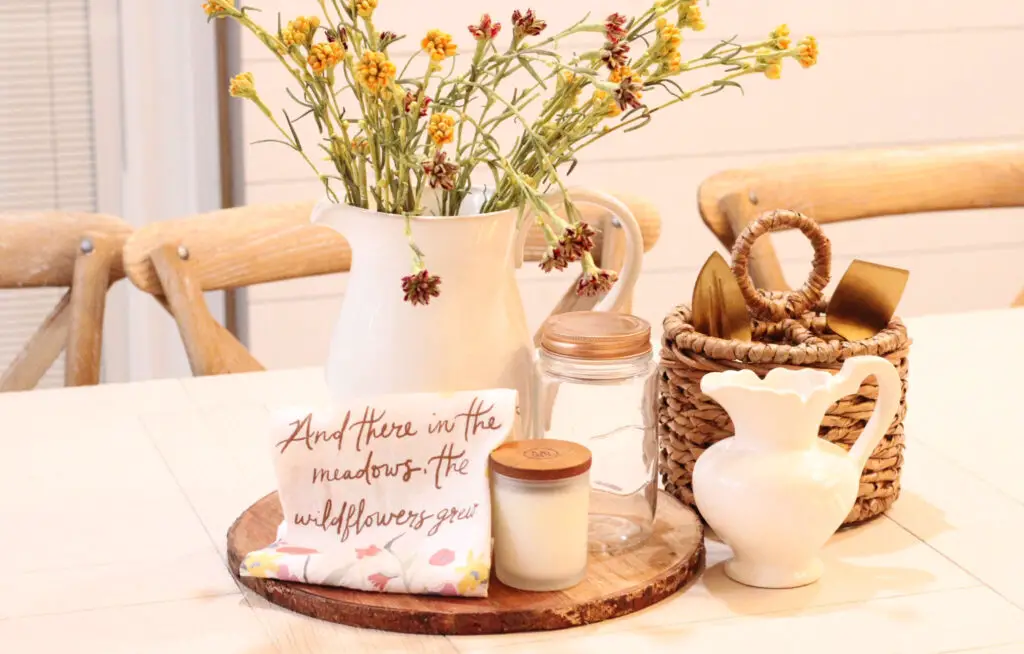 For example, this deep olive colored vase with white fall leaves is beautiful. What is great about decor like this is that you can also use it for more than just one season. Take the fall leaves out and add more of a Christmas floral or winter stems, and you have the next season covered. Decorating for the seasons doesn't have to mean all new decor or lots of clutter. Always shop your home first and use things you already own in different ways. I love to do this and to just get creative.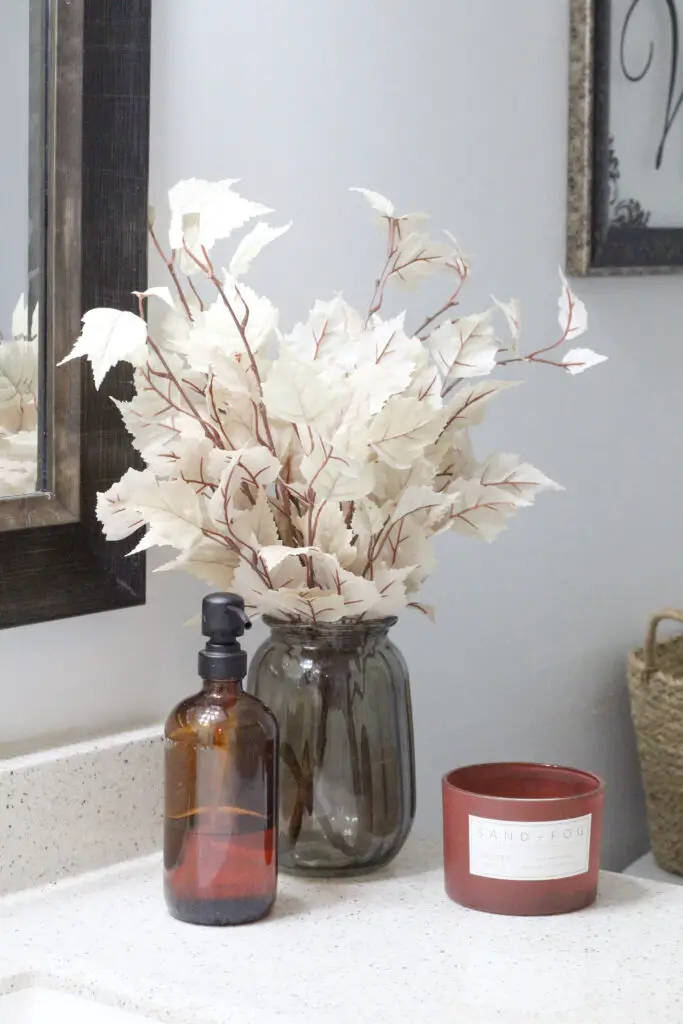 This beautiful hanging basket that I put my spring florals in is one of my favorite pieces. I can easily take out the spring florals and add my fall florals now. Then, all you have to do is store the florals instead of a big basket or vase with florals. It cuts down on clutter and the space you need to store the seasonal decor.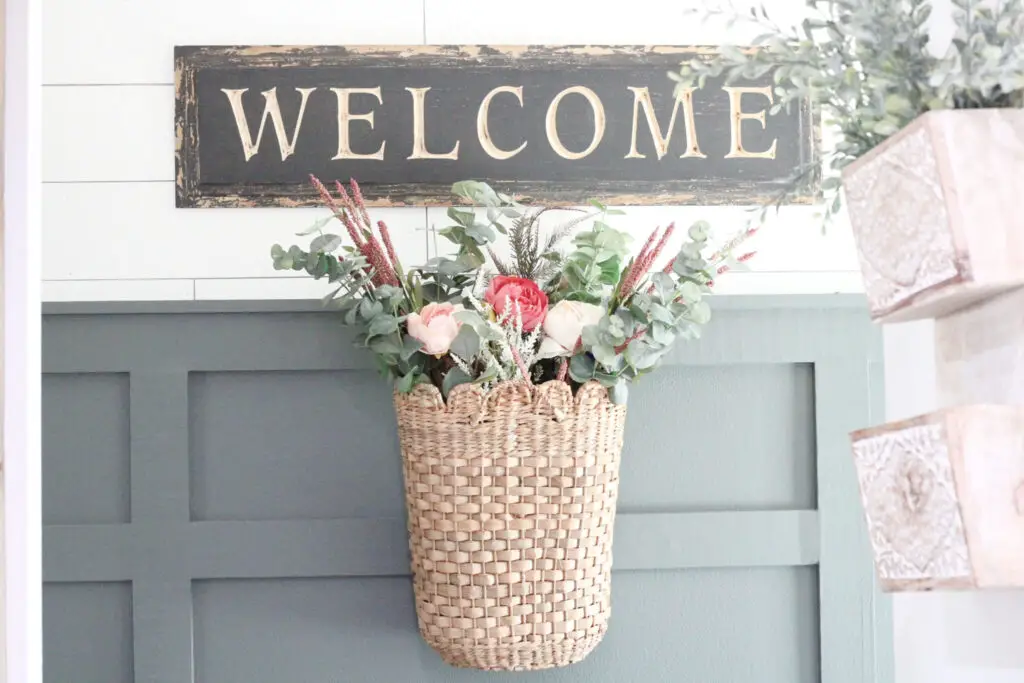 Pillow Covers
Pillow covers are great for many reasons. They do not take up a bunch of room to store and they are affordable. You can get pillow covers on Amazon for $15 for a set of four. If you went and bought a decorative pillow from the store, they can be $40 for just one! If you buy them out of season you can get them for an even better deal. So plan ahead and purchase the covers for the upcoming seasons.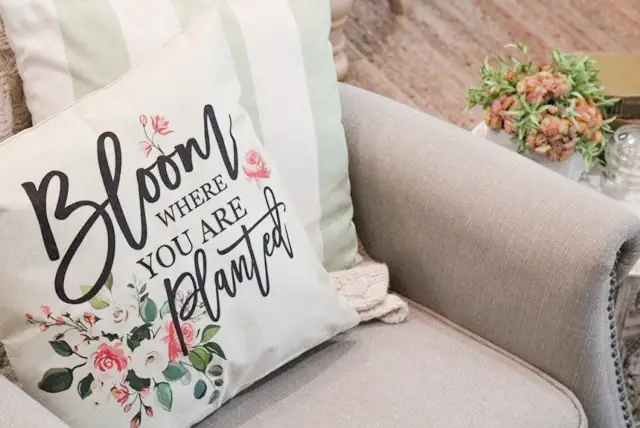 Another perk is that they are so easy to store! Just fold them up and put them in your linen closet or a bin in your attic. They do not take up a lot of space and give you so much versatility. Pillow covers allow you decorate without adding clutter.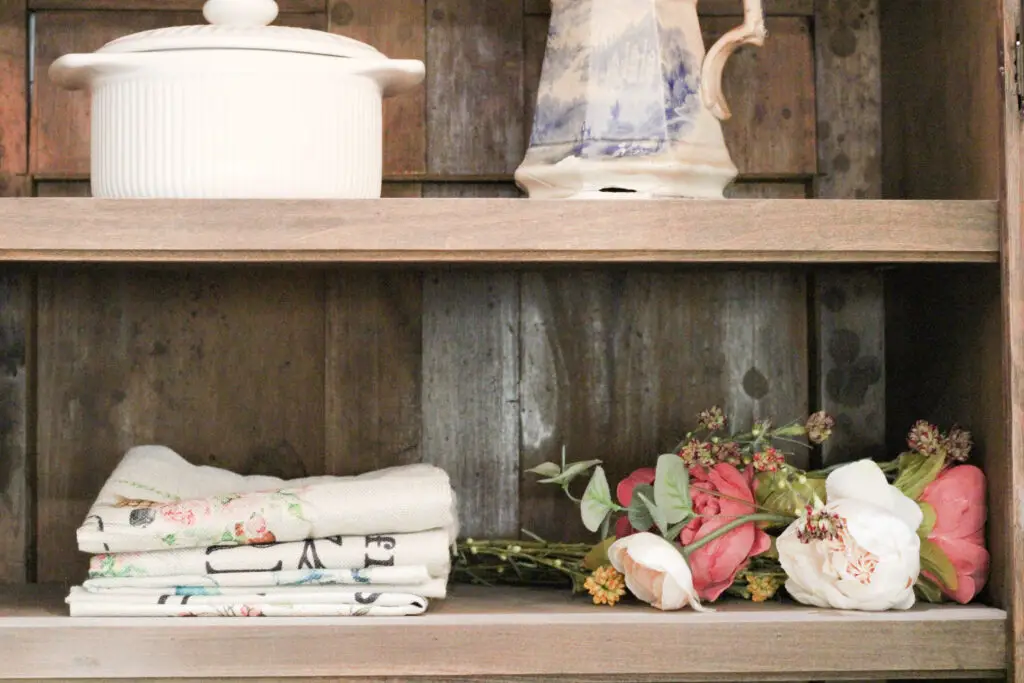 Shopping Your Home
I love to get creative and to shop my home first before buying more seasonal decor. I have this beautiful vase that I usually keep in my master bedroom. For fall, I bring it out into my family room.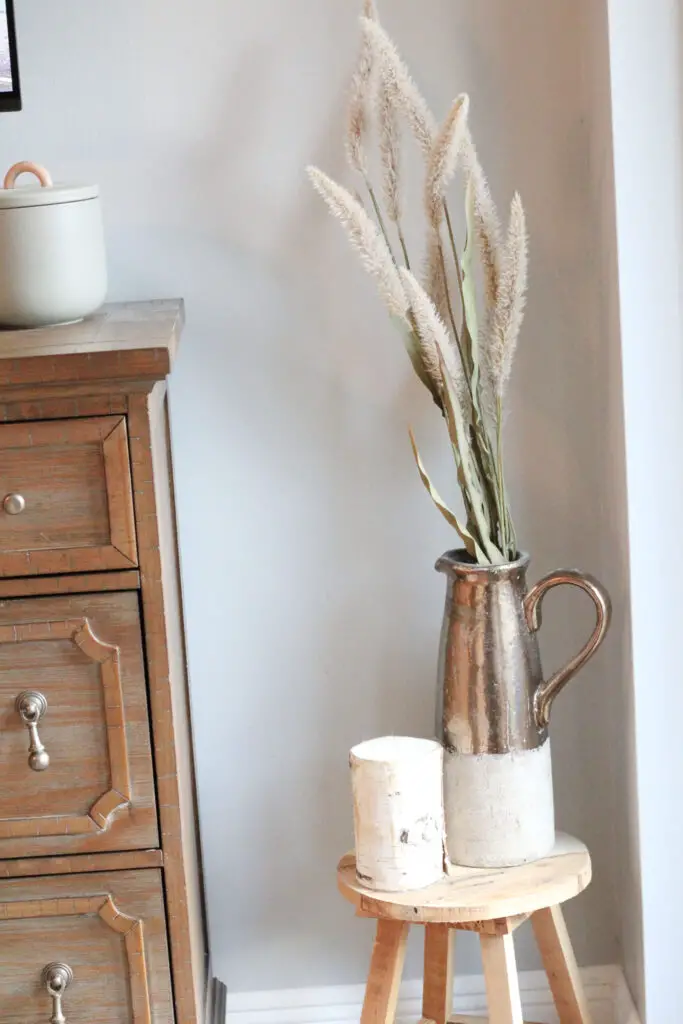 I like to reuse decorations I already own in different ways or for multiple things. For example, I have a red Rae Dunn Christmas mug that I use for Christmas and Valentine's Day décor. During Christmas, I let the words "Deck the Halls" show since it is on theme. For Valentine's Day, I just turn the mug around so you only see the red cup. No one knows and I didn't have to spend anymore money. I also have a pink one that says "boss mom" and did the same thing and just turned it around. So I already owned my on theme pink and red Valentine's Day mugs for my shelf display.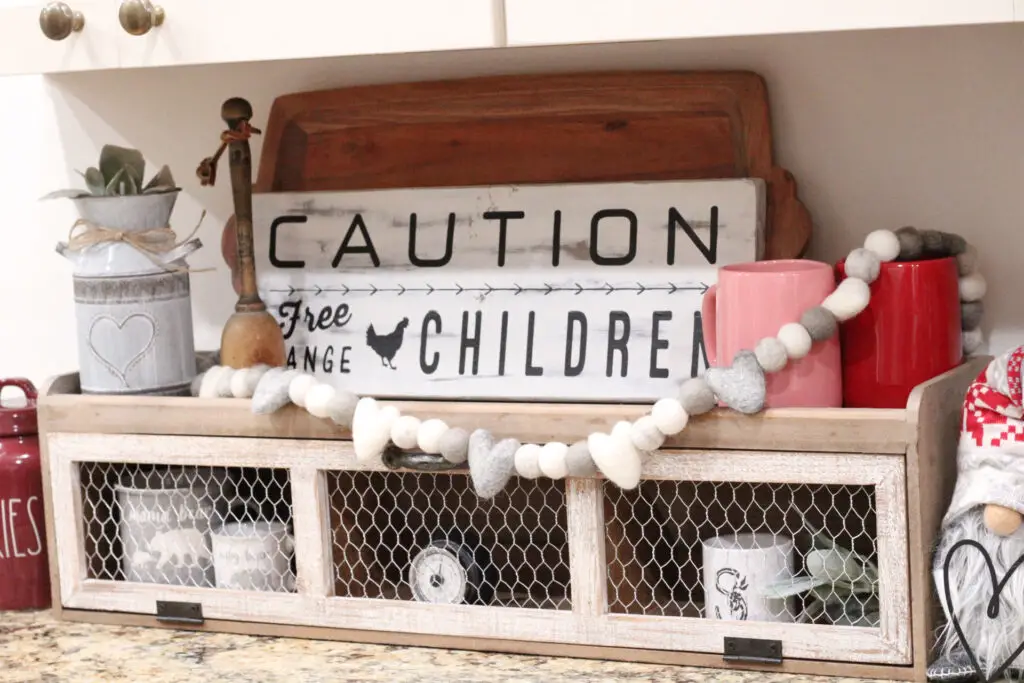 Using Nature's Bounty
Another clutter saver, is to use things you have found in nature. I love getting my kids outside and going on nature walks together. We pick up pinecones, twigs, leaves, flowers, and any unique finds along the way. During spring we love to bring in some fresh cut flowers and place them in a vase. In winter, ok we live in Florida so maybe I should say in our "winter," we bring in pinecones and twigs and place them in my sour dough bowl on my dining table. In fall, we bring in fall leaves and hunt out the biggest ones we can find. It gets us outside, it allows us to be creative, and it is free décor! When the season is done, you can throw the items away guilt free and just find some the following year again, no need to store. This allows you to decorate for the seasons without adding clutter to your home.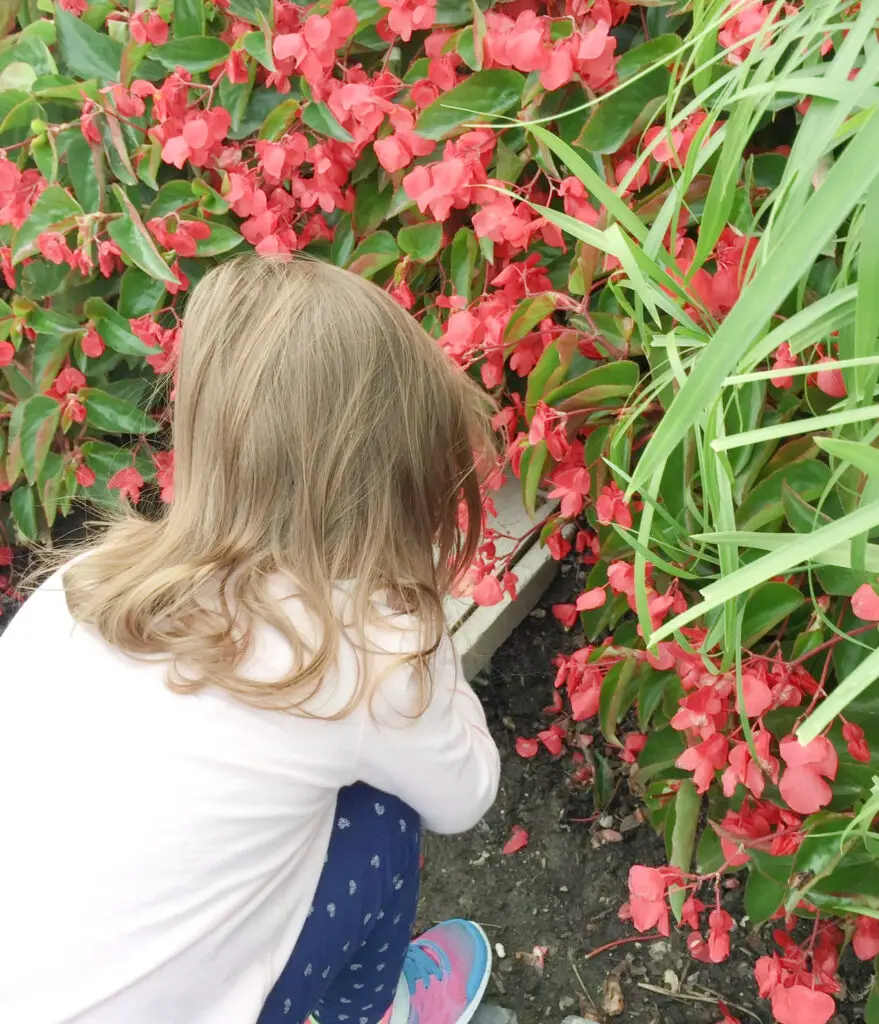 Find An Antique Frame
Find an antique frame you love and just purchase seasonal prints in the same size. You can easily change out the print for the correct season all while using the same beautiful frame. This allows you to store just the seasonal prints, instead of a framed art piece for each season.
How to Decorate For The Seasons Without Adding Clutter
I hope this blog post gave you some great clutter free decorating tips that you can use in your own home! If you have any really great tips or tricks please comment them below. Go decorate for those seasons and "find the beauty within your home." Thanks for stopping by our Faux Florida Farmhouse today and every day! We love having ya! Until next time friend.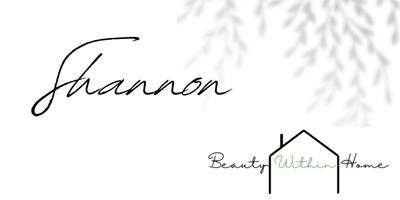 SHOP THE LOOK
Rust Pillow Covers can be found here. 
Spring Floral Pillow Covers can be found here.
Christmas Pillow Covers can be found here.
Fall Pillow Covers can be found here.
Large Scallop Basket can be found here.
HERE ARE SOME OF MY FAVORITE DIY PROJECTS WE HAVE COMPLETED: