There is just something about the holidays and a cup of hot chocolate. For the holiday season, I always trade out my coffee bar in my kitchen, for a hot chocolate bar. Let me show you my simple DIY hot chocolate bar.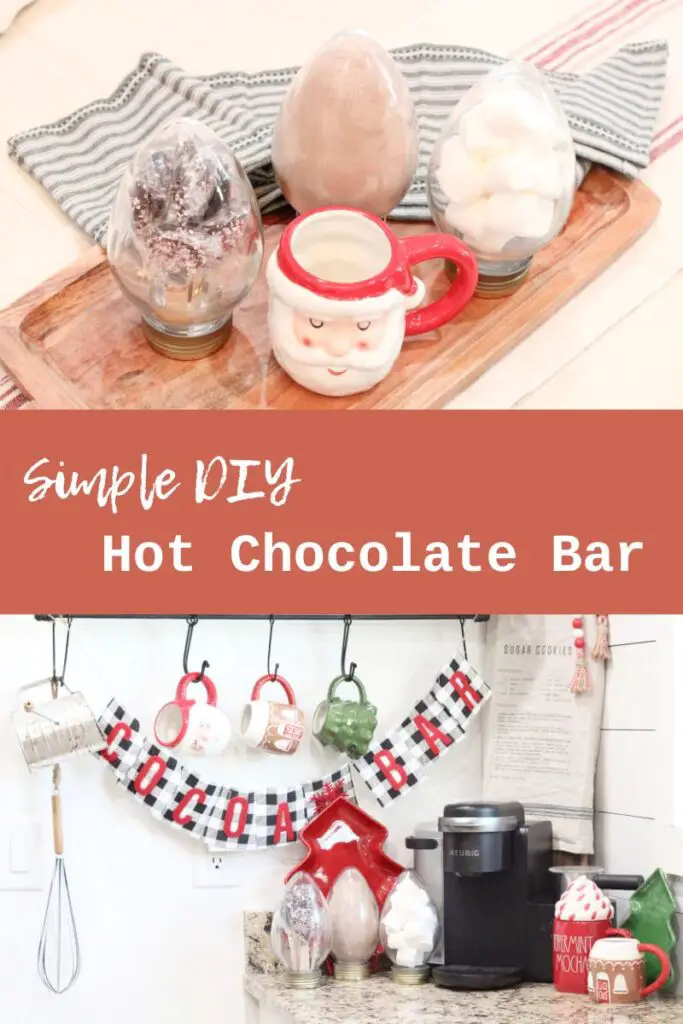 A Simple DIY Hot Chocolate Bar Is A Kid Friendly DIY
What I love about a hot chocolate bar is that my kids love them as well. It is a fun treat for the whole family. You can have them help you put it together. You know they will for sure help you drink and eat all the ingredients from it! Any DIY or craft that I can do with my kids is a win for me.
Christmas Traditions
This has become one of our fun family Christmas traditions. We always set it up in our kitchen together. Then, we always create a bigger one for our family Christmas party.
We love going to look at Christmas lights and whether we are driving around or walking, we always like a cup of hot chocolate with us.
Let me know what some of your fun family Christmas traditions are in the comments below.
Fun Christmas Party Idea
This would also be so fun to make for your Christmas party! Whether you are having a family or work Christmas party this would be such a cute idea for it. You can create a whole Hot Chocolate Bar spread. Guests can choose whatever toppings they like and it would be such a fun treat for all!
My Hot Chocolate Bar Decor and Colors
Now, I am usually a neutral girl when it comes to decor, but when it comes to decorating the hot chocolate bar I brought in some fun mugs and color. It is a playful and fun area and I decorated it that way. Let me show you!
This post contains affiliate links, as a participant in the Amazon Services LLC Associates Program, an affiliate advertising program designed to provide a means for us to earn fees by linking to amazon.com and affiliated sites at no cost to you. See my full disclosure here.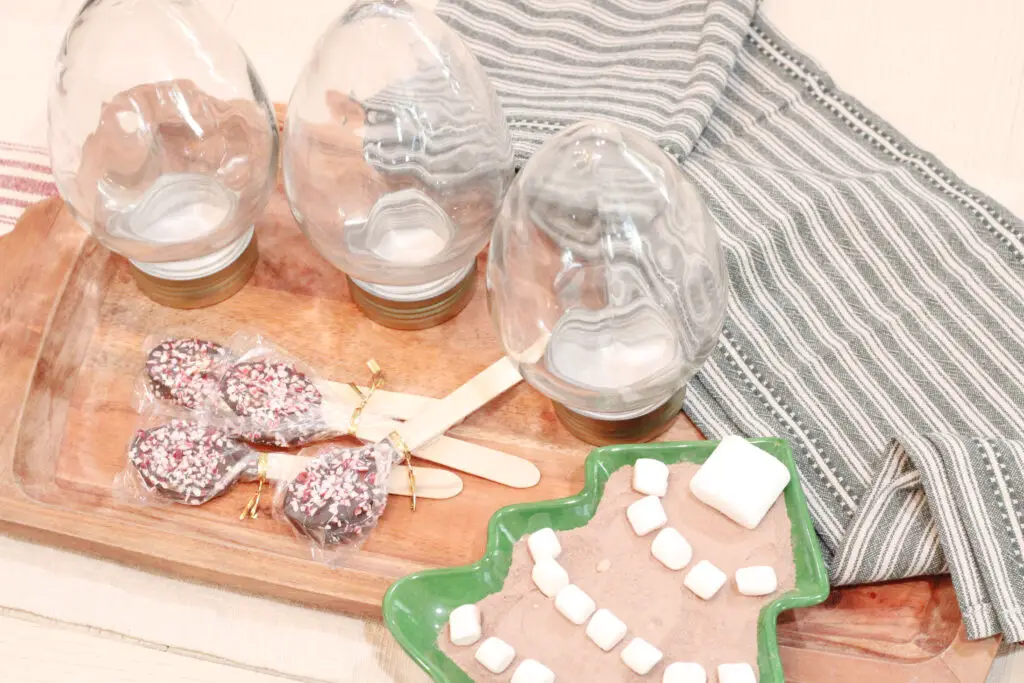 Ingredient List
Hot chocolate mix
Marshmallows (I used large)
Peppermint chocolate covered spoons
Supplies List
Glass containers to hold your ingredients. You can use mason jars or anything you have on hand.
Cute Christmas mugs
Additional Ingredients and Options List
Peppermint sticks
Green and red M&Ms
Sprinkles
Whipped cream
Cookies
Candy canes
Mini marshmallows
Toasted coconut
Grated cinnamon
Cinnamon sticks
Chocolate syrup or sauce
Carmel syrup or sauce
Chocolate shavings
If you have any other fun and yummy ingredient ideas let me know what they are in the comments below. It is fun to get creative with it and come up with new ideas every year.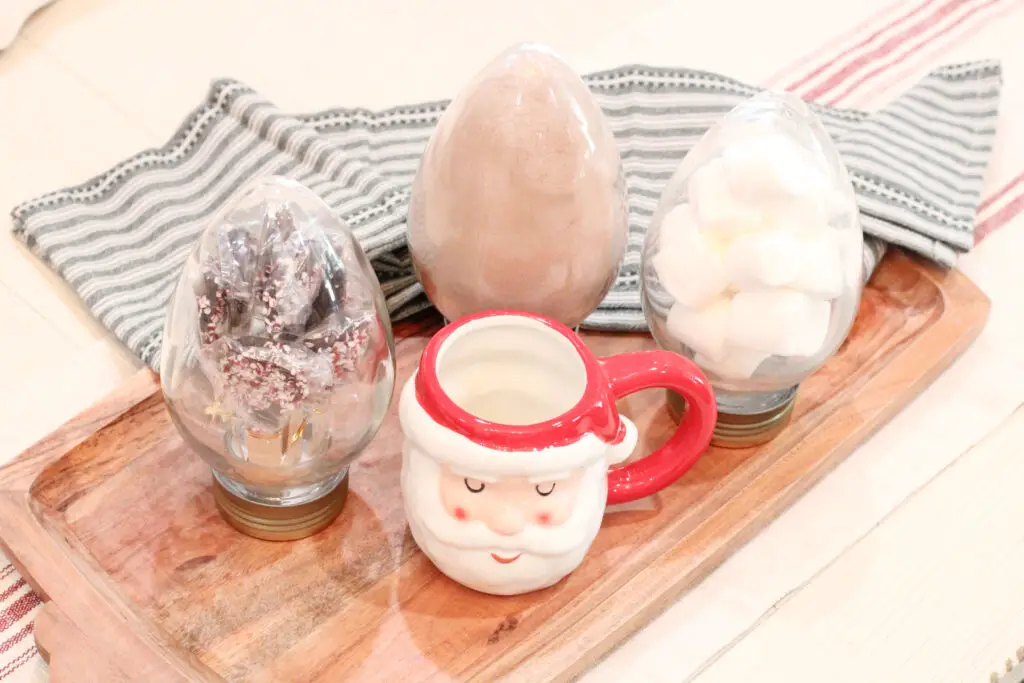 How To Set Up The Simple DIY Hot Chocolate Bar
Step One: Choose Your Ingredients and Supplies
I kept my Hot Chocolate bar simple and only used three ingredients. I used hot chocolate mix, large marshmallows, and chocolate covered peppermint spoons. You can use as many ingredients as you would like for yours.
I purchased these adorable glass Christmas light shaped containers to put my ingredients into at Target.
Here at Beauty Within Home, we always like to find the "beauty within" what we already own as well. So I always like to include some other options for you so that you don't always have to purchase supplies. If you already own mason jars or any other fun containers to hold and display your ingredients use what you have!
If you own mason jars, you can always paint the lids green or red to make them more on theme, but they are also just as cute as is!
Step Two: Put Your Ingredients Into Containers For Display
I put the hot chocolate mix into one glass container. I put the Marshmallows into another glass container. Then, put the chocolate covered peppermint spoons into the last glass container.
Step Three: Put Out Some Fun Christmas Mugs For Display
I bought these adorable Christmas mugs from Target. I decided to mix and match mine but you could choose to keep a theme of all Santa's or all gingerbread houses for yours if you would like.
Step Four: Set Up and Arrange Your Hot Chocolate Bar
My hot chocolate bar is in my kitchen. I trade out my coffee bar area for a hot chocolate bar for the holidays. Pick out your location and start to set it up.
First, I put out a fun hot chocolate bar sign. You could make one, use a chalkboard and write it on there even.
Display your fun Christmas mugs and ingredients. There is no right or wrong just whatever looks best to you.
Step Five: Enjoy and Make Yourself A Cup of Hot Chocolate!
When you are done, enjoy a delicious cup of hot chocolate with all the fixings! Cheers!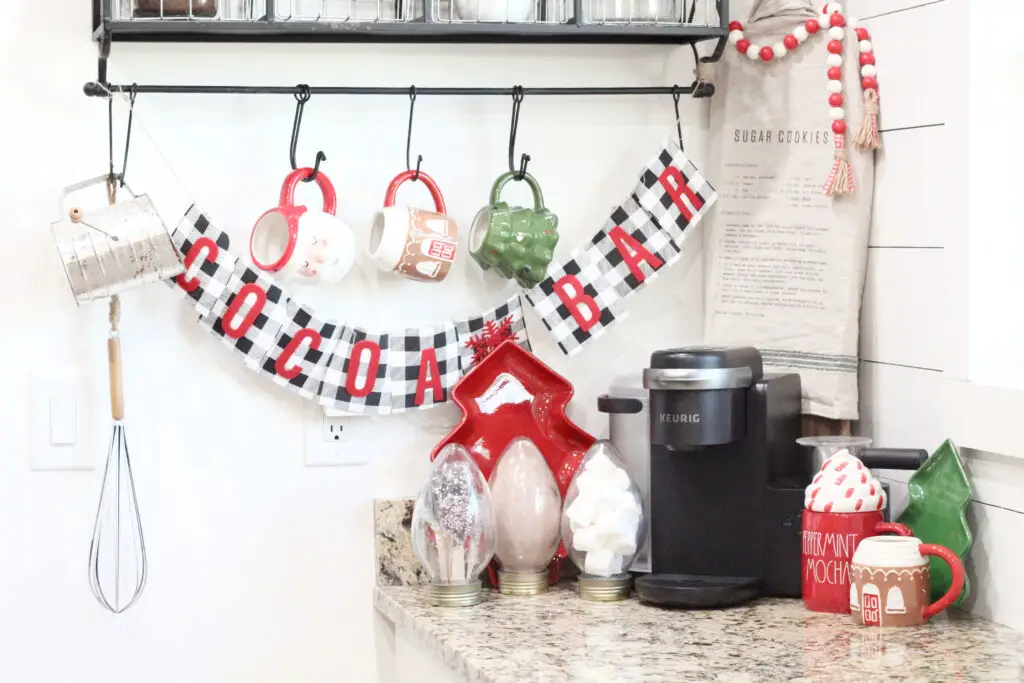 Shop The Look
Glass Christmas Light Containers won't let me link them for some reason. I got them in the Target Dollar Spot.
Santa Mug is linked here.
Gingerbread House Mug is linked here.
Christmas Tree Mug is linked here.
Hot Chocolate Mix is linked here.
Large Marshmallows are linked here.
Chocolate Covered Spoons are linked here.
Mason Jars are linked here.
Glass canisters are linked here.
FIND THE VIDEO TUTORIAL HERE:
Simple DIY Hot Chocolate Bar
I hope this brought you some fun inspiration for your own home! Follow along with me on the blog as we decorate for Christmas. Decorate and laugh with me! There will be plenty of Christmas decor tips and tricks and DIYs along the way.
As always, go create, have fun, and "find the beauty within your home." Thanks for stopping by our Faux Florida Farmhouse today and every day! We love having ya! Until next time friend.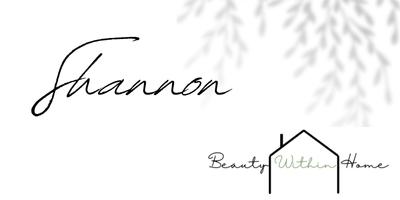 HERE ARE SOME OF MY FAVORITE DIY PROJECTS WE HAVE COMPLETED:
Here Are Some More Home Decor Tips and Tricks:
How To Decorate For The Seasons Without Adding Clutter