Christmas is such a magical time of year and is my favorite! I love all of the Christmas decorations, the Christmas music, and the true meaning of the season. My whole family gets really into it and we just make beautiful memories together. My simple DIY Christmas lantern decor is a project the kiddos can help you make. It can be a fun family affair!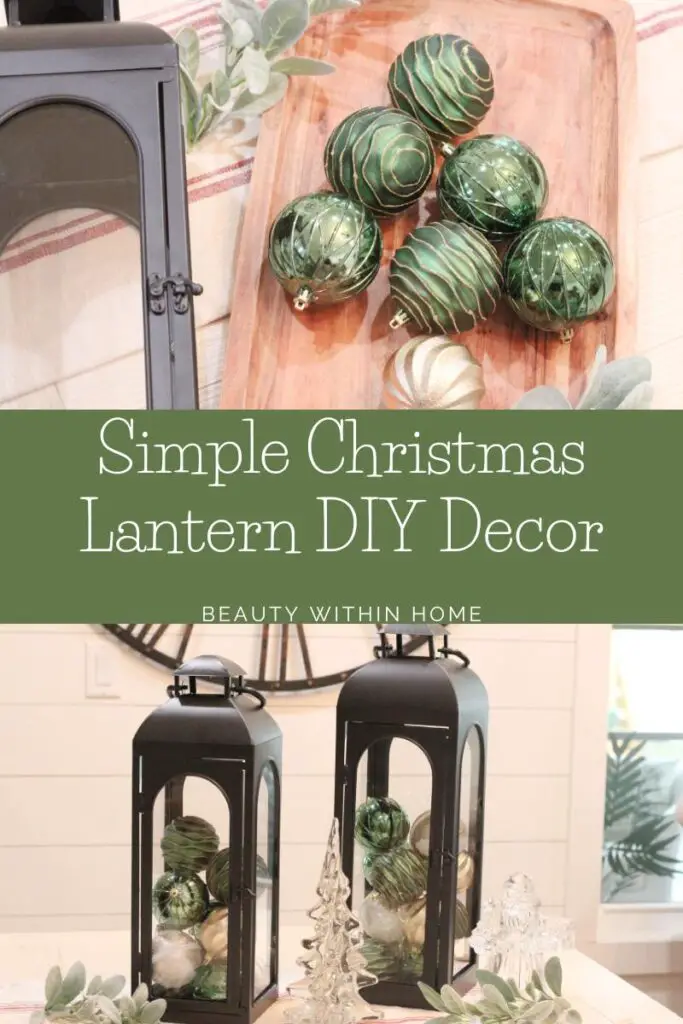 Making Affordable Christmas Decor And DIYs
Now, Christmas can also be a big stressor for a lot of people. It can be expensive to buy Christmas decor and presents every year. So I always like to include some Christmas DIYs that are not expensive or even free. That way if you want to decorate for Christmas you can no matter your situation. This is how I came up with my Simple DIY Christmas Lantern Decor. Some of these items you may already own in your home, so this project could be free for you. Let me show you how easy and affordable this project is to make.
Uses For The DIY Christmas Lantern
You can use this lantern anywhere you would like. It can go outside, and would look beautiful on your front porch or patio. It can go inside, and would look great by your fireplace. This Simple DIY Lantern decor would even look great on top of your dining table as your Christmas centerpiece. There are so many options with this project.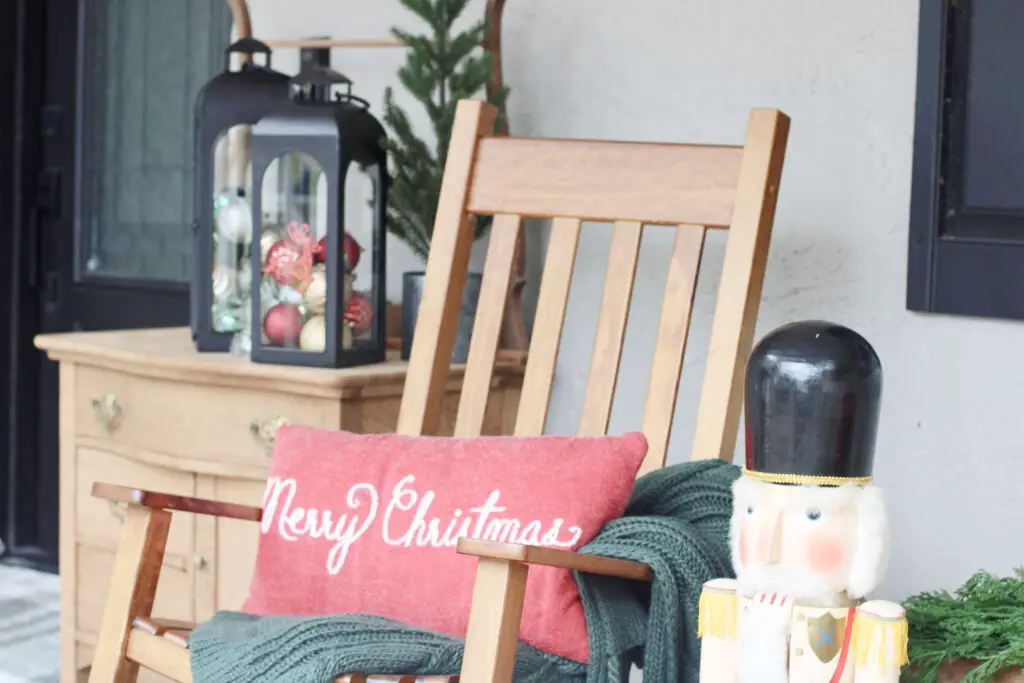 Let me know in the comments where you decided to put your Simple DIY Christmas Lantern decor in your home. A few went beside my fireplace, and a few on my front porch. I made four lanterns – too many? I didn't think so either!
These would also be cute as centerpieces for your work or family Christmas party if you are hosting this year. Then you can give them away as gifts at the end of the night.
This post contains affiliate links, as a participant in the Amazon Services LLC Associates Program and LTK, an affiliate advertising program designed to provide a means for us to earn fees by linking to amazon.com and affiliated sites at no cost to you. See my full disclosure here.
Tools:
None! How simple is that!
Materials:
Large Lantern (any color works, but it needs to have a door)
Optional Materials:
Faux greenery or Christmas stems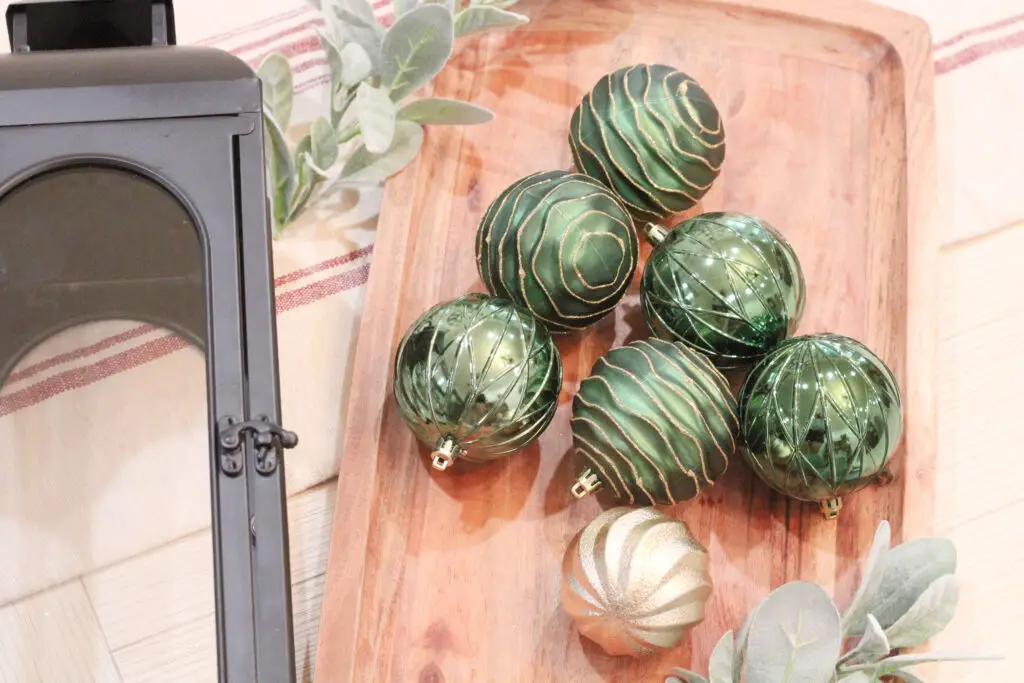 Instructions:
This project is super simple that you probably don't need any instructions but we will cover my step by step process anyway.
STEP ONE: I opened the door to the lantern and started placing the ornaments inside the lantern. Just move them around until you like how they are looking stacked on top of each other. I filled mine 3/4 of the way up. You can choose whatever heighth you like.
STEP TWO: Shut the door and done! You have a beautiful and simple DIY Christmas lantern decor for your home.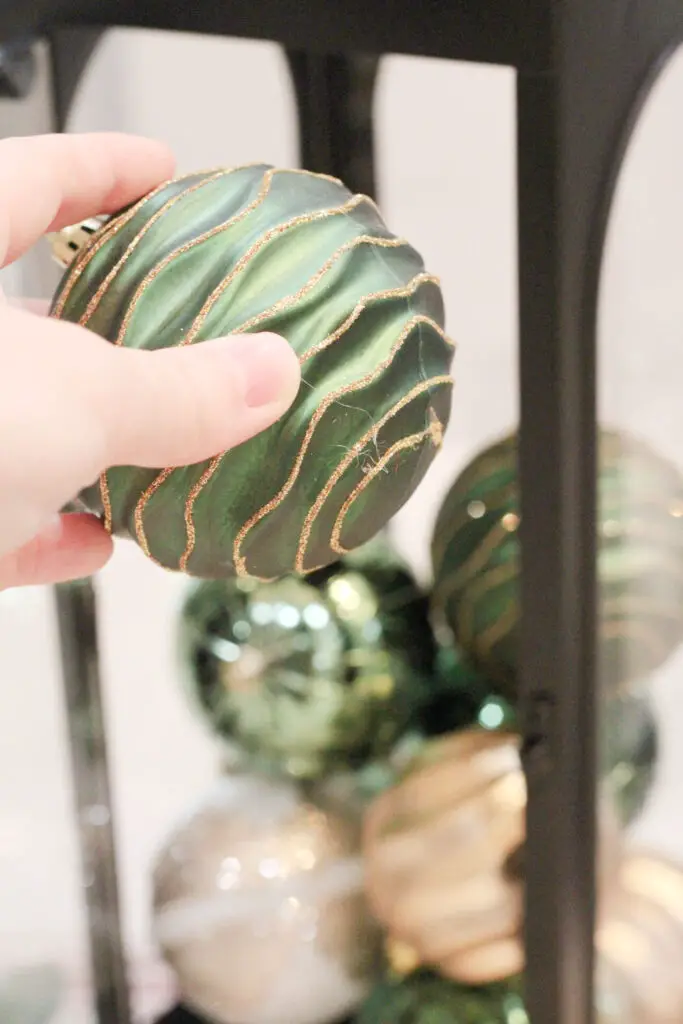 Optional Steps:
Now, the Christmas lantern is seriously so beautiful just by completing Steps One and Two, but if you want to make it a little more fancy you can complete Steps Three through Five:
STEP THREE: In our home, we like our Christmas decor to glow. If this is you too, you can add fairy lights to the inside of the lantern. Just weave it in and out of the ornaments. Get one with a timer so it automatically comes on every day.
STEP FOUR: You can get a Christmas ribbon and tie it to the top of your lantern for the icing on the cake. You can let the strands just flow down the lantern or you can tie a bow.
STEP FIVE: Stick some Christmas stems or greenery around the bow for some decorative accents.
Could This Project Be Any Simpler And Cute?!
It really is a simple and affordable project! I made a few just using Steps One and Two. Then I made a few with Steps One through Three. I already owned all the materials so this project was free for me to make. Who doesn't love free?
Also, I love when you can use decor you already own. Sometimes you are wondering what to do with your every day decor when you bring out Christmas decor. This is the best of both worlds because you are finding another use for your every day decor and using it as Christmas decor. When Christmas is over, just take out the ornaments and it is back to its original every day decor look. This is exactly what my blog is all about, finding the "beauty within" what you already own and every day life.
Shop This DIY Project
Large Lantern that I have is linked here.
Shatterproof ornaments neutral are linked here.
Shatterproof ornaments burgundy are linked here.
Fairy lights are linked here.
Christmas Ribbon is linked here.
Christmas stems and greenery is linked here.
If you thought of any other fun extras to add let me know what they are in the comments below. I love getting creative with a project and making it my own.
FIND THE VIDEO TUTORIAL HERE:
Simple DIY Lantern Decor
I hope you enjoyed this project as much as I did and it brought you some fun Christmas inspiration for your own home! Follow along with me on the blog as we decorate for Christmas. Decorate and laugh with me! There will be plenty of Christmas decor tips and tricks and DIYs along the way. 
As always, go create, have fun, and "find the beauty within your home." Thanks for stopping by our Faux Florida Farmhouse today and every day! We love having ya! Until next time friend.
HERE ARE SOME MORE CHRISTMAS DECOR INSPIRATION POSTS:
HERE ARE SOME MORE HOME DECOR TIPS AND TRICKS:
How To Decorate For The Seasons Without Adding Clutter
Affordable And Thrifty Decorating Tips
HERE ARE SOME OF MY FAVORITE DIY PROJECTS WE HAVE COMPLETED: