One of the questions I get asked the most is: what is your paint colors in your home? So today, I am going to put all the answers in one place. Here is Beauty Within Home Paint Colors!
I completely get it, paint is so hard to choose! There are so many colors to choose from and it can be overwhelming. When you find or see that right color, you need to know what it is!
I truly love our paint colors and wouldn't change them. Ok, it's me and I change decor and styles sometimes, so I will never say never. How about I will say, I am happy to share with you the colors we have now, and any changes I may make in the future.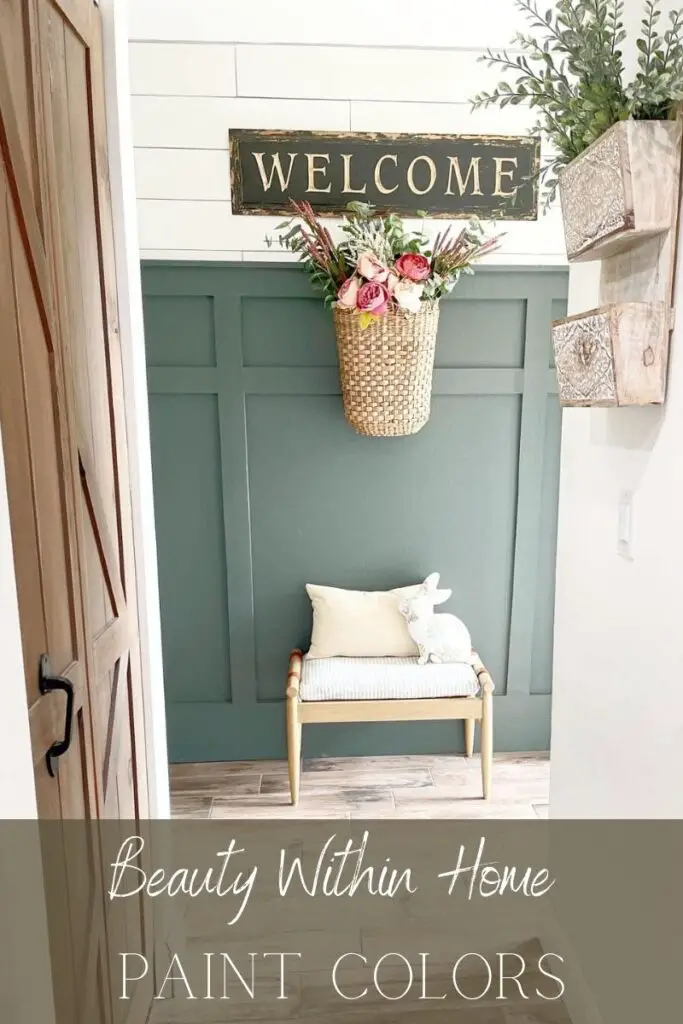 This post contains affiliate links, as a participant in the Amazon Services LLC Associates Program, an affiliate advertising program designed to provide a means for us to earn fees by linking to amazon.com and affiliated sites at no cost to you. See my full disclosure here.
Money Saving Paint Tip
Most of my Beauty Within home paint colors are Sherwin Williams brand, which I love. However, they can be pricey. If you go to Home Depot, they can look up the paint codes for any Sherwin William colors and make it in Behr paint.
It is the same color and I actually love the quality. So you save some money but do not sacrifice on the quality. For your next paint project, explore this option.
The other option is to wait until Sherwin Williams is running one of their 40% off paints sale.
Just wanted to share a few of my tips. If I can save you money you know I will!
Dining Room: Alabaster
In my dining room, I have our DIY Shiplap. If you want to see the full tutorial on how we did our DIY Shiplap you can find them linked here.
The color of my shiplap is Sherwin Williams Alabaster in satin finish. It is the perfect warm white color. I didn't want to bright of a white as I have a lot of windows in this room. I didn't want to be blinded by the color. This was the perfect option!
If I had shiplap on my ceiling, which I hope to one day, sorry hubby! He is not super excited about doing that project. I would have done a flat or matte finish on the ceiling.
If you would like the full tour of my dining room, you can find it here.
Living Room: Swiss Coffee
In my living room, I went with Benjamin Moore Swiss Coffee at 70% strength. This color reminds me a lot of Sherwin Williams Alabaster.
It is a warm white and makes the space feel cozy.
I also did something different and did a matte finish on the drywall. I usually only do matte finishes on my board and batten accent walls or ceilings.
It really is a beautiful, neutral color that goes with any decor or furniture pieces.
My living room actually used to be my garage. If you would like to get the full tour of our garage conversion, now living room, you can find it here.
Full living room tour can be found here.
My Bedroom: Alabaster and Cacoon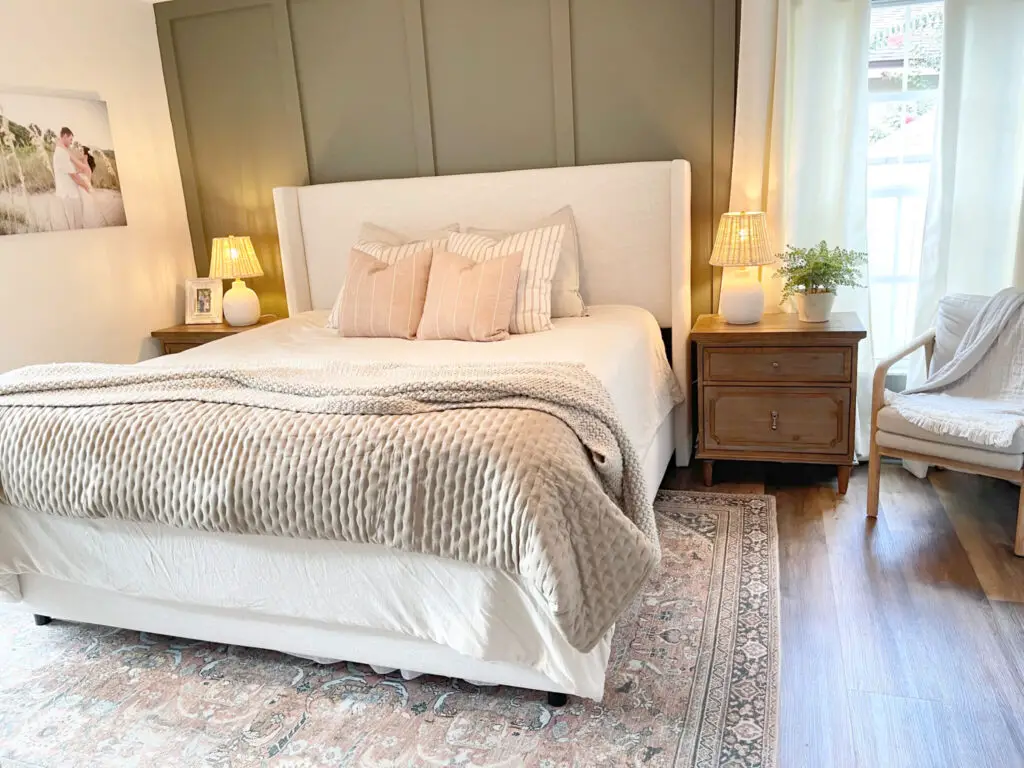 In my bedroom, I have a board and batten accent wall behind my bed. The color of my board and batten accent wall is Sherwin Williams Cacoon in matte finish.
Cacoon is a deep, neutral green. I love how it adds some warmth and depth to the space.
Anytime I do a board and batten wall I do a matte finish. I just think it looks better.
For all the other walls, I did Sherwin Williams Alabaster in satin finish.
As you can tell, I love the neutral, warm whites. Since I like to change out my decor often, I like to do a neutral paint color on my walls that will go with anything. This way, you can add more colors in through your decor and through the seasons, and your walls will always go with any of it.
If you want to take the full tour of my coastal farmhouse master bedroom, you can do that here.
Kitchen: Alabaster and Swiss Coffee
In my kitchen, I used both Alabaster and Swiss Coffee.
My shiplap in my kitchen is Sherwin Williams Alabaster in satin finish.
Since we were trying to save on budget, I didn't do a tile backsplash. So I decided to do a shiplap backsplash. I actually love how it turned out!
The walls in my kitchen are Benjamin Moore Swiss Coffee at 70% strength in matte finish.
My kitchen cabinets are Waypoint cabinets in the color silk.
I wanted a white kitchen but with warmer tones. So I didn't pick the typical bright white cabinets and went with this warm ivory white color. I absolutely love it!
My Front Entrance Way: Pewter Green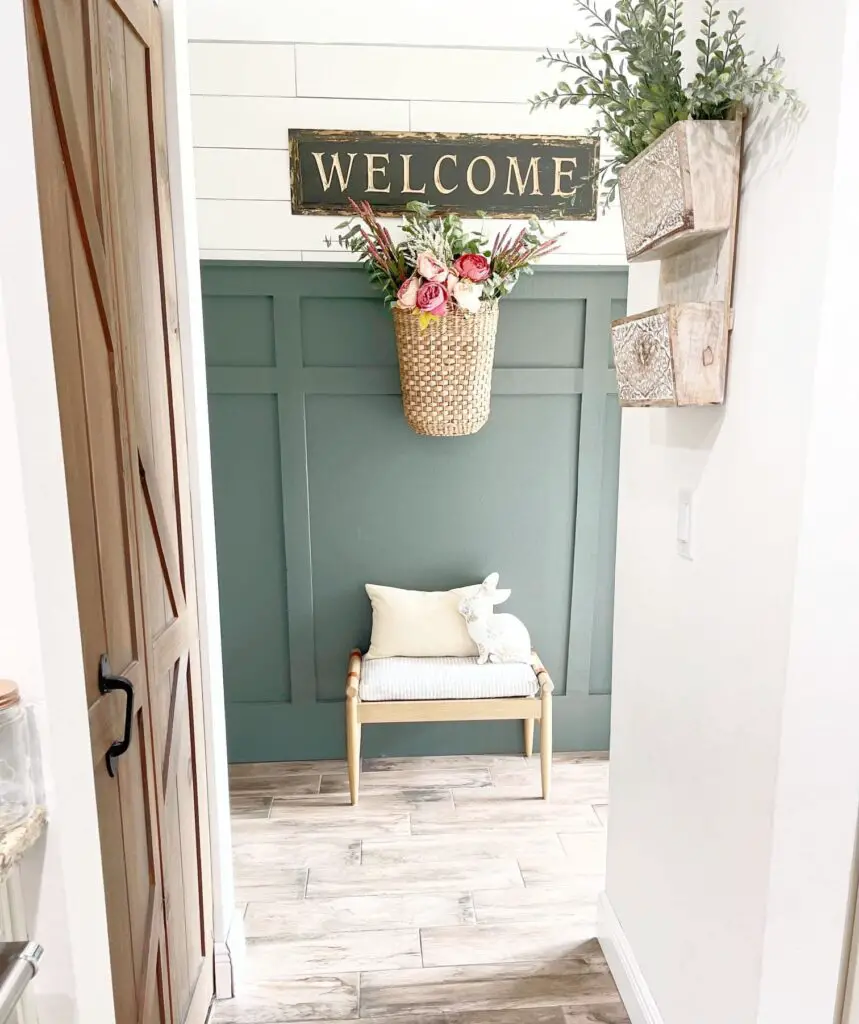 I saved the best for last! My most asked paint color question is what is the color of your board and batten wall in your front entrance way? The answer is… drum roll please… Sherwin Williams Pewter Green in matte finish.
I LOVE this color! It is a beautiful, rich color that brings some depth to my overall neutral space. I also love the green, bringing an earthy element. I get so many compliments on it! If you use this color, you will not regret it!
Picking Paint Color Tips – Get A Sample
I always recommend getting a sample first! Listen, I have been that carefree girl who buys the whole gallon and swears this is the color for her. I have then painted the wall and hated it, and had to repaint it with a different color.
With your sample, paint it on a few different spots on the wall and on different walls within the same room. Then, wait and look at it throughout different times of the day. Different lighting will make the color look different.
If you like the color in all the different lightings and after a few days, buy that gallon my friend!
Beauty Within Home Paint Colors
I hope you enjoyed the Beauty Within Home paint colors blog post. It truly is one of my most asked questions.
When it comes to picking paint, try not to stress it. Even though it's not fun to repaint, you can repaint. It is not a permanent choice. Decorating and homemaking for me is all about being creative and trying things out. If it turns out badly there is beauty and lessons in that as well.
As always, go create, have fun, and "find the beauty within your home." Thanks for stopping by our Faux Florida Farmhouse today and every day! We love having ya! Until next time friend.