This DIY shiplap is beautiful and affordable! If you can get the same look as real shiplap for less, why not? I am going to show you how!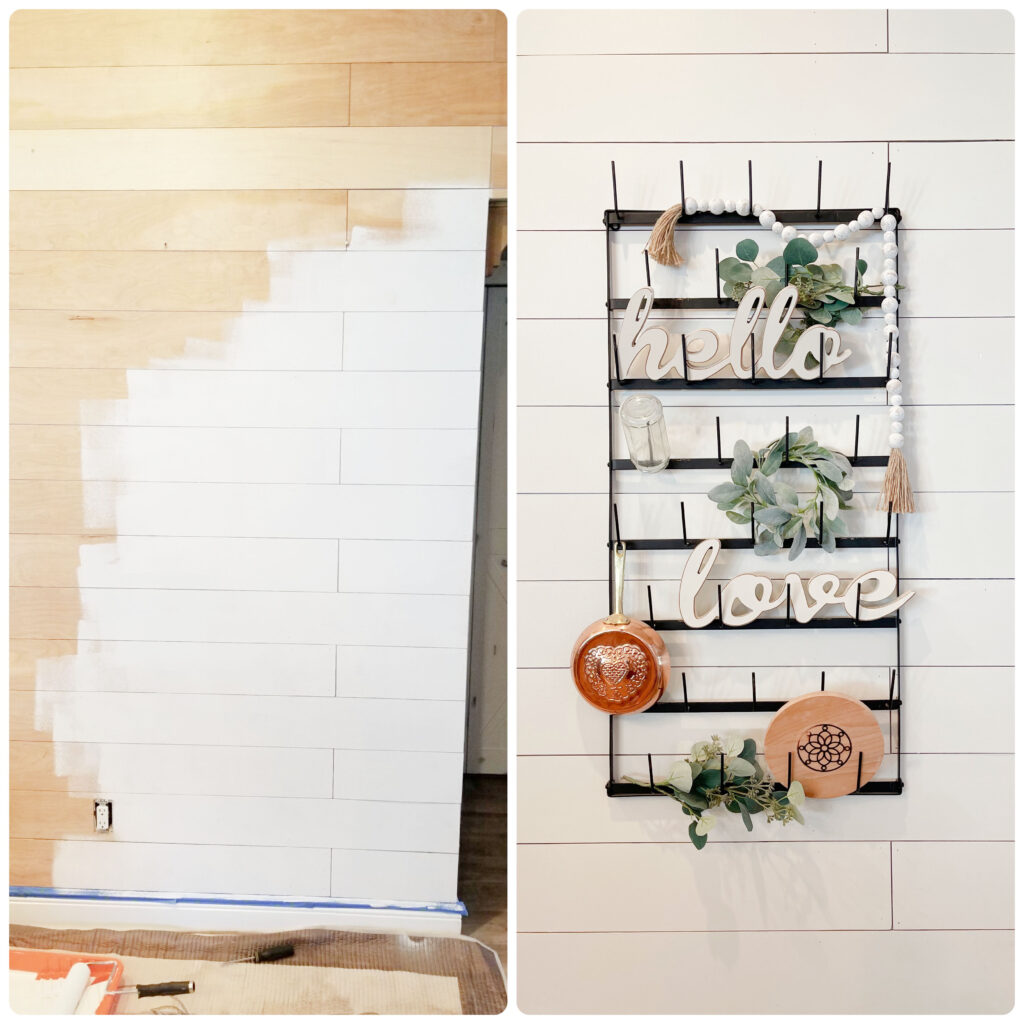 This post contains affiliate links, as a participant in the Amazon Services LLC Associates Program, an affiliate advertising program designed to provide a means for us to earn fees by linking to amazon.com and affiliated sites at no cost to you. See my full disclosure here.
Learn how I made this DIY shiplap the easy and cheap way with this easy tutorial. All you need is thin underlayment plywood and nails and you can create this expensive look for less.
No one realizes it is not the real shiplap! So why would you pay more when you can recreate it for less?
The total cost of the project came in at around $100 for my large wall.
We live in a home from the 80s, and along the way between different repair jobs and age of the walls, they look uneven and bumpy. Adding this DIY shiplap made clean lines, and made it bright and beautiful!
Tips For Creating A Shiplap Wall or Adding Shiplap To Your Home
We used thin underlayment plywood 4 foot by 8-foot sheets. We cut or rip them down into 6-inch width strips, but you could cut them thinner or thicker depending on what look you are wanting. I have seen people have 8-inch-wide shiplap and I have also seen skinnylap in 3-inch wide strips. There is no right or wrong, it is just your personal preference.
When choosing your boards be sure to look for any blemishes or if they are bowed. Smooth and straight will work best for your DIY Shiplap.
DIY Shiplap Supplies And Tools
Plywood underlayment: (Number of sheets depends on your wall or space ) 4′ by 8′ plywood at 1/5″ thickness, cut into 6″ strips
Miter saw: for cutting pieces to different lengths
Circular saw: to cut the top piece
Jig saw: for cutting out the holes for electrical outlets and light switches
Nickels for a spacer (we used about 4 to 5 at a time)
Nail gun – We bought a battery-operated nail gun and use it all the time. It is so nice not having to have the compressor. Obviously, a nail gun with compressor works just as well.
Nails: 1 and 3/8" gauge
Painting supplies: roller, paint brush, primer, paint
Stud finder (my hubby always puts it on himself and makes it beep haha)
How To Install DIY Shiplap The Easy And Cheap Way
Step one: Purchase Materials and Get Materials Ready For Your Project
Purchase all the materials above. When purchasing the thin underlayment plywood, you can ask Lowes or Home Depot to cut it down for you into the strips. It is only a small fee per cut and sometimes they will do it for free. You can also use a table saw to rip them down yourself to the 6-inch width.
Step Two: Prepping The Wall
This step is completely optional! I love my shiplap lines more defined, so we always paint a dark paint color or black underneath our shiplap. Plenty of people do not and it still comes out looking great.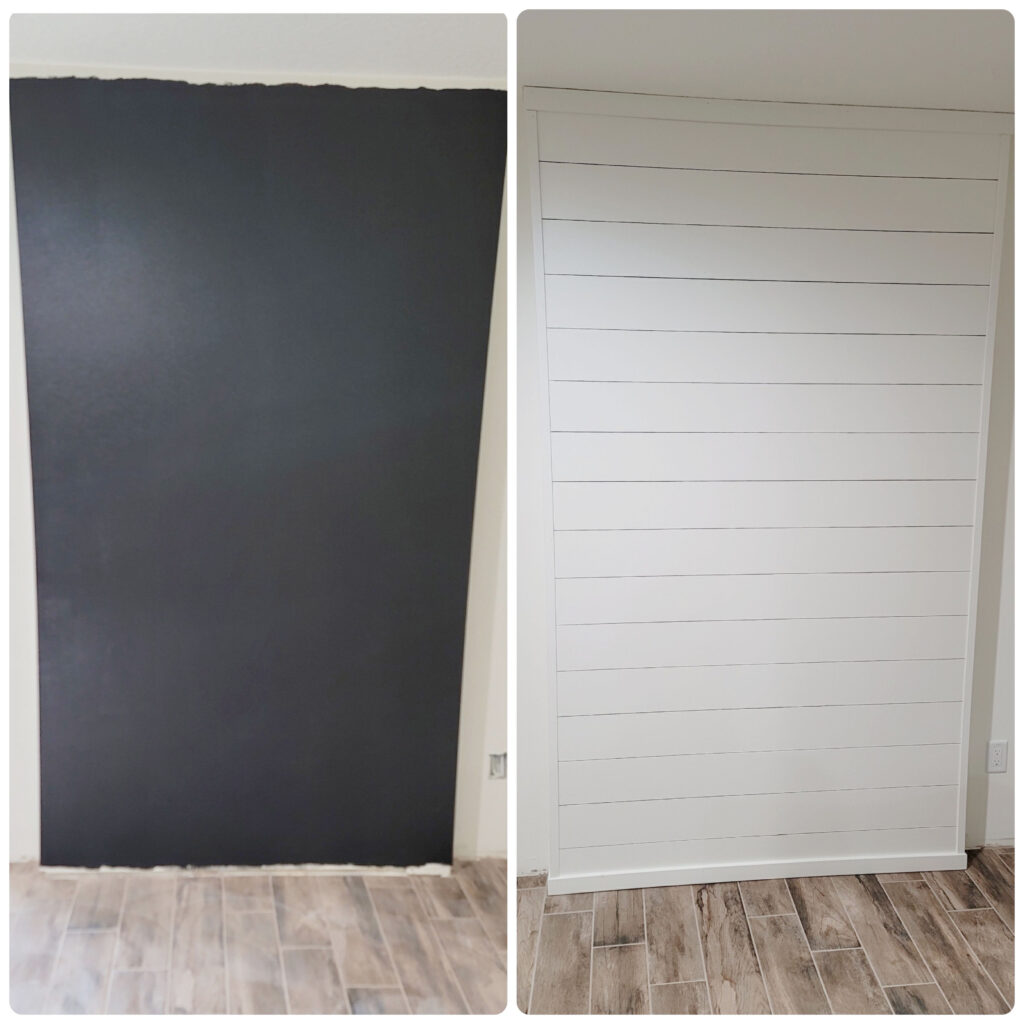 2. Mark the studs on your wall using a stud finder and a pencil. You want to ensure that each board is nailed into a stud. So, we find the stud and draw a pencil line all the way down the stud.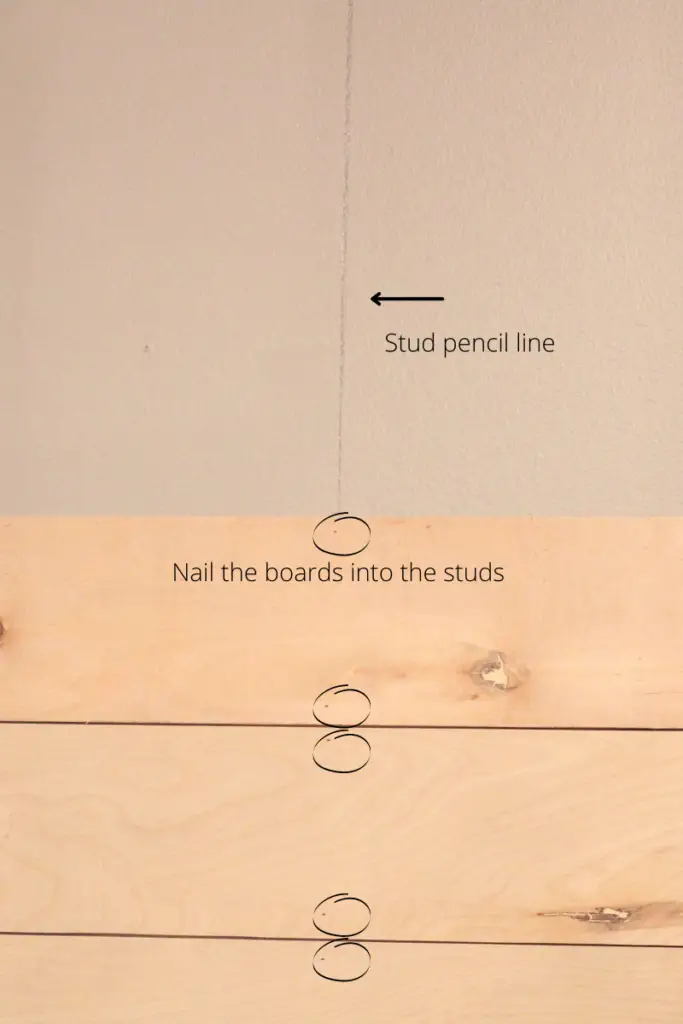 Step Three: Nailing the DIY Shiplap onto The Wall
Start at the bottom of your wall, right on top of your baseboard, we placed one full 8-foot long board at the edge of the wall and nailed it in place using the nail gun. Nailing directly into the studs.
We used a battery-operated nail gun and 1- and 3/8-inch gauge nails from Home Depot. It made the process so much quicker and really was so easy to work with. Remember, always nail into the studs.
Step Four: Deciding Your Pattern And Board Lengths
After that board is complete and on the wall, cut the next board to the fit the rest of the wall. If you have a super large wall, vary your shiplap lengths. There is not a right way and I feel like random patterns work better then a matchy matchy pattern. So for example, if the rest of the remaining wall is 12 feet, you could do a 4 foot piece and then another 8 foot piece, or vise versa. So do not throw away any scrap pieces! You may want to use them on other parts of the wall to create a random pattern. You will use the nickels in-between each piece of shiplap (so on each side of the shiplap). You will also use nickels to create a gap in between each row. The gap is important because that is what makes it look like real shiplap. The gaps create lines in between each board, and that is what makes the beautiful shiplap look we are going for.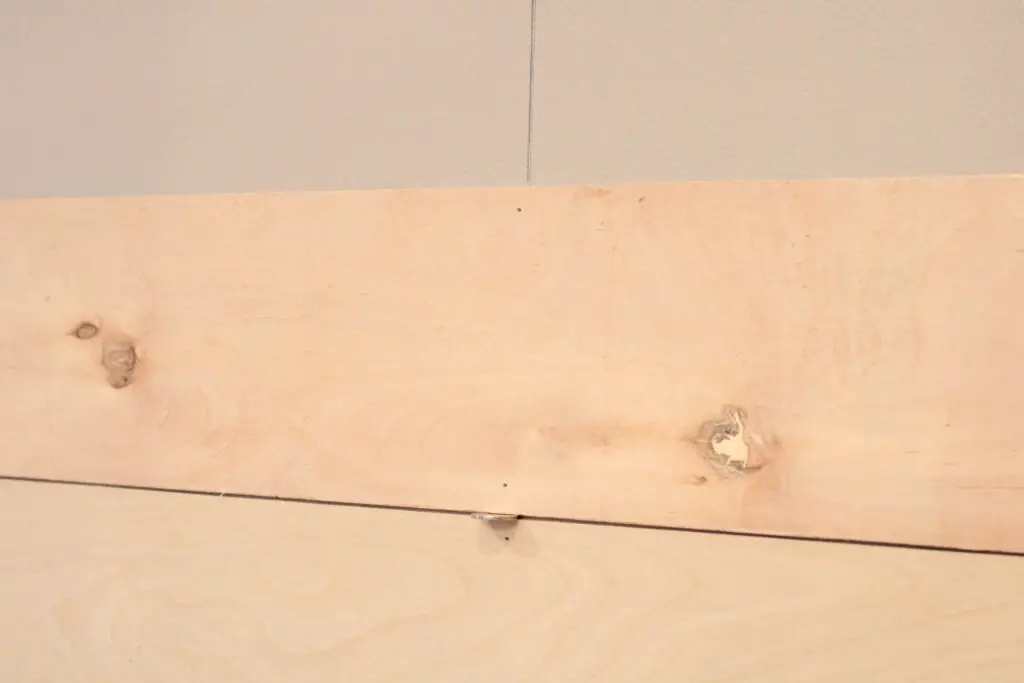 2. Once you have one full row completed, you can move onto the next one right on top of it. Remember, you don't want to put an 8-foot piece right on top of another 8-foot piece below it. Vary the pattern to make it look like real shiplap.
3. Make sure to use a level every few shiplap boards to make sure the boards are staying level and nothing is getting off-kilter. Luckily, shiplap is what I like to call rustic so it can be pretty forgiving and still look great!
Step Five: The Finishing Steps
Cut around any light switches or electrical outlets by placing a board on the wall, and marking where it needs to be cut. You can then cut it using a jigsaw.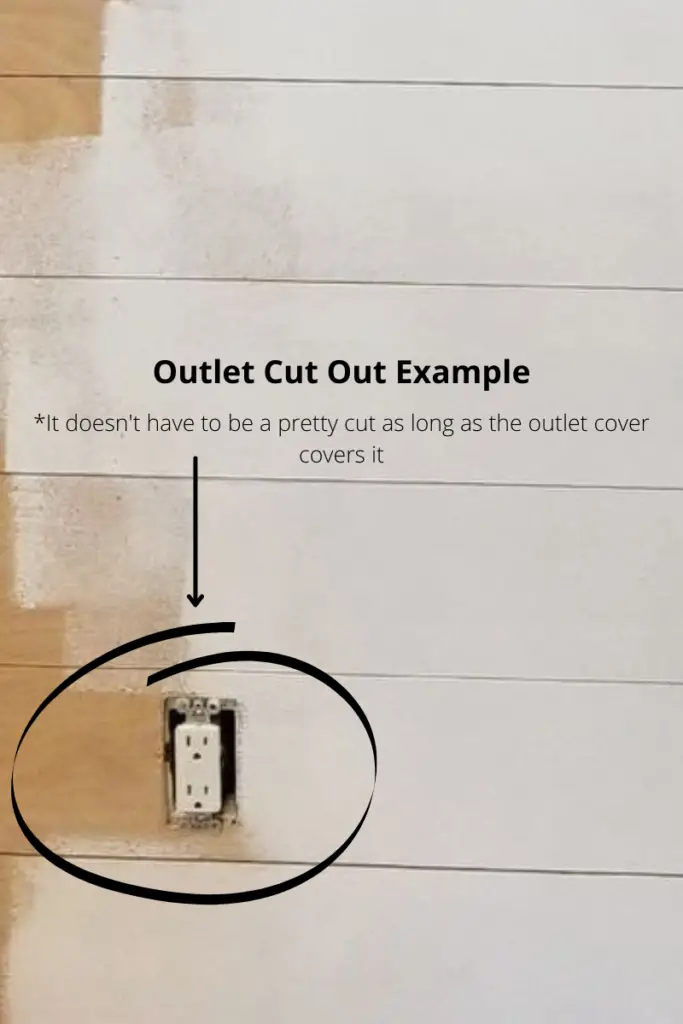 2. Continue alternating boards and using the nickel spacer row by row until you get near the top.
3. Once you get to the top row, you will want to measure the space between the last board of shiplap and the ceiling. It most likely will not be an exact 6-inch width and you will need to cut your board width down.
4. After you measure, mark the measurement on your board and make the cut.
5. Then go ahead and nail it into place. This will complete your last row – so exciting!
Step Six: Paint
Fill in nail holes with wood putty. This is actually an optional step. I left mine because I liked the more rustic, farmhouse look to it. Plus, the nail holes are so tiny you can barely see them. You can decide what look you like best. If you do fill with wood putty, make sure to allow time for it to dry, then you sand it down smooth, then you can paint.
Before you paint, you will need to prime the DIY shiplap.
After the primer is dry, I painted with Sherwin Williams Alabaster in satin finish.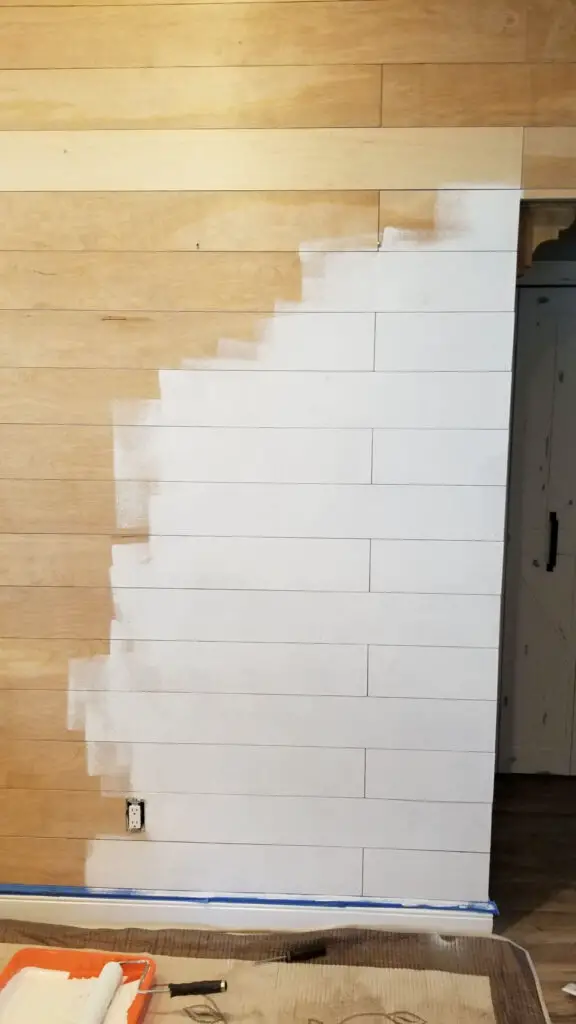 The DIY Shiplap Wall is done!!!!
After a few hours, you will have a beautiful shiplap wall!
Most of your time is spent in the prep work, getting the wood and having it cut down, cutting the boards to fit and notching out in the appropriate spots.
After all that, it goes up pretty quickly! I absolutely love how it turned out! It makes my room feel so bright and cozy!
I loved it so much, I started with one wall and ended up doing my whole dining room area. I hope you try this easy DIY Shiplap and love it as much as I do!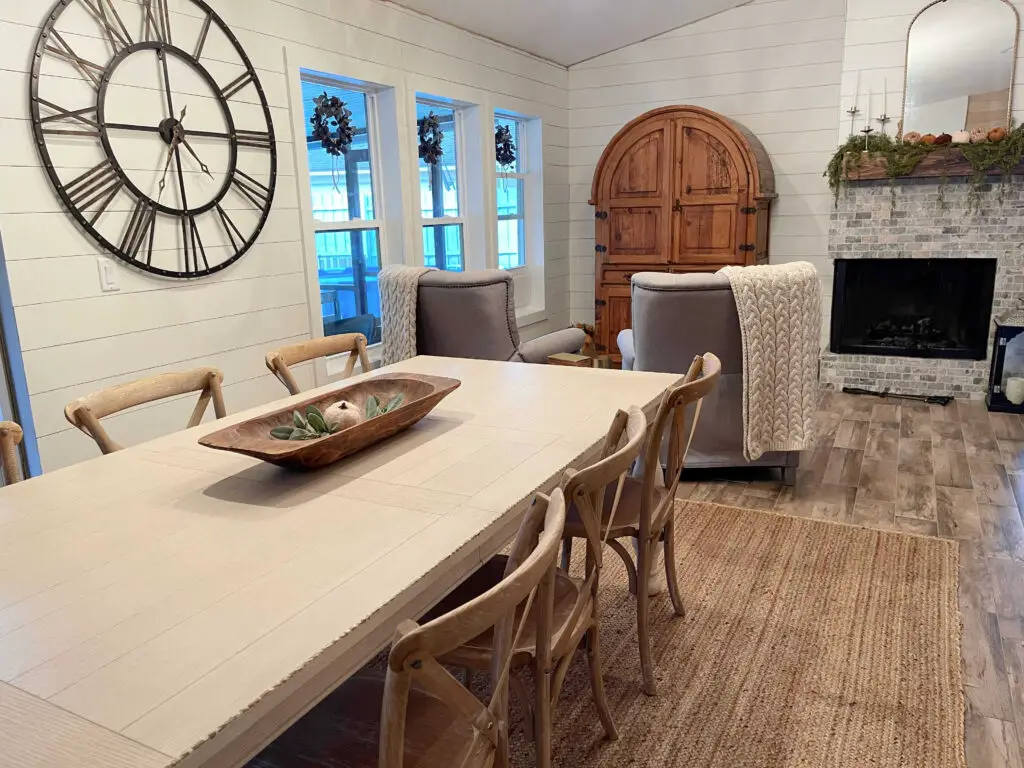 Common Questions People Ask About Shiplap:
What color should I paint my shiplap?
This is all based on personal preference. We painted ours Sherwin Williams Alabaster in Satin finish for our walls. I have heard if you do your ceilings to do a flat finish. I have also seen beautiful shiplap in dark colors as well, like a dark grey or black.
Should you paint your shiplap before or after you install it?
It can be done either way. If you are doing a ceiling, I would recommend painting it first. For this tutorial, we painted it on the wall after it was installed.
How wide should shiplap be?
I know I have said it a few times, but this is again personal preference. In this tutorial, we did 6-inch width. I have heard of people using up to 8-inch width and as little as 3-inch width for skinnylap. You decide what look you are going for in your space.
Do you put shiplap right over drywall?
Yes, that is exactly what we did. You can place it right over drywall or plaster. It is a great way to cover up wall damage or bad repairs done over the years in older homes.
How much does shiplap cost?
Real shiplap that is tongue and groove boards that fit together, can be very pricy! The shiplap in this tutorial is not actually real shiplap, but it is much cheaper and most do not know it is not the real deal.
Find More Farmhouse Inspired DIY Projects here: