Do you have a Super Mario fan in your home? Well then I have an easy DIY for you! We took a Barbie dollhouse and converted into a Mario Playhouse DIY. It turned out to be an easy and inexpensive way to bring a toy my kids didn't play with back to life. Let me show you how easy the process is.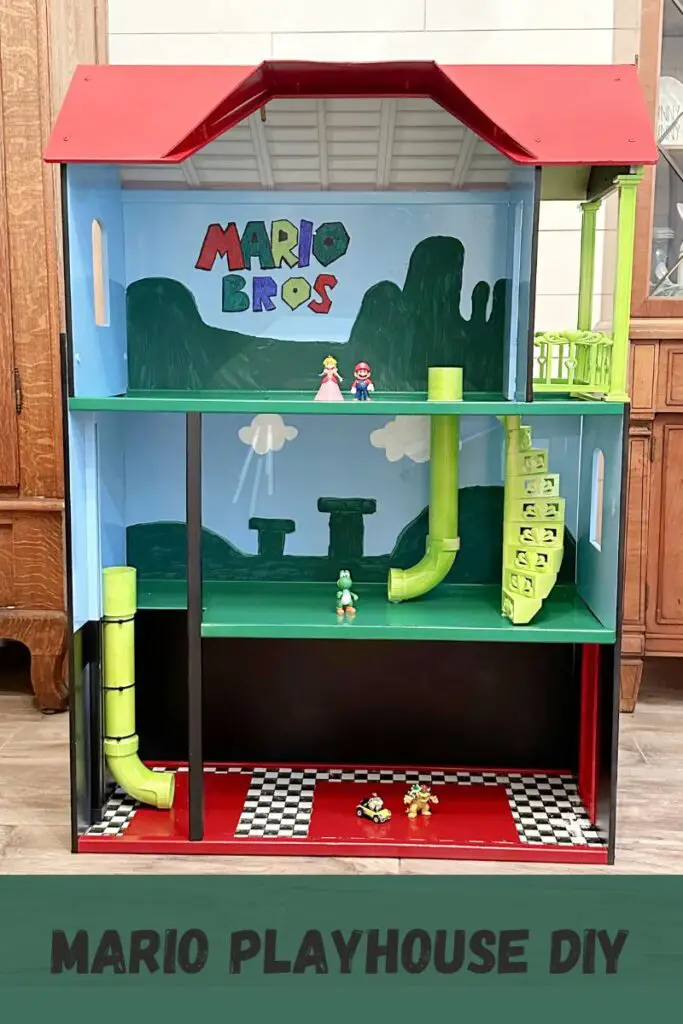 My two kiddos love the Mario video games. Then they wanted all the Mario plush toys. Now with the new Mario movie that just came out, Mario is an even bigger deal in this household!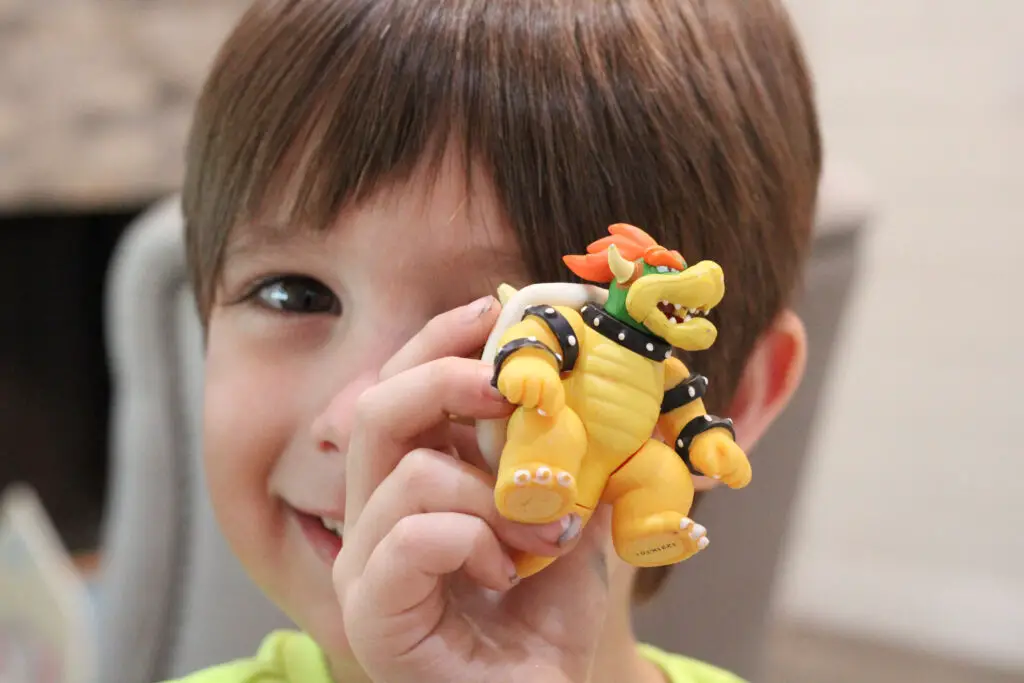 This Mario Playhouse DIY is big enough that they can play with their Mario plush toys in it or they can use the small plastic Super Mario figurines. It is so versatile and they just love it! They get so excited to show their friends when they come over and their friends always want to make one of their own. So I am going to show you how easy it is!
Tips and Tricks on How To Make a Mario Playhouse DIY
This Mario Playhouse DIY was so affordable to make. I have a few tips and tricks for you on how to make it in the most cost effective way. The Barbie dollhouse that we used to convert into the Mario playhouse is not cheap if you go and buy it new. However, here are a few scenarios that make it more cost effective. 
Tip 1: You already own a Barbie dollhouse that your kids no longer play with. If you convert it to a DIY Super Mario house you are saving money! This is what my blog Beauty Within Home is all about – finding the beauty within an outdated toy or furniture piece and updating or reusing it in a different way. This was the scenario in my house. The kiddos did not play with the Barbie house anymore and I was looking to either find a way to reuse it or get rid of it. Now, back when I purchased the dollhouse I did purchase it used which brings us to tip 2.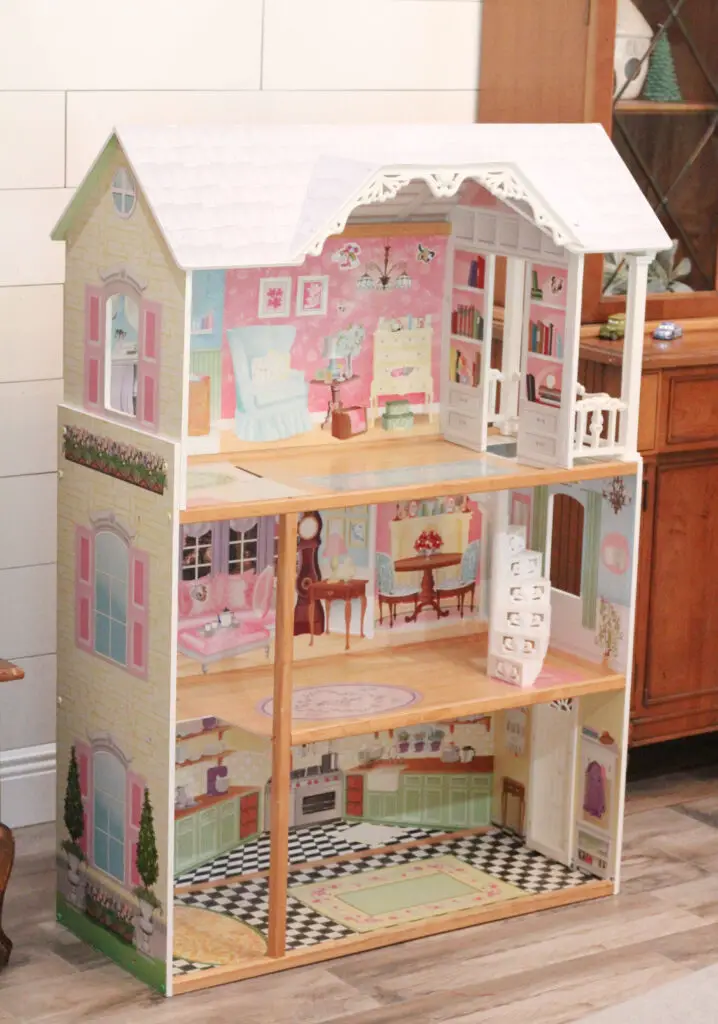 Tip 2: You can purchase a Barbie house or large dollhouse on Facebook Marketplace for cheap. This is what I did originally and I got mine for $25! These can go for over $200 new. I just looked for one that was made of wood and plastic. You can also use a small bookcase!
Tip 3: If you love crafts and DIY projects then you make have some extra spray paint already. Make sure to always use leftover supplies that you already own. This just helps you to save money. 
What Does Making A Mario Playhouse Cost?
We made this Mario Playhouse with all the supplies for under $50. I did not include the price of the dollhouse that I originally paid since we did own it for a few years. 
The PVC pipe and fittings was $17
The spray paint we purchased was $30
The total: $47
Supplies and Materials Needed For The Mario Playhouse DIY
Acrylic paint (Optional: if you want to paint a scene in the background).
Caulk gun or Hot glue gun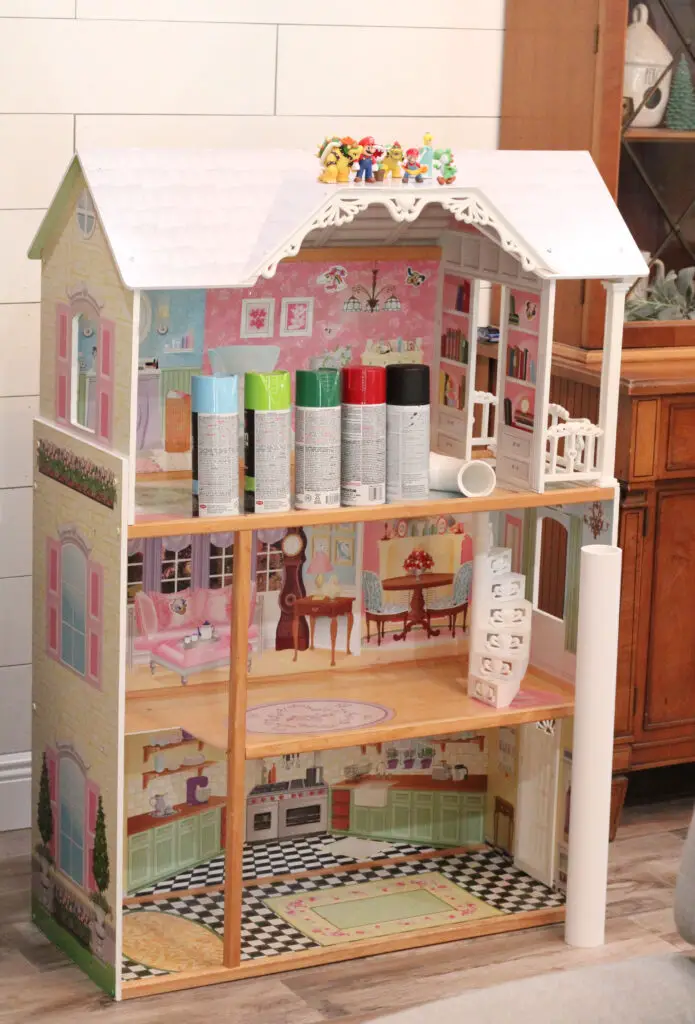 This post contains affiliate links, as a participant in the Amazon Services LLC Associates Program, an affiliate advertising program designed to provide a means for us to earn fees by linking to amazon.com and affiliated sites at no cost to you. See my full disclosure here.
Designing Your DIY Super Mario House
You can decide how you would like your Mario Playhouse DIY to be. You do not have to make your house exactly like ours. Get creative and have fun with it! 
My kiddos wanted a Bowser level, a Mario level, and a Yoshi level. Deciding this helped us decide what paint colors we would be using.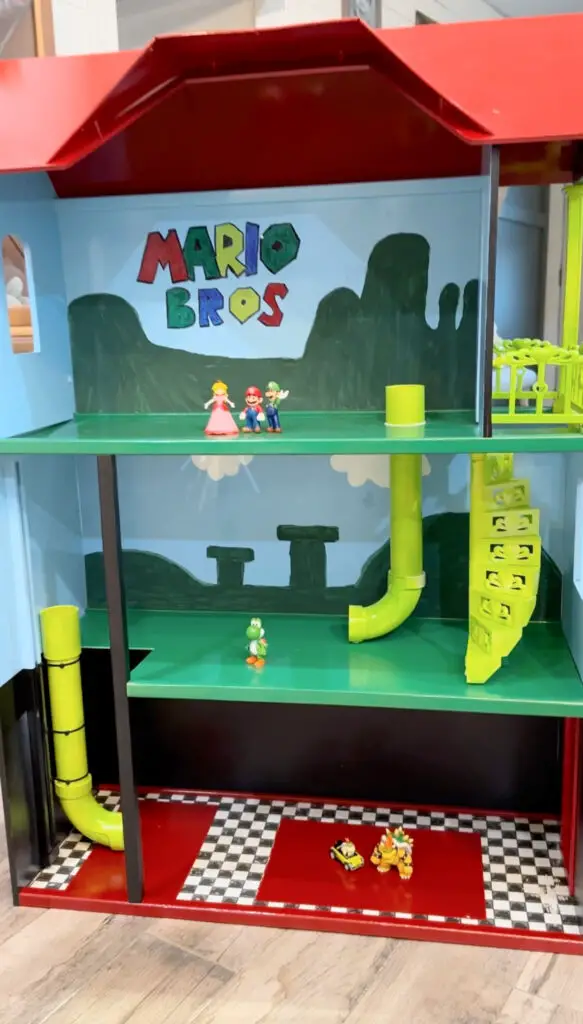 For the top level, that is Mario's level, we knew we would use the blue and green. 
The middle level, that is Yoshi's level, we knew we would use the blue and green.
Then the bottom level, that is Bowser's level, we knew we would use black and red spray paint.
It would even be fun to make a Princess Peach level where you could add in the pink spray paint. Let your kiddos contribute their great ideas and make it your own. 
We also knew we wanted to add the PVC pipes as tunnels or warp pipes between levels. When selecting the size of your PVC pipes make sure you select big enough for your Super Mario plastic figurines to slide down and not get stuck. We brought some with us to hardware store just to be safe. Ours are the inch and a half size for reference. 
How To Covert A Barbie House Into A Mario Playhouse DIY: The Step By Step Instructions
Step One: Clean The House
Wipe down your dollhouse and make sure there is no dust or dirt on it. 
Step Two: Disassemble The House
Once your house is cleaned, you will need to disassemble it. Depending on what tools you have, you can use a cordless drill or screwdriver to take it apart. We used our cordless drill. 
Tip: put your screws in little plastic zip lock bags so that you do not lose them. You can also label them what parts they are for if that will help you remember for reassembly. 
Step Three: Paint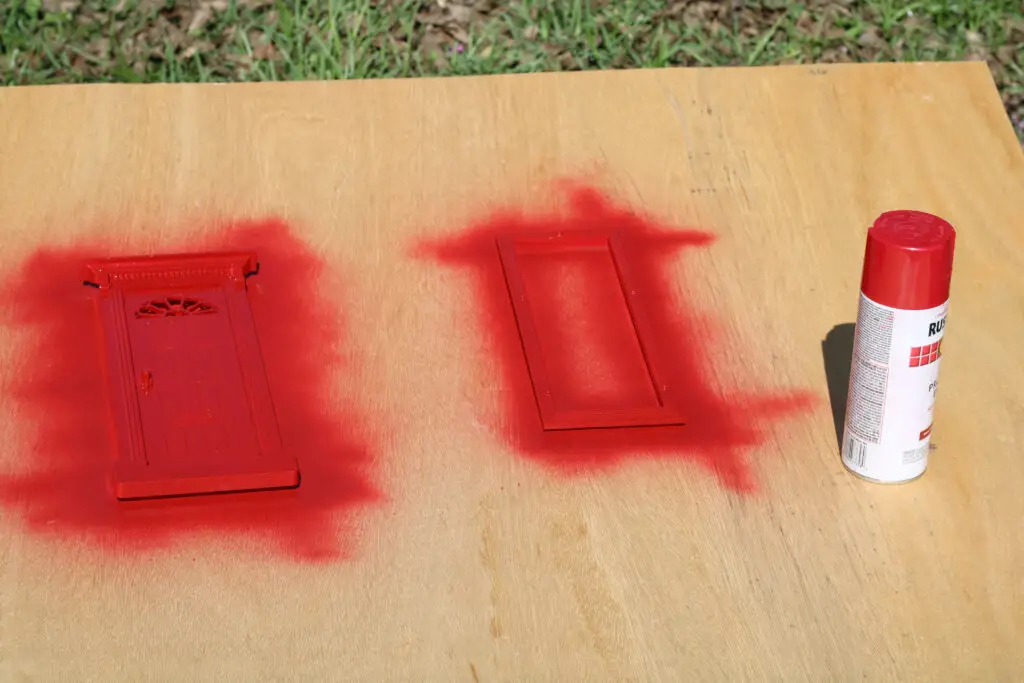 Now that you have your house apart, you can start to paint. You will want to paint somewhere where you are not worried about the overspray of the paint getting onto other things.
Spray your pieces and allow to dry completely. Note: The only pieces we sanded before painting was the PVC pipes. 
When you spray paint, you want to spray a light coat as your first coat. If you spray too close or too much you may get paint lines or bubbling. Let it dry for an hour in between coats and you can let it sit in the sun. 
Step Four: Reassemble The House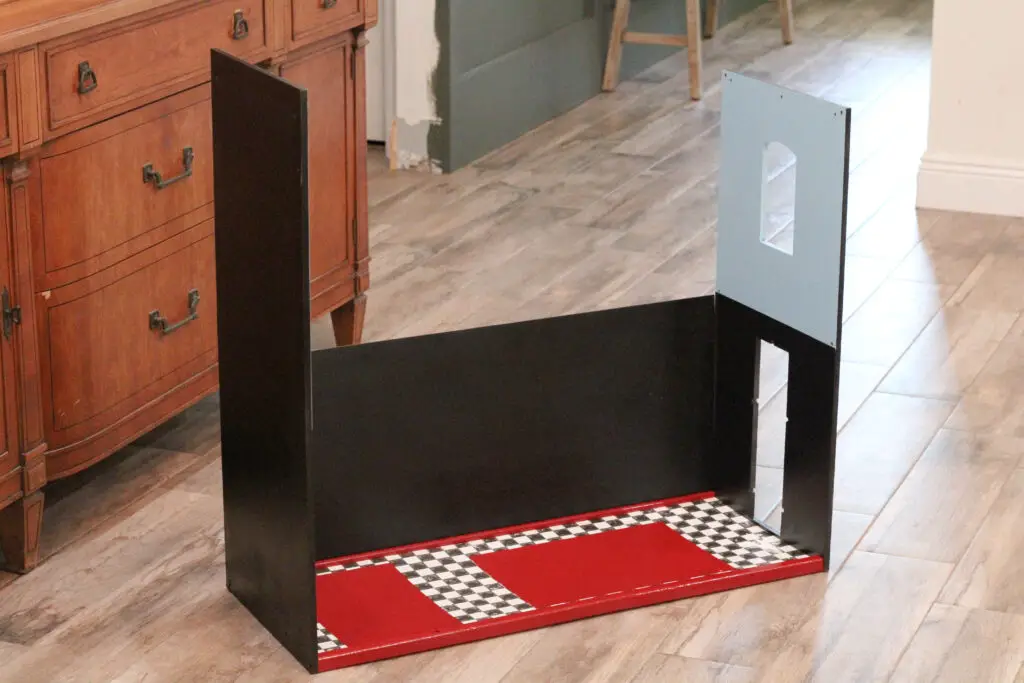 Once all your individual pieces are painted and completely dry, you can start to reassemble your Mario playhouse DIY. 
Step Five: Attaching The PVC Pipes or Tunnels
With your house put back together, you can now add your tunnels (PVC pipes). This step is optional. Figure out where you would like them placed. We did one tunnel from the first level to the second level. Then, we did another tunnel from the second level to the last level. 
You will need to cut one hole per tunnel. We used a Dremel to cut the hole. Do not make the hole too big because then your tunnel will move around. To secure your PVC pipe in the hole you can use caulk or hot glue, whichever you prefer. Put the caulk or hot glue around the PVC pipe and hole filling in any gaps. This secures the top of the PVC pipe. 
To secure the bottom of the PVC pipe, we drilled two holes into the side of the house and used a zip tie around the PVC pipe and through the holes to secure.
Step Six: Paint A Background (Optional)
Paint a background on the back wall of the house. This step is completely optional and customizable to you. I painted some hills and extra tunnels on the back wall to add some visual interest. Then I painted "Mario Bros" as well. I free handed these – you can tell me what an amazing artist I am later haha. 
The End!
That's it! It was so easy and our kiddos love it! When their friends come over and see it they go crazy over it! So make this for your kiddos and see the pure joy on their faces and hours of playtime it brings.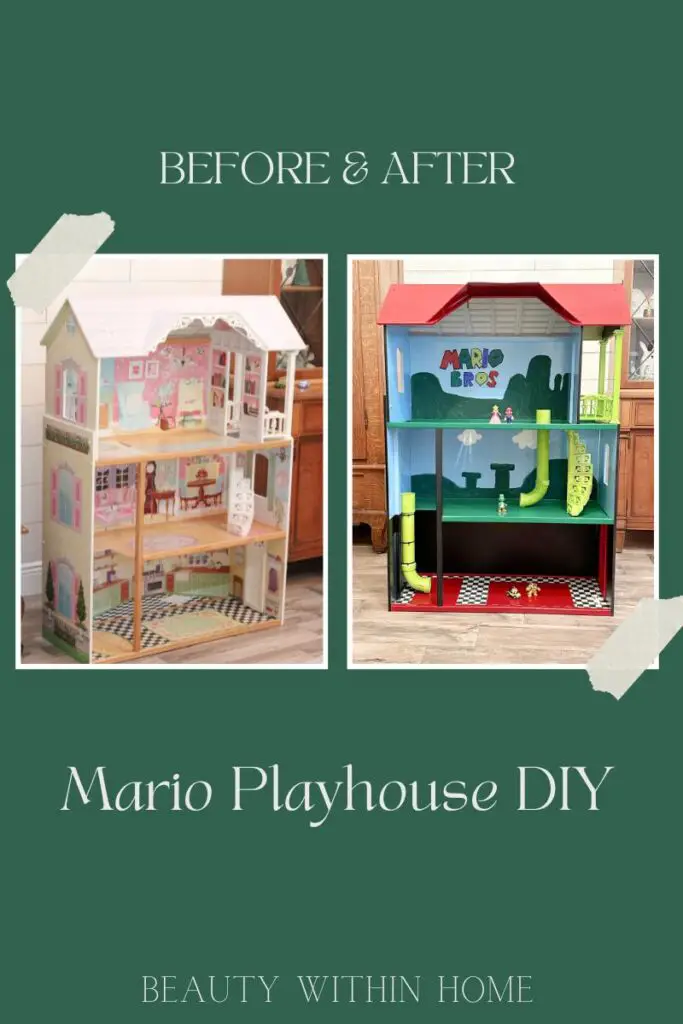 Find The Video Tutorial Here:
Mario Playhouse DIY
I hope you enjoyed this project as much as I did and it brought you some fun inspiration for your own home and fun for your kiddos! Follow along with me on the blog as we continue to DIY, decorate, and craft. If you end up making this, let me know in the comments below.
As always, go create, have fun, and "find the beauty within your home." Thanks for stopping by our Faux Florida Farmhouse today and every day! We love having ya! Until next time friend.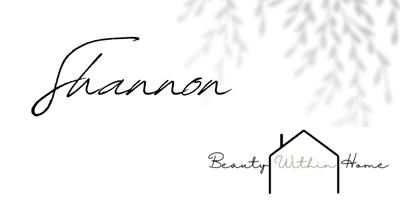 FIND MORE DIY PROJECTS HERE: