This post contains affiliate links, as a participant in the Amazon Services LLC Associates Program, an affiliate advertising program designed to provide a means for us to earn fees by linking to amazon.com and affiliated sites at no cost to you. See my full disclosure here.
Doesn't it seem like every year the fall decor and even Christmas decor comes out earlier and earlier in the stores? Maybe you are not ready for the full fall experience in your home yet. I have you covered my friend, it is what I like to call neutral transitional fall decor. Maybe you are ready for fall, but you are a neutral girl like me. I still love the neutrals and I love decorating for fall the same way. There is of course nothing wrong with the bold colors of fall decor, but fall decor can be done in many ways. I am going to show you how I like to decorate for fall in early September. Here is my simple neutral fall transitional decor.
Fall is my favorite season, along with Christmas, I can't choose between them. So, when it comes to fall decor, I don't mind starting a little early. Decorating for fall and seeing all the decor makes me happy! As far as timing for decorating goes, I say you do you my friend! If you want to decorate September 1st and it makes you happy, go for it! However, if you are not ready, then that is ok too. Here is my neutral fall decor for the ones who are ready and waiting, or transitional fall decor for the ones who are not ready for the full fall season yet. Is anyone ready for Christmas decor yet? I am kidding, for the most part!
Neutral Fall Decor And Me
Mostly, when it comes to decorating, I am a neutral girl. I know, most of you who have been following along are saying tell me something I don't know. If you are new here, Hi I'm Shannon and I love white, beige, golds, and everything in neutral land. My fall decor falls (no pun intended) right into neutral land. I am going to show you how easy it is to add simple neutral fall transitional decor to your home as well.
Add Neutral, Warm Colors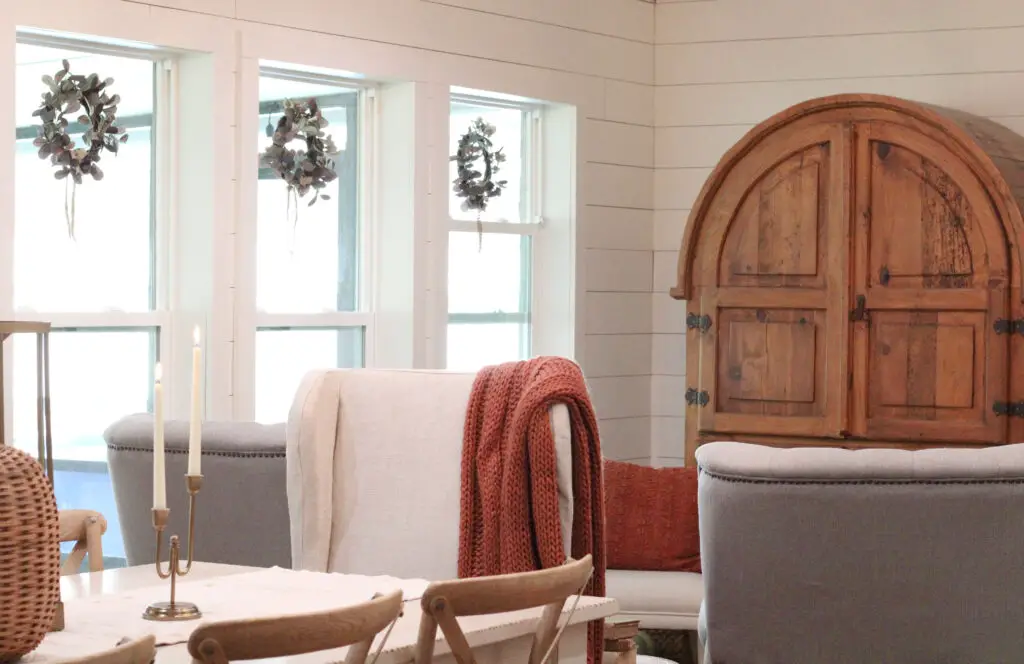 I am loving the warm tones and colors this fall season! My absolute fav is the rust color. Bringing warmth to a space can make it feel cozy and inviting. You don't have to have a pillow that says "fall" on it for it to be considered fall decor. I added this beautiful rust colored throw pillow and throw blanket from Target, and I just love them. I still have plenty of my white neutral fall decor but have mixed in some really pretty warm tones that just pop.
This deep olive colored vase with white fall leaves is another beauty. What is great about decor like this is that you can also use it for more than just one season. Take the fall leaves out and add more of a Christmas floral or winter stems and you have the next season covered. Decorating for the seasons doesn't have to mean all new decor or lots of clutter. Always shop your home first and use things you already own in different ways. I love to do this and to just get creative.
Generally, warm tones for me are the rusts, browns, mustard yellows, deep greens, and burgundies. Mix them in with your whites and they just pop and make a true statement.
Add Mixed Metals
In addition to the warm colors, add in some warm toned metals. Give me all the copper and gold please! I added these beautiful copper antique pots to my kitchen, simple and beautiful. Anytime I can use antiques or unique finds I do. It just makes it feel special.
For my dining table, I used lots of gold metals and tones. I wanted my table to be simple but also a little dramatic, so I used larger decor pieces. I added a large gold lantern because as soon as I saw it I loved it. Also, I added these unique gold candlesticks because candlelight just creates that warm and fuzzy feeling.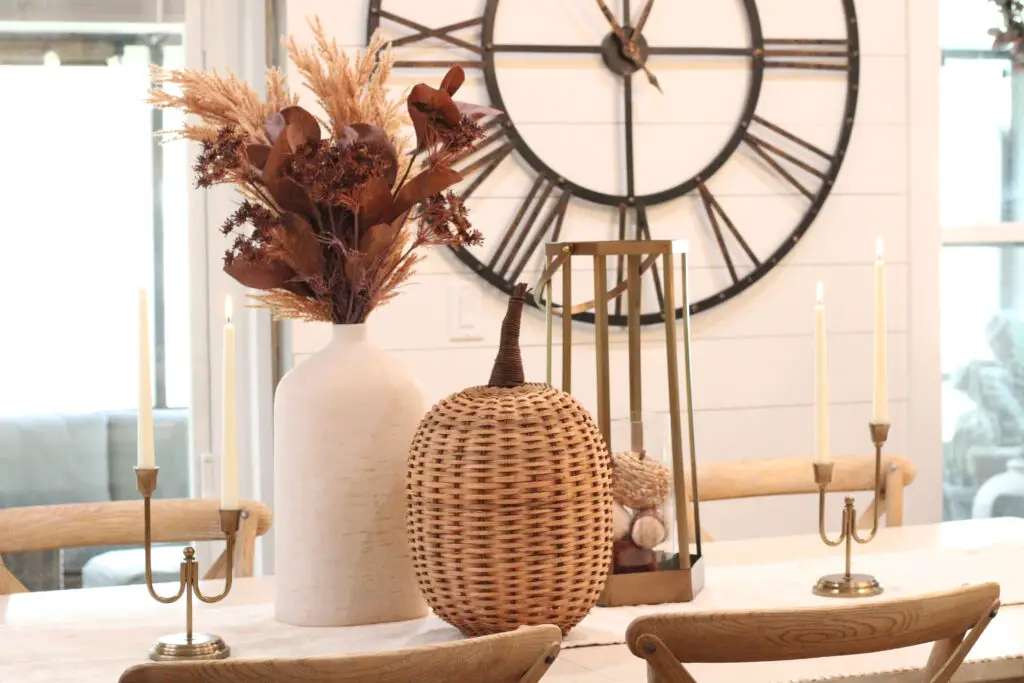 Add Textures
Lastly, is adding in texture. Adding textures to the space can be as simple as adding a basket. Baskets are great for any season. They can be used again and again. I love shopping my home and using a piece of decor for more than one season. Sometimes, I just move the piece into a new room so that it feels new and different.
Generally, you have pumpkins for fall. The wicker pumpkin on my table adds texture and fits the pumpkin requirement. Also, I just had to have it.
Another great way to add texture is through throw blankets and pillows. I love the knit throw blankets. I may have too many of them! Can you have too many of them? Don't ask my husband that! But in my defense, throw blankets are also a functional piece of decor. So, when it is freezing cold outside in our harsh Florida winters that we have, he will be wanting that comfy throw blanket to keep him warm, and who will be laughing then?! Yeah, just stick to not asking him.
Neutral Fall Transitional Decor Inspiration
I hope you have found some inspiration for your own home and see how simple is can be to add neutral fall transitional decor to your space. Or when in doubt just buy more throw blankets! Now, go be creative and bring fall to your space, find the "beauty within your home."
If you enjoyed reading this blog post, please subscribe to my blog by entering your email, and don't forget to open the email and confirm the subscription. Follow along for more DIY projects and home decor tips and tricks on a budget. Thanks for stopping by my Faux Florida Farmhouse!
Shop The Look
Battery Operated Flickering Amber Candles with Remote can be found here.
Pampas Grass Florals 86 pieces can be found here.
White Pumpkins 12 pieces can be found here.
Battery Operated Flickering Candlesticks with Remote can be found here.
Rust Pillow Covers can be found here.
Rust Throw Pillow can be found here.
Gold Large Lantern can be found here.
Candlesticks in brass can be found here.
Large Wicker Pumpkin can be found here.
Rust Throw Blanket can be found here.
Amber Vase can be found here.
Here Are Some of My Favorite DIY Projects We Have Completed:
Here Are Some Tips and Tricks On How to Decorate on a Budget:
Affordable and Thrifty Decorating Tips