Stripping furniture with oven cleaner?! Yes, you heard me right and no I am not crazy! When I heard about this method, I also thought it sounded crazy. So of course, I did the logical thing, and had to try it! It turned out to be an easy and inexpensive way to bring an outdated piece back to life. Let me show you how easy the process is.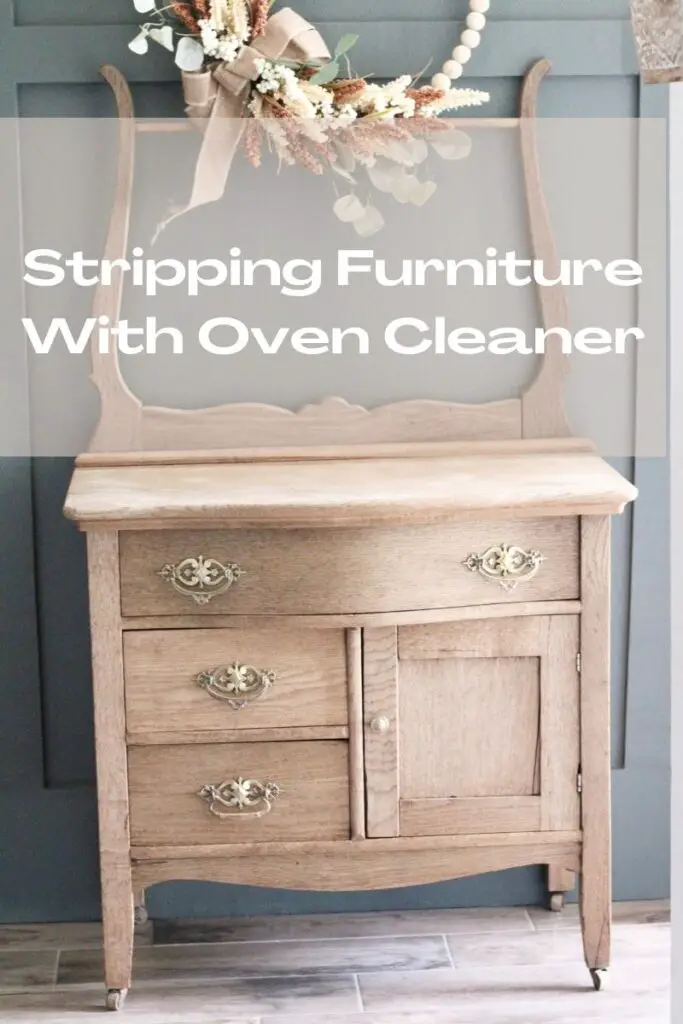 One of the reasons my blog is called "Beauty Within Home" is because I am a strong believer in finding the "beauty within" outdated furniture pieces, by just bringing them back to life with a little work. Sometimes, to get beautiful results it doesn't take much! I am not afraid to strip, sand, or paint a piece to make it look good as new. As always, if I can do something for cheaper or even easier, I will and I will show you how too.
There are so many methods to strip a piece of furniture. I am not saying there is a right and wrong way. Each of the methods yield very similar results. However, what can differ is the cost, time, and elbow grease involved. So, it doesn't hurt to try out the different methods.
I found this gorgeous antique washstand on Facebook Marketplace. I love finding pieces of furniture, really anything on Facebook Marketplace. There are so many great deals on there! I also love hunting for old pieces at a thrift store or antique store. I love the hunt for something to make over, the rejects that no one else would have bought, and giving them new life.
When I found this piece I knew it was perfect for my front hallway. The stain color was truly beautiful, but it was a little orange for my taste. Also, I knew I was placing the washstand on a dark green wall. So a lighter, natural wood color would just pop off that green. So, I opted to remove the stain to get that raw wood finish, and found this method.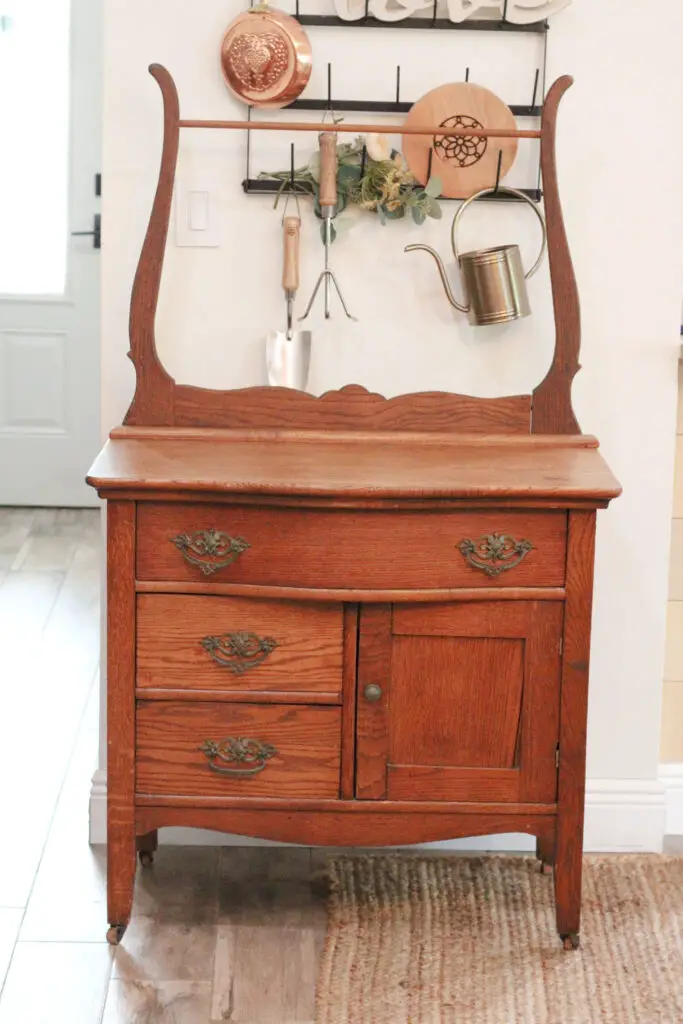 What Type Of Furniture Can Be Stripped Using Oven Cleaner?
The good news is as long as it is real wood furniture, not wood veneer, then it can be stripped using the oven cleaner method. Make sure to check your furniture piece before you begin.
Also, it really works best on removing stain from furniture pieces, not painted furniture pieces. If your piece is painted, then you would want to use a paint stripper. This method will not work for a painted piece of furniture.
Furniture with intricate details and areas that would be hard to sand are perfect for this method – no sanding required!
Why Use Oven Cleaner and Not a Chemical Stripper?
There are many different ways to getting that beautiful raw, natural wood look. There is no right way in my opinion.
Chemically stripping a furniture piece is one option. You can use traditional chemical strippers and strip the furniture using that method.
Physically stripping a piece is another option. You can sand the piece down and use a lot of muscle and time.
Today, I am chemically stripping my piece but instead of using furniture stripper, I am using easy-off oven cleaner. This is just a new technique to strip furniture, and we are going to try it out together, and see what we think. Is it the easiest way to strip furniture? Let's see!
How Much Does It Cost Using The Oven Cleaner Method?
A can of oven cleaner can vary from $4 to $7 per can depending on the brand you get. You can find them at any local hardware store such as Lowes or Home Depot or even on Amazon. I purchased the Easy Off Oven cleaner for $6 per can.
How Much Oven Cleaner Do You Need To Use?
This will depend on the size of your furniture piece. For reference, I only used 1 can for my washstand. So I was able to do my whole project for only $6.
Supplies And Materials Needed
This post contains affiliate links, as a participant in the Amazon Services LLC Associates Program, an affiliate advertising program designed to provide a means for us to earn fees by linking to amazon.com and affiliated sites at no cost to you. See my full disclosure here.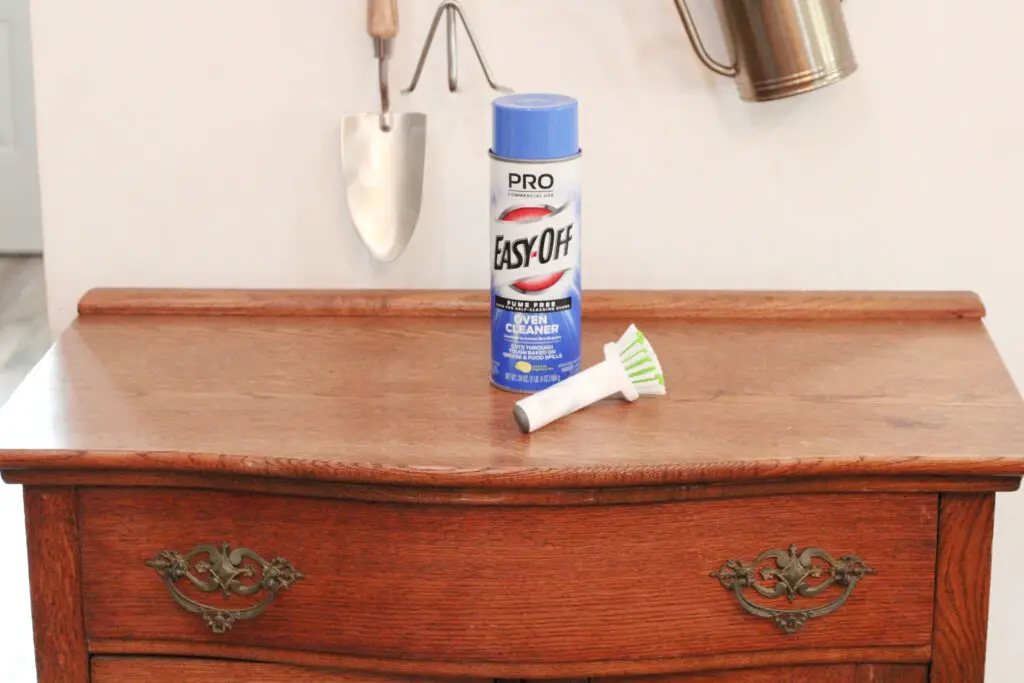 HOW TO USE OVEN CLEANER AS A FURNITURE STRIPPER
Take your piece outside. This is definitely not an indoor project.
Step One: Clean Your Furniture Piece
Just do a quick wipe down of your piece. Getting any dust or dirt off.
Step Two: Apply The Oven Cleaner
Spray your entire piece with Oven Cleaner Fume Free spray and let it sit for 15 to 20 minutes.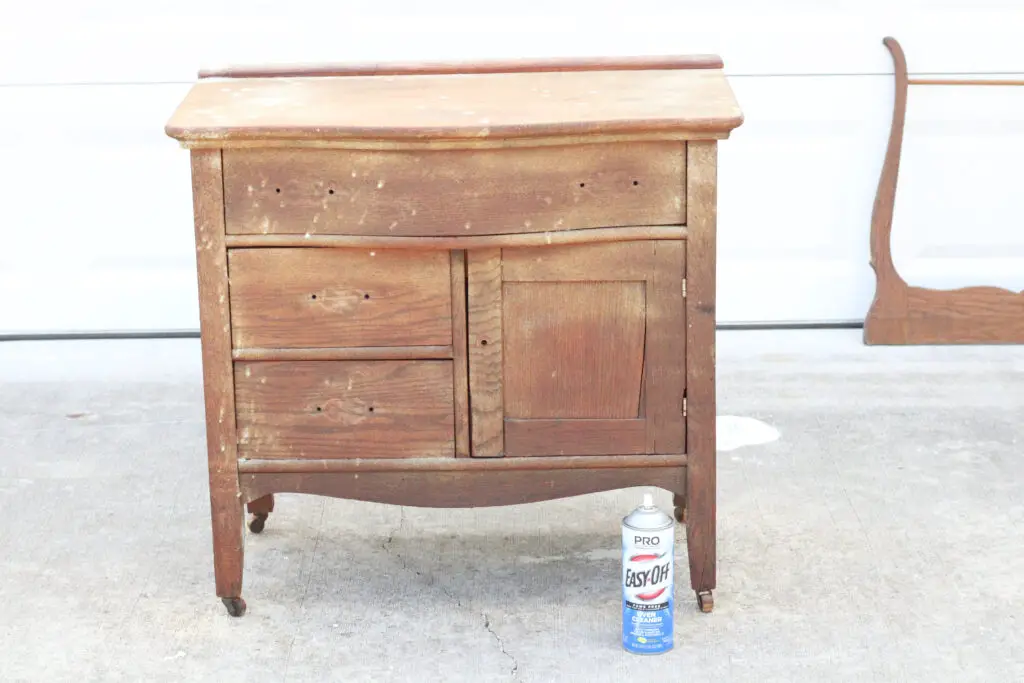 Step Three: Scrub
After your piece has sat for 20 minutes, scrub the piece with a brush. Scrub everywhere the stain is. You will see the stain coming off onto your brush – this means it is working!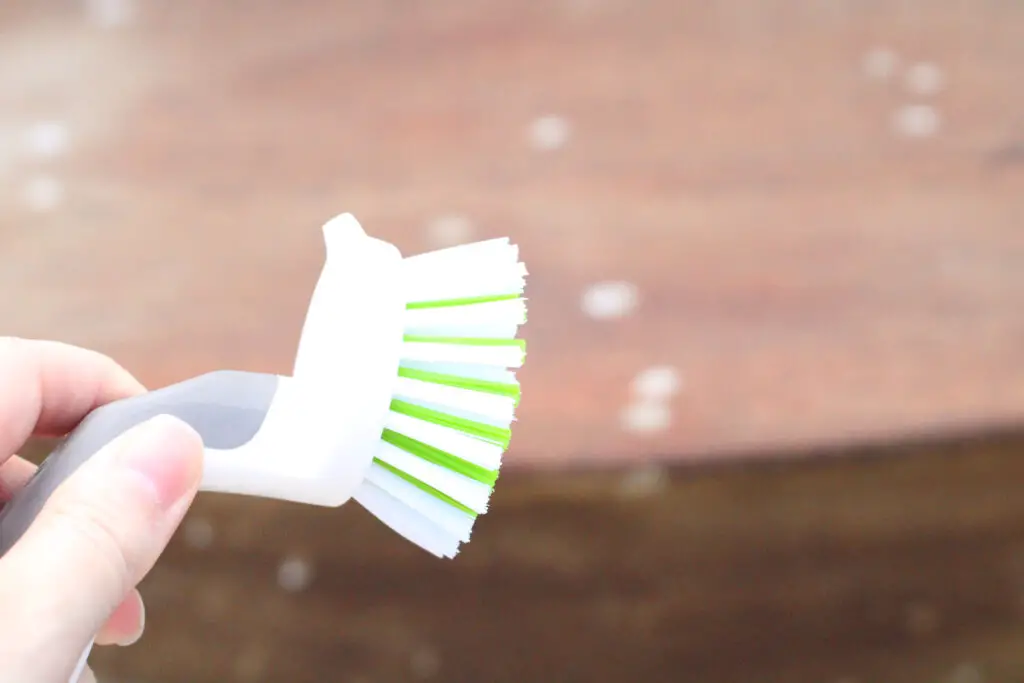 Step Four: Spray With Water
Yes, I said spray your wood piece with water – again I promise I am not crazy! Take your garden hose and start spraying the furniture piece off. It doesn't matter if it is cold or warm water.
You will see the yellow, orange color which is the old finish coming off in the water. Rinse the whole piece until you do not see the yellow color coming off anymore.
Also, do not freak out, your piece will still look like the same color and that this process did not work. The real magic happens after it dries in the sun.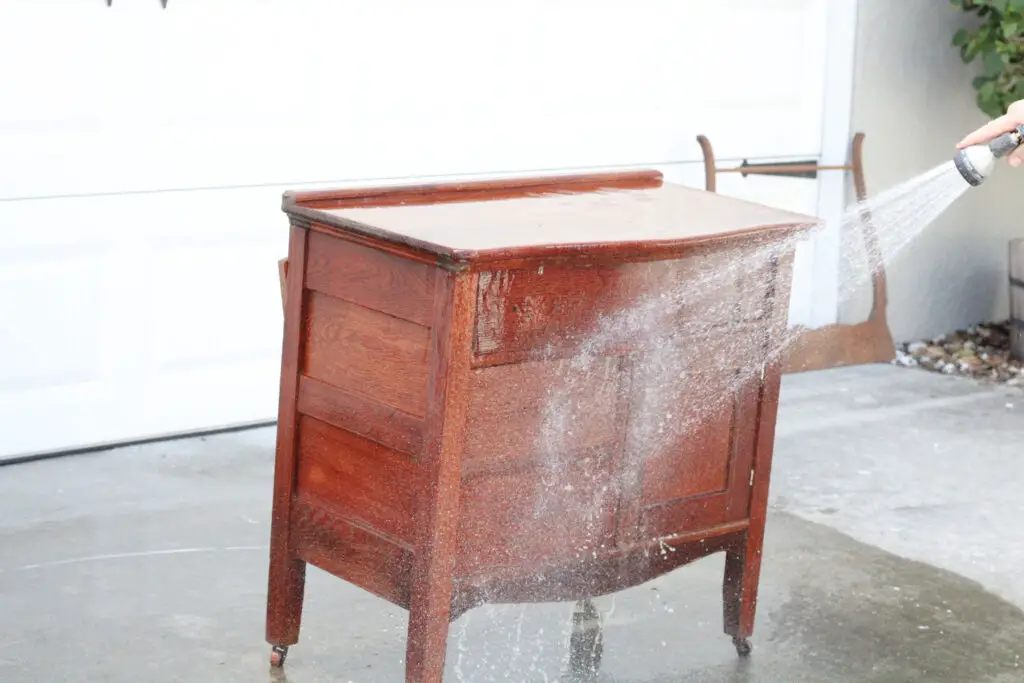 Step Five: Let Dry In The Sun
Let the sun work it's magic! Let it dry completely.
Once the piece has dried, if there are any spots where the stain remains you can always repeat the entire process again until you are happy with the results.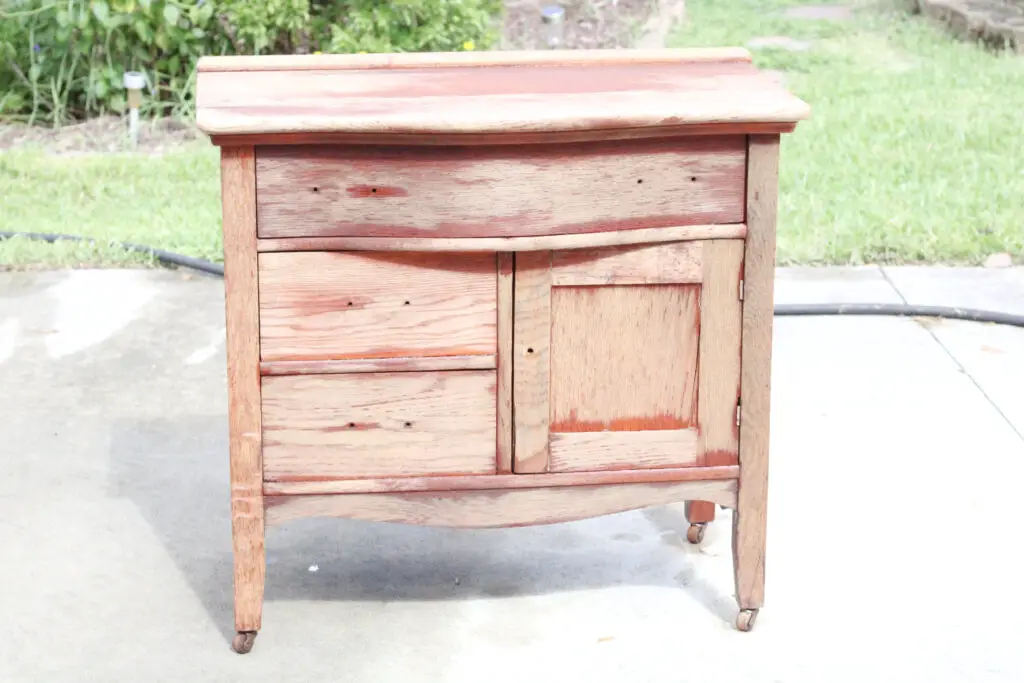 All Done! The End Result
It turned out so pretty and was so easy to do! I got the raw wood look I was going for and it is dreamy looking! The whole process was done in one day.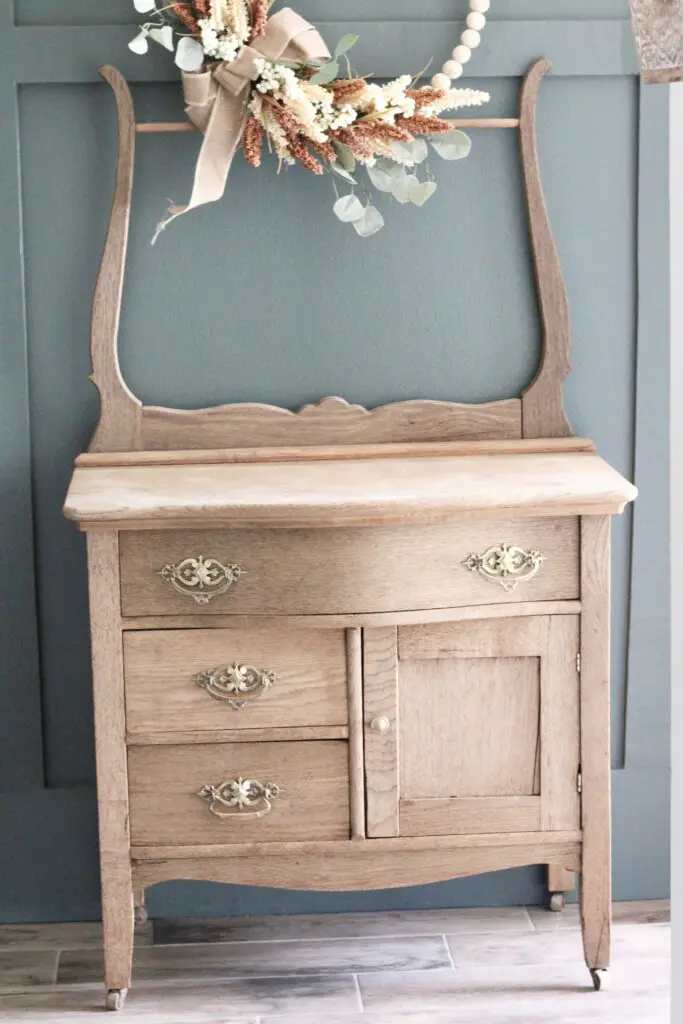 Tips and Tricks To Furniture Stripping With Oven Cleaner
Make sure to fully saturate your furniture piece with the oven cleaner. It will not work properly if you do not put enough of the oven cleaner onto your piece.
Reminder to make sure your furniture are solid wood pieces. You do spray the piece off with water. If your piece is veneer it could damage your piece.
Once completed, if you have very little areas that are blotchy you can just sand them instead of repeated the oven cleaner process. Use a fine grit such as 220 to just do a light sand on those areas.
Make sure to check the weather before starting this process. You do not want it to rain and you want the sun to dry the piece. So make sure it is a sun filled day when you start.
The brush you use should just be like a dish brush. You do not want a metal brush that could scratch and damage your furniture piece.
Would I Ever Use This Method Again?
Would I ever use the stripping furniture with oven cleaner method again? Absolutely! In fact, this was my first time trying it and it's addicting. I am already searching for my next piece! It was so easy and affordable. It also is kind of a surprise because you do not know the exact color or shade your piece will turn out until it's done – fun right?! My piece turned out amazing and I am genuinely happy I tried it. So, if you are on the fence I say go for it!
Before starting this blog post, I had asked on social media, should I leave it or strip it? I had quite a few leave it, its beautiful as is. I agree, it was beautiful, but I knew it would really pop off that green if it was lighter. Don't be afraid to go with your gut and try what you want to try. Decorating and homemaking for me is all about being creative and trying things out. Now, when I posted the piece completed, I had so many of those same people say you were right it looks even better. Never be afraid to play and try things out. If it turns out badly there is beauty and lessons in that as well. Go play and try something new in your home today!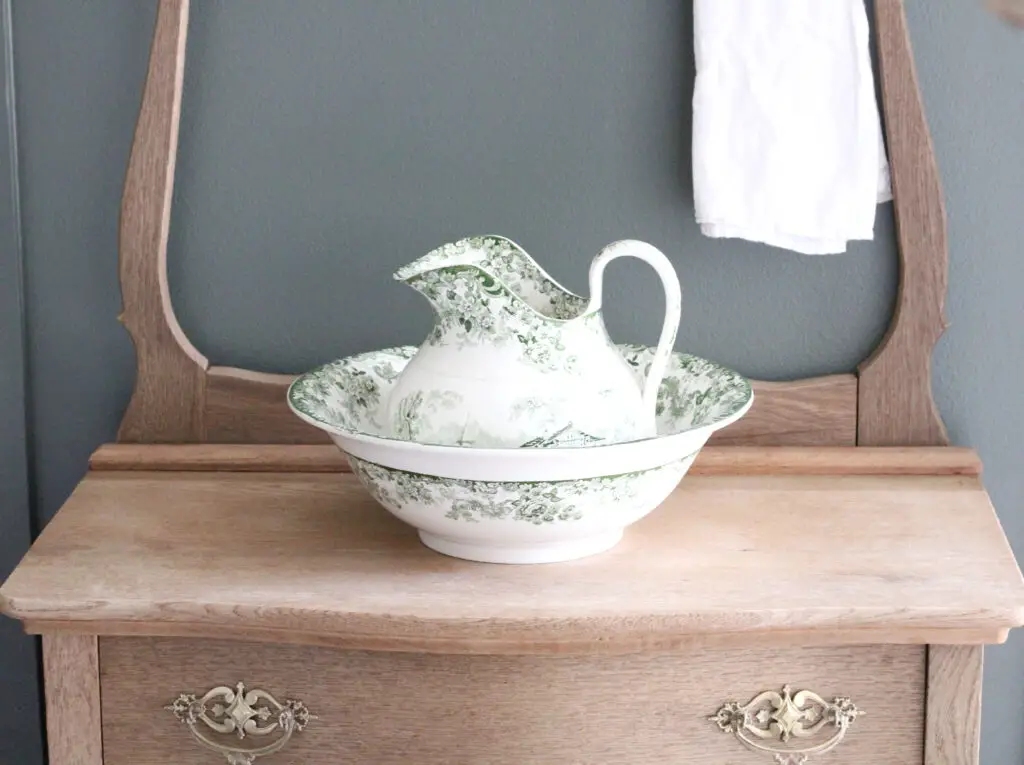 Find The Video Tutorial Here:
I also did this project in my Instagram stories and saved a highlight on it there as well.
Find More DIY Projects Here: