This DIY Patriotic Summer Garland is a beautiful and inexpensive way to add some summer décor to your home. In fact, you may already own the supplies and can make this garland for free!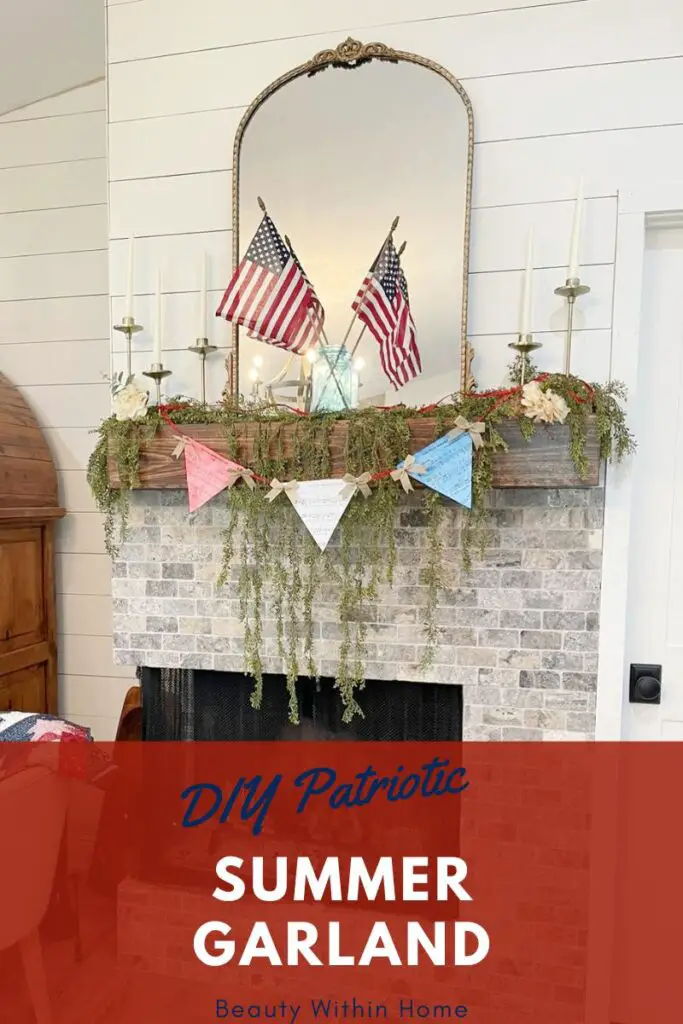 In the summer, there is Memorial Day and the Fourth of July which I love having my patriotic décor out for, and to me all summer long I love keeping out some patriotic décor. Summer is about relaxing and keeping it simple in my home. So I put out my patriotic décor all summer and then I am ready for those holidays and don't have to change anything out.
I was looking around my home and realized I didn't have a ton of summer décor out. Then I thought it would be fun to make something instead of buy something. My fireplace mantel was looking a little boring so I thought a garland would be fun. If I wanted it to be free, what could I use? Free music sheet printables of patriotic songs!
For your garland, you can use any song that you would like! You can also make your garland bigger if you wish. Since mine was for my fireplace, I went with just three songs. I chose The Star-Spangled Banner, God Bless America, and You're A Grand Old Flag. Three is also nice because then I can paint each song: red, white, and blue.
Now, let's get started on this easy DIY Patriotic Summer Garland.
Materials And Tools
String or ribbon
Computer to print your free printables on
Burlap bows (optional)
Cup of water
This post contains affiliate links, as a participant in the Amazon Services LLC Associates Program, an affiliate advertising program designed to provide a means for us to earn fees by linking to amazon.com and affiliated sites at no cost to you. See my full disclosure here.
How To Make A DIY Patriotic Summer Garland
Step One: Gather Your Supplies And Tools
My goal was to make this DIY Patriotic Summer Garland for free. So I used whatever leftover crafting supplies that I had on hand. You can do that as well or you can purchase the items. Either way, this is an easy and affordable DIY project.
Step Two: Pick Your Patriotic Songs And Print Them Out
You can choose whatever patriotic songs you would like. I went with The Star-Spangled Banner, God Bless America, and You're A Grand Old Flag.
I wanted not only the lyrics but the musical notes so I searched for free music sheets.
Note: I do not own the copyrights to these songs. These are just free printables I found on Google.
God Bless America free music sheet printable
The Star-Spangled Banner free music sheet printable
You're A Grand Old Flag free music sheet printable
Find free music sheet printables online and print them out.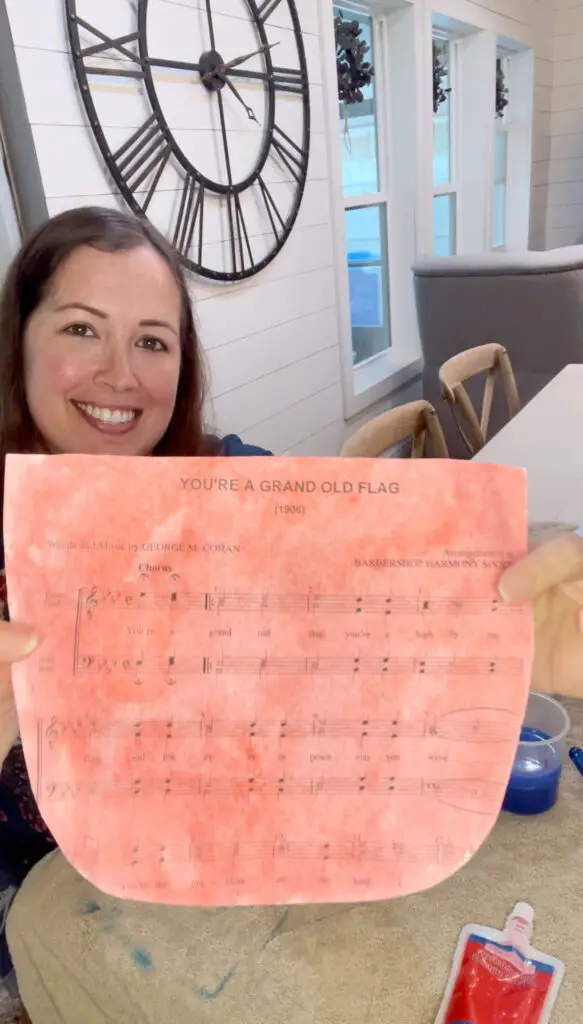 Step Three: Paint
Since I went with three songs, I knew I was going to paint one red, leave one white, and paint the other blue.
However, I still wanted the lyrics of the songs to show through. So I mixed the paint with some water so it wasn't too thick. You can always add more water or more paint to get the proper consistency.
Once I had the right consistency of paint to water, I painted my one song red. Then the other song blue. Let them dry completely.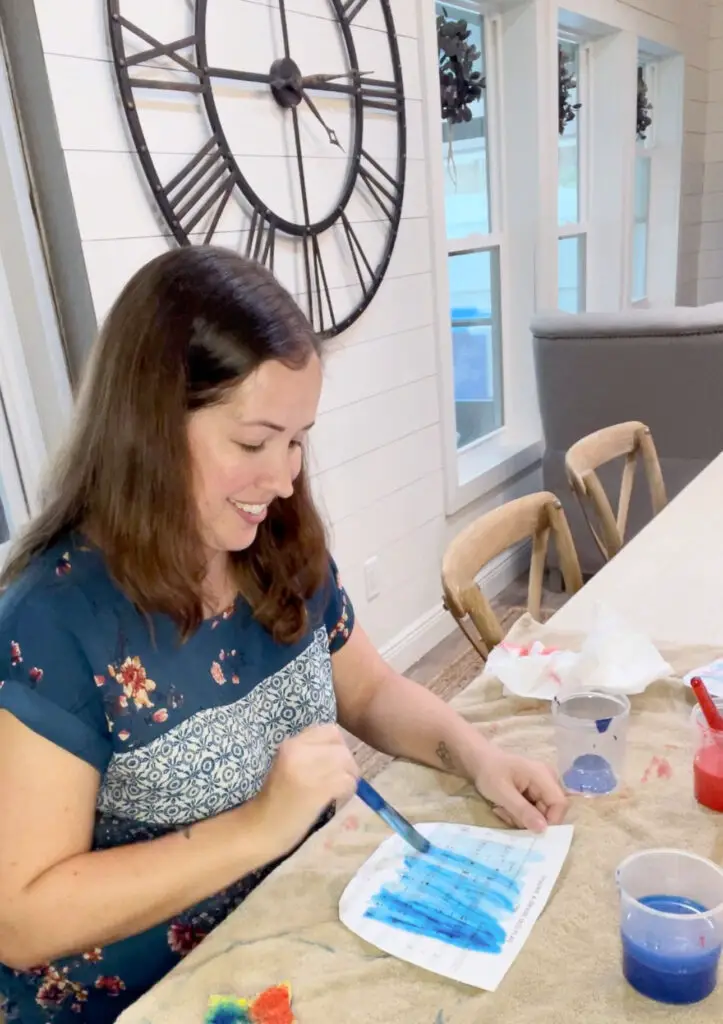 Step Four: Decide The Shape Of Your Garland Pieces
For this part, there is no right or wrong. You can choose whatever shape you like best. I decided to go with upside down triangles for my garland.
There are so many fun options. You could choose half circles, stars, upside triangles, or rectangles.
Step Five: Make A Tracer
Now that you have picked your shape, make the shape onto a separate piece of paper to make a tracer. Once you have the size and shape that you like, you can trace it onto the songs you printed.
Making a tracer allows you to have the exact same size and shape for each song. So trace the shape onto your song lyrics you printed. Make sure the shape is centered to get the lyrics you want.
Step Six: Cut Out Your Shapes
Cut out the shapes.
A tracing trick or shortcut for you, trace the shape onto just one of the song pages. Make a pile of the songs with the one that has the traced shape on top. Hold the pile and cut the shape out. You will have the shape on all your pages and you didn't have to trace it out onto all of them.
Step Seven: Hole Punch
Once the paint has dried completely, punch two holes on each side of your shape.
Step Eight: Thread Your String Or Ribbon Onto Your Shapes
Start threading your string or ribbon through the song pages.
You can space them how you would like. I didn't want my garland to long since it was just for my fireplace.
Cut the ribbon or string down to the size you would like for your garland.
Step Nine: Add Bows (Optional)
This step is completely optional. I had some tiny burlap bows on hand and used them to cover the holes in the pages. It just added a little extra decoration to the garland and I really liked how it looked.
DIY Patriotic Summer Garland is complete!
I love how this DIY Patriotic summer garland turned out! I keep it out all summer long. Let me know in the comments below if you end up making it too. I would love to know how you made yours and if you did anything different to make it unique.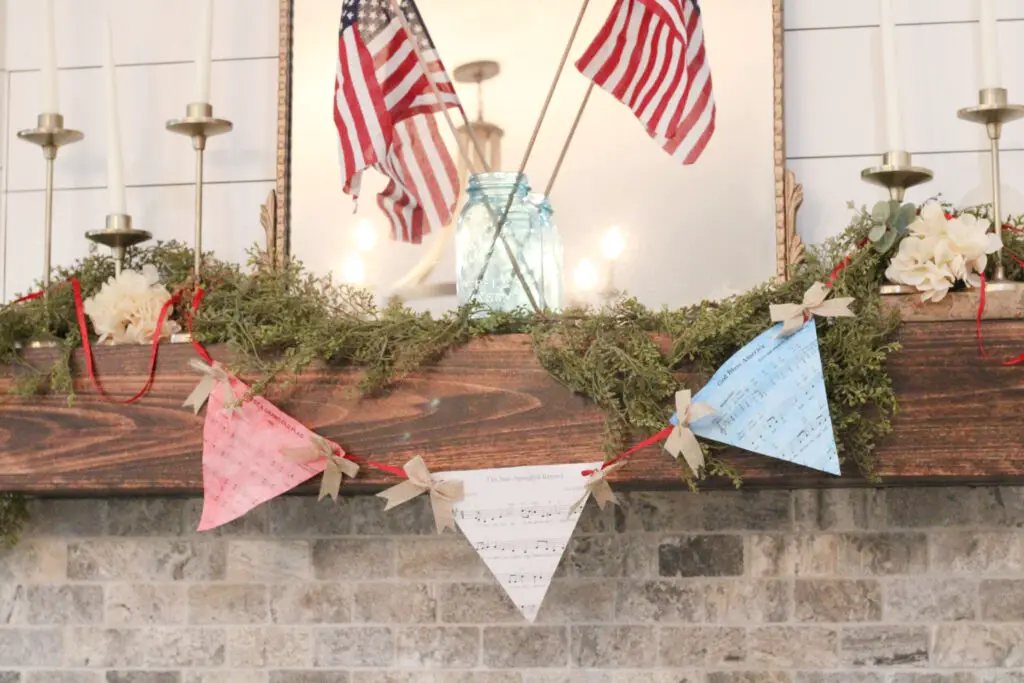 Uses For This DIY Patriotic Summer Garland
There are so many ways and place you can put this beautiful garland but here are some ideas for you. Hang it on your fireplace mantel, porch railing, staircase railing, or front entrance way.
Make It A Family Affair!
This is a great craft to do in the summer when the kids are home. It is kid-friendly, so if you have children, have them help you make it! When you hear the famous words "I'm bored!" Here is a fun family craft you can do all together. I love projects that I can do with my kiddos.
Thanks For Crafting With Me!
I hope you enjoyed this simple and affordable DIY Patriotic Summer Garland! I love when I can save money and still have some beautiful décor for my home.
If you enjoyed reading this blog post, please subscribe to my newsletter for more DIY projects and home décor tips and tricks on a budget.
As always, go create, have fun, and "find the beauty within your home." Thanks for stopping by our Faux Florida Farmhouse today and every day! We love having ya! Until next time friend.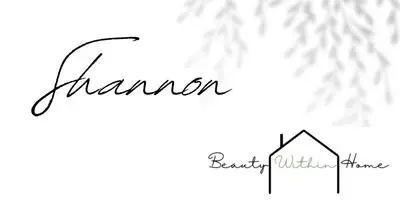 FIND THE VIDEO TUTORIAL HERE:
FIND MORE DIY PROJECTS HERE: