Learn how to make DIY Homemade Natural Laundry Detergent with only a few natural ingredients. It is also cheaper then buying store-bought laundry soap. It is effective in fighting stains and cleaning clothes but has less chemicals.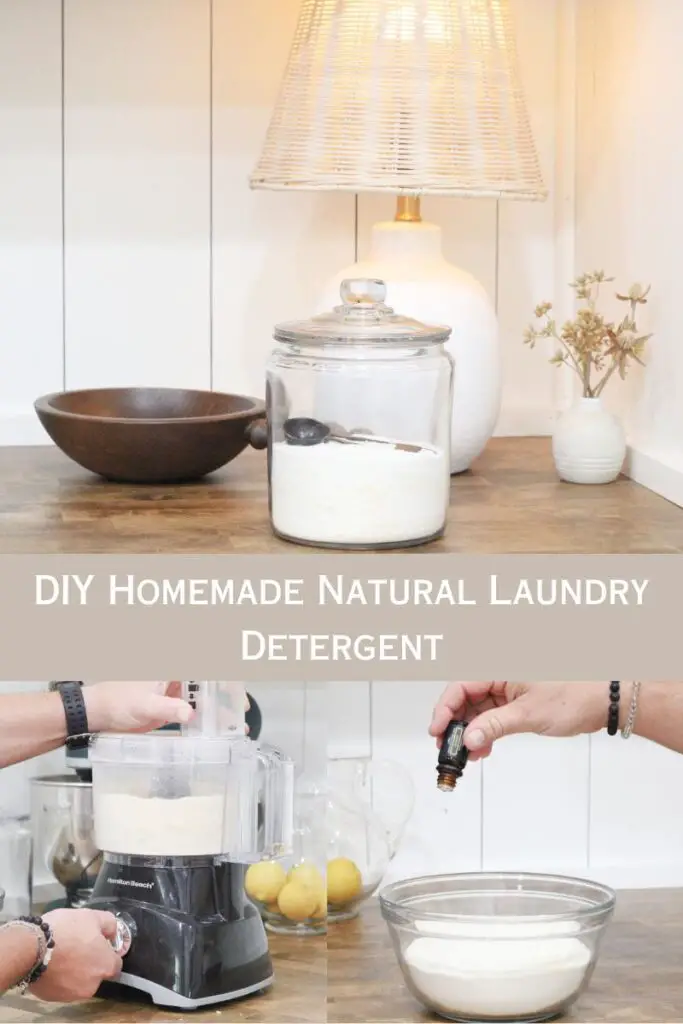 DIY Homemade Natural Laundry Detergent is Non-Toxic
One thing our family has been striving to do is cut out as many toxic chemicals out of our products and foods that we can. Are we perfect and completely chemical free? No! I think a common misconception is that it must be all or nothing. Little changes here and there are still positive changes, and can make a big difference. You have to start somewhere.
Chemicals are everywhere in our homes, in our food, and in almost every product we buy. Now if you use chemicals, it is ok! I am not bashing anyone who uses them. I am just trying to find alternatives for my home and my family. In doing so, I wanted to share this easy switch that you can use in your own home. Especially since this switch also saves you money.
DIY Homemade Natural Laundry Detergent is Inexpensive
Making homemade laundry soap is easy, and very inexpensive! Most of the simple ingredients you may already have on hand. If not, they can all be found at your local grocery store, Walmart, or amazon.
It is worth the extra 10 minutes it takes to make to save money!
DIY Laundry Detergent Cost
You can make about 4 batches with these ingredients.
It cost under $5 per batch.
When You Make Your Own Detergent – Does It Really Get Your Clothes Clean?
Yes, when you make your own laundry soap it works the same as regular commercial detergents or store-bought detergents.
It gets clothes clean and works on tough stains. Non-toxic laundry detergent is an excellent stain remover.
Homemade Detergent and Sensitive Skin
I am not a doctor and this is not medical advice. This is just my personal experience using this detergent recipe. If you have any concerns you should ask a medical professional.
I have kiddos who have sensitive skin. My daughter has eczema. We have had no issues with using this laundry detergent.
In my opinion, if you do have kiddos with sensitive skin, cutting out the harsh chemicals of store-bought and making your own laundry detergent, is a great way to help their skin.
Does Homemade Laundry Powder Detergent Work in Any Washing Machine?
Yes! Front-loaders, energy efficient, standard washing machines, it all works with the powder.
Some people prefer to put it into the laundry soap drawer dispenser, others prefer to put it directly into the drum. I have done both and they both work. So it is your personal preference.
Does Homemade Laundry Powder Detergent Work in Cold and Hot Water?
You need your water to be at least 60 degrees to properly dissolve the powder and to get clean clothes.
I will be posting my liquid natural laundry soap recipe as well that you can keep on hand for your cold water cycles. Our family doesn't do a lot of cold water cycles so it hasn't been an issue for us.
The powder works great in hot or warm water and there are no issues.
How To Use Natural Products In Your Dryer
For my dryer, I do not use the store-bought dryer sheets.
I use these wool dryer balls and they are not only natural, but also saves you money!
These are reusable, and cut down on drying times.
Ingredients and Supplies
This post contains affiliate links, as a participant in the Amazon Services LLC Associates Program, an affiliate advertising program designed to provide a means for us to earn fees by linking to amazon.com and affiliated sites at no cost to you. See my full disclosure here.
Fels Naptha Soap Bar – you can also use the brand Zote Soap Bar (1 bar per serving, get more if you are making a big batch)
Cheese grater – Food processor – Strong blender (any of these will work to ground up the bar soap)
Essential Oils of choice (I like anything citrus or lavender)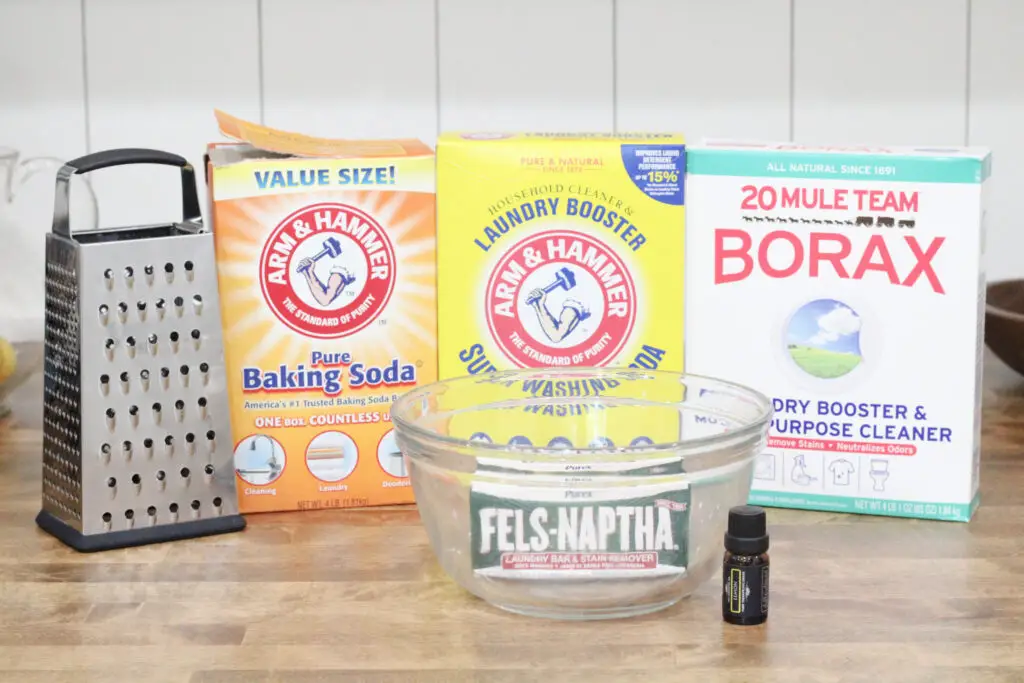 Homemade Laundry Detergent Instructions
You can make more than one serving at a time with these ingredients. So you can double or triple the below amounts to make it a bigger batch.
1. Shred a 5 ounce bar of Fels Naptha Soap with a cheese grater. You can also use a food processor or a strong blender. I prefer to use the food processor. You want to grate it or process it into a powder consistency. That is why I prefer to use the food processor to make a fine powder.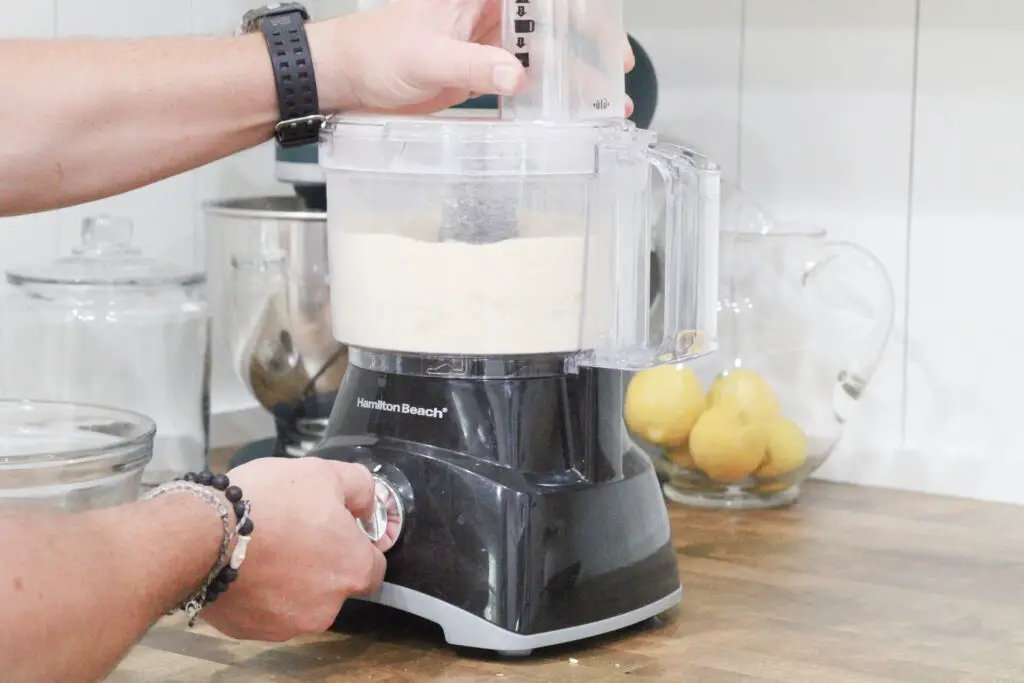 2. Add the grated Fels Naptha Soap into a glass bowl.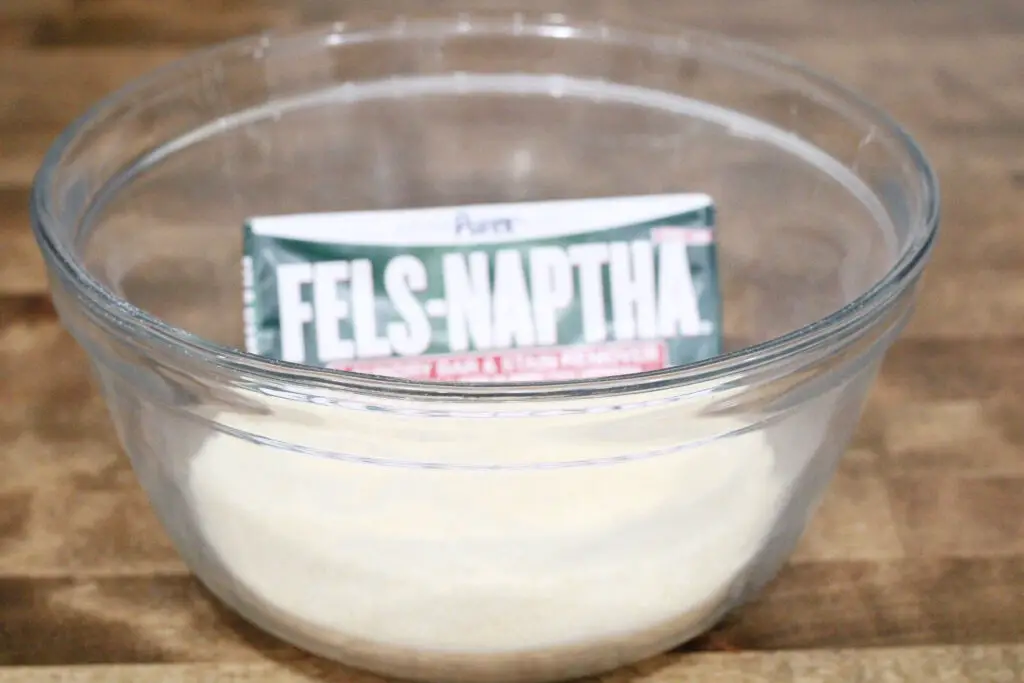 3. Add 1 cup washing soda to the glass bowl.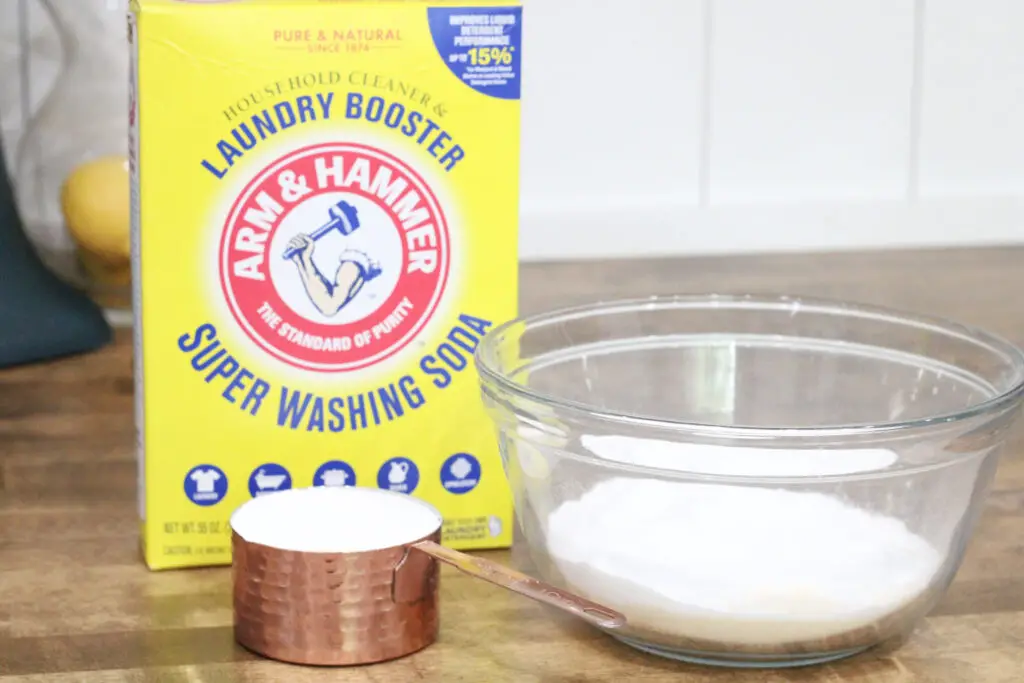 4. Add 1 cup borax to the glass bowl.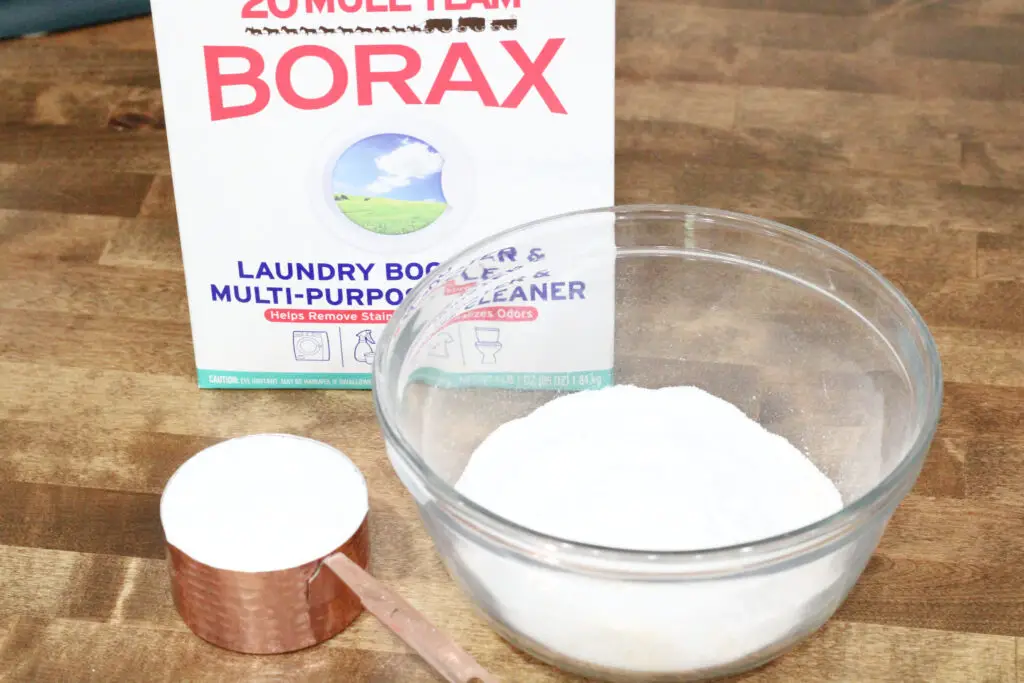 5. Add 1 cup baking soda to the glass bowl.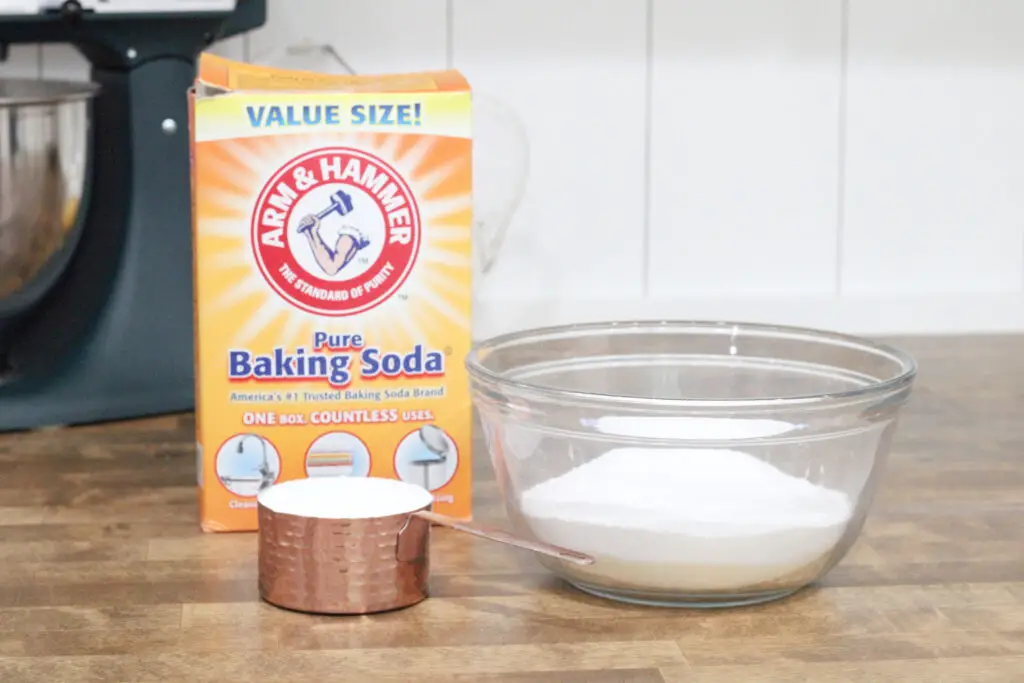 6. Give it a good stir to mix all the dry ingredients. You can use a whisk or a wooden spoon.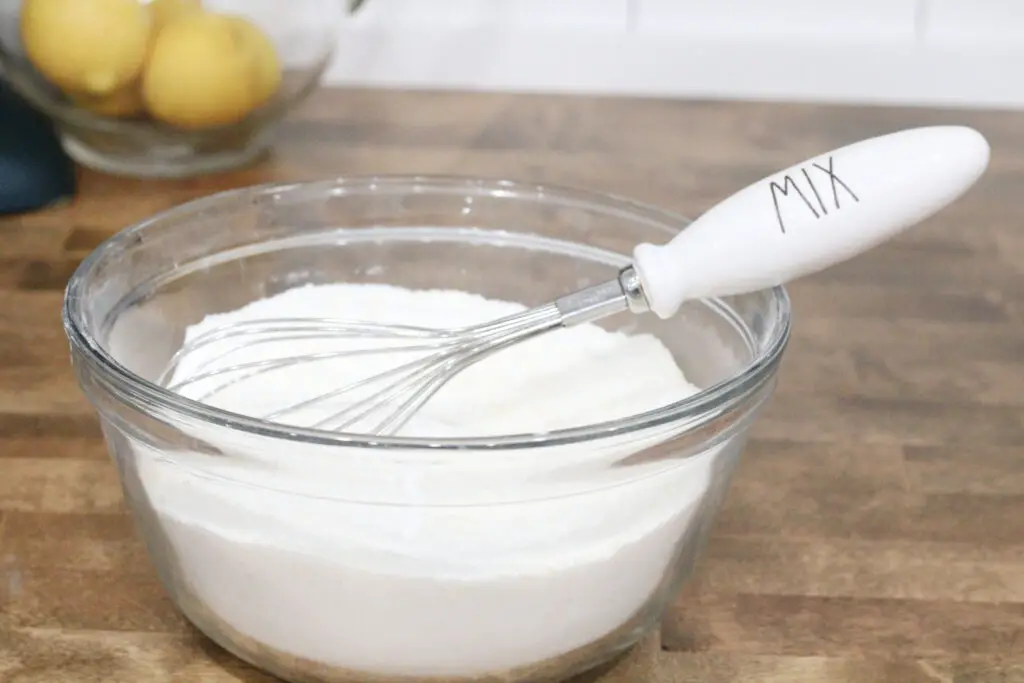 7. Add essentials oils for more of a scent.
Anything citrus or lavender are my favs!
Use 20-40 drops of essential oils. The amount is based on personal preference.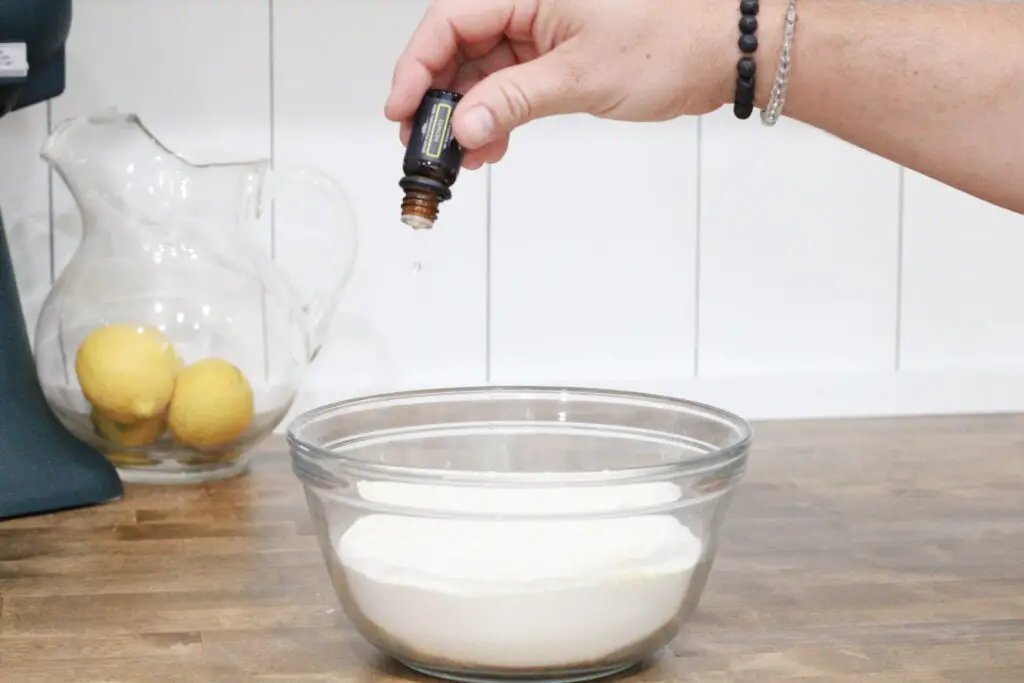 8. Give it another good stir and mix. Then you are all done! See how easy that was!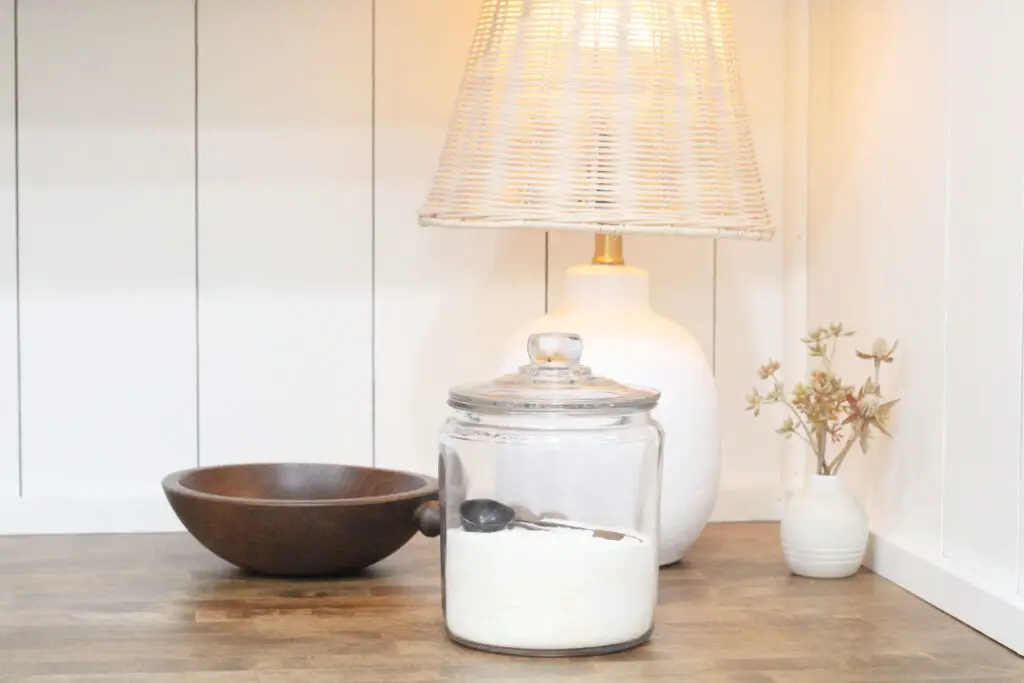 How To Use DIY Laundry Detergent
Add 2 tablespoons of laundry detergent powder per load.
You can add it directly to your drum or place it in the dispenser compartment on top.
I keep mine in this cute glass jar with lid in my laundry room.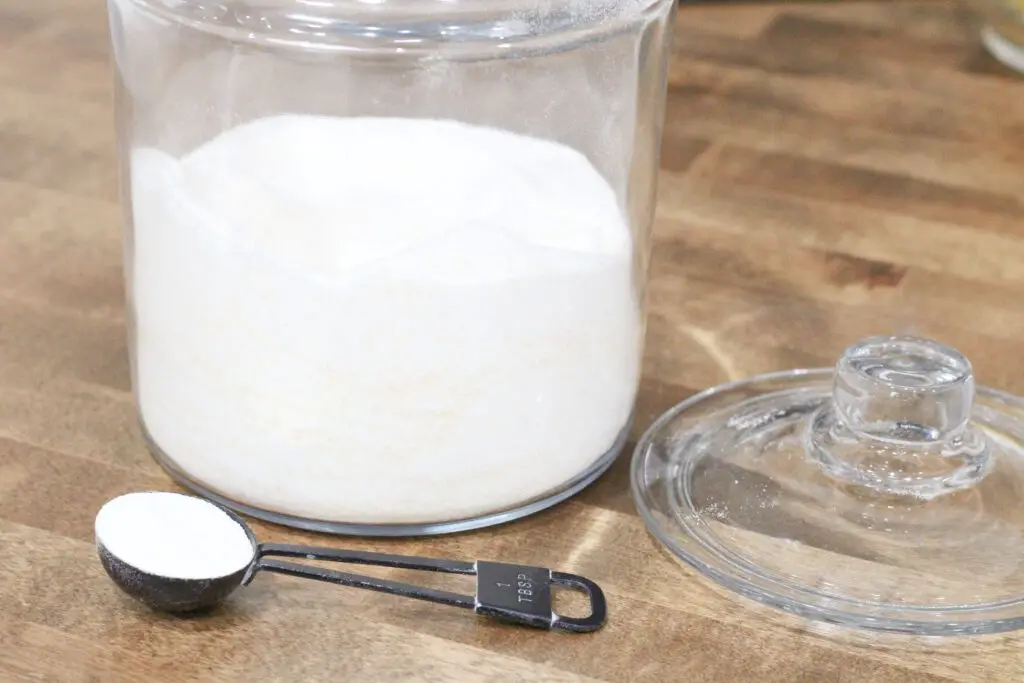 Printable Recipe: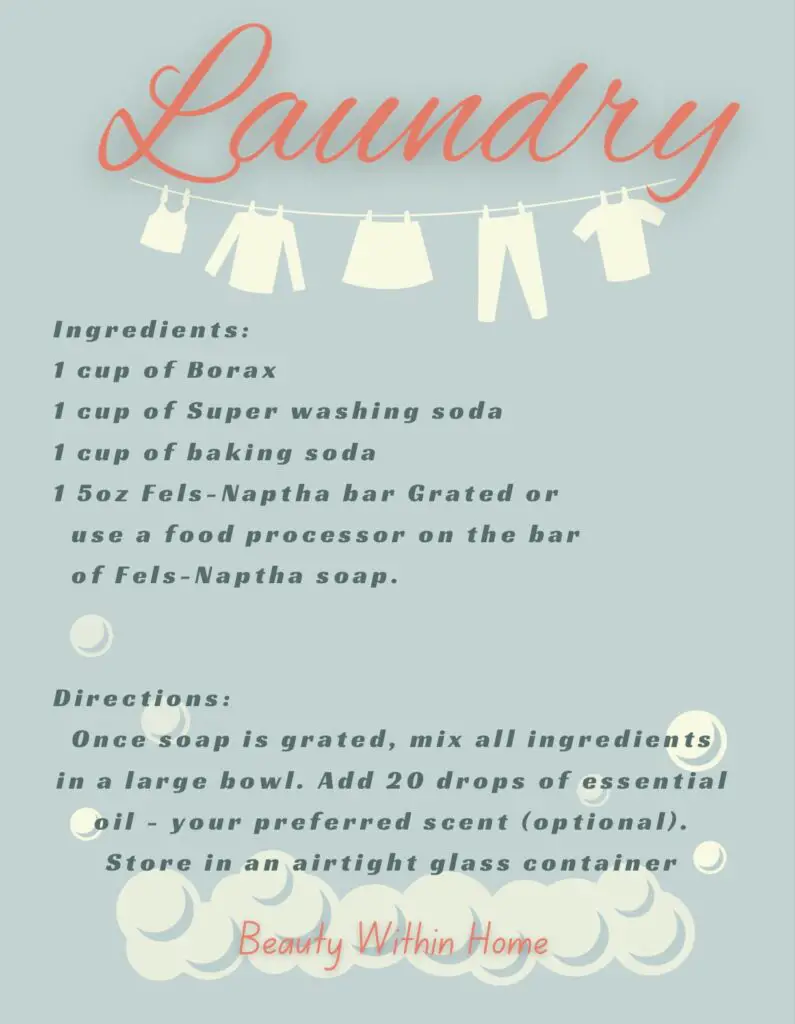 DIY Homemade Natural Laundry Detergent
Making laundry soap is quick and easy!
You know exactly what ingredients are in it and know that you are supplying a natural, healthier product for your family.
It works well and saves your money!
Thanks For Stopping By My Faux Florida Farmhouse!
I hope you enjoyed this simple and affordable DIY Homemade Natural Laundry Detergent! I love when I can save money and use natural products.
If you enjoyed reading this blog post, please subscribe to my email newsletter for more natural living, DIY projects, and home décor tips on a budget.
As always, go create, have fun, and "find the beauty within your home." Thanks for stopping by our Faux Florida Farmhouse today and every day! We love having ya! Until next time friend.
FIND THE VIDEO TUTORIAL HERE:
Here Are Some More Natural Home Ideas:
4 Simple Switches To Save Money and Have a More Natural Home
I Also Love All Things DIY! Here Are Some Of My Favorite DIY Projects We Have Done: