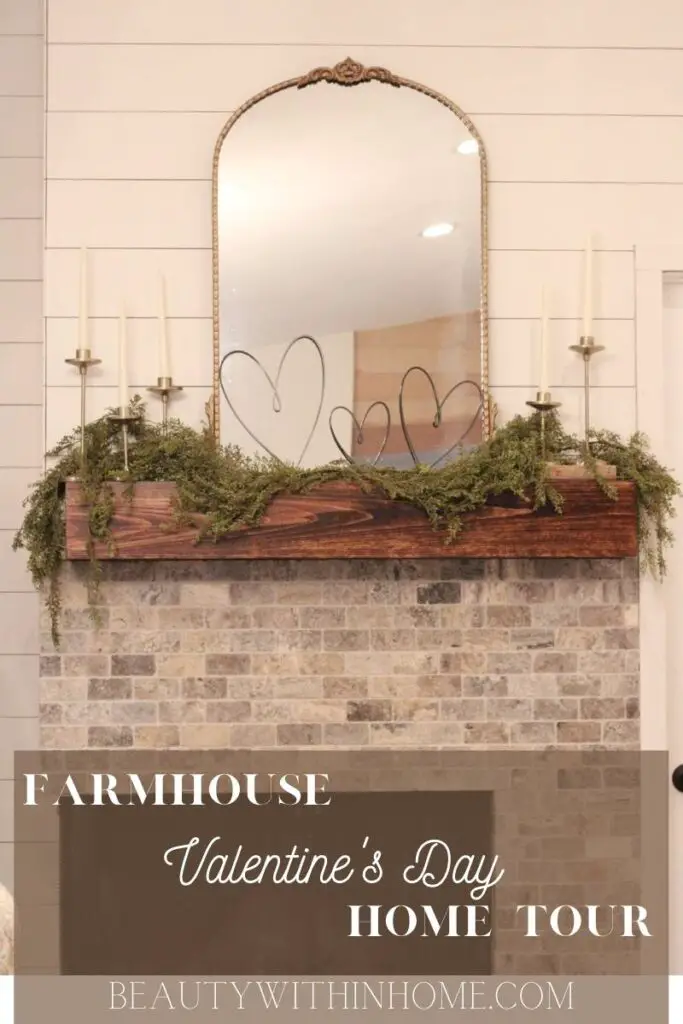 Grab a warm cup of love aka coffee and join me as we begin our farmhouse Valentine's Day home tour filled with greenery, hearts, pops of red and pink, and neutral tones.
In the past, Valentine's Day has been a tough one for me to decorate honestly. I had to do Valentine's décor my way, a more neutral way. I kept it simple and have what I like to call just some sprinkles of love around the house. Let's take the tour.
This post contains affiliate links, as a participant in the Amazon Services LLC Associates Program, an affiliate advertising program designed to provide a means for us to earn fees by linking to amazon.com and affiliated sites at no cost to you. See my full disclosure here.
The Kitchen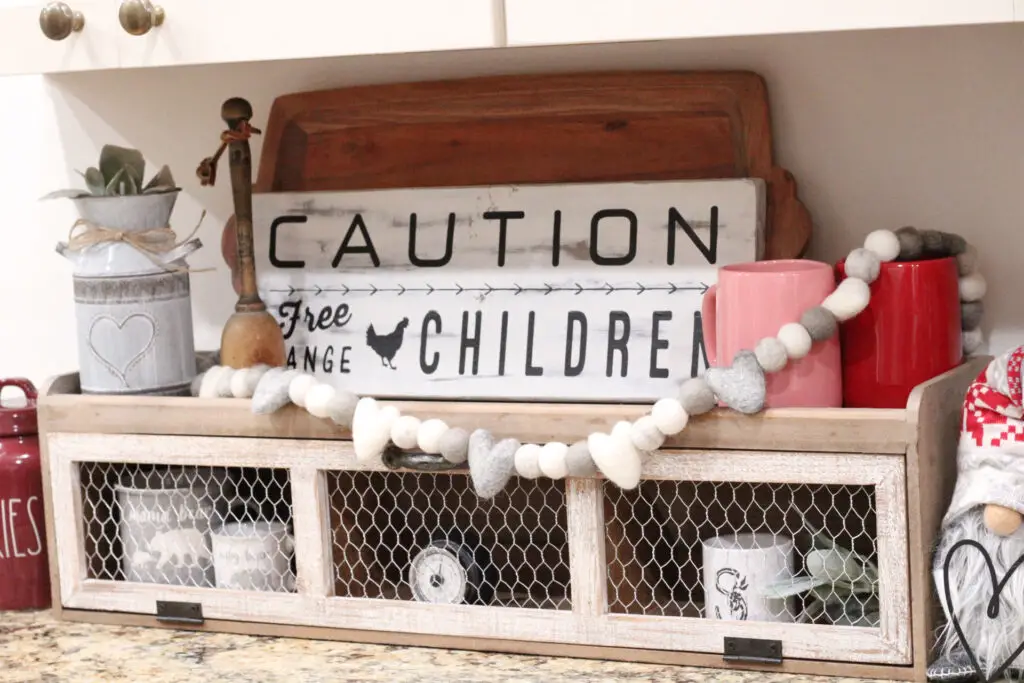 First, we start in my kitchen. I brought some Valentine's Day love to my decorative counter shelf by adding greenery, a neutral white and gray heart garland, a heart milk jug, and by adding some red and pink Rae Dunn mugs.  A money saving tip, is to use what you have if you can. My red mug is actually a Christmas mug. My pink mug says "boss mom" and isn't on theme either. But, instead of going to buy new Valentine's Day Rae Dunn mugs I just used what I had by flipped them around so the words couldn't be seen. I always try to use what I have first before I buy new. Of course its fun to buy some new things, but it's also fun to get creative and use what you already have.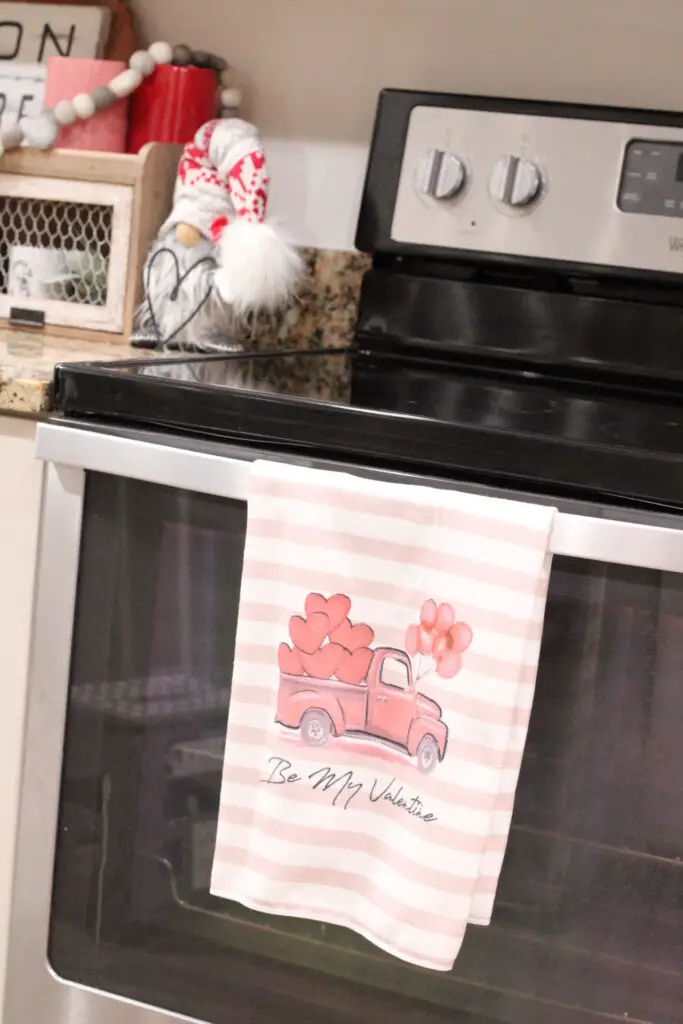 Next, I added some Valentine's Day kitchen towels. I found a gnome with a leopard print hat on, I mean come on – I had to have it! I picked ones that had muted colors and fit more my home and neutral theme.
Entryway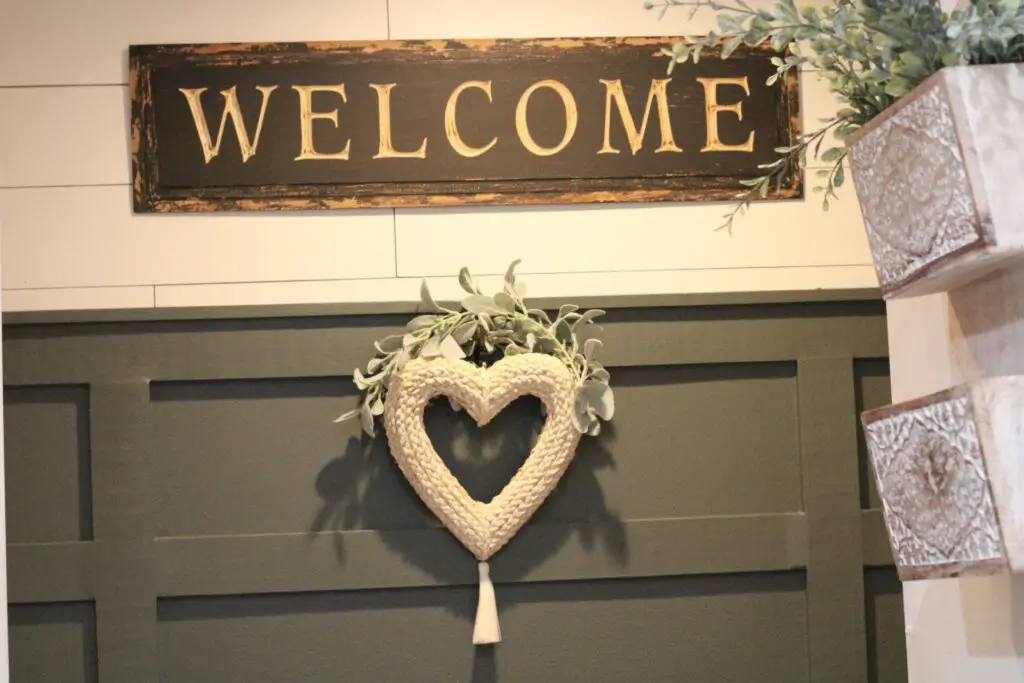 Second, is the entryway, and I didn't do a whole lot. I brought in a small heart wreath that I added some greenery too and hung it on my board and batten wall. I love the contrast of the ivory heart against my beautiful green board and batten wall. If you want the tutorial on how we did this wall or the color information you can find it here.
The Dining Room and Fireplace Mantel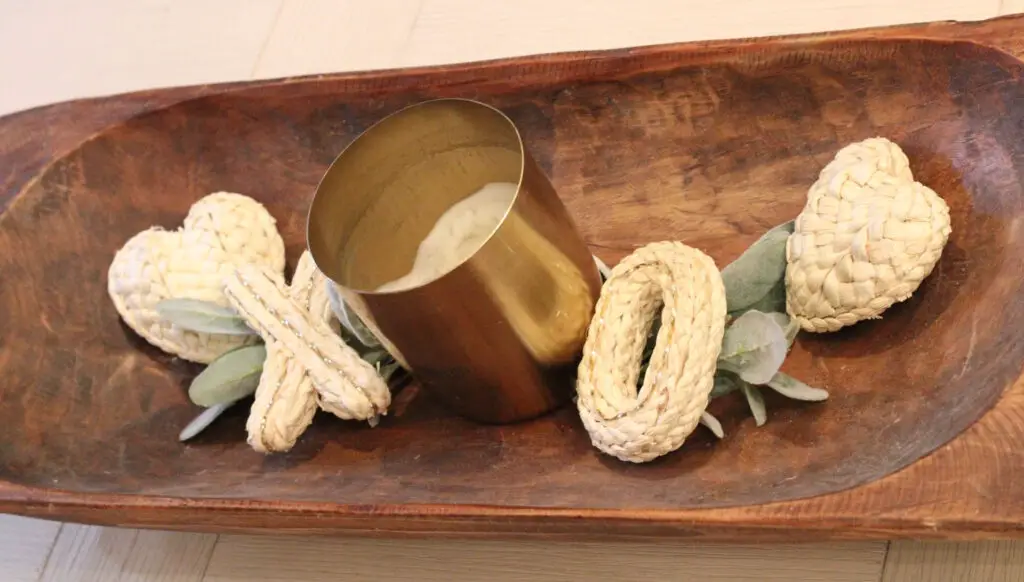 Third, I take you to the dining room. On my dining room table, I have an antique sourdough bowl that I love and keep out most of the year. It needed a sprinkle of love. So, I added some Valentine's Day neutral, ivory "XOXO" and heart vase fillers to it with a gold gardenia candle and some greenery. I love the look of wood tones mixed with metals and greenery.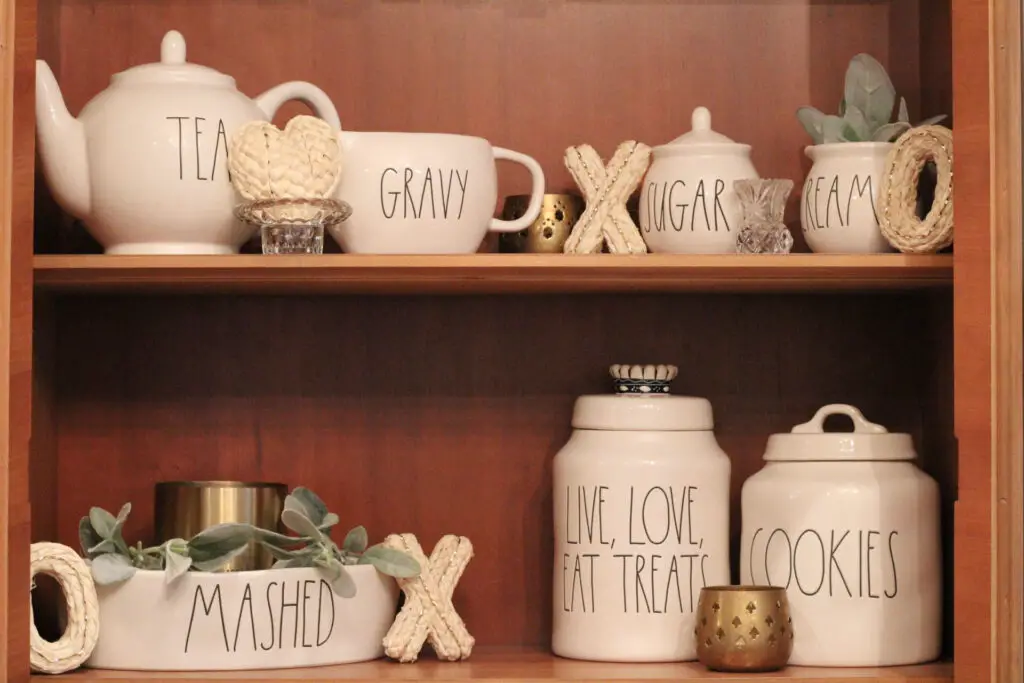 Next, in my hutch, I had more of the vase fillers and just put them in there as well. I really just like to keep it simple and have just a sprinkle of love.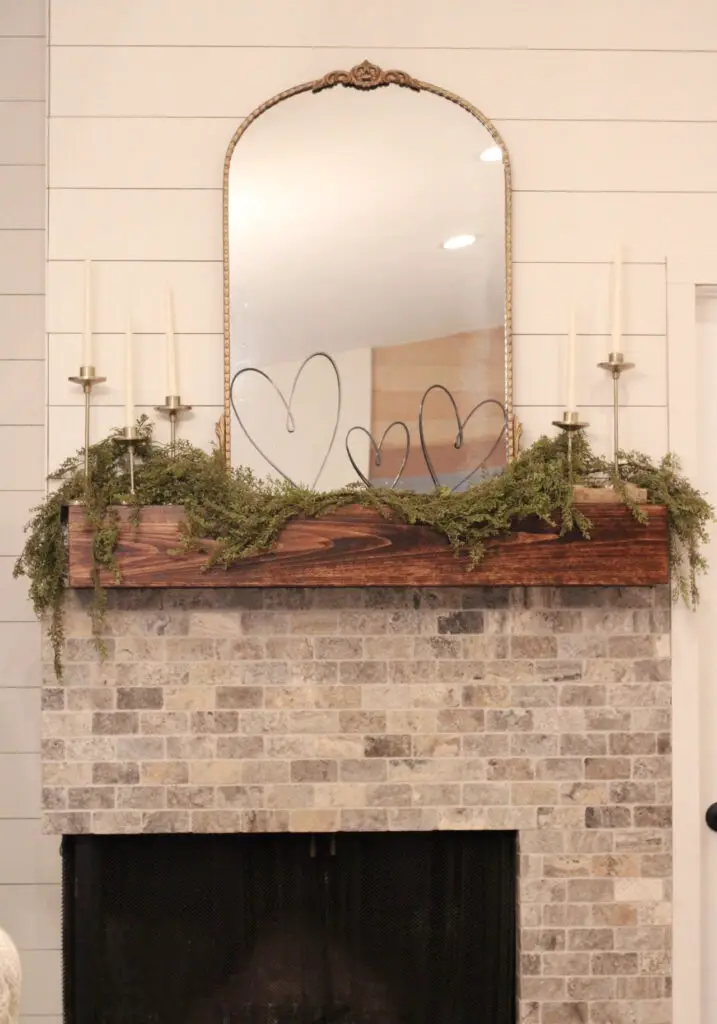 On my mantle, I added some black metal hearts right in front of my Anthropology dupe mirror. If you want information on the mirror project you can find it here. The hearts look like I took a black marker and drew them directly onto my mirror. In fact, my kids thought that is what I did! They really are unique and I love them on my mantel.
The Family Room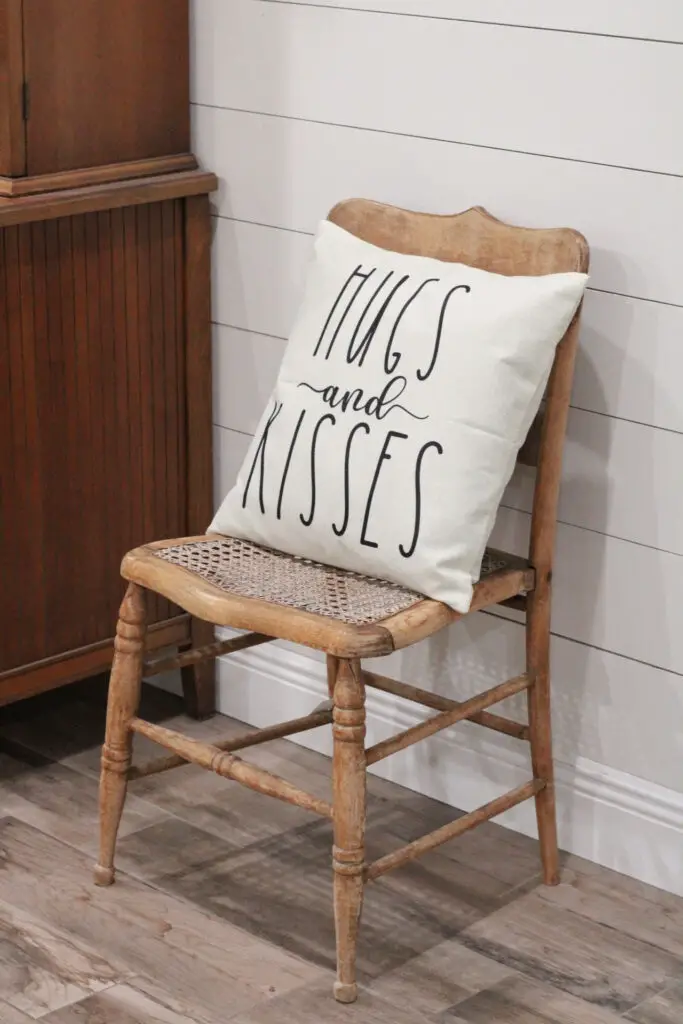 Last, I take you to my family room where I used pillow covers. One of my favorite money saving decorating tricks is that I am a big fan of pillow covers. You can get a set of four pillow covers for $18.99. When one Valentine's Day pillow on its own can be $35 or more! Also, when you are like me and like to change out your décor for the different seasons and holidays, it can be a lot to store. With the pillow covers, you can take them off and store them anywhere easily. I use them all the time.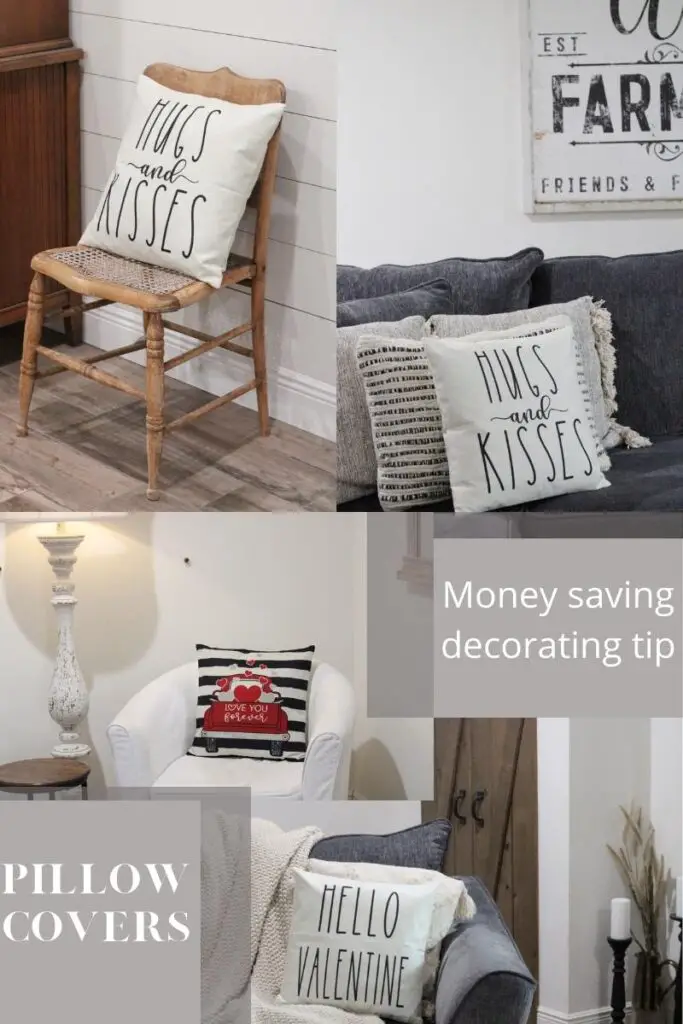 I hope you enjoyed this year's farmhouse Valentine's Day home tour. If you are like me and didn't know exactly how you wanted to decorate for Valentines day, I hope this gave you some inspiration for your own home. Thanks for stopping by my Florida, Faux Farmhouse!
Shop The Look
Fireplace Mantel Black Metal Hearts can be found here.
Caution Free Range Children Sign can be found here.
Valentine's Day Pillow Covers can be found here.
Valentine's Day Kitchen Towels can be found here.
Grey and White Heart Garland can be found here.
Farmhouse Heart Milk Jug can be found here.
Valentine's Day Gnomes can be found here.
Heart Wood Garland can be found here.
XOXO Heart Vase Filler can be found here.
Heart Wreath can be found here.