If you need additional space in your home and need it to be affordable, a garage conversion may be a good option for you. We did a garage conversion in our faux Florida Farmhouse and I am going to walk you through what brought us to this decision and how we made it a beautiful and livable space for our family, and all on a budget! Here is my complete guide, all the tips and tricks, on how to convert your garage into living space.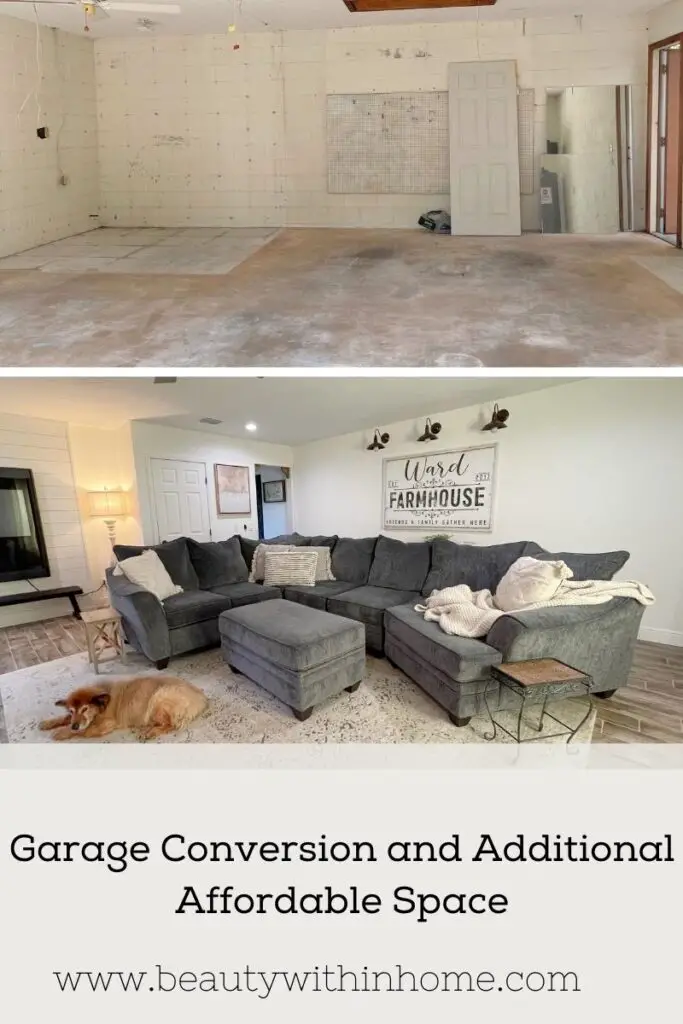 Our Garage Conversion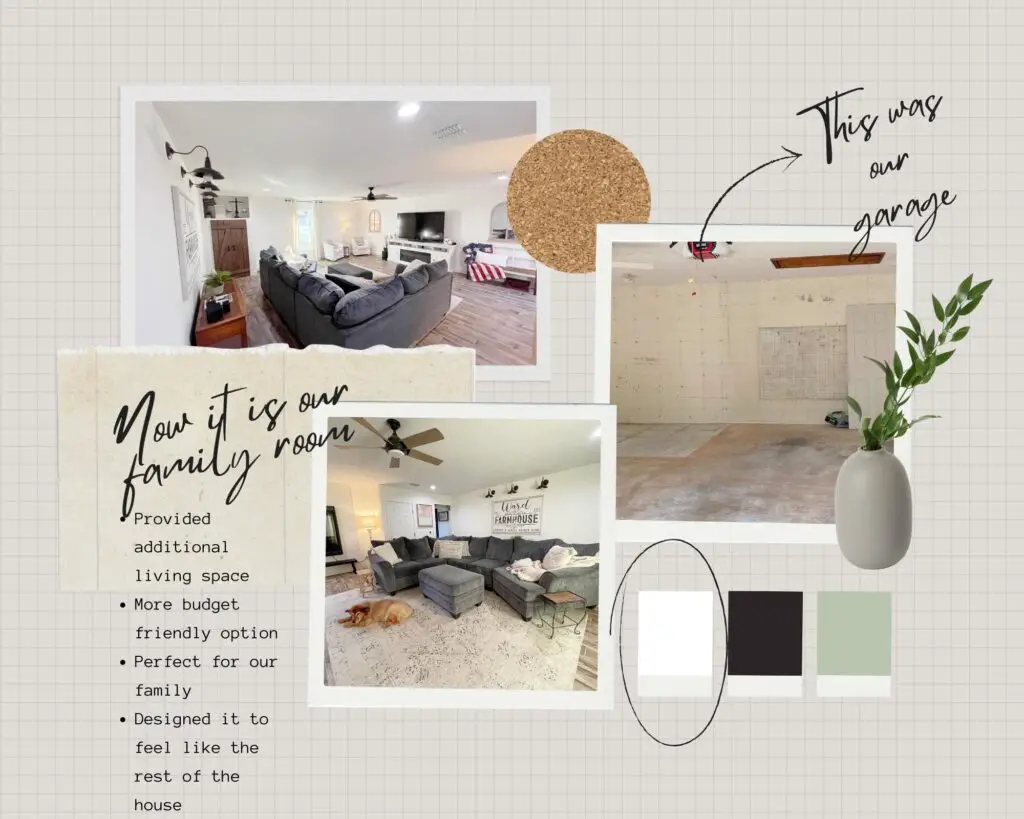 This post contains affiliate links, as a participant in the Amazon Services LLC Associates Program, an affiliate advertising program designed to provide a means for us to earn fees by linking to amazon.com and affiliated sites at no cost to you. See my full disclosure here.
Today, I want to share with you all the details about our garage conversion and additional affordable space in our home. If you are thinking about doing one, or maybe this would be a great solution for your home but you haven't thought about this option. I hope this helps answers some questions or concerns you may have about converting. Or maybe you are just here to see the amazing conversion and look around which is great too! Let's dive into the details.
Why Did We Do a Garage Conversion?
If you have been following along with our home renovation, you know that we bought a builder grade home from the 80s. I mean, really straight from the 80s!
My dream is to own some land and my very own farmhouse, but here in Florida land and the housing market has gotten so expensive! I decided to embrace the "beauty within" my home and create the livable space I needed with what I already had, a garage.
We are a family of 4 (5 if I can ever convince the hubby to have baby 3 – wink wink). We downsized when we bought this house to get into the area, to be closer to family, and for the school district. Our home was 1,384 square feet (before the garage conversion) and 3 bedrooms. We just needed more space. Could we have stayed with the 1,384 square feet, absolutely. However, if I can add more space and do it affordably, why not?
As you know, I am always thinking of how to make something work, finding the "beauty within" what you have. So, I thought why can't we do a garage conversion which would give us additional affordable space. We really were only using it for storage. We truthfully never even parked in the garage. For some of you, I know that is not the case, and therefore this would not be the best option for you and that is ok.
Deciding If A Garage Conversion is Right for You
Garage conversions can work if you are fine giving up the garage space. For example, you do not need to park your car in the garage. You do not use your garage as a workshop or for your business. You do not need to use your garage for storage.
If you can fit all your attic items and garage storage items in a shed. We purchased an 8 by 8 shed and said if we can declutter, and fit everything in there, then we know we can make this work. So that is what we did.
If you need more livable space for your family, and you cannot afford to put an addition onto your house. We got quotes, it was not pretty! We didn't have the money and that's when I knew I had to get creative.
Moving is not an option for us since the housing market here in Florida has gotten so expensive. The smartest thing for us financially is to stay in our current home.
Does A Garage Conversion Negatively Affect My Property Value?
If done correctly, a garage conversion can add to your property value. Here in Florida price per square footage on our homes gives us a higher value than what the credit for a garage does on an appraisal would be.
It also comes down to personal need. If this is your forever home and you are not looking to sell and just need the extra space. Then property value isn't your main concern anyway.
What Can You Turn Your Garage Conversion Or Additional Living Space Into?
home office
family room or living room
master bedroom
playroom
guest room
extra bedroom
homeschool room or classroom
mother in law suite
apartment for extra income or rental option
home movie theaters
art studio
office space
Do You Need A Building Permit For Your Converted Garage?
If your garage is already an existing structure on your home, you do not need a building permit to convert the space. It is not the same as putting a new addition onto your home. If you were doing a full-scale addition, then yes you would need a building permit.
Now, if you want it to be counted as additional square footage in your home should you sell the property then yes you should get a permit.
Garage Conversion Costs
Costs are going to differ for every project. It depends on how much of the work you can complete yourself or if you need to pay for labor costs. Supplies go up and down in cost and differ based on your location.
It also depends on if you are converting a single car garage or a two-car garage. The size of the project will affect cost.
With our garage conversion we were able to do some of the projects ourselves and we did hire out as well. So our cost was around $10,000.
Storage Space Options When You Take Away Your Garage
We did go through our items, purged, and simplified a lot of things. I found that a lot of the items in my garage I wasn't even using, but since I had the storage space I was storing them.
We did get an 8 by 10 storage shed for our backyard. This replaced the storage from our garage and we just moved it all to the shed.
Tips On How To Convert A Garage To Living Space
Here are all my tips and tricks on how to convert a garage into living space.
In my opinion, to be done well they have to be done all the way. The garage needs to be completely drywalled up to look like a room. Attic access needs to be taken away and drywalled over. You never want it to feel like it used to be the garage. I had a lot of skeptical family members on this idea and then when they saw the finished product, they loved it! If done well, garage conversions can be a very affordable way to add square footage or livable space to your home. They can also be very beautiful!
Also, use the same materials as the rest of the house. If you can to carry the same materials into the garage that you used in the rest of the house it will feel like it was always been there, and not an add on or after thought. We used the same flooring and the same paint color on the walls.
Fun fact, you do not have to get rid of your garage door. We live in a community that has an HOA that would not approve the removal of the garage door. I actually love that we still have it. From the outside, my home still looks the same. The garage door is still completely intact. I didn't want to add windows or French doors where the garage door was anyway, my view would have just been our cars parked in the driveway. Again, just my personal opinion and what worked for our home.
If you can, do as many of the projects yourself to save money. This is just one of the affordable ways to keep your project on a budget.
The Garage Door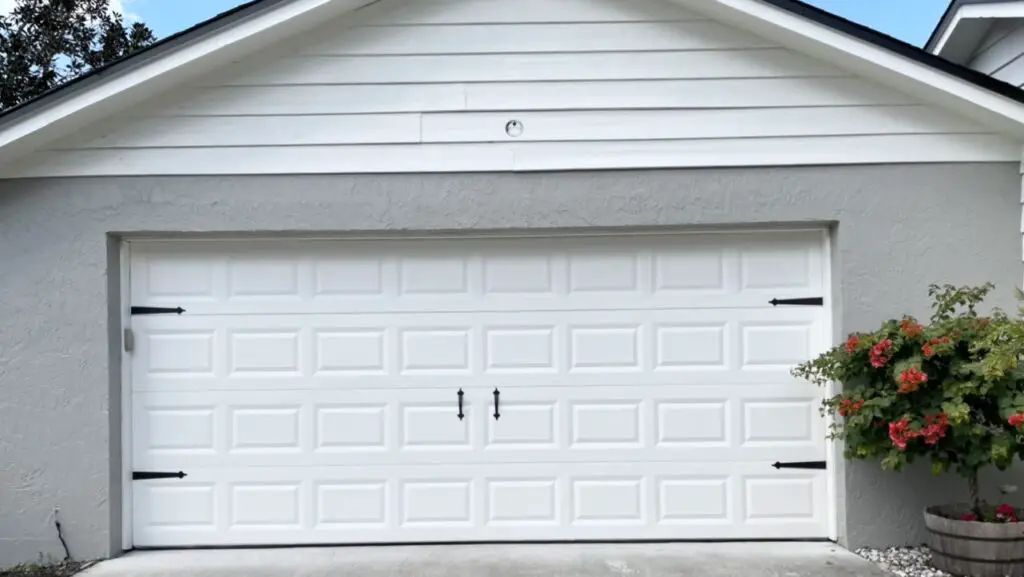 As I said above, we kept our garage door. If you do a garage conversion and get rid of yours that works too. We took our garage door down and then bolted it back up piece by piece. So that from the outside it still looks like a normal garage door. We installed flashing down at the bottom and completed sealed the door to keep the elements and critters out. We then insulated and drywalled the inside.
Options for your garage door:
Keep the original garage door
Get a glass garage door to let in light
Take out the original garage door and replace with french doors or windows
Note: I get a lot of questions about my garage door accents. They are actually magnets and only $14.99! I have had them for years and they still look brand new. You can find them here. Ok, sorry got off track.
Windows and Doors
We had one window and one door going out to the backyard that was already in the garage. So, we replaced the window to make it double pane and energy efficient. We also replaced the door from a metal door to a door with a full window. This allowed us to let in as much natural light as we could with what we already had.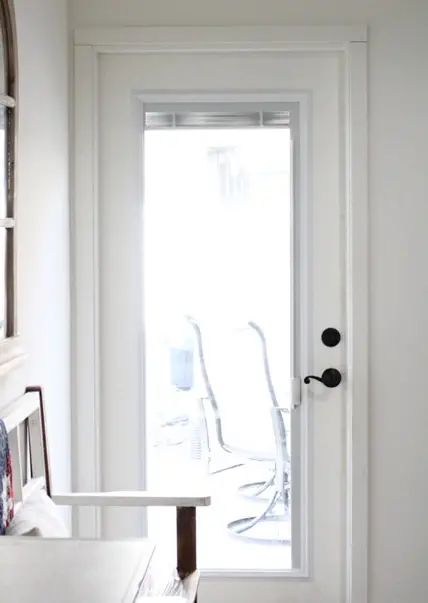 The door leading out the garage from the kitchen, we just completely removed. I wanted it to feel like it flowed with the rest of the house, I decided to just make it a cased opening instead of replacing the door.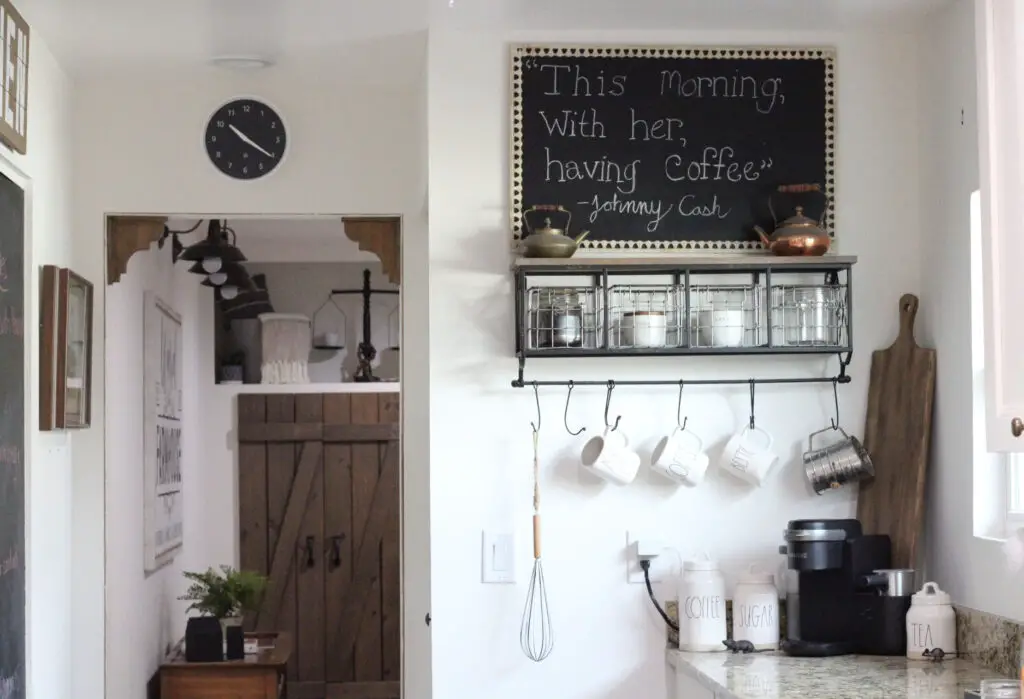 The Interior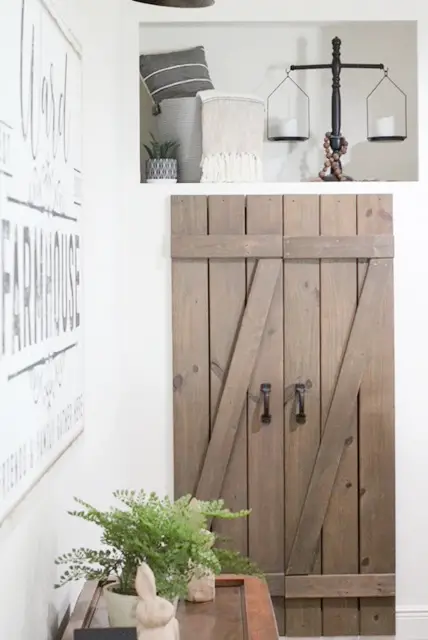 On the interior, everything must be covered to look like a room and not a garage. For example, we had a whole home water filtration system that was in a beat-up garage cabinet. We obviously weren't moving it since we are doing the conversion as cheap as we can. We left the cabinet since it was sturdy and just drywalled around it. I even left the cutout at the top and thought I can decorate that space – it is me we are talking about here! Once it was drywalled, I found 2 wooden shutters off Facebook Marketplace for $40 and thought this could be a small barndoor to cover the hole for the water filtration system. So, I bought 2 barn door handles and it turned out so cute!
Next, we insulated all the walls and then drywalled everything. We even got rid of our attic access in that space. We had the attic stairs removed, and completely drywalled over the opening. Also, we had the whole attic space of our home including the garage reinsulated during this process. We wanted to improve our energy efficiency in our home.
I have had so many people walk into our new family room (old garage) and say ok yeah but where is your garage? Wait, this is the garage? To me that is the ultimate compliment and the look you are trying to achieve when you want to know how to convert your garage into living space.
The Floors
The concrete slab was already existing. I will warn you that garage floors are not usually level. So you may need to level your floors before laying down your flooring material. We did have to level before our wood look tile floors could go down.
Air Conditioning Options
If you want a top notch garage conversion you need AC. We live in Florida so AC is for sure a must! You do have a few different options to choose from.
Option One: pull off your existent AC unit. When you do this you have to check and see if your AC unit is big enough to handle the extra square footage. Also, you have to see if they can just pull ducts off the exisiting ducts. If they can, this is the cheapest option and the best option.
We were lucky and our AC unit was big enough and we were able to pull the ductwork off the existing. It only cost us $250 to add the AC to our new space.
Option Two: buy a mini split unit. A mini split unit in a great way to add great AC to your space. They work better than just a floor AC unit and they are energy efficient. The cost on a mini split unit is around $2,000.
Frequently Asked Questions
What did you do with your garage door and the outside of your home? We kept our garage door. The outside of our home looks completely the same. I actually prefer this option because if we would have put in windows where the garage door was, we would have just been looking at our cars parked in the driveway anyway.
What did you do with your attic access? We removed the attic access in the garage and replaced it with drywall. This gives the ceiling a more finished and complete look. Also, we have an attic access in our laundry room and our master bedroom anyway so we didn't need the additional access.
What do you do when it snows? We live in Orlando, Florida. We do not get the snow ever. Some of our Christmas days are spent in the 80s and in shorts. I am not at all trying to rub it in! I wouldn't mind the weather cooling off and giving us a break, and a traditional Christmas Day snow day.
How To Convert Your Garage Into Living Space Conclusion
I hope this helped answer any questions or concerns you have on how to convert your garage into living space. Our garage became our family room. This has become one of my favorite spaces in my home where our family gathers and great memories are made. Don't be afraid to find the "beauty within" you own space and convert that garage if that is what is best for you and your family! If you would like to take a full tour of our now farmhouse family room (completed garage conversion), you can find the tour here.  
FIND MORE FARMHOUSE AFFORDABLE DIY PROJECTS HERE: