We love a good soup or chili in this house but they must be hearty and filling, and this recipe fits the bill. This easy creamy chicken taco soup recipe has become one of our favorite recipes. It is so delicious and is always a hit!
This post contains affiliate links, as a participant in the Amazon Services LLC Associates Program, an affiliate advertising program designed to provide a means for us to earn fees by linking to amazon.com and affiliated sites at no cost to you. See my full disclosure here.
It is a great family night recipe, or if you need to feed a crowd or host a dinner party, this is the recipe for you. Also, who doesn't love a good crockpot meal? They are easy and most importantly budget friendly.
I have even done double batches and had two crockpots going at the same time for big family gatherings. It is always a crowd pleaser. So let me show you just how easy it is to make!
Why I Love My Crockpot!
If you do not have a crockpot, you need one! They are a game changer and there are so many easy and affordable recipes for them. I love this programmable 6 quart crockpot where you can just set it and forget it until dinner time.
If you are looking for a beautiful crockpot (you know me I am always decorating), I love Drew Barrymore's appliance line at Walmart. The colors are absolutely beautiful! I love the white option, shocking I know for this neutral-loving girl to say! You can find her beautiful 8 quart crockpot here.
My crockpot helps me to have an easy dinner ready and cutdown on our take out. As a busy mom, it is a lifesaver. You can make a large quantity and freeze your leftovers or just have them for lunches throughout the week.
Ingredients
Chicken Breasts (boneless skinless)
Frozen Corn
Diced Tomatoes with Green Chiles
Black Beans
Onion
Chicken Broth
Garlic Salt
Taco Seasoning (How I Make My DIY Homemade Taco Seasoning)
Cream Cheese
Additional optional toppings: Shredded Cheese (any kind you prefer), Cilantro, Green Onions, Tortilla Strips or Chips.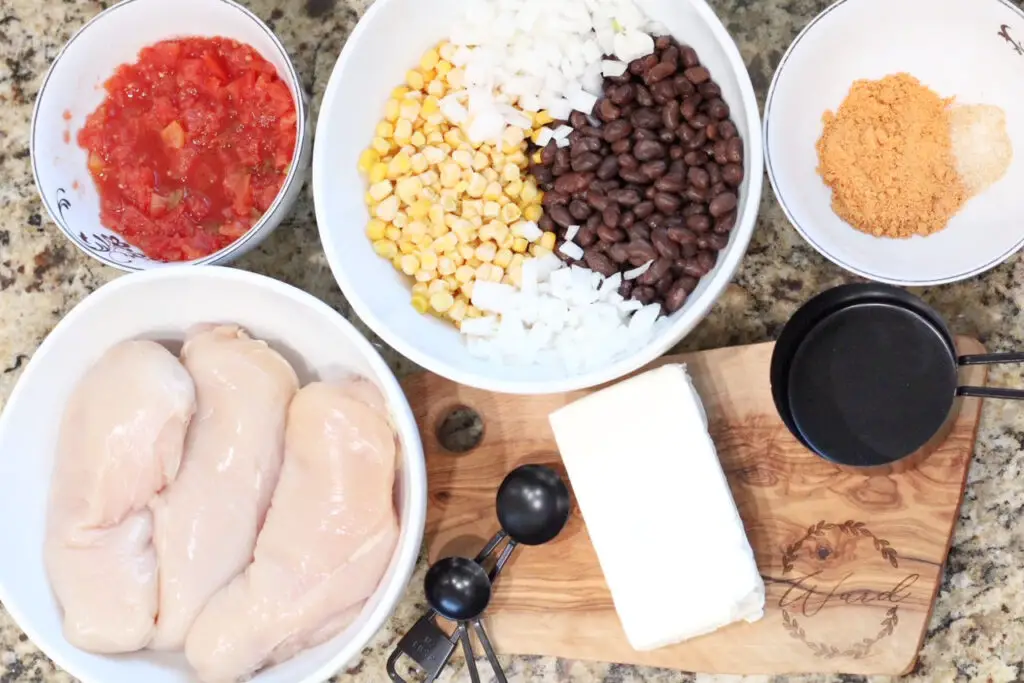 How to Make Easy Crockpot Creamy Chicken Taco Soup Recipe:
Toss all the ingredients in a 6 quart crockpot except the cream cheese and additional toppings.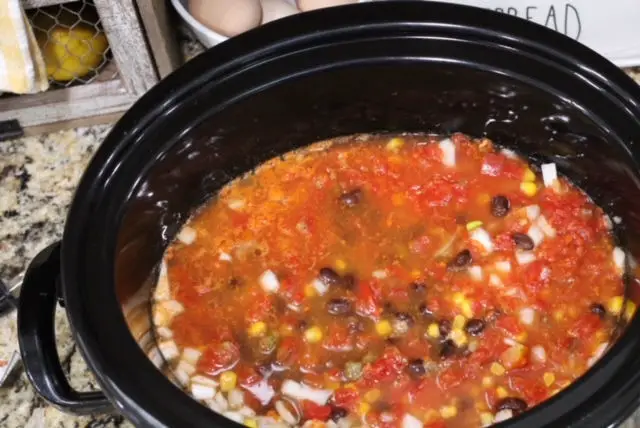 2. Cook on low for 6 to 8 hours.
3. Shred the chicken with 2 forks or you can pull it out and use a hand mixer in a bowl. A little trick for shredding chicken.
4. At about 30 minutes before you are ready to eat, add the cream cheese. Allow it to melt and then stir it in.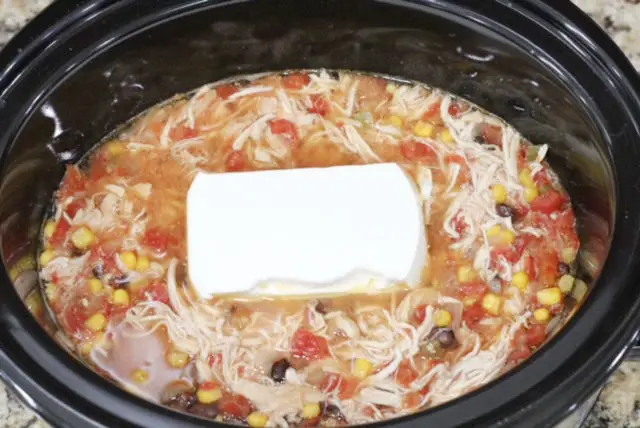 5. Serve and enjoy!
6. Add any of the optional additional toppings that you and your family enjoy.
This recipe is easy, fast, and yummy! My family loves it and it is always in our meal rotation.
Additional Topping Ideas for Your Creamy Chicken Taco Soup:
Tortilla strips (or you can crumble up tortilla chips if you have those on hand)
Shredded Cheese (Cheddar or Mexican Blend are our favs)
Cilantro
Avocado
Sour Cream (Or you can substitute plain Greek yogurt and it tastes the same!)
Sliced up jalapeno peppers
Lime wedges
Green Onions
Side Option Ideas for Your Creamy Chicken Taco Soup:
I love to make a batch of cheddar jalapeno cornbread on the side (just the box stuff nothing fancy). It makes it a complete meal. You can crumble it right on top or just eat it on the side. Either way, your family will love it and be asking for second helpings!
Some additional side option ideas are: tortilla chips, salad, biscuits or rolls.
What is Your Favorite Toppings or Side Dishes for This Recipe?
If you make this recipe, let me know in the comments below what your favorite toppings or side dishes are. Maybe you have tried something I haven't even thought of. I am always looking for new ideas.
Taco Seasoning for the Recipe
Like I mentioned above, I prefer to make my own taco seasoning. I know it is an extra step, but when you make it you know the exact ingredients in it and it is actually a more budget friendly option. To me, the taste is better then the store bought premade ones. I make a big batch and store it in a mason jar for future use. You can find my Homemade Taco Seasoning Recipe here.
Shop This Post
Drew Barrymore Beautiful Slow Cooker
Print your Creamy Chicken Taco Soup Recipe below: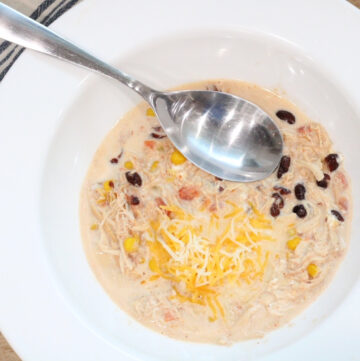 Easy Creamy Chicken Taco Soup Recipe
This Easy Creamy Chicken Taco Soup Recipe is so delicious! Let me show you how easy it is to make!
Ingredients  
2 to 3

boneless skinless chicken breasts (if you want it more soupy or more hearty you can decide)

1

cup

frozen corn

1

8 oz.

can of diced tomatoes with green chilies

1

14 oz.

can of black beans – rinsed and drained

1/2

onion chopped

2

cups

chicken broth

2

tablespoons

taco seasoning

1/2

tablespoon

garlic salt

8

oz.

cream cheese block
Instructions 
Place all the ingredients, except for the cream cheese into the crockpot.

Cover and cook on low for 6 to 8 hours or on high for 3 to 4 hours.

Shred the chicken with 2 forks and then give it a good stir.

Place the cream cheese into the soup mixture and make sure it is pushed down. Cover and cook on low for another 30 minutes to an hour to allow the cream cheese to melt.

Once melted, stir thoroughly.

Top with your favorite toppings or none at all, and just enjoy!
Notes
Refrigerate the leftovers in an air tight container for 5 to 7 days. 
FIND THE VIDEO TUTORIAL FOR THIS RECIPE HERE:
Try Some of my Other Crockpot Recipes:
More delicious recipes coming soon!
I hope you enjoyed this recipe. Thanks for stopping by my faux Florida Farmhouse. I love to share my DIY projects, home décor, and recipes on a budget. Please subscribe to my email list to become part of my farm family and to not miss anything. If you love this recipe as much as we do please rate it below.