Learn how to make my DIY Homemade Taco Seasoning Recipe that is budget friendly and so easy to make! What makes it even better? You know exactly what ingredients are in it. There are no processed ingredients which makes it a healthier option than the store bought packets. Let me show you how easy it is to make.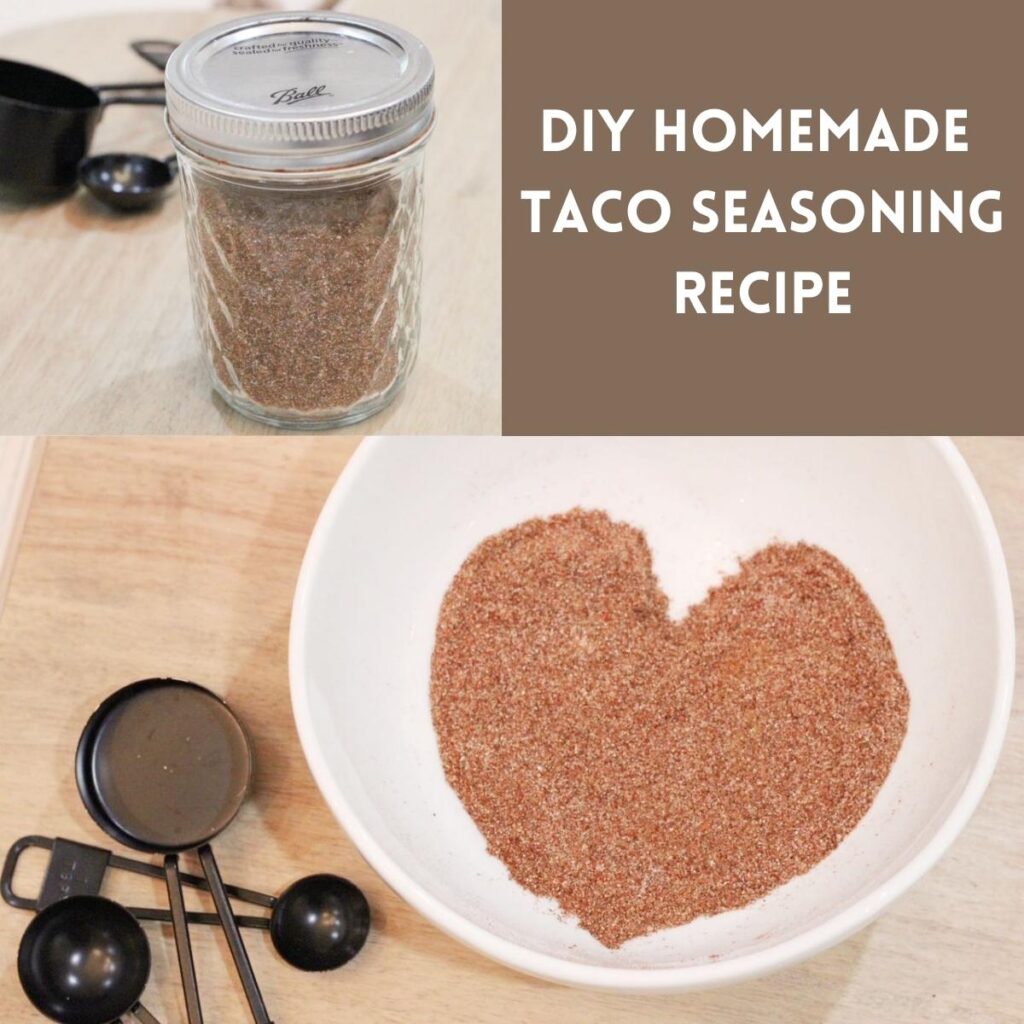 This post contains affiliate links, as a participant in the Amazon Services LLC Associates Program, an affiliate advertising program designed to provide a means for us to earn fees by linking to amazon.com and affiliated sites at no cost to you. See my full disclosure here.
How to Make My DIY Homemade Taco Seasoning
My family loves this DIY Homemade Taco Seasoning recipe. We actually prefer the taste and it is a more cost effective, healthier option. We make a big batch at once and store it in a glass mason jar for future use. My daughter loves to help me in the kitchen and loves to make this with me.
We try to do non-processed options wherever we can in our house. We love that there are no crazy chemicals or processed ingredients in this recipe. I love being able to give my family a healthier option and it only takes a few extra minutes of my time to make. Try it and you may be surprised that you prefer the taste as well. You will never turn back to the store bought kind again.
Storage Information
We make a big batch and store in a glass mason jar with a lid. As long as you store it in an airtight container with a lid it will store beautifully. If you make a big batch you will have it ready for many uses.
Ideas on How to Use Your DIY Homemade Taco Seasoning
Taco Tuesday anyone? We use it to make our tacos. Sometimes I make our tacos with ground beef, other times I make it with ground turkey, and it tastes great on both. Just use 2 Tablespoons per pound of meat.
It also works great in our Easy Crockpot Creamy Chicken Taco Soup. If this sounds yummy to you, it is one of our families favorite recipes and you can find the recipe here. This recipe calls for 2 Tablespoons of taco seasoning for the whole soup.
Nachos is a fun family night dinner option, and you can add this to your meat of choice. There are so many ways to use this seasoning. Let me know in the comments below what are some ways you like to use it. It is always fun to share recipes and ideas!
This would also be a fun gift idea for someone. Homemade gifts are always fun at Christmas or to add to a gift basket for any occasion.
If someone was sick or you were part of a meal train, this is an alternative to already cooked meals. Sometimes they have too much food and don't know what to do with it all. A gift basket with homemade items that they can use in the future and as they need it would be a nice and different alternative.
It would make a great teacher's gift! I am a teacher and this would be a fun and creative gift idea. I mean, who doesn't love tacos? You could make a fun taco themed gift basket or this seasoning with a gift card to a local Mexican restaurant.
How Much of My Time Will This Take?
I get it, we are all busy! As a busy mom myself, we don't really want to add any extra step to our plate, which will take up more of our time. This recipe really doesn't add much time and is so easy to make. If you double the recipe you can make an even bigger batch that is ready for when you need it.
This recipe is fast and will save you money. It really is win-win.
Ingredients
Ground Cumin
Onion Powder
Chili Powder
Garlic Salt
Salt
Pepper
Smoked Paprika
Cayenne Pepper
A non-processed option which is what I love for my family. I know exactly what is in this recipe, because I made it at home.
Simple Steps on How to Make DIY Homemade Taco Seasoning:
Mix all the ingredients up in a bowl, and you are done! It is that simple!
Once mixed, place in a mason jar or airtight container for storage.
Shop This Recipe:
Checkout Some of my Other Yummy Recipes:
Easy Crockpot Chicken Creamy Taco Soup
More delicious recipes coming soon!
Print This DIY Homemade Taco Seasoning Recipe: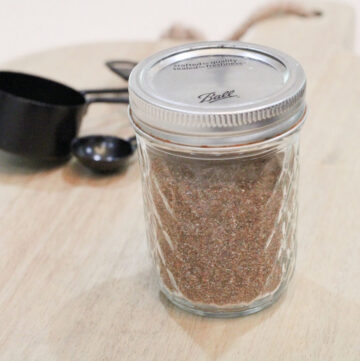 DIY Homemade Taco Seasoning Recipe
This DIY Homemade Taco Seasoning Recipe is so easy to make and tastes better then the store bought alternatives. Try it for yourself to see how simple it really is.
Ingredients  
2

Tablespoons

Cumin

2

Teaspoons

Onion Powder

2

Teaspoons

Garlic Salt

1/4

Cup

Chili Powder

4

Teaspoons

Pepper

4

Teaspoons

Salt

2

Teaspoons

Paprika

1/4

Teaspoon

Cayenne Pepper
Instructions 
Pour all the ingredients into a small bowl.

Mix all the ingredients together.

Once mixed thoroughly, transfer to a mason jar to store.

When you are ready to cook a recipe with your seasoning, just use 2 Tablespoons per pound of meat or soup.
Notes
Label your seasoning so that you know what it is for future use. 
Thanks for stopping by my Faux Florida Farmhouse! I love to share DIY projects, home décor, and recipes on a budget. Please subscribe to my blog to become part of my farm family and to make sure you don't miss anything.